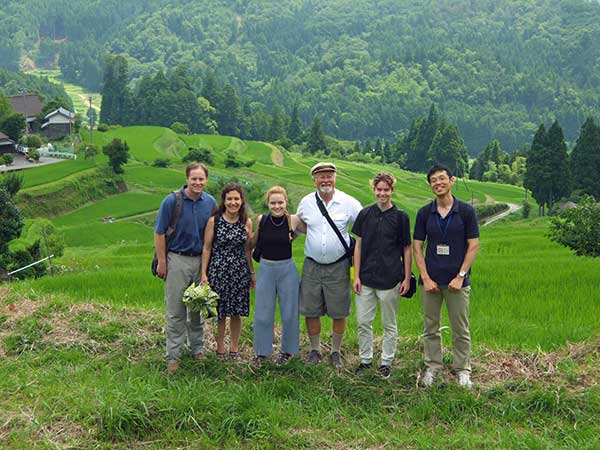 by Philbert Ono, photos courtesy of Seita Mori and selected by Philbert Ono
It's about time I introduce YUtour (悠ツアー), a licensed tour guide service for foreign tourists in Shiga Prefecture run by my friend MORI Seita (森 聖太) in Otsu. YUtour is a one-man operation with Seita-san as YUtour's one and only English-speaking guide. All indicators (such as TripAdvisor comments) show that he is doing an outstanding job. And after having a long lunch with him the other day in Otsu, I believe it.
YUtour's guided tours in English focus on the rural areas, ecotourism and nature, and traditional crafts of Shiga. He takes guests mainly to Otsu (Mt. Hiei, Sakamoto, Ogi, and Katata), Takashima (Harie and Hata), Shigaraki (pottery and Miho Museum), and Omi-Hachiman (Okishima island and traditional boat rides). If you look at the YUtour website, you can see "Ready-made tours" with a set itinerary and pricing, and "Tailor-made tours" to other areas in Shiga upon request. Most of the tours are day trips from Kyoto, and Seita usually meets his guests at Kyoto Station at the tour's start. He takes mostly individuals, couples, or small groups, but can also handle larger groups.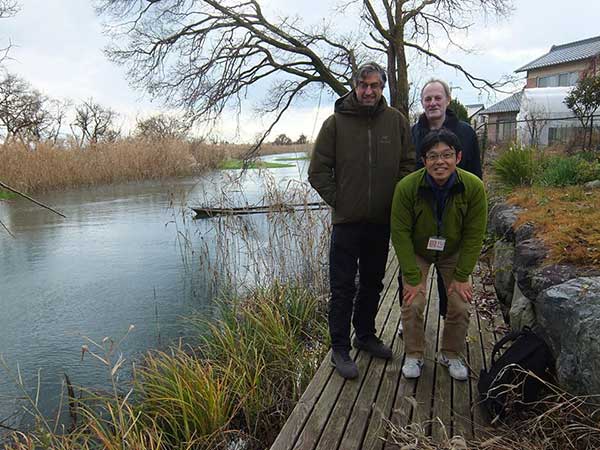 Why take a guided tour instead of touring by yourself?
When touring rural areas where public transportation is limited, English information is scarce, and where people don't speak English, a guided tour in English makes it much easier.
The guide can introduce you to local people (farmers, potters, craftsmen, etc.) so you can talk to them and ask questions. It makes your visit more enjoyable and educational. When it comes to outside visitors, rural folks always appreciate some kind of introduction. Just a simple introduction by someone they know is all it takes for them to open up their world, culture, and lifestyle to you. With the right connections, people in Shiga can be very friendly to foreigners. And Seita is that connection.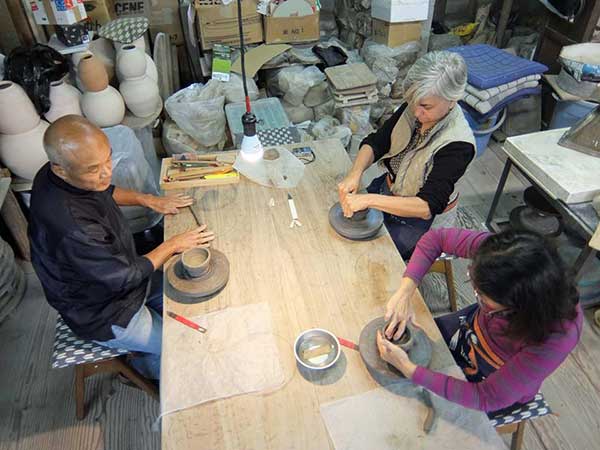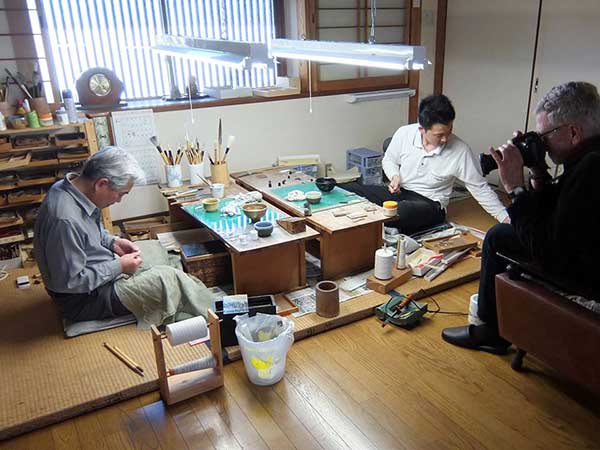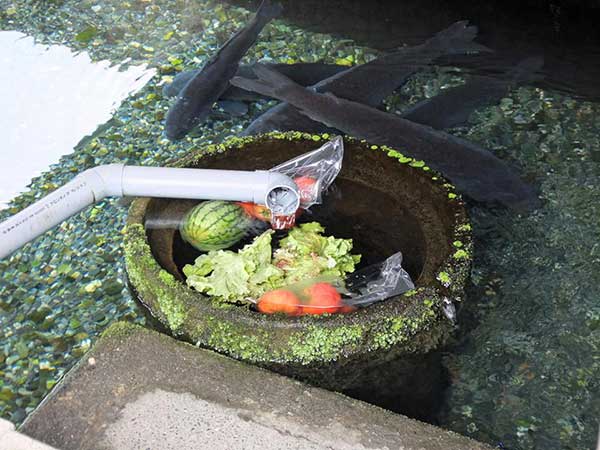 YUtour's most popular destinations are Harie (homes with "kabata" kitchen basins spewing natural spring water), Hata (farming community with terraced rice paddies), Shigaraki pottery centers, and Miho Museum. YUtour uses public transportation as much as possible so visitors can also experience what locals do. But if necessary, they will use a taxi or mini bus (for large groups). About 40 percent of YUtour customers are from the U.S., followed by Australians and Europeans. English-speaking tourists from Asia also take his tours.
Since YUtour is a small operation, Seita makes the tours a lot more personal, personable, and flexible than with large tour operators. He tells me that he never gets tired of taking people to the same places and explaining the same things over and over. It's because his guests are all different and they all have different interests, questions, and opinions and he enjoys talking to them. Seita learns a lot from them as well. So it's a very interactive tour and not just a one-way lecture about this and that. I asked him what was the most common comment he gets from his visitors to Shiga: "So peaceful here!" Yep, laid-back Shiga is definitely a refreshing and relaxing break from the craziness and crowds of Kyoto.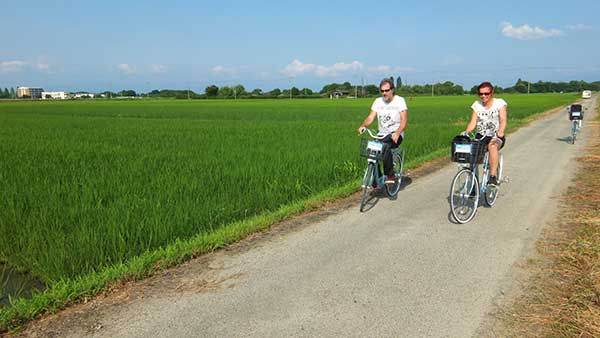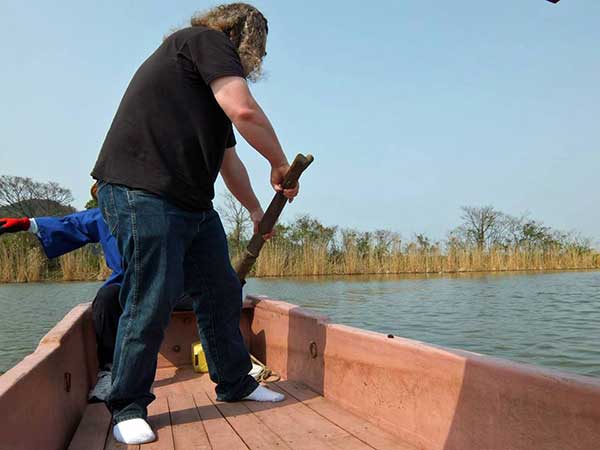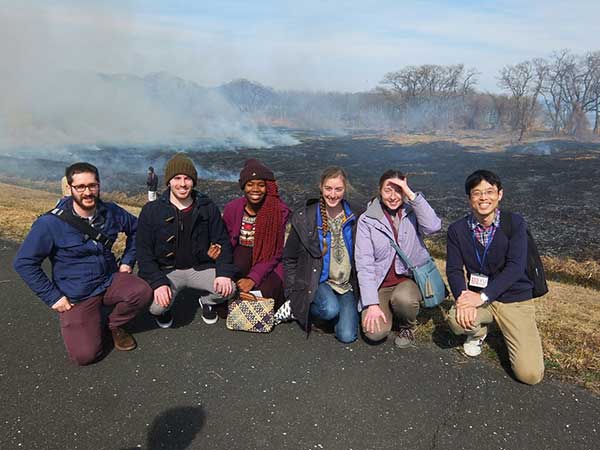 Seita started YUtour in 2012 as part of his noble mission to help revitalize rural communities. Bringing foreign tourists was one way to do it. The "YU" (悠) in YUtour means "leisurely" in Japanese. I believe YUtour was the first professional tour guide service to start up in Shiga exclusively for foreigners. When I first heard about it, I didn't think it would be so viable since Shiga is so little known overseas.
Indeed, Seita did struggle to get customers during his first year in business. But he stuck with it and over the years, YUtour gradually became a very active and in-demand service. It has gained more customers as word spread, and it's now on track for further growth. The increasing number of inbound tourists to Japan has also helped, and Seita is also seeing repeat customers. He is most busy in spring and fall when he can be booked for at least half the month. Least busy are the winter months.
He has also been spotlighted in local Japanese newspapers and NHK Otsu TV news in 2017. I'm so glad to see him come this far to establish a niche for himself in Shiga. It takes a lot of dedication and determination and he loves what he's doing. Seita also works part-time as a research assistant at Kobe University, so he does have a side job to fall back on when YUtour is not so busy.
I met Seita-san for the first time about a year ago when I invited him to one of my events. We didn't have time to talk then, so we finally met up again over lunch in Otsu earlier this month.
I could quickly tell that he was a dedicated, upright professional and very community-oriented and knowledgeable about Shiga. He is a licensed tour guide for foreigners (通訳案内士) which means he passed a difficult national exam for testing one's English ability and knowledge of Japan. It's surprising to hear that he has never studied or worked abroad, so his English was mostly self-taught. To get up to that level without living abroad (or being married to a native English speaker) is pretty amazing for a Japanese person. (Japan's English education program in public schools has largely been a failure for decades, with the vast majority of students still unable to converse in English even at college age. Japan's low-quality English found everywhere in tourism brochures, official websites, signs, etc., also does not help.)
He also has a Ph.D degree, so we had very intelligent conversations (in Japanese). Besides me interviewing him, we also discussed tourism issues in Shiga and Otsu.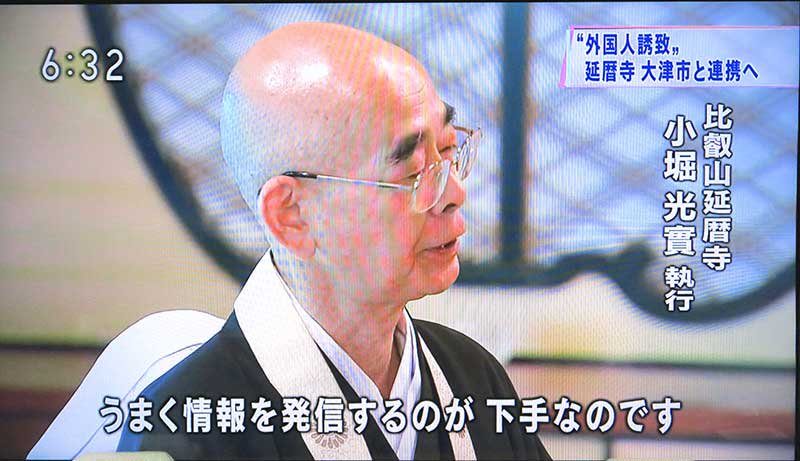 One thing we talked about was Enryakuji Temple. Enryakuji recently admitted on NHK TV that they were not good at English PR. I told Seita that Enryakuji should just ask its overseas Tendai Buddhist temples to help produce English materials. I'm sure they would gladly help their headquarters temple produce the English for PR brochures, official website, and directional signs. They are native English speakers who know the religion and terminology, so they are very qualified to do it. When it comes to English PR, Enryakuji is way behind Koya-san in Wakayama Prefecture. Seita showed me the excellent English website for Kumano Kodo. Something that Enryakuji, Otsu, and Shiga could learn from.
Seita and I also agreed that Otsu's push to develop Chuo-Odori road between Otsu Station and Lake Biwa for tourists is not so promising since there's nothing at the end of the road (except for a hotel). Yes, there's Lake Biwa, but there are other more convenient roads leading to the lake.
Otsu recently made a snazzy, eye-catching video just to promote that it's only "9 minutes by train from Kyoto." This should've been "Only 9 minutes TO Kyoto" instead. Have tourists stay in Otsu to visit Kyoto, rather than tourists staying in Kyoto to visit Otsu. People who lodge in Otsu drop more money than people who just visit Otsu, right? Otsu often serves as backup accommodations for people who can't find hotel rooms in Kyoto anyway. So a "9 minutes TO Kyoto" campaign would have been more practical. Vice versa is a lot harder—getting tourists staying in Kyoto to visit central Otsu.
Theoretically, being so close to Kyoto might sound good, but it can also be disadvantageous. Tourists who want to get away from Kyoto may think Otsu is too close and prefer to venture further away. This may explain why Harie and Shigaraki (both taking at least an hour from Kyoto) are more popular to visit from Kyoto.
Well, I still give credit to Otsu for at least trying and coming up with ideas. But as I told Seita, I think Otsu is stuck in a hard place. It doesn't have a trademark attraction like Hikone Castle in Hikone. Yes, there's Enryakuji (World Heritage Site), but it's almost part of Kyoto and most people go there from Kyoto. Otsu has other important Buddhist temples and Shinto shrines, but people who want to see temples/shrines might as well stay in Kyoto. There's Lake Biwa and lake cruises, but the lake is not unique to Otsu. Otsu has a lot of things, but nothing stands out. So it lacks a strong and unique identity attractive to tourists.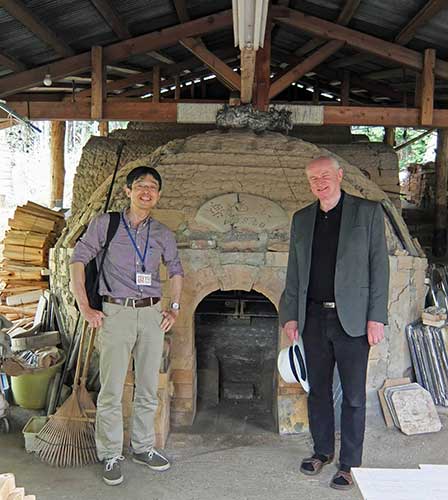 And Shigaraki (in Koka), despite its fame and popularity with foreigners, still has no official tourism website in English. (Google Translate doesn't count.) Selling their wares to foreigners should really help (especially with the Tokyo Olympics coming up). The Shigaraki pottery association should create an English website. Shigaraki hardly has info in English except for Miho Museum and the Shigaraki Ceramic Cultural Park.
Too many people working in Shiga tourism still don't understand the power and worldwide reach of the Internet and how a little language can go a long way. It's hard to believe that there are still volunteer tour guides (mostly retirees) in Shiga who do not even use the Internet. (No emailing, no messaging, and no Web browsing.)
Anyway, I had a good discussion with Seita-san and we'll be keeping in touch. YUtour provides a very valuable and rare service in Shiga. I think Seita represents Shiga very well as a grassroots cultural ambassador spreading the word about Shiga. I find him to be very friendly and affable. He is another example of how even one person can make a big difference in Shiga. It's not snazzy videos nor slick brochures. It's the word of mouth that counts the most and Seita Mori is on the front line for that.
To book a tour, go directly to the YUtour website. As of this writing, YUtour is not available for booking at travel sites like Expedia.
Website: http://www.yutour.net/
For more photos of his tours, see the Facebook page: https://ja-jp.facebook.com/yutour.net/
Seita also appeared in this PR video of Kyoto and Shiga produced by KLM: