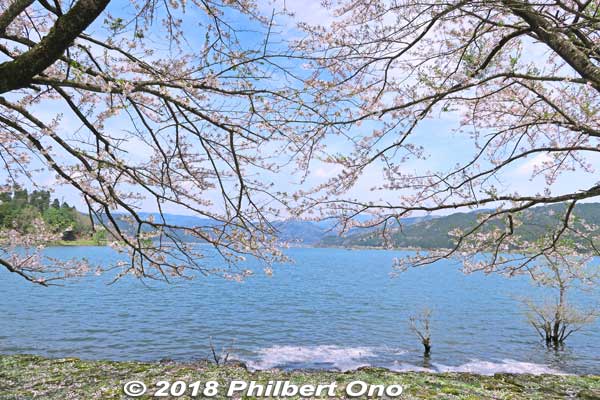 Every April, cherry blossoms around Lake Yogo bloom quietly with little fanfare. No crowds and no noise except the breeze and rippling water. Yogo never fails to relax you.
Most cherry trees are right along the lake's edge, so they are photogenic. They bloom during most of April. Early April sees the Somei-Yoshino cherry blossoms together with the yellow, nanohana rapeseed flowers along a small waterway to the lake not far from the station.
Most other cherry blossoms are along the southern end of the lake opposite from Yogo Station. They bloom from mid-April. There are also late-blooming sakura like the Oshima-zakura with greenish-white flowers in late April and the fluffy pink yae-zakura from early May.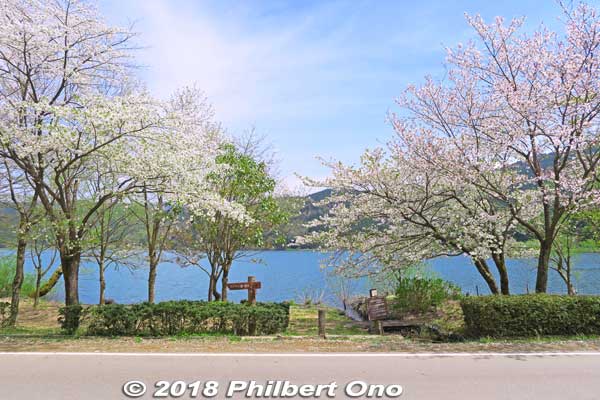 There's a lawn or benches near the trees, but I saw no hanami picnickers. Be aware that Lake Yogo has black kites (predatory birds) known to swoop down and snatch food from your hands. So if you're eating, best to stay under some tree cover instead of being out in the open. Be especially careful if you have an infant or small child with food in hand.
If you've never been to Lake Yogo, rent a bicycle at the train station and cycle around the lake. There is a road going completely around the lake. Going counterclockwise is recommended since you will be closer to the lake's edge on the road. Walking is also possible. Takes over an hour to walk around the lake without stopping (6.45 km circumference). Also drop by the Lake Yogo Sightseeing Center (余呉湖観光館) for tourist information and gift shop where you can take a break or maybe see a small exhibition.
There's also a swan maiden monument near the Yogoko Visitor Center on the northern shore. There are multiple versions of Lake Yogo's swan maiden folktale. Basically about a local pervert who steals the swan maiden's feathered cloak while she bathed in the lake. Since she cannot return to heaven without her swan cloak, he forces her to marry him and bear his children. She later somehow gets back her feathery clothing and floats back to heaven. Today, it would be a sexual harrassment or enslavement story.
If you want to also visit Mt. Shizugatake (highly recommended) next to Lake Yogo, you should visit Shizugatake first, then easily hike down to Lake Yogo. From Shizugatake, there's a short trail going down to Yogo. The short trail will bring you to the cherry blossoms on the southern shore. There's also a long trail going along the ridge toward the northern fringe of the lake which would be better for another day. There are buses from JR Kinomoto Station to Shizugatake.
After Yogo if you have time, another option I can recommend is Mt. Toragozen near Torahime Station, four train station stops from Yogo Station toward Nagahama. The cherry blossoms are really beautiful in and around Toragozen.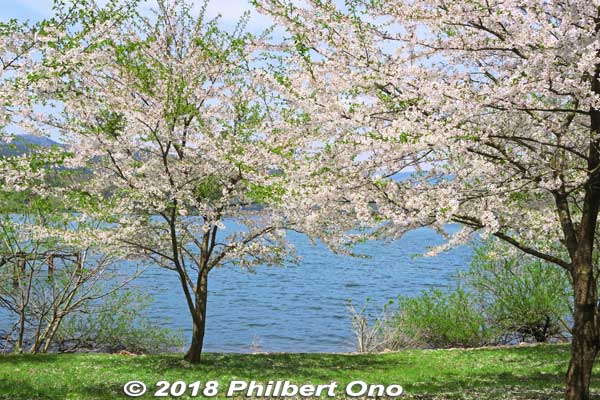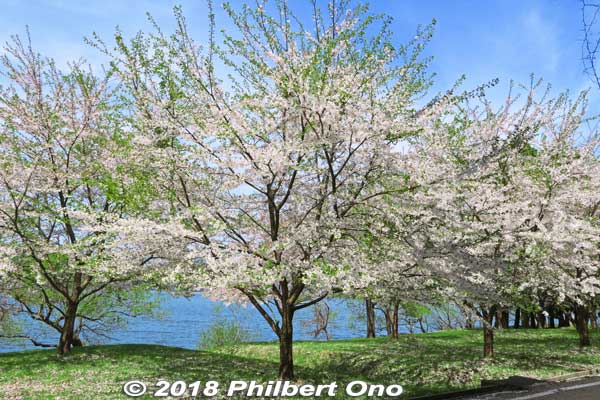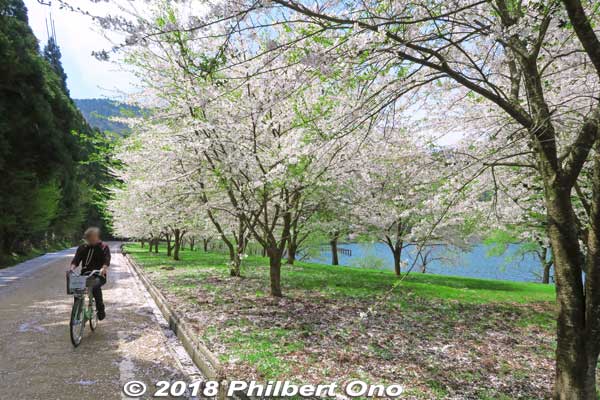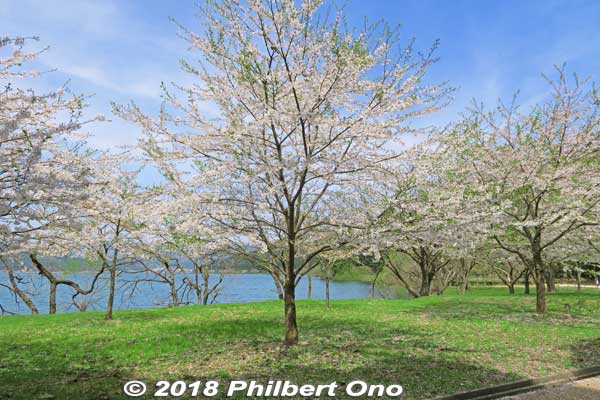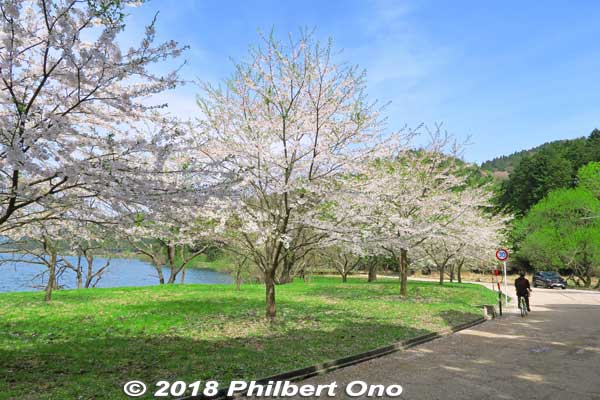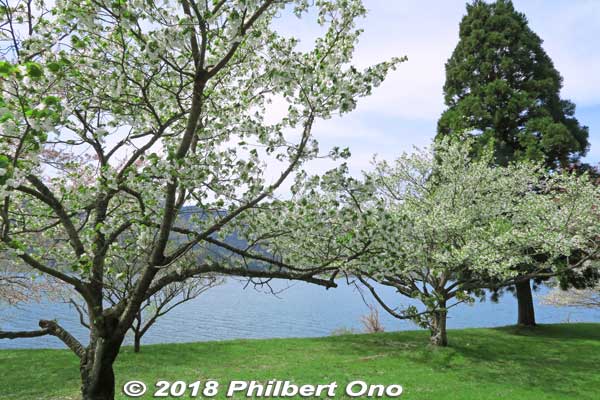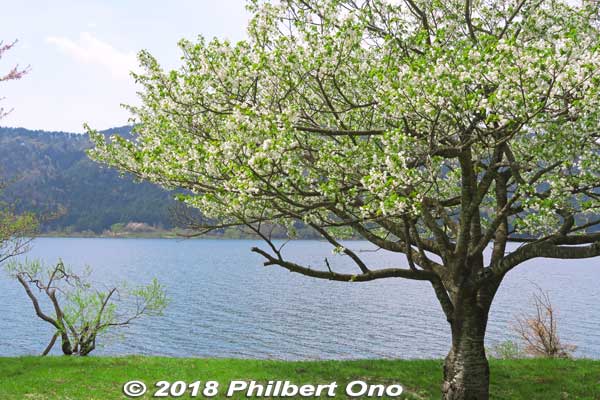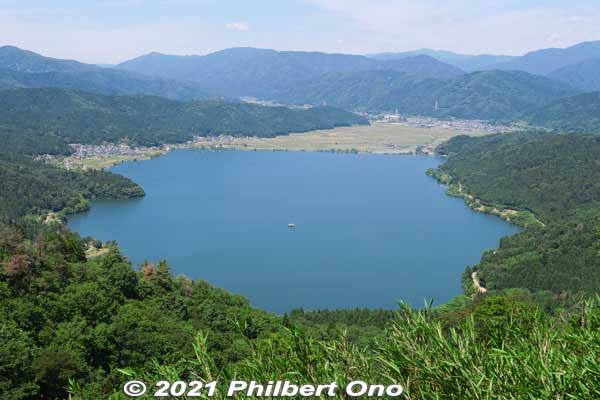 More photos of Lake Yogo here.
Also see Shiga's Top 5 Cherry Blossoms Spots.
Getting to Lake Yogo: Short walk from JR Yogo Station on the JR Hokuriku Line.