Video link: https://youtu.be/9G94IppUiiE
To celebrate the 100th anniversary of Shiga's most famous and beloved song, Biwako Shuko no Uta (琵琶湖周航の歌), shiga-ken.com held a special mini concert in Imazu on April 16, 2017 with the cooperation of the Biwako Shuko no Uta Shiryokan song museum (琵琶湖周航の歌資料館) and Imazu Port in Takashima, Shiga Prefecture.
The highlight was twin sisters Jamie and Megan Thompson at Imazu Port singing Lake Biwa Rowing Song (English version of Biwako Shuko no Uta) to the accompaniment of Lake Biwa reed flutes (yoshibue) played by Lake Reed (レイクリード), a duo consisting of Kikui Satoru (菊井了) and Kondo Yumiko (近藤ゆみ子). The result was stupendous and oh so pretty, both in sight and sound on a beautiful day in front of a blue Lake Biwa at Imazu Port. Watch the 5-min. video embedded above and see for yourself.
It was only our second time to perform at Imazu Port. The last time was on June 3, 2006 when we first introduced and performed Lake Biwa Rowing Song in public. For this second time, I decided that instead of staging a repeat performance of what we did in 2006, we should do something different. Having Lake Biwa reed players join us was perfect. It turned out that it was the first time for Lake Reed to perform together with multiple singers.

Video link: https://youtu.be/PjnY67sIcqE
We also held an indoor mini concert at the Biwako Shuko no Uta Shiryokan song museum. The performance of Lake Biwa Rowing Song was repeated and followed by three pretty songs by Lake Reed. Watch the 23-min. video embedded above.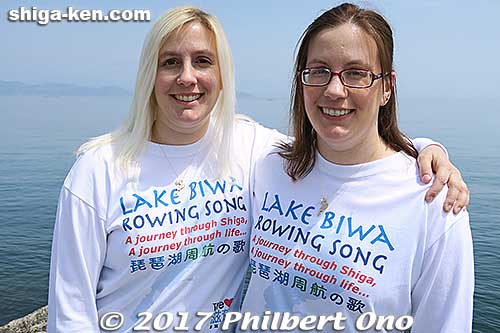 Our mini concert turned out to be a media event with coverage by Asahi Shimbun, Chunichi Shimbun, Mainichi Shimbun, Sankei Shimbun, and Yomiuri Shimbun newspapers. I came prepared for the media with these T-shirts I designed and gave to Jamie and Megan to wear. I also gave them Biwa pearl necklaces (closeup photo below).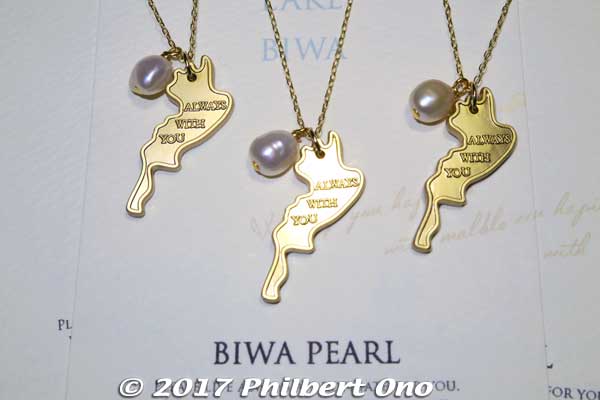 I had these Lake Biwa pearl necklaces custom-made for this day. I found a freelance accessory maker in Otsu named "Malble" (pronounced like "Marble") who was making earrings using this Lake Biwa-shaped, gold-colored accessory. It says, "Always With You." (Like Lake Biwa is always with you.) I had her make these necklaces strung together with a medium-size Lake Biwa pearl. They came out very nice at reasonable cost.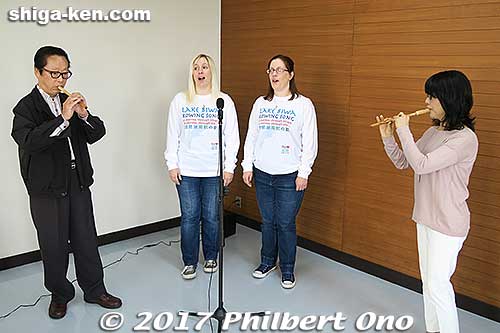 Since summer 2016, prominent people and organizations in Shiga and Kyoto announced plans to hold Biwako Shuko no Uta 100th anniversary events in 2017. I also wanted to take part in these events.
So I asked Jamie and Megan (who sang Lake Biwa Rowing Song in English in 2006 while they were working in Japan as JET Program ALTs), if they could visit Japan in 2017 to participate in one of these anniversary events, especially in June (the song's actual anniversary date) or November (Kyoto University's main anniversary event).
It turned out that they both could make it to Japan only in April 2017. Since there were no anniversary events in April, we held our own commemorative mini concert on April 16. Couldn't let such a rare trip to Japan by both sisters go to waste.
The performance at Imazu Port started at around 1:30 pm after all the cruise boats left Imazu Port. It was mainly for me to shoot videos for a music video (embedded at the top). The media also took photos and interviewed us under a somewhat hot sun. We then moved to the nearby Biwako Shuko no Uta Shiryokan song museum for an indoor mini concert and social gathering that lasted until about 4 pm.
The ever so helpful and cooperative Biwako Shuko no Uta Shiryokan song museum allowed us to use their room on the second floor for our indoor mini concert. They also secured permission for us to perform at Imazu Port.
I didn't really publicize this event since it was intended for only friends and invited guests and the local media. However, during the 2.5 months of planning, the event started to take on a life of its own as it morphed into something more substantial. I knew things like this never go according to plan, so I remained flexible and played it by ear.
As I expected, we ran behind schedule and were unable to do a few things that I had planned. But all-in-all, our event turned out very well with great weather, no accidents or illnesses, great videos and photos, and everyone having a fun time. Many people also went on the 3:30 pm Sakura cruise to Kaizu-Osaki afterward. I'm glad that it was worth coming to Imazu which is quite far for most of us.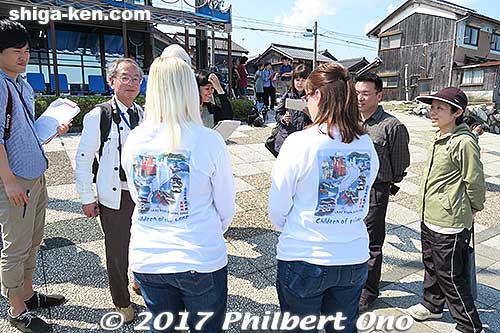 Talking to the press took longer than expected since so many of them showed up and they had lots of questions. They also kept asking for my age which I declined to say since it was irrelevant. (Japanese newspapers always like to state the age of the people they write about. It has never happened in my case though.)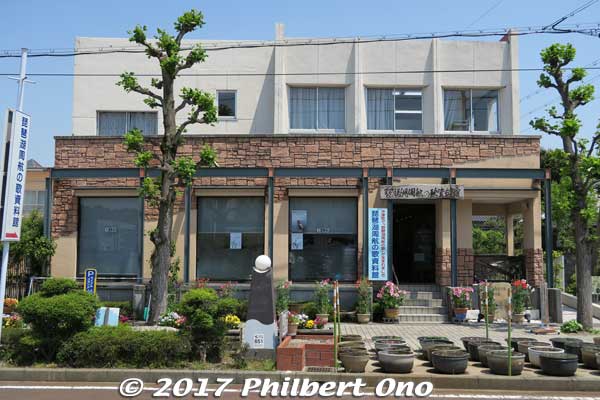 Our indoor mini concert started with Jamie and Megan singing Lake Biwa Rowing Song with Lake Reed playing Lake Biwa reed flutes.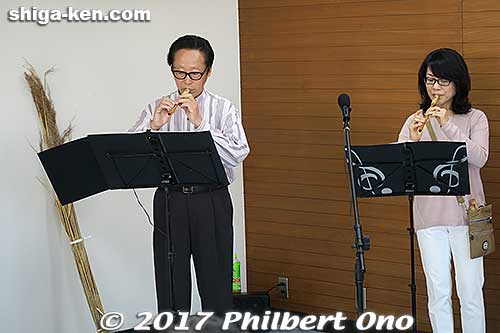 Lake Reed then performed three songs: Furusato (Hometown), Miyagete-goran Yoru no Hoshi wo (Look Up at the Night Stars), and Umi no Koe (Voice of the Sea). (Watch the video to hear them play.) They were brilliant. So pretty. Omi-Hachman resident Kikui Satoru was the person who actually invented the Lake Biwa reed flute in 2000. So he's been playing it longer than anyone else in the world. We were so lucky to have him and his partner Kondo Yumiko perform for us. Everyone performed on a voluntary basis, no one got paid.
Mr. Kikui was also generous enough to bring 15 reed flutes to hold a sample lesson mainly for the kids who came. Unfortunately, we didn't have time for it. Sounds like I have to plan a follow-up event to make it happen.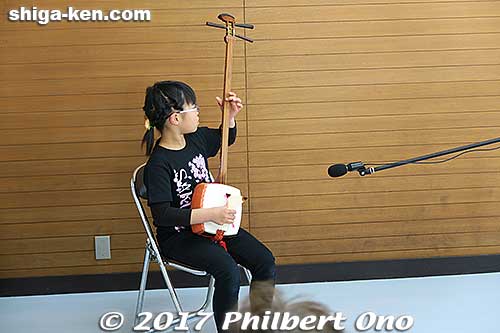 Our third performer was Kiyora, a third grader from Moriyama. She played the famous cherry blossom song, "Sakura, Sakura" with her shamisen. As a beginner, she played quite well.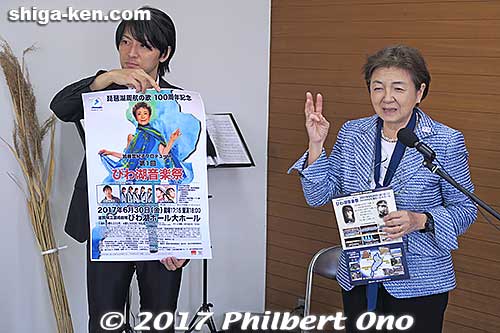 We were also honored to have former Shiga Governor Kada Yukiko attending our event. Being the president of Biwako Seikei Sport College in Omi-Maiko, she's very busy. And yet, she made the time to hear us sing. We thank her for coming.
She and singer Kato Tokiko (who made Biwako Shuko no Uta a national hit in 1971) are organizing the 1st Biwako Music Festival (第一回びわ湖音楽祭) at Biwako Hall in Otsu on June 30, 2017. Tickets are still available as of this writing.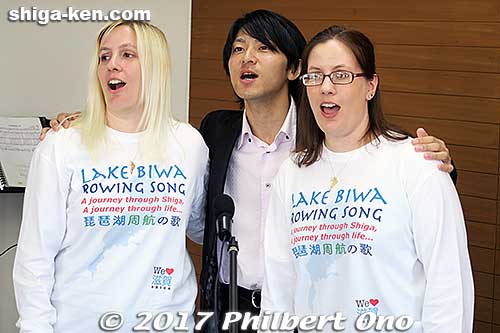 Another special guest was Kitagawa Akihiro, vocalist and one half of the Nagahama-based duo ~Lefa~. Akihiro once studied in Canada, so he does have an interest in singing in English. He sang in English with Jamie and Megan impromptu. He has a very good voice, so I see great potential in him singing in English after I coach his pronunciation. It was the first time for me to meet Akihiro. I saw former Governor Kada's Facebook video of him singing Lake Biwa Rowing Song in English so I invited him to our event. ~Lefa~ was formed in 2010 and they play all around Japan at shopping malls, local events, etc., and sing Biwako Shuko no Uta. They also often hold mini concerts at Biwako Shuko no Uta Shiryokan song museum. The other half of ~Lefa~ is guitarist and keyboard player Kono Hiroyuki.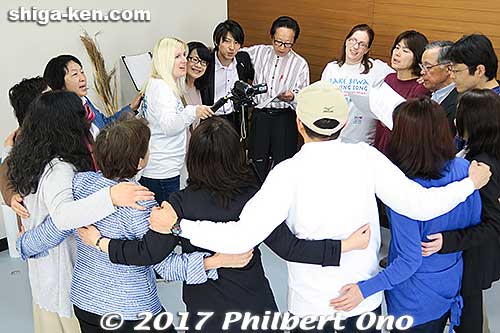 We were running an hour late. Most of the audience left at around 3:20 pm to catch the Cherry Blossom Cruise for Kaizu-Osaki departing Imazu Port at 3:30 pm. So only about 15 of us remained until we ended at around 4 pm. Everyone burst into smiles and started clapping after we finished singing the song in Japanese. It's such a heartwarming song, and being from Hawaii where we have many, many renown hometown songs, I'm so glad Shiga has such a song. It's been 11 years since we announced the English version, but slowly and surely, I see it catching on.