Chronology of Shiga Prefecture's major news headlines for January–June 2023.
Originally posted on Twitter under Shiga Headlines by Philbert Ono. Twitter posts are limited to 280 English characters including spaces and links (shortened by Twitter). Dates are based on Japan time.
Updated: July 25, 2023
Jan 1, 2023: New Year's greeting photo.
Jan 22, 2023: On Jan. 7, 2022, 9 customers who dined at Nigiri Chojiro's Zeze Branch (にぎり長次郎膳所店) in Otsu suffered sushi food poisoning with fever & vomiting. Norovirus was detected. Restaurant was ordered to close for 2 days, and it issued an apology. All victims were recovering.
Jan 22, 2023: Shiga Labor Bureau found that 82% of 179 employers employing foreign technical intern trainees (外国人技能実習生) in Shiga are breaking labor laws for worker safety or excessive work hours (almost 100 hours overtime per month). As of Oct. 2021, Shiga has 4,000+ foreign trainees.
Jan 22, 2023: On Feb. 7, 2022, a two-car Ohmi Railways train derailed near Takamiya Station. No injuries. National Transportation Safety Board found that the width between the rails got too wide. Rail inspections and procedures were deemed inadequate. No comment yet from Ohmi Railways.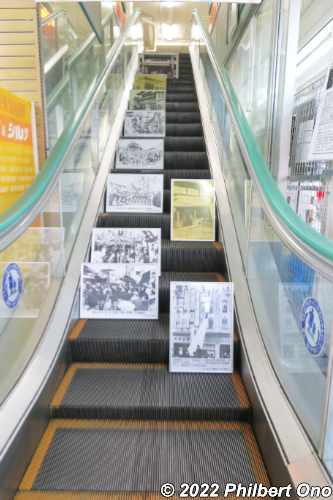 Jan 22, 2023: Shiga's very first escalator was installed inside Heiwado's Hikone Ginza Store on Oct. 1, 1963. Still here, but no longer used. Back then, kids came to see it on school trips. People thought they had to pay money to get on it. Made by defunct Masuda Kikai. Map: https://goo.gl/maps/fQpmv14XCZzjr9xg9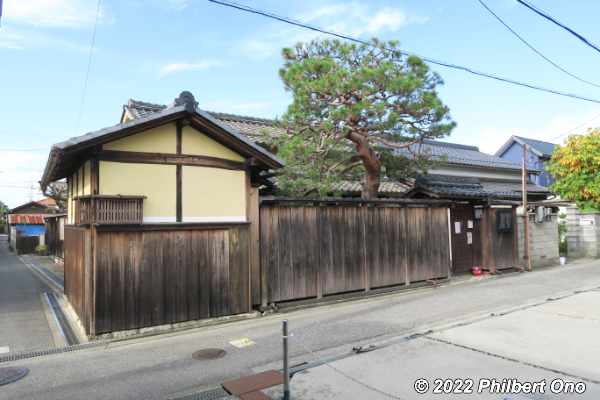 Jan 22, 2023: Ashigaru foot soldiers who guarded Hikone Castle lived near Yonbancho Square. Some ashigaru homes still remain & this one, Tsuji Bansho, is open to the public on weekends. Built to watch intersecting roads. #旧彦根藩足軽組屋敷
(旧磯島家住宅)・辻番所 Map: https://goo.gl/maps/UL7uzhxFPeo13B7n9
Jan 22, 2023: Ukrainian evacuee living in Hikone operates a food truck serving Ukrainian cuisine, mostly in Shiga. See their food truck schedule and location and show your support: https://www.faina.tokyo/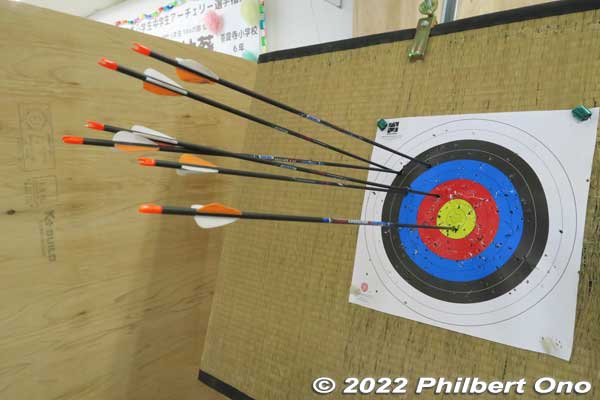 Jan 22, 2023: In Konan near JR Ishibe Station, took an archery lesson at Assist Archery inside Heiwado (!) Great use of old retail space. Read more here: https://shiga-ken.com/blog/2022/12/assist-archery-school-in-konan-shiga/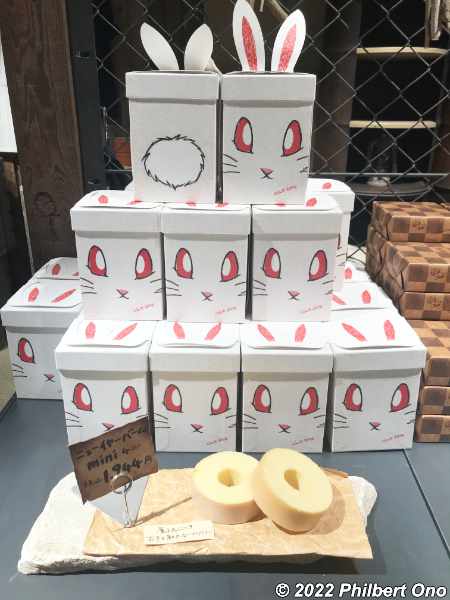 Jan 22, 2023: Since Dec. 26, 2022, Club Harie has been selling a New Year's set of 4 mini baumkuchen inside a box designed like a rabbit. Perfect New Year's gift. (Limited quantity.) Company is known for its seasonal packaging.
Jan 22, 2023: "The Legend & Butterfly" movie starring Kimura Takuya as Nobunaga will hit theaters on Jan. 27. Some scenes were shot in Shiga such as Hikone Castle, Lake Biwa, & Daitsuji. His PR appearance in the Gifu Nobunaga Matsuri in Nov. drew massive crowds. https://legend-butterfly.com/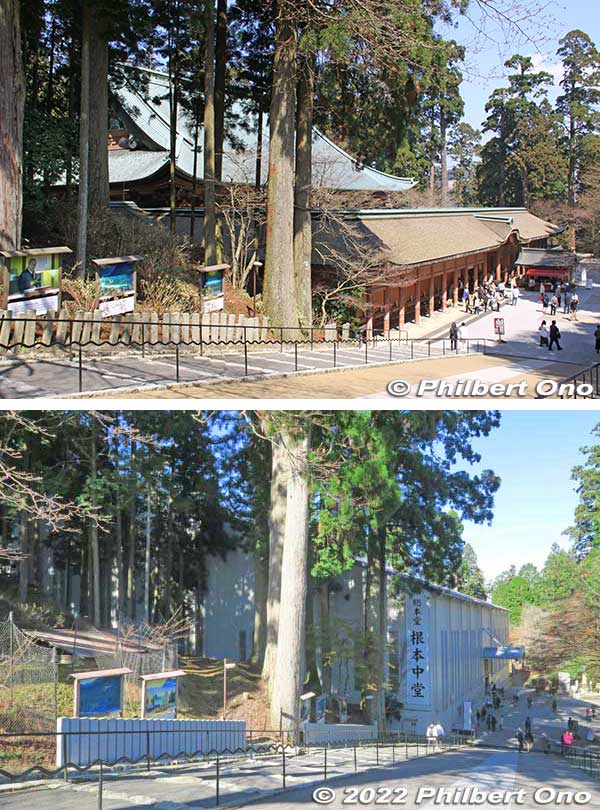 Jan 22, 2023: On Mt. Hiei, Enryakuji's Konpon Chudo main hall is undergoing a massive 10-year renovation project. The public can view the intricate work in progress from a viewing platform. They are still reroofing the massive roofs. Rare look at traditional architecture. #延暦寺根本中堂大改修 https://shiga-ken.com/blog/2023/02/enryakuji-10-year-renovations/
Feb 7, 2023: Ministry of Internal Affairs and Communications 2022 survey of household finances in capital and major cities in Japan revealed that households (with two or more members) in Otsu spent the most on bread and coffee, more than any other capital city in Japan. In 2022, Otsu households spent an average of ¥39,992 on bread products, ahead of Kyoto households that spent an average of ¥38,688 on bread. Even in the past 10 years, Otsu households placed in the top five cities for the annual amount spent on bread. (Kobe attained the top average spent on bread in the past 10 years.)
Rather than normal loaves of bread, Otsu households spent more on pastries and other non-loave bread products. Many Otsu residents do have bread for breakfast and even lunch. During the pandemic, more people consumed bread especially for lunch among people who worked at home.
As for coffee consumption, Otsu households spent the most in Japan on coffee beans and ground coffee, an average of ¥9,845 in 2022, followed by Kyoto households spending ¥9,419. Even during the past 10 years, Otsu ranked second after Kyoto. For canned coffee and coffee consumption in coffee shops, Otsu ranked only 16th and 9th respectively. Most prefer making their own coffee at home. No one knows exactly why Otsu and Kyoto households spend so much on bread and coffee.
Besides bread and coffee, Otsu households in 2022 spent the most on men's sweaters, men's socks, men's pajamas, women's pajamas, women's underwear, vacuum cleaners, and commuter train passes.
Mar 9, 2023: According to Shiga's fisheries agency, the population of bluegill in Lake Biwa has fallen dramatically to 223 tons by 2021, one-seventh of the 1,689 tons estimated 16 years before in 2007. Reasons for the decline include the continuing eradication measures taken by fishermen and the decline of aquatic grasses which makes it easier for the bluegill to be eaten by black bass. Black bass, another invasive species, has also declined by half to 178 tons since 2007. However, the population has since remained steady with no further decline. Let's hope native fish species will start to increase as a result.
Mar 25, 2023: Tashima Shigeru (69 田嶋茂) arrested on Feb. 25, 2023 for needlessly calling Otsu Police Station 3,900 times between Oct. 2022 and Feb. 2023. He was also arrested in March 2023 for making 36,000 unnecessary calls to Otsu police over 19 months, speaking incoherently.
Mar 25, 2023: Age 63 male hiker Yamamoto Keigo (山本圭吾) from Suita, Osaka was found dead in the Hira mountains on March 21, 2023. He apparently got lost and fell off the cliff. Never hike alone.
Mar 25, 2023: The Legend & Butterfly movie starring Kimura Takuya as Oda Nobunaga and Ayase Haruka as wife Nohime was pretty good. A few scenes were shot in Shiga: Hikone Castle, Daitsuji Temple in Nagahama, Iwao Pond in Koka. Nice CG of Azuchi Castle too. https://legend-butterfly.com/
Mar 25, 2023: Survey in 2021 found a major decrease in Lake Biwa's shellfish population compared to 20 years ago. Only 2,569 tons of shellfish (70 species) or 29% of the shellfish population in 2003 remain. Shijimi basket clams were down to 44% of 2003. Due to less nutrients & past herbicides.
Mar 25, 2023: In mid-March 2023, 3 foreign & Japanese World Heritage experts were invited to tour Hikone Castle for 3 days to give advice on becoming a UNESCO World Heritage Site. The Korean & Finnish experts, visiting Hikone for the 1st time, had a favorable impression. It's long shot though.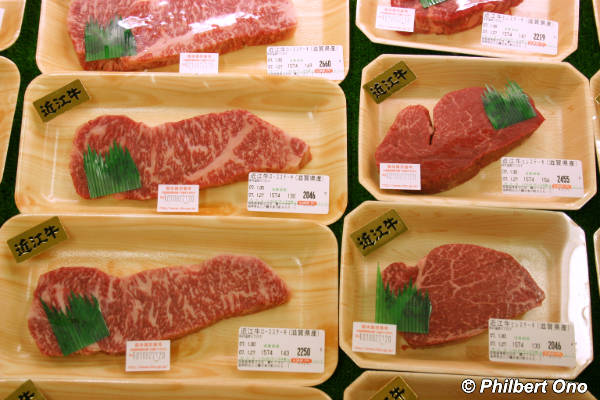 Mar 25, 2023: In Omi-Hachiman, Biwako Food started public tours of their Omi beef factory on March 21, 2023. See them cut up the dressed carcass into 16 beefy parts. You can also cut a 500g block of beef into a steak or sukiyaki meat & pack it to take home. Fee: ¥4,500. https://biwakofood.jp/factorytour/
Mar 25, 2023: With the decline of COVID-19, mass vaccination centers in Otsu & Hikone were closed on March 20, 2023. Letter of thanks was given to the medical staff. The centers opened in July 2021 & vaxed total 100,000 people. Vaccinations will now be done at conventional medical facilities.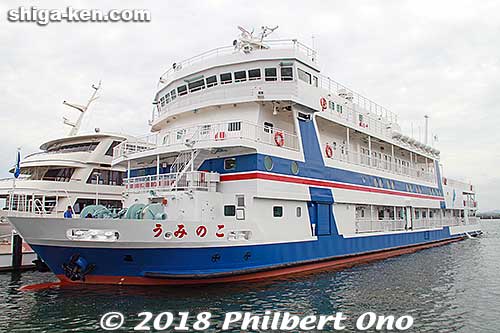 Mar 25, 2023: For the first time in 4 years, Uminoko Floating School will restart overnight lake cruises for 5th graders again from April 2023. Due to the pandemic, it was day-trip cruises only. Now they can learn and experience more on the lake. #学習船うみのこ
Mar 25, 2023: Shocking accident at Lake Biwa Museum on Feb. 10, 2023 when the Lake Biwa Giant Catfish water tank shattered & spilled 100 tons of water to flood the entire aquarium. Fortunately, the museum was closed, no injuries. Catfish found safe inside the tank. Aquarium section closed for repairs. Admission reduced.
Mar 25, 2023: Hikone Weather Bureau announced on March 23, 2023 that cherry blossoms in Hikone has started blooming. This is 8 days earlier than last year, and the second earliest date on record. Full bloom in Hikone expected around March 30.
Mar 25, 2023: Taking over from Biwako Mainichi Marathon which ended in 2021, the first Biwako Marathon (42.195 km) was held on March 12, 2023 with over 6,300 runners from all over Japan. Started at Ojiyama Sports Park in Otsu & ended in Karasuma Peninsula, Kusatsu near Lake Biwa Museum. https://biwako-marathon.com/
Mar 25, 2023: Masks became optional in Japan from March 13, 2023. Trains, supermarkets, etc., in Shiga will no longer ask people to wear a mask. Sports arenas & hospitals will still require masks. In Feb., NHK survey in Shiga found that 50% of residents plan to keep wearing a mask as usual.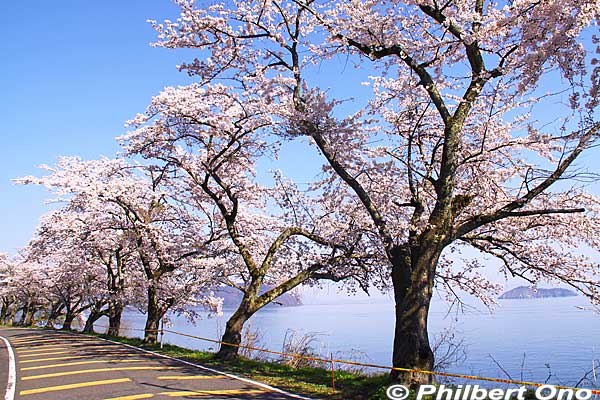 Mar 25, 2023: Major update of my list of Shiga's best cherry blossom spots. They should start peaking in late March to early April. https://shiga-ken.com/blog/2013/03/shigas-top-cherry-blossom-spots/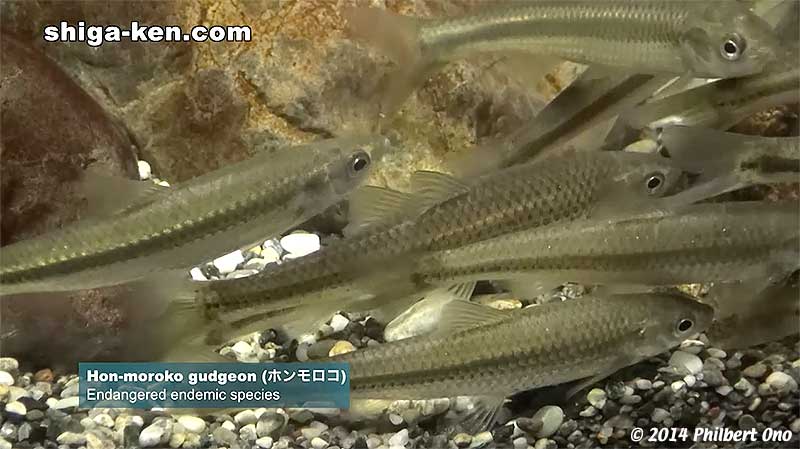 Apr 4, 2023: Hon-moroko (honmoroko) gudgeon (ホンモロコ) is one of Lake Biwa's endangered endemic fish. It's a small and tasty fish. The good news is that the number of honmoroko fish eggs has been increasing dramatically over the last four years in Lake Biwa's South Basin. The fish seriously declined from the latter 1990s due to invasive species eating honmoroko eggs and fewer egg-laying spots. As countermeasures, honmoroko fish fry were released every year, invasive species have been reduced, and the natural environment has been improved.
In 2022 in Shimogasa, Kusatsu, 7.16 million honmoroko eggs were counted, 3.6 times more than in 2018. In Akanoi, Moriyama, 13.75 million eggs were found, eleven times more than in 2018. Not only that, in 2022, over 90 percent of the honmoroko caught were bred and grown naturally rather than those bred artificially. Compared to 2016 when over 60 percent caught were originally bred artificially. Experts believe the honmoroko is making a natural recovery and hope to maintain this recovery.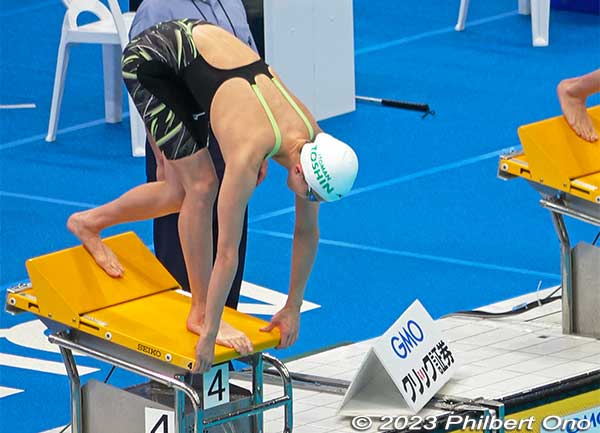 Apr 5, 2023: JAPAN SWIM 2023 1st day at the reopened Tokyo Aquatics Centre sees Ohashi Yui slightly shocked in 2nd place in 200m Individual Medley. Enough to qualify for World Aquatics Championships in Fukuoka in July. Also see her on the 5th & 6th. NHK TV 5pm. #ジャパンスイム2023 #大橋悠依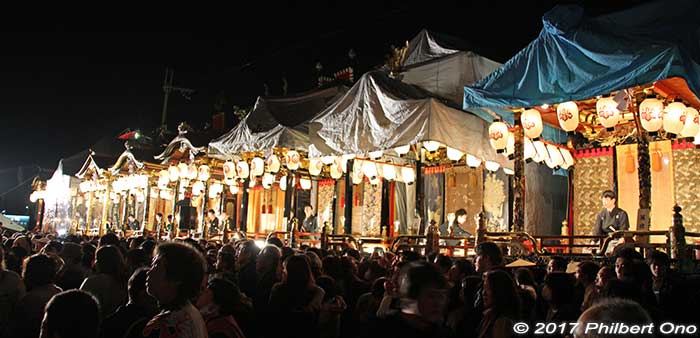 Apr 8, 2023: Nagahama Hikiyama Matsuri #長浜曳山祭 in 2023 will see the rare & special appearance of all 13 floats on April 15 to mark Nagahama's 450th anniversary. Usually we see only 5 floats. Pray for good weather. Updated festival schedule in English: https://shiga-ken.com/blog/2018/03/nagahama-hikiyama-matsuri-festival-schedule-2/
Apr 13, 2023: In Maibara, the Samegai-Kami-nyu area now has almost 20,000 tulips in bloom. This year is the 20th anniversary since local residents started planting tulips originally from Holland. The seeds were planted in Nov.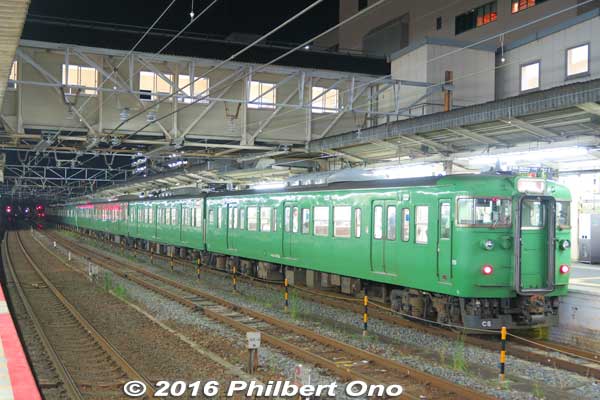 Apr 14, 2023: JR's old 113-series trains have been retired from Shiga train tracks on March 31, 2023. In the Kansai Region, Shiga was the final place where this train model had operated. JR Kosei Line and JR Kusatsu Line in Shiga were the last train lines to see the 113-series train. The 113 series first operated in Shiga when the JR Kosei Line began service in 1974. It was also used on the JR Tokaido Line (in orange and green or "pumpkin" train) and JR Kusatsu Line. On the Kusatsu Line, the 113-series train was painted matcha green. A longtime familiar sight (or shape) to many Shiga residents, now gone. It was the last train model developed and produced by the Japan National Railways (JNR) before it was broken up and privatized into multiple JR companies.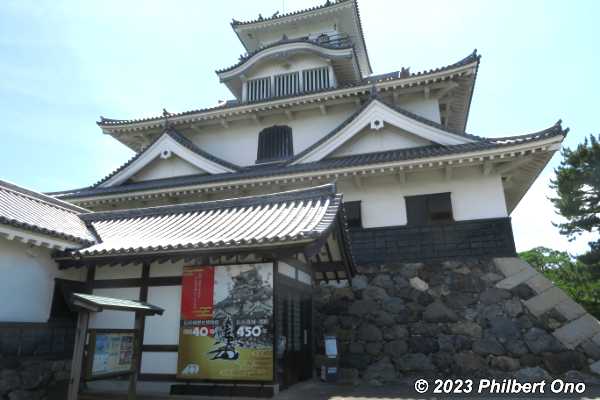 Apr 24, 2023: Congrats to Nagahama Castle History Museum's 40th anniversary. The museum and the reconstructed Nagahama Castle opened on April 5, 1983. The building still looks good inside and out. Too bad it still doesn't have an English website. https://www.city.nagahama.lg.jp/section/rekihaku/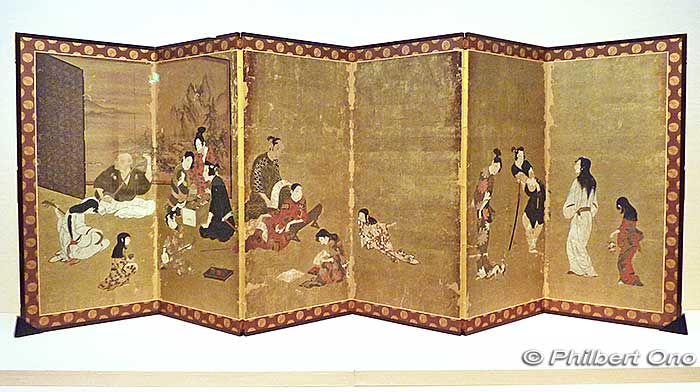 Apr 24, 2023: Hikone Castle Museum is now exhibiting the Hikone Byobu folding screen (彦根屏風), a National Treasure, from April 20 to May 16, 2023. Details: https://shiga-ken.com/blog/2013/04/hikone-byobu-national-treasure-folding-screen/
Apr 24, 2023: Most Golden Week festivals in Shiga will be held again for the first time since 2019. Updated festival schedule here: https://shiga-ken.com/blog/2017/04/videos-of-golden-week-festivals-in-shiga/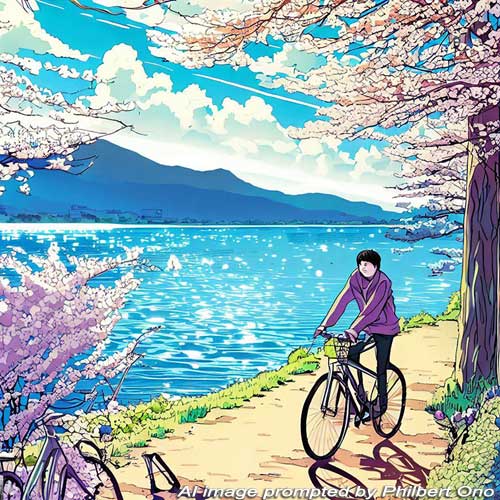 Apr 24, 2023: Tried using ChatGPT to get travel advice about Shiga. Also asked for a 3-day itinerary to cycle around Lake Biwa. The AI results were not reliable, still too many errors. AI-generated images are fun though. Read about it here: https://shiga-ken.com/blog/2023/04/chatgpt-for-shiga-travel-advice/
Apr 24, 2023: Famous enka singer Yoshi Ikuzo (吉 幾三 b. 1952) has been appointed as a tourism PR ambassador for Koka. He wore a ninja costume for his appointment ceremony in Koka today. Although he is a native of Goshogawara, Aomori, he has visited Shiga a number of times through his fan club and expressed his interest in pottery. He hopes to perform in Shiga once a year and use YouTube to promote Koka. (よし、甲賀いくぞー!)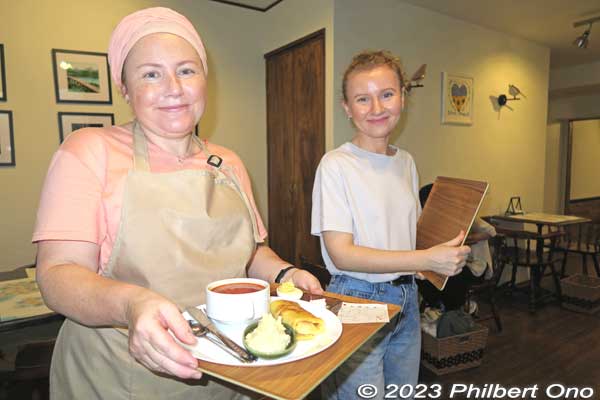 May 27, 2023: Ukrainian evacuee Iryna Yavorska (52) and her family opened "The Faina" (ザ・ファイナ) Ukrainian restaurant on May 27, 2023 on Yume-Kyobashi Road (夢京橋キャッスルロード) near Hikone Castle. "Faina" means "nice" or "fine" in Ukrainian. Restaurant and food review here: https://shiga-ken.com/blog/2023/07/faina-ukrainian-restaurant-hikone/
June 5, 2023: Kusatsu native and Ritsumeikan University junior student Yamamoto Ami (山本亜美) won the 2023 Japan National Championships in the women's 400-meter hurdles for her third time in a row. Winning time was 56.06 sec., her best ever. The meet was held at Yanmar Stadium Nagai, Osaka during June 1st–4th, 2023. She hopes to compete internationally someday.
Jul 15, 2023: Shiga police breaking the law. In April 2023, age 25 policeman hit & injured a child on a bicycle while driving in Otsu and drove away. After a 90% salary reduction for 1 month, he quit the force. No names, no arrests.
Jul 15, 2023: On June 1, 2023, two Shiga policemen were fired for theft. Age 24 policeman stole wallets & bags 6 times from his police station & public employee dorms in Otsu since June 2022. Age 30 police sergeant stole credit cards from his fellow police officers & racked up a bill of ¥640K.
Jul 15, 2023: In May 2023, five Peruvians age 24 to 71 in Ritto were arrested for making cocaine for sale. They include Berru Cortijo Johan Joe (48) & Rodriguez Shimokawa Jorge Antonio (44). Police found cocaine implements & 847g of cocaine worth ¥20 million in Rodriguez's Ritto apt. in Oct.
May 23, 2023: Shiga Vice Governor Osugi visited the Vatican on May 23, 2023 to request a search for the "Azuchi-yama Byobu" folding screen which depicts Azuchi Castle. It was gifted by Oda Nobunaga to the pope in the late 16th century and has not been found. It was once exhibited in the Vatican for several years. The Archivist and Librarian of the Holy Roman Church, José Tolentino Calaça de Mendonça, promised to conduct a search within the Vatican and its embassies around the world.
Jul 15, 2023: On June 1, 2023 soon after 1 am, a trading card shop in Otsu had over 300 trading cards stolen from showcases cracked open. The cards were worth ¥1.5 million. The most expensive one was ¥400,000. Culprits took less than a minute and were caught on camera.
Jul 15, 2023: A new track and field stadium named Heiwado Hato Stadium in Hikone Sports Park opened on April 1, 2023. The running track is blue, for Biwako. The stadium will be used for the National Sports Festival to be held in Shiga in 2025. https://www.bsn.or.jp/hikone/
Jul 15, 2023: Koka City Hall is reviewing the treatment age 30s worker in the fire dept. received in April 2021 for refusing COVID vaccination due to his bad reaction to flu vaccines. He had to work away from co-workers, was banned from the locker room & meeting people. After 4 months, he quit
Jul 15, 2023: The number of foreigners living in Shiga reached a record 36,158 as of Dec. 31, 2022 following the post-pandemic reopening of Japan. Brazilians accounted for the most with 9,281, followed by 8,088 Vietnamese (25% increase over 2021), and 4,533 Chinese. Many are technical trainees at factories. Otsu has the most foreigners with 4,910 and Higashi-Omi with 4,424, and Koka 4,142. Many are technical trainees at factories.
Jul 15, 2023: Shiga is preparing to mark the 450th anniversary of Azuchi Castle in 2026. It wants to digitally reproduce & eventually reconstruct the castle as accurately as possible. But there are very few visual records of the castle since it was destroyed after only 3 years.
Jul 15, 2023: On May 13, 2023, age 81 woman hiker from Maibara lost her balance and fell from the hiking path on the Kamaha Castle site in Banba, Maibara. She died in the hospital. She was with a group. In March, an age 87 Nagoya man fell and died on the same hiking path.
Jul 15, 2023: April 2022 to March 2023 saw 86 alpine rescues in Shiga involving 109 hikers, the most in the past 10 years. Four hikers died, 38 injured. 37 cases were lost hikers, and 31 cases of hikers falling. Hikers still lack detailed information & warnings from Shiga authorities.
Jul 15, 2023: Lake Biwa Museum's aquarium reopened on May 9, 2023 after a 3-month closure due to the shattering of the giant catfish tank in Feb. However, 11 fish tanks remain empty, including the water tunnel due to the possibility of shattering. Still investigating the cause of the fracture.
Jul 15, 2023: From April 1, 2023, everyone on bicycles in Japan are strongly encouraged to wear a helmet. Rental bicycle shops in Shiga would provide helmets. Wear a helmet.
Jul 15, 2023: Elementary school in Moriyama fired a male teacher in June 2023 for stealing the underwear of a woman teacher in a changing room in June 2022. School principal told the woman not to report it to the police because of the "trouble" it would cause the school. He denies any cover-up.
Shiga History July–Dec. 2022 | Chronological History of Shiga | Shiga History July–Dec. 2023