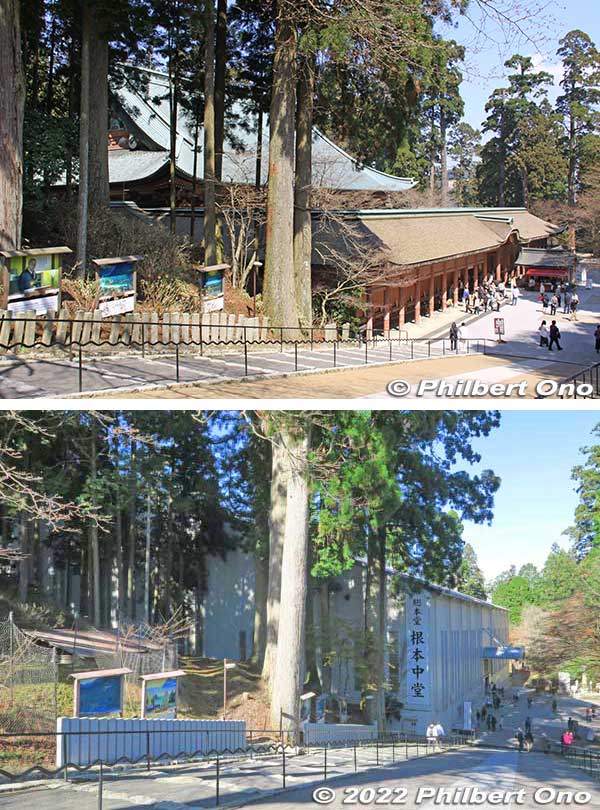 Next to Kyoto, Enryakuji Temple (延暦寺) on Mt. Hiei (Hiei-zan 比叡山) in Otsu, Shiga Prefecture is now offering a rare look at its massive, 10-year renovation of its main temple hall, the Konpon Chudo (根本中堂), a National Treasure. Enryakuji's most important building built almost 400 years ago.
Much of the building is now being completely renovated. The roof is being disassembled and reroofed; wooden walls, woodcarvings, and paintings are being repainted or relacquered; and metal fittings and ornaments are being cleaned and restored. The renovations started in 2016 and will be completed in 2026 or later.
Despite all the scaffolding and busy repair work, the building is still open to the public. Tourists and worshippers are still welcome to visit or give prayers as usual. An extra treat is the viewing platform (shugaku stage 修学ステージ) where you can observe the ongoing renovation work, especially the roof.
If you like traditional buildings, architecture, or carpentry, you will want to see this. It's a once-in-a-lifetime chance to see the innards of this historic building. You don't need to be Buddhist or a temple member to visit. Totally open to the public and tourists (¥1,000 admission charged).
Hours (Todo complex):
January–February: 9:00 a.m.–4:30 p.m.
March–November: 8:30 a.m.–4:30 p.m.
December: 9:00 a.m.–4:00 p.m.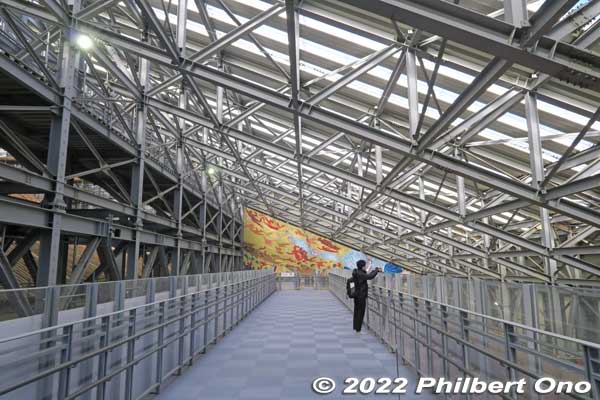 What is Enryakuji?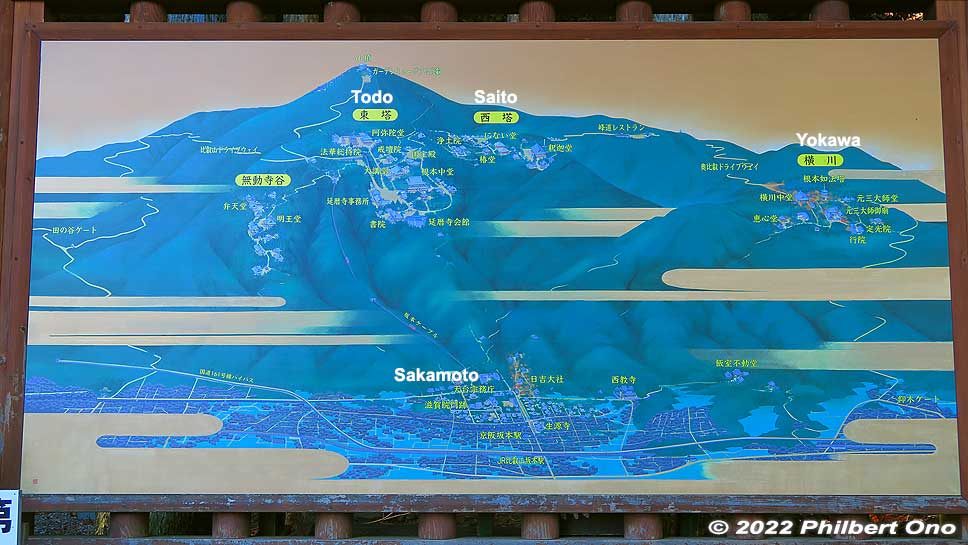 Enryakuji is one of Japan's most famous and largest Buddhist temples consisting of three temple complexes on Mt. Hiei or Hiei-zan on the border between Kyoto and Shiga Prefectures. It is the headquarters of the Tendai Buddhist sect founded in 806 by Priest Saicho (最澄).
Along with Mt. Koya-san (headquarters of Shingon Buddhism) in Wakayama Prefecture, Mt. Hiei is one of Japan's most prominent and sacred mountains for religious and ascetic training. As many as 3,000 monks once lived and trained together on Mt. Hiei. The mountain has sweeping views of Lake Biwa and Otsu.
Hiei-zan is also the cradle of Japanese Buddhism where many founders of major Japanese Buddhist sects once trained before founding their sects. They include Nichiren, Honen (Jodo-shu), Shinran (Jodo Shinshu, aka Hongwanji), and Dogen (Soto Zen).
Being northeast of central Kyoto, Enryakuji was coincidentally positioned to protect Kyoto (the Imperial capital) from demons and bad spirits believed to be lurking in the ominous northeast. Today, it mainly prays for national and world peace and good health. During the COVID-19 pandemic, it prayed for the virus to disappear. It is part of the UNESCO World Heritage Site for Historic Monuments of Ancient Kyoto since 1994.
Enryakuji owns Mt. Hiei which is regarded as the home or body of the mountain god (Sanno 三王). Amid the forest, the main temple complex is named Todo (東塔). This is the most accessible complex where the Konpon Chudo main hall is located. It is closest to the cable car station running from the foot of the mountain on the Shiga side.
You can also visit the other two temple complexes, Saito (西塔) and Yokawa (横川) as seen on the above map. Founded by successive Chief Abbots after Saicho, they each have numerous temples, worship halls, memorial halls, training halls, monuments, etc. From Todo, it's walking distance to Saito. However, Yokawa may be too far to walk, so shuttle buses are provided. (Shuttle buses do not run during Jan. to mid-March.)
It's a nice forest hike and mostly downhill. No vending machines along the way, so take your own drinks. From Yokawa, take the shuttle bus back to Todo. Most tourists visit only Todo, so the other two complexes are pretty quiet.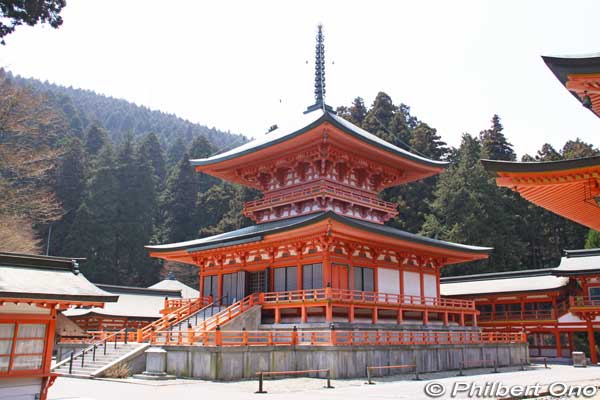 The foot of Mt. Hiei on the Shiga side is the scenic temple town of Sakamoto, dotted with small temples and a large Shinto shrine. It's where Enryakuji priests retire. It also has Hiyoshi Taisha Shrine (日吉大社), the headquarters of all Sanno, Hie, and Hiyoshi shrines in Japan dedicated to the Mountain God (Sanno 山王) which is Mt. Hiei. Lots to see on and below the mountain.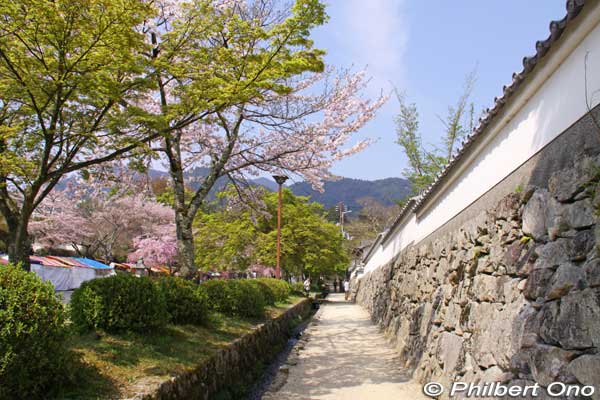 What is Konpon Chudo? (根本中堂)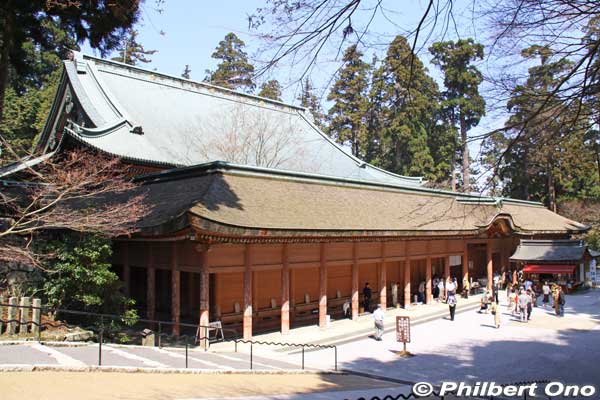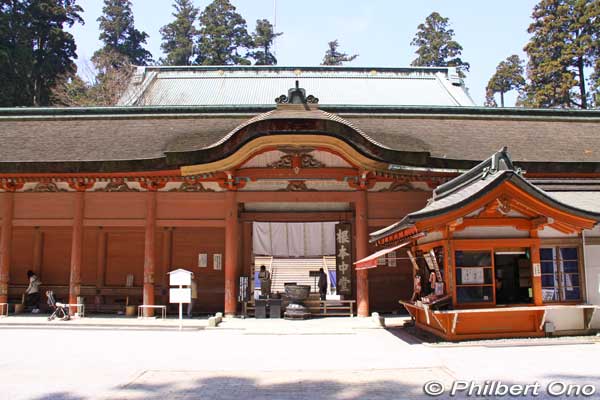 Konpon Chudo is Enryakuji's most important and main hall of worship. It consists of an imposing, worship hall (hondo 本堂) connected to a U-shaped corridor or cloister (kairo 廻廊) with a small courtyard between the two structures.
The hall's original building was built in 788 by Priest Saicho while he trained on Mt. Hiei. He built three small, adjacent worship halls collectively named Ichijo Shikan-in (一乗止観院) dedicated to a small statue of Yakushi Nyorai, the health and healing Buddha, that he carved himself. This trio of small worship halls evolved into the large, Konpon Chudo main temple hall.
Remnants of the three small worship halls remain in Konpon Chudo in the form of three adjacent altars inside the inner sanctum which you can see.
Konpon Chudo is also noted for three large, brass lanterns containing eternal candle flames (Fumetsu no hoto 不滅の法灯) which were lit by Priest Saicho himself. Named the "Inextinguishable Dharma Lamp," the flames have been burning continuously for over 1,200 years. No photography is allowed in this part of the building.
In 823, Emperor Saga (嵯峨天皇) bestowed the temple name of "Enryakuji" (延暦), naming it after the Japanese era name of "Enryaku" (延暦 782–806) when the temple was founded during the reign of Emperor Kanmu. The worship hall trio was also renamed "Konpon Chudo."
In 887, after six years of construction, the three small worship halls were combined into one large worship hall as supervised by Chief Abbot Enchin (円珍).
In 980, Konpon Chudo was expanded into a larger building and connected to a cloister (corridor) under the supervision of the 18th Chief Abbot Ryogen (慈恵大師). This basic configuration of Konpon Chudo has since been retained.
In 1571, tragedy struck as warlord Oda Nobunaga battled Enryakuji's warrior monks and torched the temple complex. During the temple's 1,220-year history, the temple complex was destroyed by fire at least four times. It was rebuilt each time.
Finally in 1642, after nine years of construction, Konpon Chudo was rebuilt as ordered by Shogun Tokugawa Iemitsu. The current building dates back to this one. The building has since undergone six major renovations with the seventh one now in progress since 2016.
Major renovations in 1798 used thin copper plates for the main hall's roof shingles for the first time instead of ceramic roof tiles.
In 1955, Konpon Chudo was renovated for the sixth time with the roof being replaced with new copper-plate shingles and new paint and lacquer on wood surfaces. So it has been 60 years since the last major renovation.
How do I visit Konpon Chudo hall and get to the viewing platform?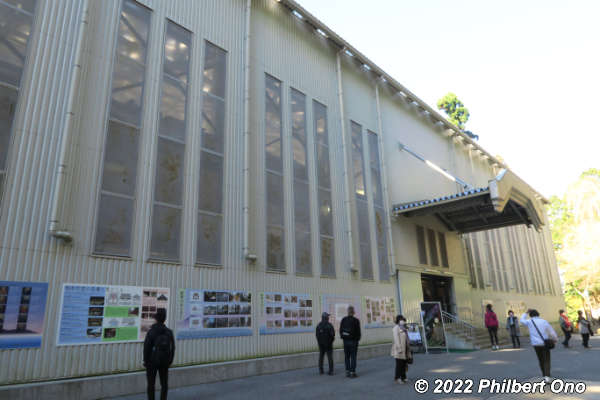 Although Konpon Chudo is completely enclosed by a roofed, scaffolding structure, the main entrance remains open to tourists and worshippers. You can still enter the building, view the main altar or give prayers, and see the renovations in progress from a viewing platform (shugaku stage 修学ステージ) upstairs.
The huge scaffolding structure took at least 15 months to complete in July 2018. Sadly, they had to cut down a few large trees to make room for it. It enables construction workers and artisans to easily reach and work on all parts of the building without being affected by the weather.
When you enter the building, you have to take off your shoes. In the inner sanctum (naijin 内陣), see the main altars (three of them) in the darkened space. The incense smoke might make it a little smokey. Also notice the three large, brass lanterns containing the eternal candle flame (fumetsu no hoto 不滅の法灯). You might hear a priest chanting prayers. No photography is allowed in this part of the building.
Then go out of the inner sanctum and instead of putting your shoes back on, go right and walk to the stairway at the end of the building. Go upstairs to the viewing platform.
The viewing platform (shugaku stage 修学ステージ) opened to the public on Aug. 1, 2018. It overlooks the roofs being repaired. You can take pictures from viewing platform.
You can see the roofs being reroofed with new shingles, etc. The main temple hall's large, sloping roof is behind the viewing platform while the connected corridor's long roof is right in front.
The elevated viewing platform occupies the courtyard between the main hall and corridor. When I was there in Nov. 2022, there were no workers, so I didn't see them in action. There's no extra charge to go to the viewing platform.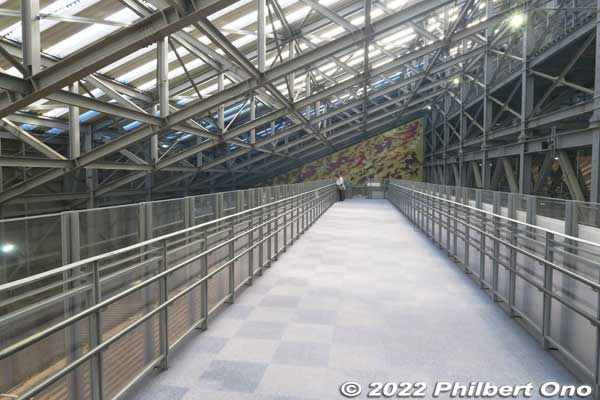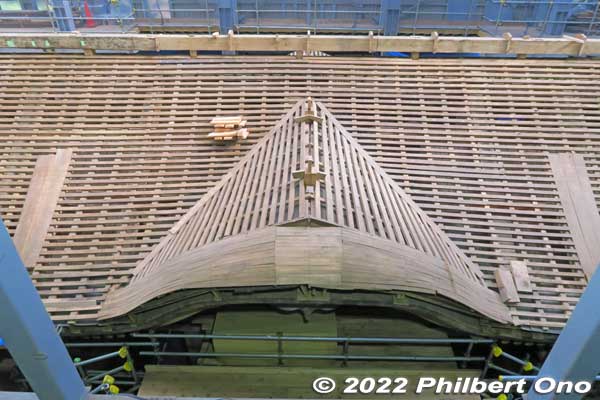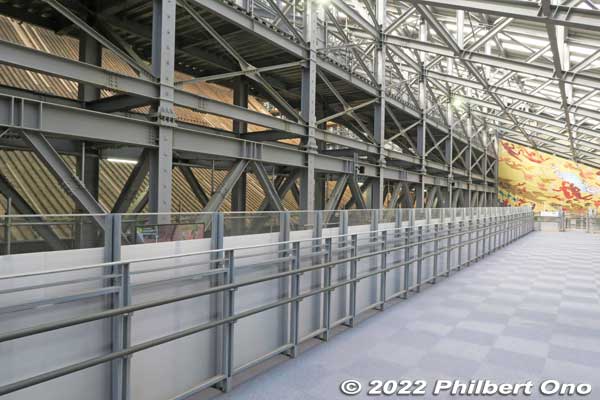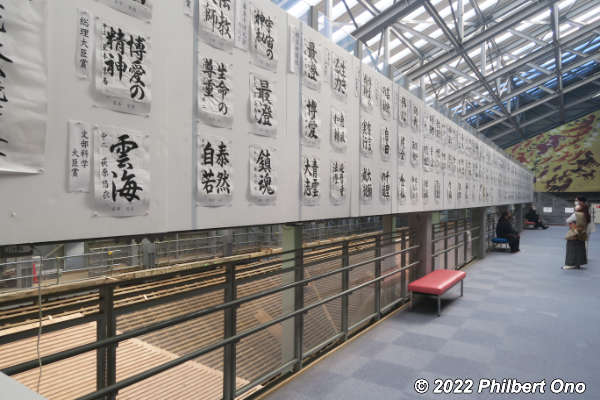 What is being renovated at Konpon Chudo?
The Konpon Chudo renovation project (called Konpon Chudo Dai-kaishu 根本中堂大改修) started in 2016 with the 15-month construction of the huge scaffolding building covering the entire Konpon Chudo including the roof.
It's been 60 years since the last time Konpon Chudo saw major renovations in 1955. The entire roof was replaced back then. Exposure to the elements over the decades since has taken its toll on the roof and paint. Roof shingles are damaged or decayed, and the paint or lacquer on woodcarvings and walls have faded or peeled away.
Both the main worship hall (National Treasure) and corridor (National Important Cultural Property) are being renovated at a cost of at least ¥5 billion.
The renovation work includes the following:
New roofing (new underlayers and shingles). The main hall uses thin copper-plate shingles, and the corridor uses Sawara cypress wood shingles from Nagano. Sawara wood has thin tree rings, making it easy to cut and shape. It's also resistant to water.
During Nov. 2018–March 2019, the old roofs were disassembled and dismantled. All the copper shingles on the main hall's roof have been removed. The underlayer decking and wood framing were in pretty good shape, so only the damaged spots were repaired. (屋根の葺き替え)
Repainting or relacquering of wooden walls and doors, assemblages, ranma transoms, and decorative wood carvings. (Includes color analysis of old coats of paint or lacquer [色彩調査] and removal of old paint/lacquer.) Black lacquer on the exterior doors has largely faded or peeled away by the elements.
Exterior walls will be repainted a dull red color with an oil-based paint called chan-nuri (ちゃん塗) resistant to water and decay. Upper part of the exterior walls below the eaves will be painted with tan-nuri (丹塗), blended with red lead powder and bengara iron-based pigment. Before the repaint, the old paint/lacquer is removed with a scraper tool by hand to expose the bare wood. (Workers wear hazmat suits.)
Cleaning and restoration of flower painting panels on the ceiling above the altar area. The paint is peeling away and blackened by soot. There are 200 ceiling flower paintings. (天井絵)
Cleaning, repair, and restoration, or replacement of decorative metal fittings which have tarnished or broken.
Repair, reinforcement, and restoration of Konpon Chudo's Twelve Divine Generals statues (juni-shinsho 十二神将) accompanying the Yakushi Nyorai healing deity. Gold leaf is being applied on the halos and base.
These statues were long assumed to have been carved after the Konpon Chudo was last rebuilt in 1642. However, when the statues were disassembled, text written inside the statues indicated that it was carved much earlier, between 1330 and 1332. They somehow survived Konpon Chudo's multiple fires since then (news article here). The statues are currently displayed in the Kokuho-den (国宝殿) museum.
Repair of decayed or damaged roof eaves and wood flooring.
Replacement of two decayed foundation pillar bottoms. Jacks were used to lift up the building to cut away and insert the pillar bottom piece. This was also done in 1955.
Today, modern technologies are used to examine and assess the building and its parts. It will look fabulous when the job is done.
See the official Japanese website and the videos below outlining the renovations to be done.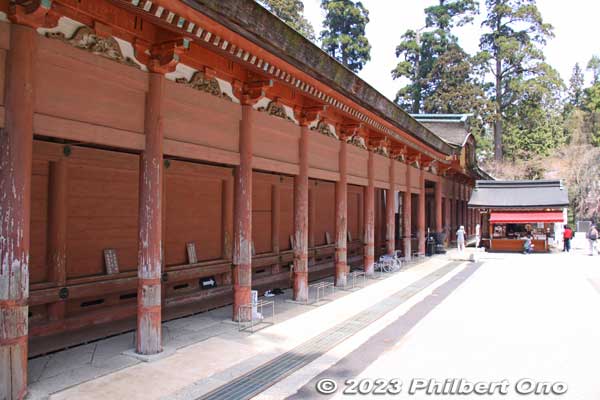 Also see this excellent virtual reality walk-through of the Konpon Chudo under renovation. https://ui.archi-twin.com/showcase/?id=27
Who was Priest Saicho? (最澄)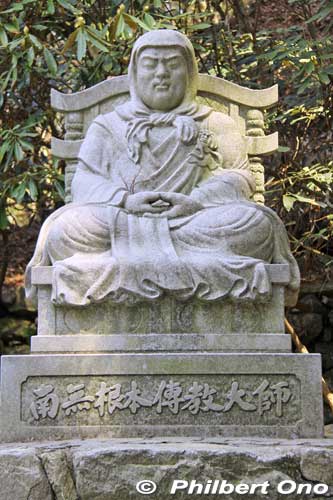 Posthumously named Dengyō Daishi (伝教大師), Priest Saicho (767– 822) was born in Otsu, Shiga Prefecture and was called "Hirono" (広野).
He studied Buddhist teachings and received Tokudo monk trainee ordination in 780 when he also received his Buddhist name "Saicho" (最澄). Five years later in April 785, he received full ordination as a Buddhist monk under Todaiji Temple in Nara.
Just three months later, he started his religious training on Mt. Hiei. In 788, he built a small worship hall to worship a statue of Yakushi Nyorai, the healing buddha that he carved himself. This hall would eventually become the Konpon Chudo main hall in the location where it is today. He also lit an oil lamp candle and vowed that it would never be extinguished. The flame still burns today as the "Inextinguishable Dharma Lamp."
After Japan's capital moved to Kyoto in 795, Saicho and his monks on Mt. Hiei happened to be located northeast of central Kyoto. Based on Chinese superstition, the northeast was where evil demons and spirits lurked. So Saicho's temple on Mt. Hiei was seen as protecting Kyoto. Saicho thus developed ties to the Imperial Court and the Buddhist community in Nara.
Wanting to study Tendai/Tiantai Buddhism, Saicho received a grant from the emperor to travel to China and study Tiantai Buddhism. Together with other young monks, Saicho arrived in Ningbo, China in 804 and went to Mt. Tiantai where he met the 7th Patriarch of Tiantai who became his teacher. Saicho studied under him for 135 days.
Then he spent some months transcribing Buddhist texts to be taken back to Japan. He also learned Zen Buddhism and esoteric Buddhism. He stayed in China for eight months before returning to Japan.
Saicho believed that Tiantai was the foundation of all major Buddhist sects in East Asia. In 806, Saicho's Tendai Lotus sect finally won official recognition from the emperor. This is the official year of the Tendai Buddhist sect's founding (天台).
In June 822, a week after Saicho's death, Mt. Hiei was officially authorized to ordain monks. Until then, Buddhist monks could only be ordained under Todaiji Temple in Nara which represented the Buddhist establishment.
In 823, Emperor Saga (嵯峨天皇) bestowed the temple name of "Enryakuji" (延暦), naming it after the Japanese era name of "Enryaku" (延暦 782–806) when the temple was founded. The worship hall trio was also renamed "Konpon Chudo." Mt. Hiei became a monastery that attracted many monks and even eventual founders of major Japanese Buddhist sects.
In 866, Emperor Seiwa bestowed the posthumous Buddhist name of "Dengyo Daishi" (伝教大師) on Priest Saicho. It was the first time the "Daishi" (Great Teacher) title was bestowed on anyone in Japan.
Buddhist lunch at Enryakuji Kaikan (延暦寺会館)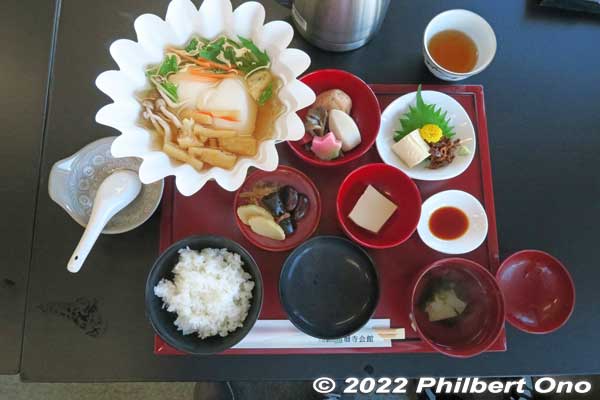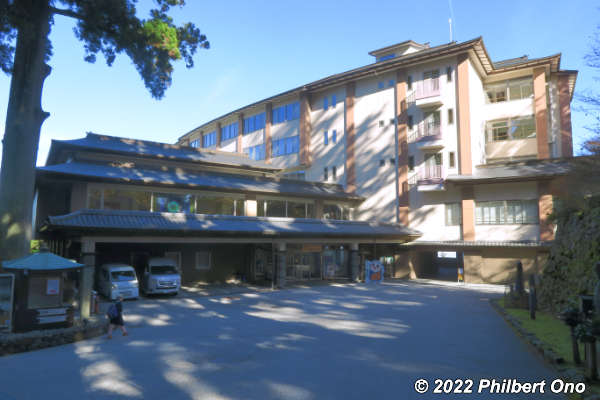 A short, downhill walk from Konpon Chudo is Enryakuji Kaikan (延暦寺会館), the temple's hotel and restaurant facility with fine views of Lake Biwa. Named Boko (望湖), the restaurant's lunch menu includes shojin-ryori (精進料理) or Buddhist vegetarian cuisine.
At the restaurant, I had the Hiei Gozen (比叡御膳) Buddhist cuisine which was ¥2,200. It came with a kettle of hot tea. It was good and healthy, but a little bland. This meal is offered during a limited time and it may sell out. To be safe, it's best to make reservations. I walked in without reservations right before lunch time ended, and they still had it.
The food included yuba sashimi, goma (sesame)-dofu, red konnyaku, taki-awase, kumiage-tofu, and local Omi rice. So soy provides the protein. The restaurant has other dishes that includes meat or fish. https://syukubo.jp/ryouri http://www.hieizan.co.jp/gourmet/restaurant/
Getting to Enryakuji and Mt. Hiei by cable railway
Mt. Hiei (elevation 848 m) and Enryakuji are easily accessible via public transportation from Otsu (Sakamoto), Shiga on the eastern side or from Kyoto on the western side. Going up from the Shiga side is scenic with views of Lake Biwa. It's also accessible year-round from the Shiga side while buses and the cable railway and ropeway from the Kyoto side are closed during the winter months from early Jan. to mid-March.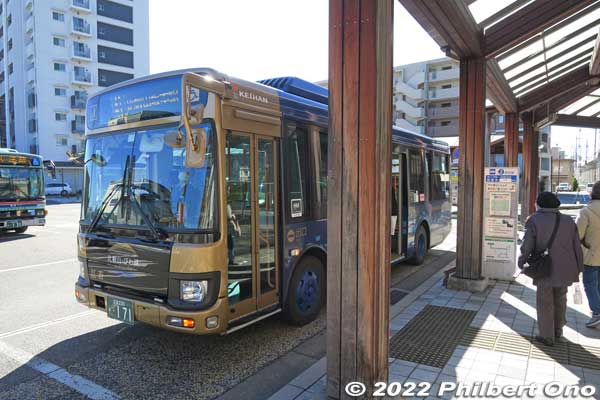 From Otsu, Shiga:
1. Take the JR Kosei Line to JR Hiezan Sakamoto Station.
2. From JR Hiezan Sakamoto Station (East exit, bus stop 2), take the bus to Cable Sakamoto Station. The bus leaves twice an hour. (7 min. ride)
3. At Cable Sakamoto Station, take the cable railway up to Cable Enryakuji Station on Mt. Hiei. (Departs every 30 min. usually from 8:00 a.m. to 5:30 p.m.) Takes 11 min. Round trip fare is ¥1,660 (¥830 for children).
4. From Cable Enryakuji Station, short walk to Enryakuji's Todo main temple complex.
Sakamoto Cable website in English here.
Sakamoto Cable Railway pamphlet in English here.
For step 1 above, you can also take the Keihan Line to Sakamoto-Hieizanguchi Station and either walk or take a bus to Cable Sakamoto Station.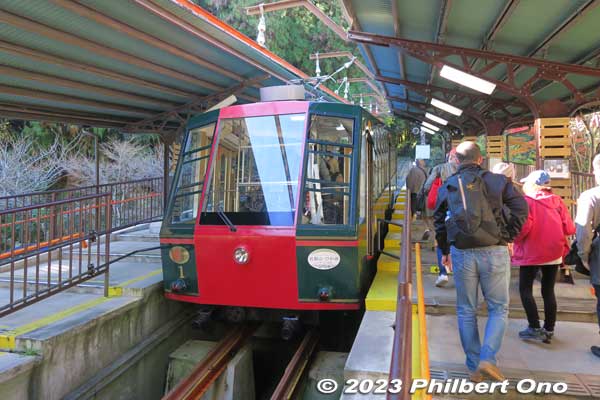 From Kyoto (except during early Jan. to mid-March):
During the warmer months, the easiest way is to take the Hiezan Drive Bus from JR Kyoto Station. Get off at Enryakuji Bus Center which is near the Todo complex. Takes about 70 min. This bus does not run during early January to mid-March.
There's also a cable railway and ropeway going up to Mt. Hiei. However, this is more for getting to the Garden Museum Hiei, a flowery park on the summit. You will need to take the shuttle bus to Enryakuji at the end of the ropeway. The cable railway and ropeway from Kyoto do not operate during early January to mid-March.
1. From Demachiyanagi Station on the Eizan Line, go to Yase-Hieizanguchi Station.
2. Walk to Cable Yase Station nearby (5 min.) and take the cable railway up to Cable Hiei Station (9 min.).
3. Walk to Rope Hiei Station nearby (1 min.) and take the ropeway to Hiei-zan Sancho (3 min.).
4. Walk to Hiei Sancho bus stop (10 min.) and take a shuttle bus to Enryakuji (6 min.). (Shuttle buses do not run during early January to mid-March.)
Illustrated map to Enryakuji via public transportation: https://www.hieizan.gr.jp/en/access/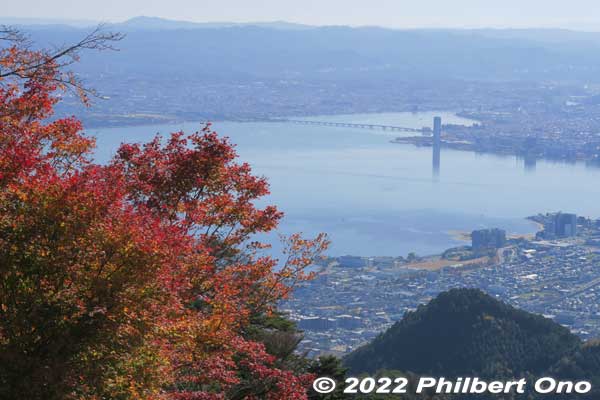 Official website: https://www.hieizan.or.jp/
English website: https://www.hieizan.gr.jp/en/