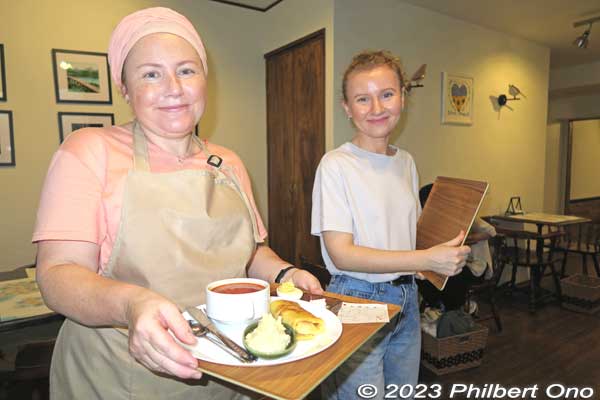 Finally had the great pleasure to taste the well-publicized Ukrainian food in Hikone cooked by Ukrainian evacuees. Iryna Yavorska (52) and her mother Galyna Ivanova (81) evacuated Ukraine and moved to Hikone in March 2022, the month after Russia invaded Ukraine. Hikone is where Iryna's daughter Kateryna (32) lives with her Japanese husband.
A little over a year after moving to Hikone, Iryna and her family opened "The Faina" (ザ・ファイナ) Ukrainian restaurant on May 27, 2023 on Yume-Kyobashi Road (夢京橋キャッスルロード) near Hikone Castle and Yonbancho Square tourist shopping mall. "Faina" means "nice" or "fine" in Ukrainian.
All the food we had for lunch was absolutely delicious. Much more than meets the eye. If you've never had Ukrainian cuisine, you're in for a real treat.
Both Iryna and daughter Kateryna graciously served us with a smile. Menus were in Japanese, and they spoke some basic Japanese. Not sure if they also understand English, but I don't think there would be any language problem in the restaurant.
They first started off with a food truck in May 2022, and I always wanted to try their food truck, but always missed them while in Shiga. Glad to finally get a taste of their food.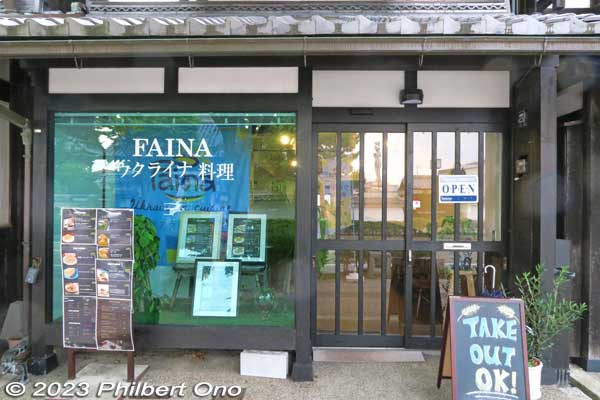 Their story from Kharkiv to Hikone…
Iryna and her mother Galyna lived in Kharkiv, Ukraine's second largest city in the northeast near the Russian border. In the month after Russia's military invasion on Feb. 24, 2022, a missile hit a building next to their apartment building. That's when they decided to evacuate. The Kharkiv Oblast (province) was already falling under Russian military control at the time. However, Ukraine recaptured most of Kharkiv Oblast by September 2022.
Since Iryna's daughter Kateryna and her Japanese husband Kikuchi Takashi (菊地 崇) were living in Hikone, Iryna and her mother Galyna moved to peaceful Hikone in late March 2022. (By May 2023, 8.2 million people left Ukraine. As of July 19, 2023, 2,116 Ukrainian evacuees have settled in Japan, and 17 Ukrainian evacuees have settled in Shiga Prefecture.)
However, Iryna's husband Roman (age 54) could not join them because Ukraine does not allow men up to age 60 to leave the country due to martial law and possible mobilization for the war. He is still in Kharkiv and lives with the stress of missile sirens and power outages which can affect his Internet connection for daily video chats with his worried family in Hikone.
Roman worked as a chef and has been teaching Iryna (Faina's head chef) his recipes to cook all the Ukrainian dishes. No doubt he is an excellent chef. He wants to someday join his family in Hikone and work at the restaurant.
Having a daughter and Japanese son-in-law in Hikone greatly helps Iryna and her mother rebuild their lives in a totally different country. Ukrainian evacuees in Shiga have also received significant support from the prefectural government.
In Hikone, Iryna soon thought of food to make a living in Japan and connect with Japanese society. On May 2, 2022 at Hikone City Hall, they announced that they would start serving Ukrainian food from a food truck (called "kitchen car" in Japanese). They first rented a food truck and operated near Hikone Castle Resort & Spa near Hikone Castle on weekends and national holidays. They also took their food truck to Hikone City Hall on Fridays when food trucks were allowed to operate there. Iryna's visa status permits her to work in Japan, and Kateryna has been certified as a food sanitation supervisor which is required to operate a food service.
In July 2022, crowdfunding raised ¥3.6 million for them to buy their own food truck. They operated their food truck at events in Shiga, Kansai Region, and even in Tokyo's Marunouchi business district in Aug. 2022. Their efforts attracted much media attention in Japan.
It wasn't all smooth sailing though. While driving long distance on the expressway in Oct. 2022, their food truck's front tire blew out and the truck fell on its side. Fortunately no one got hurt, but the food truck was damaged and they stopped going long distances for six months.
They got a new food truck in Nov. 2022 and restarted. Their damaged food truck was repaired in Dec. 2022, so now they have two food trucks.
This past winter, their food truck business was really slow because there were fewer events and fewer people outdoors. The pandemic was also still in effect.
Iryna has also been struggling with the language barrier during her first year in Japan. She has been studying Japanese, but the language is currently her greatest barrier. It will certainly take more than a year to master Japanese, but since she has the support of her daughter and Japanese son-in-law, I'm sure she will get by somehow.
Japan is one of those countries where a foreign evacuee or refugee would find it very difficult to live and work without local family support or language ability.
Their nice new restaurant…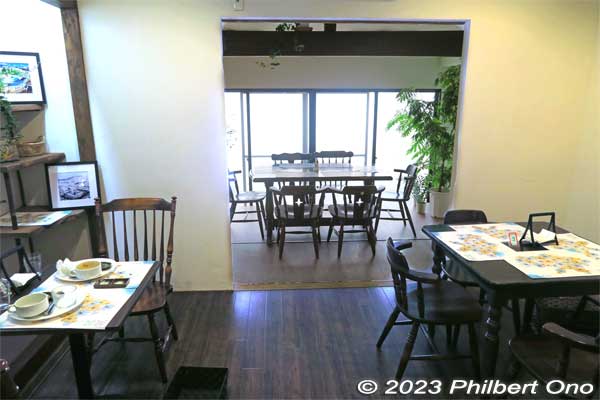 In January 2023, they started making plans for their Ukrainian restaurant in Hikone. With crowdfunding support, they found a nice space which they renovated to open their new The Faina restaurant near Hikone Castle on May 27, 2023. A new phase of their lives in Japan has begun.
A lot of thought and work went into the restaurant. Iryna and her family even pitched in with the renovation work, painting the exterior, laying the flooring, etc. They also had to find and select food ingredients in Japan, train the staff, etc.
The restaurant's location is good, the exterior and interior are nice, and most importantly, the food is great. Iryna's idea of connecting with local Japanese through food is certainly working. With widespread local support, they are getting good business too.
The excellent food…
When we went on a weekday at around 1:30 p.m., the restaurant still had a good number of customers either for lunch or coffee. Fortunately, we found an open table and could promptly order. We ordered the restaurant's two main lunch sets: "Ukraine Set" (¥900) and "Summer Set" (¥850).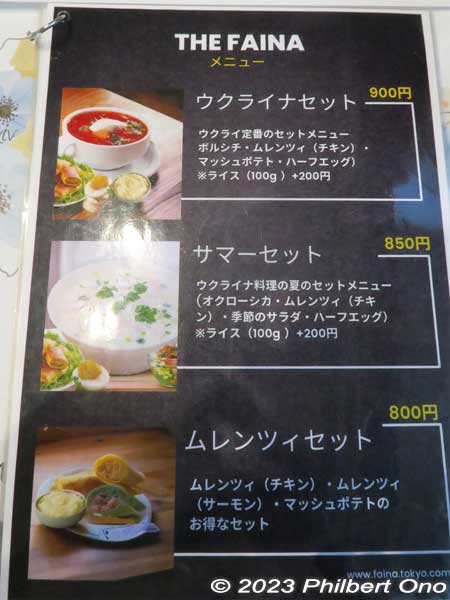 The menu selection is good. Would be perfect if they also explained the dishes to people like me unfamiliar with Ukrainian cuisine. It would also be good for people with food allergies. Japanese media is calling mlyntsi a crepe, which is slightly misleading since crepe is considered to be a sweet snack in Japan.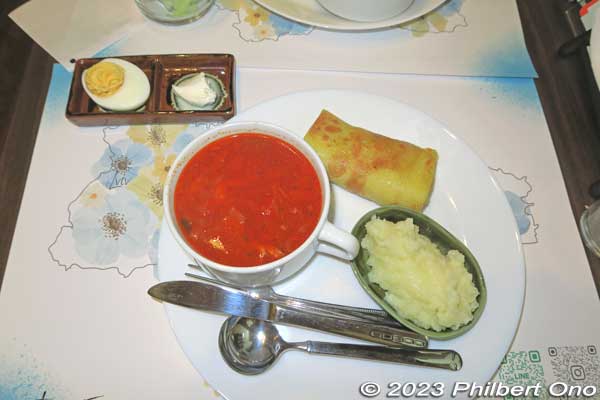 The Ukraine Set consists of standard Ukrainian fare: Hot borscht beet soup (ボルシチ), mlyntsi with chicken (ムレンツィ), mashed potato, and a half-boiled egg. Great sample of multiple Ukrainian dishes.
The borscht beet soup reminded me minestrone soup, but it's totally different and really yummy. I could taste why it was the national dish of Ukraine. Kateryna instructed me to mix in the sour cream after consuming half of the soup. That was an interesting flavor too.
Mlyntsi is described as "crepe" in Japan, a thin pancake wrap with a filling (chicken in this case). This was also unique, something I had never tasted before.
Even the half egg was a total surprise to my taste buds. Totally different from what you normally expect what an egg tastes like. Very uniquely flavored and very good.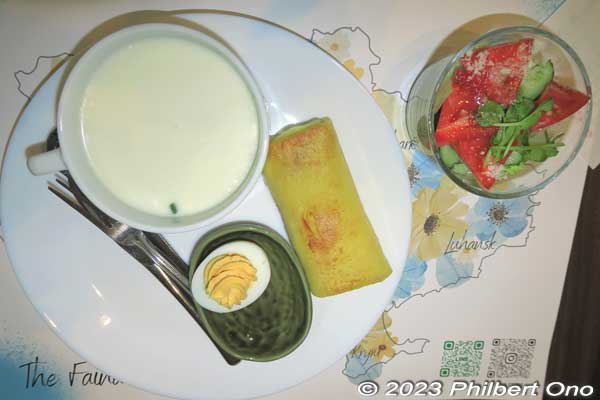 Meanwhile, the Summer Set's (サマーセット) main dish was a cold, white soup called okroshka (オクローシカ). It's a summer dish and seemed quite healthy. It included vegetable salad (instead of mashed potatoes in the Ukraine Set). Other food in the set were the same as in the Ukraine Set.
Can't really describe the taste or flavor of these dishes since they are so unique. They don't taste like anything I've eaten before. Everything was excellent.
The Faina also offers coffee, soft drinks (including uzvar, Ukrainian dried fruit juice), cakes, beer, cocktails, and Ukrainian wine. Hope to try their other dishes on another visit. They also have a dinner menu starting at ¥1,800.
By buying Ukrainian honey for their cakes and selling Ukrainian products like Ukrainian wine, they hope to help the Ukrainian economy as well.
It seems The Faina is the only Ukrainian restaurant in Shiga. They also accept reservations for private parties and groups and to-go (take out) orders.
Even with the restaurant, they are continuing their food trucks mainly traveling to weekend events in Kansai and Tokyo.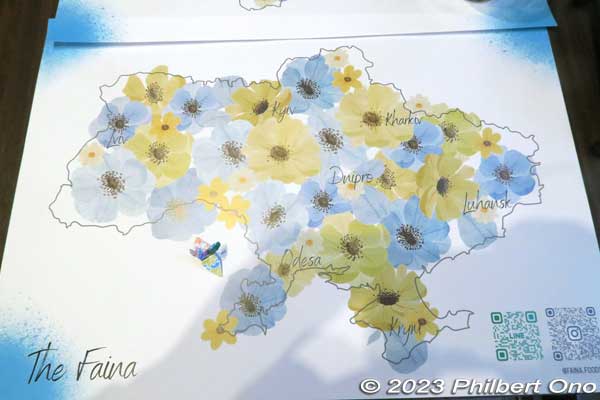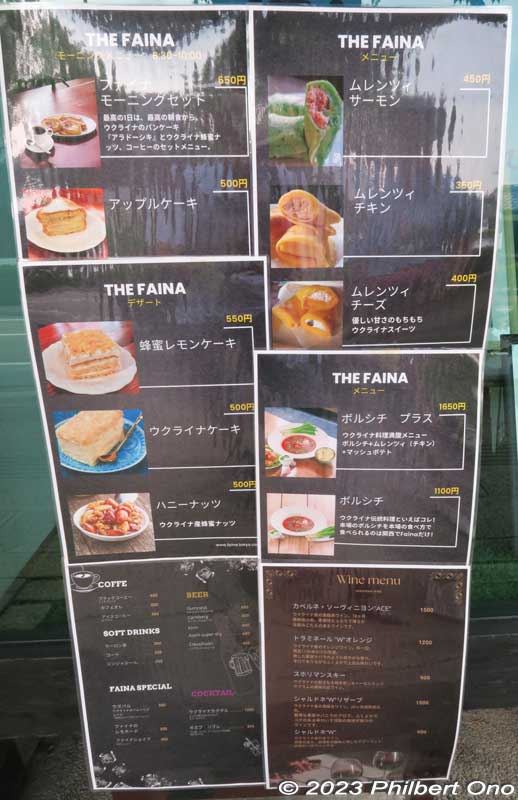 Other observations…
One interesting tidbit is that Ukrainians in Japan urged The Faina to ditch Russian food names in favor of native Ukrainian names. The Faina has thus switched to native Ukrainian food names instead of Russian names.
For example, when they first started their food truck, they served blinchiki (ブリンチキ) which was later renamed to the native Ukrainian word mlyntsi (ムレンツィ). Since Kharkiv is near Russia, residents speak both Russian and Ukrainian. Now they have become more conscious of their etymology.
There are a few other Ukrainian restaurants mainly in Tokyo and Osaka established by native Japanese employing Ukrainian evacuees. Their themes and goals are similar, to give the evacuees jobs and a way to connect with local Japanese. Good for them.
The Faina is unique because it was started from scratch by Ukrainian evacuees themselves and received local grassroots support through crowdfunding. Over the past year and a half in Shiga, we watched them develop and progress from strength to strength. It's quite an amazing story which you can find on Youtube and major news outlets including NHK TV. Lots of Japanese media coverage.
Everyone is very supportive of The Faina and the food is great. They looked quite busy and probably need to hire more staff.
Iryna and Kateryna were also recently invited to a local nursery school in Hikone to introduce Ukraine and its culture. The children (and parents) learned where Ukraine was on the map, its national flower (sunflower), etc., and also had a taste of delicious mlyntsi.
Cannot imagine what they went through while living with the stress and anxiety of the war and a family member still in Ukraine. Their next big dream is to have Roman move to Hikone and have the whole family serve great Ukrainian food in peaceful Hikone. Congratulations, best wishes, and good luck to them. 🍀
The Faina
1-7-36 Honmachi, Hikone, Shiga, Japan
Short walk from JR Hikone Station (West exit).
Phone: 070-9118-4662
Website: https://www.faina.tokyo/
Instagram: https://www.instagram.com/faina.foods/
email: faina.ukraine1299@gmail.com
Open:
Wed., Thu., Fri.: 10:00 a.m.–3:00 p.m. (order by 2:30 p.m.)
Sat., Sun., and national holidays: 10:00 a.m.–7:00 p.m. (order by 7:00 p.m.)
Closed: Mon. and Tue. (closed on irregular days during the cherry blossom and autumn foliage periods)
Reference:
https://www.faina.tokyo/
https://www3.nhk.or.jp/news/html/20230221/k10013983521000.html