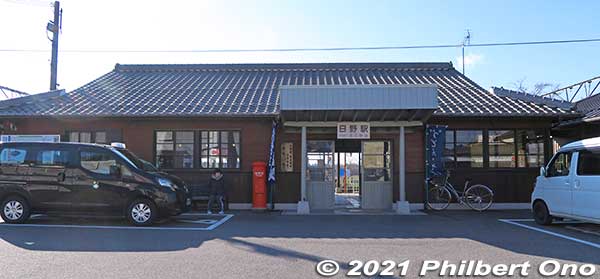 The town of Hino (日野町) in eastern Shiga Prefecture, Japan has always had an active movement to preserve or restore its traditional buildings, especially the grand homes built by Hino (Omi) merchants. Their push to preserve Hino's traditional townscape has recently been extended to Hino Station (日野駅) on the Ohmi Railways Main Line (近江鉄道 本線). It's the town's sole train station and one of its most beloved buildings. Most visitors to Hino will come through this train station or the bus stop in front of it.
Built in 1916, Hino Station's old station building was one of Japan's oldest still in use. It was made of wood like most other original train station buildings along Ohmi Railways. Very few original train station buildings remain in Shiga. Most have been torn down and replaced.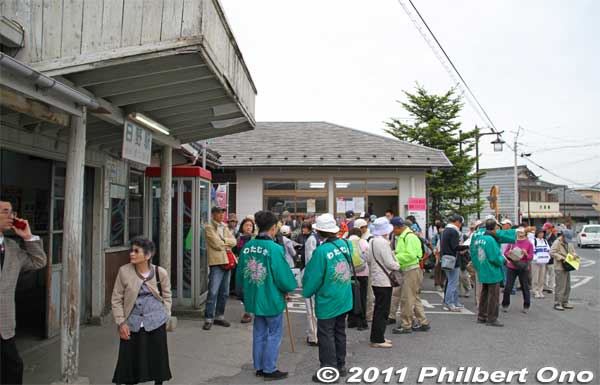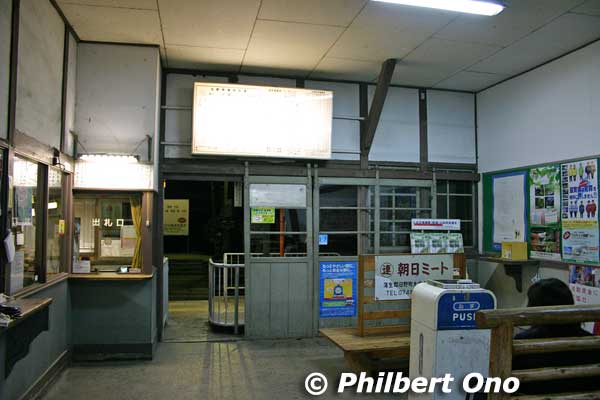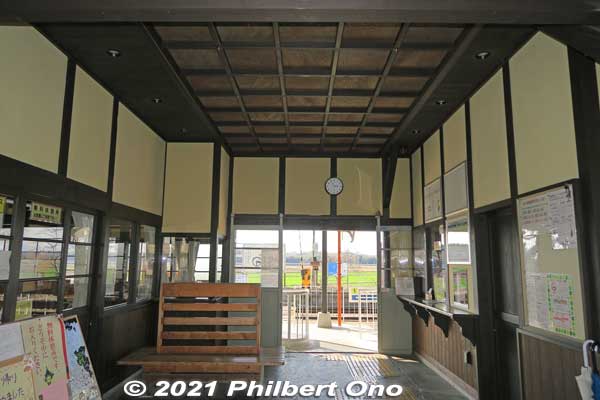 Each time I visited the old Hino Station, it felt like I was in a time capsule filled with things from 50+ years ago. The shape of the ticket window counter, the retro-style train schedule signage, the creaky wooden doors, the flat wooden benches, and the overall rundown and rustic appearance. I always hoped the building would never be torn down.
After a century, the station building got too old to last any longer. The roof was leaky and parts of the wooden building were rotting away. By Dec. 2015, Ohmi Railways seriously thought about tearing down the building.
When talk of demolishing the station building got out, the mayor and local residents rose up and campaigned for the preservation of the building to last another century. Negotiations and discussions went back and forth until an agreeable plan was reached.
By Nov. 2016, a committee was formed to plan and execute the Ohmi Railways Hino Station Rejuvenation Project (近江鉄道日野駅再生プロジェクト). Their goal was to renovate the station building while preserving and retaining the original, vintage look and feel of the station and to keep using wood.
They also wanted the building to become a community space where people can gather, socialize, and make connections. The project was backed by local merchants, the Hino Townscape Preservation Association (日野まちなみ保存会), and Hino Tourist Association.
The renovations were financed by national subsidies, the hometown tax program (furusato nozei) that collected tax-deductible donations from former Hino residents and fans, and crowdfunding. It wasn't the first time when Hino residents helped to finance the train station building.
Hino Station Building (日野駅舎)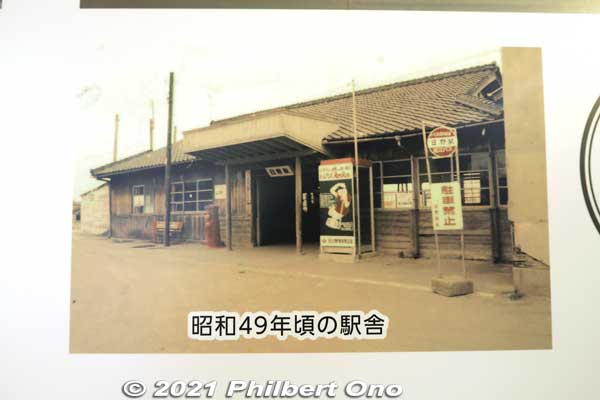 Hino Station first opened on Oct. 1, 1900 when the Ohmi Railways Main Line between Hikone and Echigawa Stations was extended to Hino. (Further extended to Kibukawa Station in late Dec. 1900.)
In 1916, Hino Station was expanded to lay more railway tracks, and so the station building was relocated and rebuilt. Local residents gave donations (about ¥4,000, or equivalent to about ¥16 million today) to finance 57 percent of the new station building's construction.
A century later, it's a déjà vu with Hino residents and former residents donating again to save their beloved train station building. This time, the donations totaled a whopping ¥85,620,870 from people nationwide. This is about 62 percent of the total renovation cost of about ¥137 million. Most of the money was given to Ohmi Railways to outsource and complete the renovations which took 3.5 years to complete in May 2020.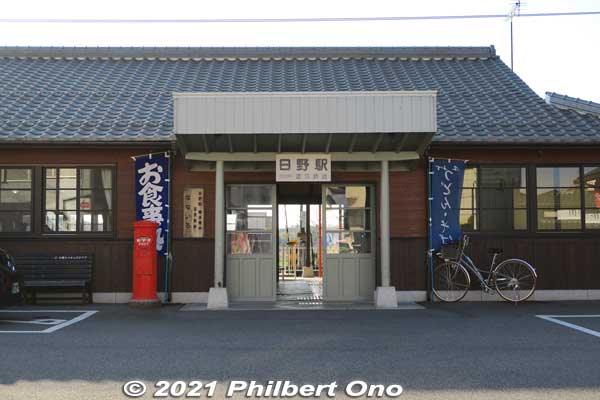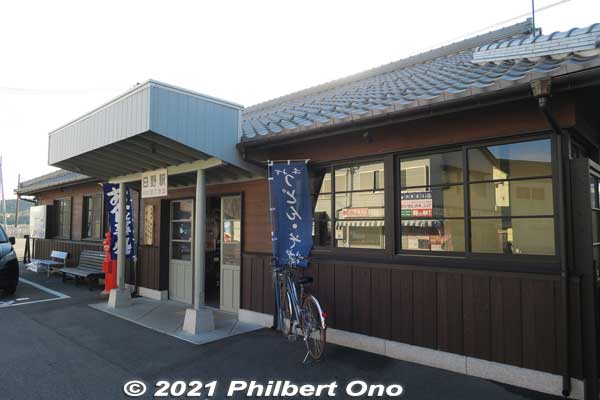 The train station renovation project covered three phases. The first phase started in Nov. 2016 to overhaul the main station building, the project's centerpiece. The building was gutted and jacked up to reinforce the foundation and walls against earthquakes. The roof tiles and all the rotting wood was replaced. Whatever that was still usable was retained in the building such as wooden columns. Some old remnants such as the old ticket window and latticed ceiling were also kept.
The left half of the building which used to be the ticket office, station office, and small lounging room for taxi drivers has been converted into a nice community space occupied by a tourist information counter and cafe.
The building's exterior walls were outfitted with new wood painted dark brown. The old light gray paint is almost all gone. As a 1974 color photo of the station building shows (see above), dark brown looks to be the building's original color.
The completion of the main building's renovations was celebrated on Oct. 1, 2017 when 2,000 people attended the ceremony at the station. The renovations cost ¥73 million, and about 30 percent of it was covered by donations.
Shelter on Platform 2 (待合所)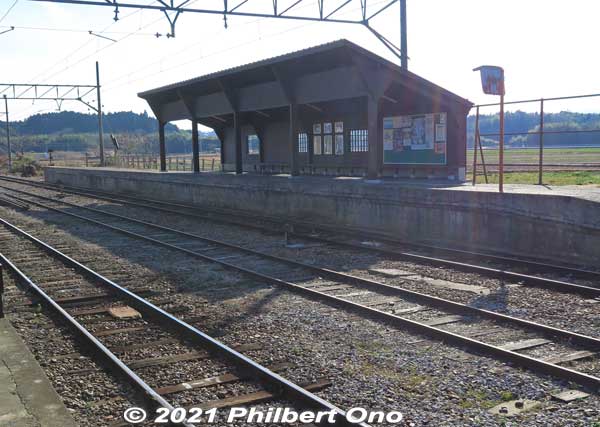 The second phase of the renovation project was from June 2018 to Feb. 28, 2019 to rebuild the semi-open, platform shelter on train platform No. 2 (across the tracks) for passengers waiting to take Yokaichi/Maibara trains. Originally built in March 1965, it was a wooden structure with a slanting roof over a long bench. It had become weather-damaged over the decades.
The decrepit wooden roof was replaced in the same sloping design as the old one. The rebuilt shelter retains the same basic design as the old one. It even has windows on the back wall for people to photograph the expansive rural scenery right behind. It was a popular thing to do in the old shelter which had a window. The 18-meter-long, rebuilt shelter was painted in the same dark brown color as the main station building.
This second phase cost ¥22.04 million. Hino received a national subsidy of ¥3 million and the remaining ¥19 million came from donations. The job took a few months longer than expected because the ground below the waiting area's platform also had to be reinforced to prevent uneven sinking.
Hino Station Railway Museum (日野駅鉄道資料展示室)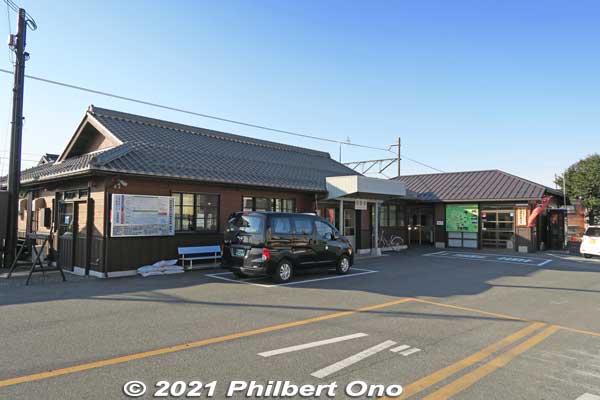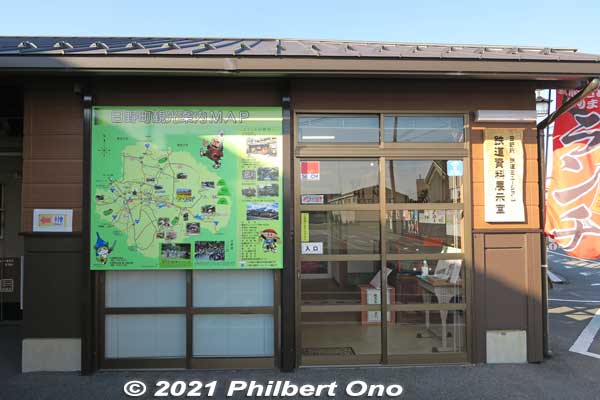 For the final phase of the project, the Hino Station Railway Museum (日野駅鉄道資料展示室) was established in the old tourist information office next to the station building. The small, one-room museum opened on May 31, 2020 and thus completed the Ohmi Railways Hino Station Rejuvenation Project. Luckily, the project was completed before the pandemic got worse.
The museum has panel displays, old photos, old signs, and old equipment used in Hino Station. You learn about the basic history of the train station and the renovation project. However, everything is in Japanese and there's no English. No museum staff either, but the tourist information desk staff might be able to answer questions. Just enter the museum and look around. Free admission.
Also, outside the station, there's an old railcar mover (yellow) displayed under a small roof. It was used to move freight train cars on the tracks. Very few of them exist in Japan.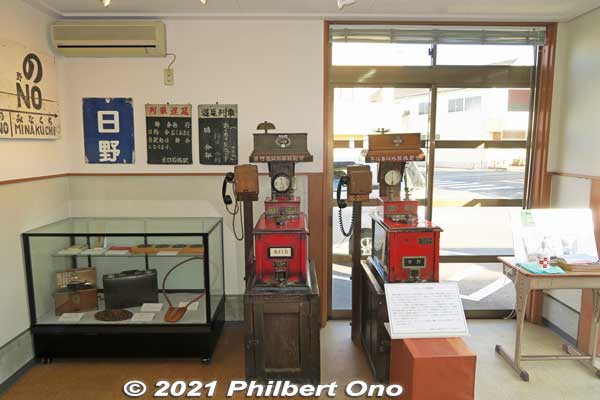 If you can read Japanese, you would learn that Ohmi Railways has a close historical connection to Hikone and Hino. The group of 44 people who founded Ohmi Railways Co. in 1896 consisted of former Hikone samurai and Hino merchants. The first president of Ohmi Railways was a former samurai (Ohigashi Gitetsu 大東義徹) from Hikone, and the second president (Shono Genzo 正野玄三) was a Hino merchant (drug maker). Perhaps this historical connection has made Hino residents especially fond of its train station and railway.
Ohmi Railways was started because the forerunner of the Tokaido Line which started running in Shiga in 1889 and the now-defunct Kansai Railway running between Kusatsu and Yokkaichi (Mie) never came close to the interior part of eastern Shiga where Hino was.
However, this part of Shiga was and still is a rural area, and Ohmi Railways has struggled financially almost from the beginning. It still operates in the red annually and receives subsidies from local governments in eastern Shiga. The company has been racking its brains on how to get more passengers. It has not been very successful.
In 2019, meetings between the company and local governments were held to decide the fate of the railway. They even reviewed the costs of converting the railways into bus routes. In the end, they decided to keep Ohmi Railways operating, but they still need to decide how to manage it financially.
Interesting that the company name "Ohmi Tetsudo" (近江鉄道株式会社) has remained the same since the company's establishment in 1896. Although the company's ownership has changed twice (currently a subsidiary of Seibu Railways which has Shiga roots), the company name has remained the same. Only three railway companies in Japan established during the Meiji Period (1868–1912) have retained their original company name. The other two is Tobu Railway Co. in Tokyo and Shimabara Railroad Co. in Nagasaki.
If you're interested in Shiga's railway history and nostalgia, also see the Ohmi Railway Museum at Yokaichi Station (2nd floor) and the Railroad Square Museum in Nagahama.
Nanairo Community Space (日野町観光案内交流施設「なないろ」)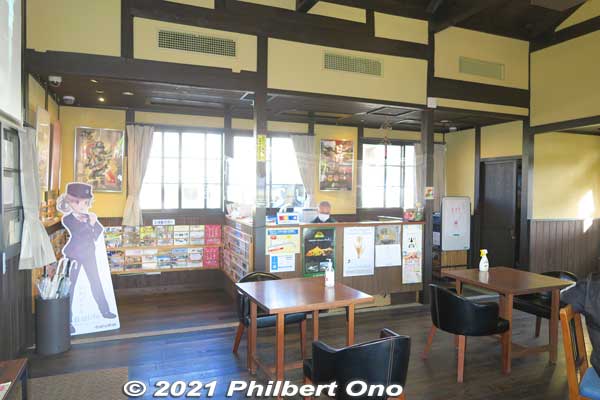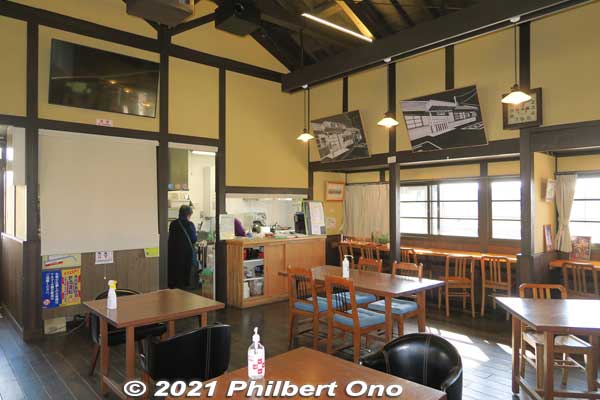 Hino Station's renovated station building has a new community space named "Nanairo" (日野町観光案内交流施設「なないろ」). It's an airy, multi-purpose room occupied by a cafe (日替わりカフェ), kitchen (for the cafe), tourist information desk, and waiting room for train passengers. This space used to be the train station office, ticket window, and taxi driver's lounging room. Anybody can also just hangout in the room without buying anything.
The tourist information counter is staffed and has tourist pamphlets. I don't think the staff can speak English, but they might have tourist pamphlets in English.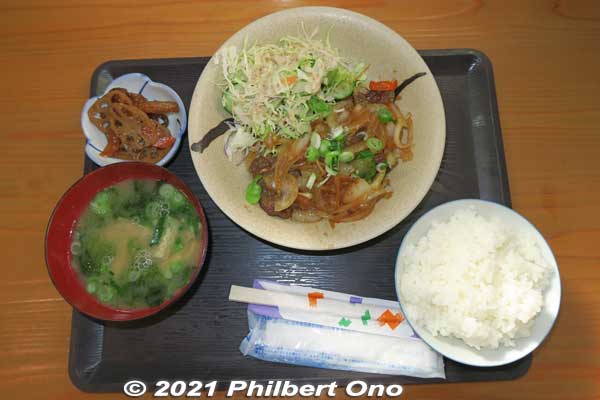 I had lunch in the Nanairo cafe and sat at the counter table with a view of the train tracks. Very nice and cozy. You can watch the trains go by, but it comes only once an hour most of the day. Friendly local ladies cooked and served my food.
The unique thing about Nanairo is that it is rented for use as a cafe. Different cafe operators rent the cafe facility to serve their own food and drink. They might be local restaurant owners who want to operate a branch in Hino Station. Or a group of local high schoolers who serve their own pastries. That's why you might see a different cafe menu depending on the day you go. Nanairo's official website has a calendar showing who will be the cafe operator for each day.
This changing cafe operator program is called Higawari Tenshu (日替わり店主) or "Daily Changing Cafe Operator." There are also days when there are no cafe operators, especially on Sundays. Cafe hours can vary depending on the operator, but they tend to open as early as 9 am or 10 am and close at 4 pm or 5 pm. https://nanairo.space/about/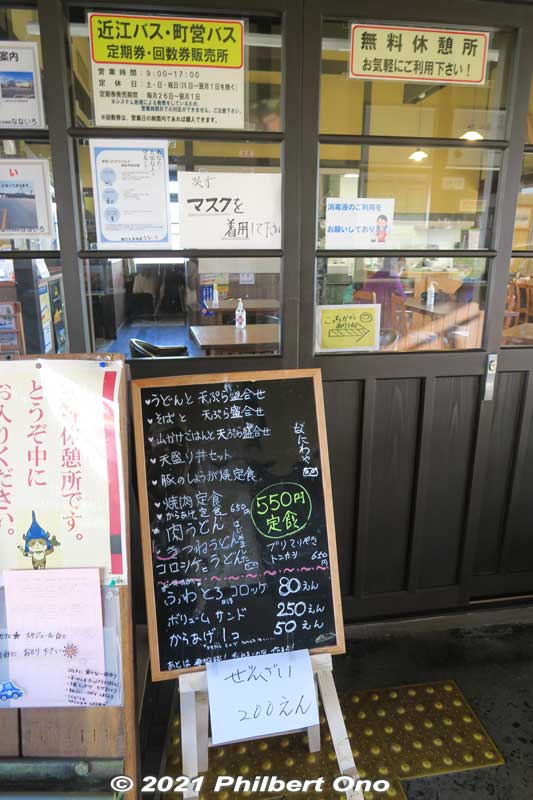 The name "Nanairo" literally means "Seven Colors" in reference to Hino's seven former municipalities which merged in 1955 to form Hino Town. Together, they represent a rainbow of cultures, nature (especially flowers), and history.
The name was selected from among 70 names proposed by 42 residents of Hino (including those who work or study in Hino). "Nanairo" was also chosen for being short and easy to remember. The person who thought of the winning name was recognized during the renovated station building's Opening Ceremony on Oct. 1, 2017.
Nanairo can also be used for club meetings, exhibitions, film screenings, mini concerts, etc. Rental fee is low. It's for people to connect with each other and for visitors to connect with Hino.
The project to renovate, restore, reinvent, and resuscitate Hino Station was truly admirable. It was much more than just preserving an old building. It brought the community together in and outside Hino to create and sustain a useful and practical community space for all. The amount of donations collected was very impressive.
Perhaps Hino Station can be a model for others to follow. There are other old train station buildings in Shiga worthy of preservation. Shin-Yokaichi Station and Toriimoto Station come to mind, although they might be too small to have a community space or cafe.
If you've come all the way to Hino, you might as well see the local sights. Hino Station is actually a little far from the town center. To save time, take the bus or a taxi to Okubo (near Heiwado Dept. Store). Or rent a bicycle in front of the station which might be the most convenient way to get around. In Okubo, visit the Omi Hino Merchant Home/Museum and walk around the neighborhood and main road. It's a picturesque rural town.
We can now only hope that Ohmi Railways will continue operating for the next century. Good luck to them. 🍀
Getting There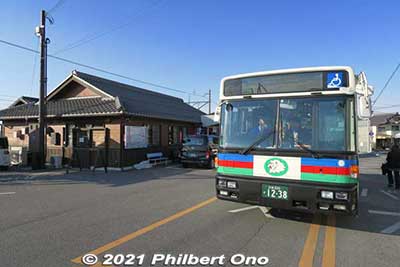 On the Ohmi Railway Main Line, you can get to Hino Station from stations such as Maibara, Hikone, Yokaichi, and Kibukawa Station. From Maibara/Hikone, it takes at least an hour. From Yokaichi Station, it takes about 22 min. From Kibukawa, about 18 min. Ohmi Railway trains run only once or twice an hour.
Hino Station is staffed only during the rush hours in the morning and late afternoon to early evening. So if you don't have a train ticket, take the numbered ticket when you board the train and pay the train driver or destination train station staff when you get off.
There is also a bus from Omi-Hachiman Station (South Exit) that goes to Hino Station, taking about 40 min. Take the bus going to Kitabata-guchi (北畑口) and get off at Hino-eki (Hino Station 日野駅). Or if you want to see Hino's sights first, get off at Okubo which is slightly beyond Hino Station. Buses run only once or twice an hour. Bus schedule here.
If you have a car, Hino Station has free parking.
Rental bicycles are also available in front of Hino Station.
Address: Uchiike 894, Hino-cho, Gamo-gun Shiga (滋賀県蒲生郡日野町内池894)