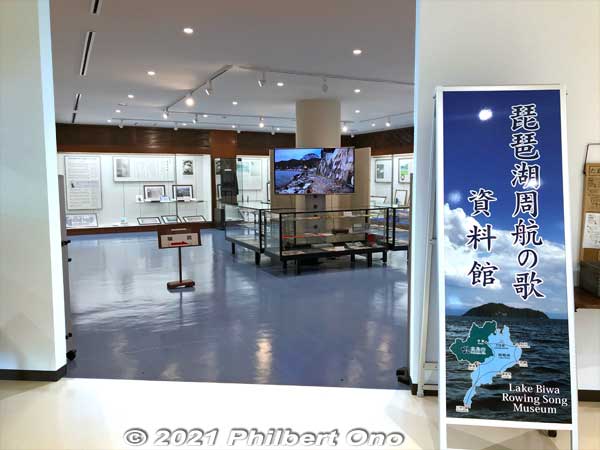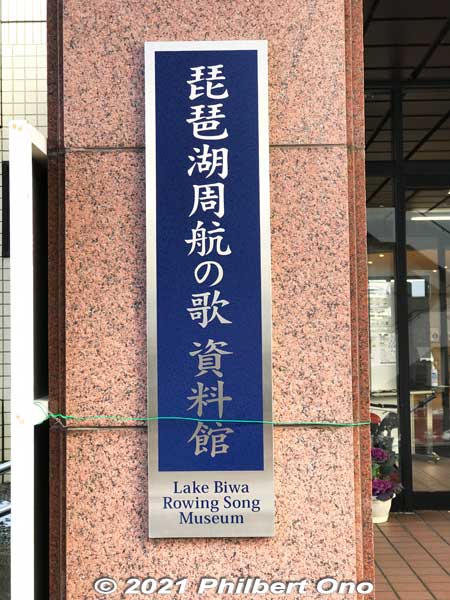 Biwako Shuko no Uta aka Lake Biwa Rowing Song is Shiga Prefecture's most famous song born in Imazu, Takashima. First composed by a bunch of college students from Kyoto, the song is about a four-day, boat-rowing trip around Lake Biwa undertaken on June 27, 1917 by seven college students. They were in the rowing club at an elite college in Kyoto which later merged with Kyoto University. With an infectious melody, the song mentions many famous places in Shiga in vivid colors. You can read more details about the song here.
Imazu was so proud of this nationally famous folk song that it established a song museum for it. The museum, named Biwako Shuko no Uta Shiryokan (琵琶湖周航の歌資料館), opened in April 1998 in its own two-story building in a prime location on the main road between Omi-Imazu Station and Imazu Port.
Tourists could easily drop by on the way to or from Imazu Port (Lake Biwa cruises to Chikubushima or cherry blossom cruises to Kaizu-Osaki). The museum was staffed by the local tourist association and also had a gift shop selling local souvenirs and Biwako Shuko no Uta CDs. The 2nd floor had an exhibition room and meeting room. The museum also occasionally held mini concerts. However, about 20 years later, the building became too old and needed expensive repairs.
It was thereby decided to move the museum to a new location nearby. On April 1, 2020, the museum reopened in a large room in the Imazu-Higashi Community Center (今津東コミュニティセンター) across from the Imazu Shimin Kaikan concert hall. Just a short walk from the old location. However, it is no longer on the main road between the train station and port. The museum is still a 3-min. walk from JR Omi-Imazu Station (East Exit) on the JR Kosei Line (湖西線) running along the western shore of Lake Biwa. The old museum building was closed and remains empty.
Like the old museum, the new museum has exhibits and display panels explaining about the song and the composer Oguchi Taro and Yoshida Chiaki. There is also a CD listening station where you can listen to numerous cover versions of the song sung by famous singers such as Peggy Hayama, Miyako Harumi, and Kobayashi Akira. Nini Rosso even recorded a trumpet version. Most, if not all, of the exhibits from the old museum were moved to the new location. The new museum is like an exhibition room on the first floor of the local community center. However, there is no gift shop and meeting room like at the old museum.
Also, since it is not on the main road between the train station and Imazu Port, few tourists notice the new museum. Foot traffic has decreased. At least one staff person (volunteer) is in the museum room, but it's no longer a sociable meeting place like the old museum. Nonetheless, it's still worth a visit.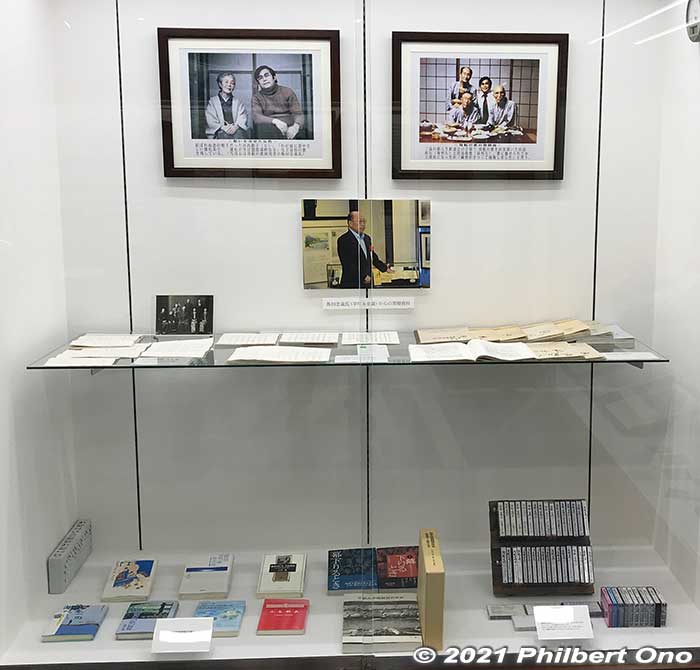 Address: Lake Biwa Rowing Song Museum, Imazu-Higashi Community Center, Nakanuma 1-4-1, Imazu-cho, Takashima-shi, Shiga-ken 520-1622
Address in Japanese: 〒520-1622滋賀県高島市今津町中沼1-4-1(今津東コミュニティセンター1F)
Phone: 0740-22-2108
Hours: 9:00 am to 5:00 pm, closed Mon. (open if Mon. is a national holiday and closed on Tue. instead)
Admission: Free
Getting there: By train, take the JR Kosei Line and get off at Omi-Imazu Station. Ride the JR Kosei Line from Kyoto Station or from Yamashina Station on the Biwako/Tokaido Line. Allow about 1 hour from Kyoto or Yamashina.
Website: https://takashima-kanko.jp/spot/2018/06/post_118.html