Chronology of Shiga Prefecture's major news headlines for July–December 2022.
Originally posted on Twitter under Shiga Headlines by Philbert Ono. Twitter posts are limited to 280 English characters including spaces and links (shortened by Twitter). Dates are based on Japan time.
Aug 31, 2022: Lake Biwa is seeing more accidents involving motor boats and jet skis this summer. Already, 18 accidents occurred in June–July 2022. More than twice as many than last summer. A few serious injuries, but no deaths yet. Always wear a life jacket.
Aug 31, 2022: At the 19th FINA World Championships Budapest 2022 in June, Omi Hachiman native Inui Yukiko won Artistic Swimming gold for both Women Solo Technical & Women Solo Free. Next year, it will be held in Fukuoka. https://t.co/BMev1EEGx7
Aug 31, 2022: Pro basketball team Shiga Lakestars officially changed its name to "Shiga Lakes" on July 5, 2022. The new (?) name has a new logo. Even when the team started up, they always called themselves "Lakes." It's plural so it must be including Lake Yogo too. #滋賀レイクス
Aug 31, 2022: On July 19, 2022 near Azuchi Station, a 72-year-old local woman (岩田鈴美) sadly drowned in a pedestrian underpass below the tracks flash flooded by heavy rains. They closed the underpass too late. Be aware Shiga has over 150 similar underpasses, maybe death traps in heavy rains.
Aug 31, 2022: Ambulances in Shiga have been receiving a record number of calls since July 2022 due to the 7th COVID-19 wave. In July, Otsu ambulances went out a record 1,980 times, Nagahama/Maibara 724 times. For Aug. 1–15 in Otsu, already 1,051 calls. Mostly for COVID-19 and heat illness.
Aug 31, 2022: In July 2022, 298 people in Shiga called an ambulance for heat illness. This is 91 cases more than in July 2021. Over half were age 65+, 33.3% were at home and 15.9% were outdoors. 52 required short hospitalization. Turn on the A/C at home, it can be a lifesaver.
Aug 31, 2022: On Aug. 4–5, 2022, intense rains in northern Nagahama caused Takatoki River to overflow and flood rice paddies in the Takatsuki area. Ane River also swelled, causing debris to accumulate at the river mouth. Some homes in Yogo and Kinomoto got flooded. No injuries reported.
Aug 31, 2022: Mayor of Moriyama, Miyamoto Kazuhiro (50), tested positive for COVID-19 on Aug. 20, 2022. No close contacts, and he rested and worked at home with mild symptoms.
Aug 31, 2022: Amid the record-breaking 7th wave of COVID-19, Shiga has been seeing thousands of cases every day this summer. Aug. 19, 2022 saw a record 3,281 cases. Hospital occupancy reached 80% in mid-Aug. Otsu, Kusatsu, and Nagahama are seeing hundreds per day. Take care.
Aug 31, 2022: Remains of an outer moat of Ishida Mitsunari's Sawayama Castle in Hikone have been found. Located 700 m northeast of the Honmaru, the excavated moat is 7 meters long, 10 meters wide, 70 cm deep. Ceramic pieces dating from the Azuchi-Momoyama Period were also found.
Aug 31, 2022: Very exciting Summer Koshien national high school baseball tournament with Ohmi High School reaching the semi-finals. Although they lost to Shimonoseki Kokusai 2-8, they played well in all their games. Ohmi is becoming a baseball powerhouse. https://t.co/xtOTucGvpK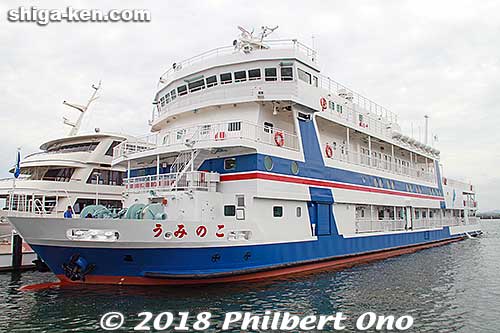 Aug 31, 2022: At Otsu Port, a ceremony on Aug. 26, 2022 marked Uminoko Floating School carrying 600,000 kids since 1983. Some 145 school kids from Ritto reached the milestone equal to 40% of Shiga's population. Due to COVID, kids now go on a day cruise instead of an overnight cruise. #うみのこ
https://t.co/vCN6c5JIC0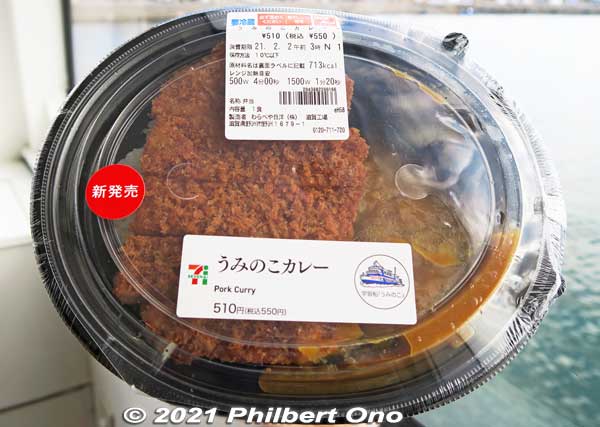 Aug 31, 2022: Uminoko Curry is back! The pork curry rice served on board the Uminoko Floating School will be sold as bento at 7-11 in Shiga for 3 weeks from Sept. 6, 2022 to celebrate 600,000 kids having sailed on the ship since 1983. ¥3/bento will be donated to the ship. #うみのこカレー
https://t.co/SGevIeWPSw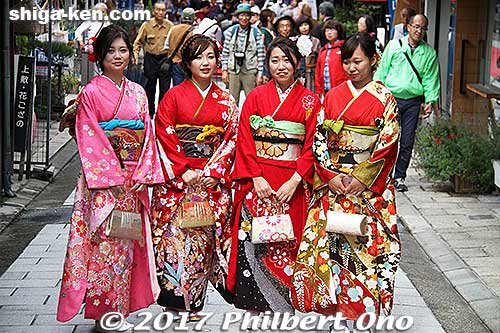 Oct 7, 2022: Very eventful weekend in Shiga from tomorrow Oct. 8: Nagahama Kimono Garden Party at Kurokabe Square and Daitsuji Temple (2:30 p.m.). Lots of kimono ladies coloring the streets. 長浜きもの大園遊会 https://kitabiwako.jp/syusse/enyukai/
Oct 7, 2022: Watch child kabuki on ornate floats at Maihara Hikiyama Matsuri on Oct. 8–9 near Maibara Station (east exit) at Yutani Shrine. 米原曳山まつり https://youtu.be/YkNy7L7dkqU
Oct 7, 2022: Otsu Matsuri on Oct. 8–9 will have ornate floats on the streets near Otsu Station with karakuri mechanical puppet shows. My English video of all the floats and puppets: https://youtu.be/52tjGe470eA
Oct 15, 2022: Biwako Biennale art exhibition now in Omi-Hachiman and Hikone until Nov. 27, 2022. Always impressive. #BIWAKOビエンナーレ https://energyfield.org/biwakobiennale/en/
Oct 15, 2022: To celebrate the 150th anniversary of Japan's railways, Ohmi Railways will offer FREE train rides all day on all its lines on Oct. 16, 2022!! #近江鉄道 #鉄道の日 https://www3.nhk.or.jp/lnews/otsu/20221014/2060011791.html
Oct 28, 2022: Jr. high school teacher and Yasu resident Yamamoto Ryusei (24, 山本龍星) arrested for using a smartphone to take upskirt photos of a female student at his school in Ryuo in Oct. 2022. He has confessed to his crimes. Shiga BOE apologized and promised punishment.
Oct 28, 2022: Shiga Gov't is mulling Japan's 1st transportation tax (交通税) to help maintain money-losing public transportation (buses & trains) in Shiga. From 2024, Ohmi Railway trains/tracks will be maintained by 10 local cities/towns and the railway co. will continue to operate the trains.
Oct 28, 2022: In fiscal 2021, a record 1,066 primary school kids and 1,835 jr. high school kids in Shiga refused to attend school for 30 days or longer. This is a 31% increase (692 kids) in truancy over 2020. Almost half cite their lack of motivation and insecurity as the main reasons. #不登校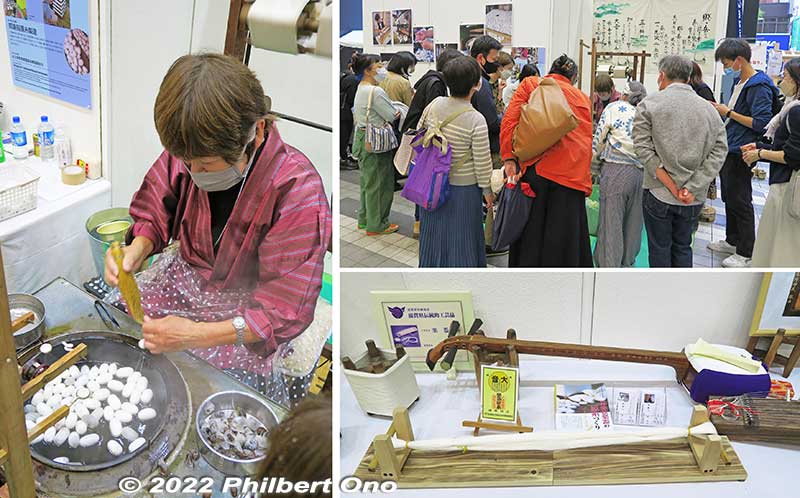 Oct 28, 2022: In Akihabara, Tokyo, the Cultural Affairs Agency held the Japan traditional skills fair on Oct. 22–23, 2022. This booth from Kinomoto, Nagahama used silk cocoons to make strings for shamisen, koto, biwa. #木之本町邦楽器原糸製造保存会 #文化庁日本の技フェア https://www.nippon-no-waza.jp/expo/hougakki-genshi/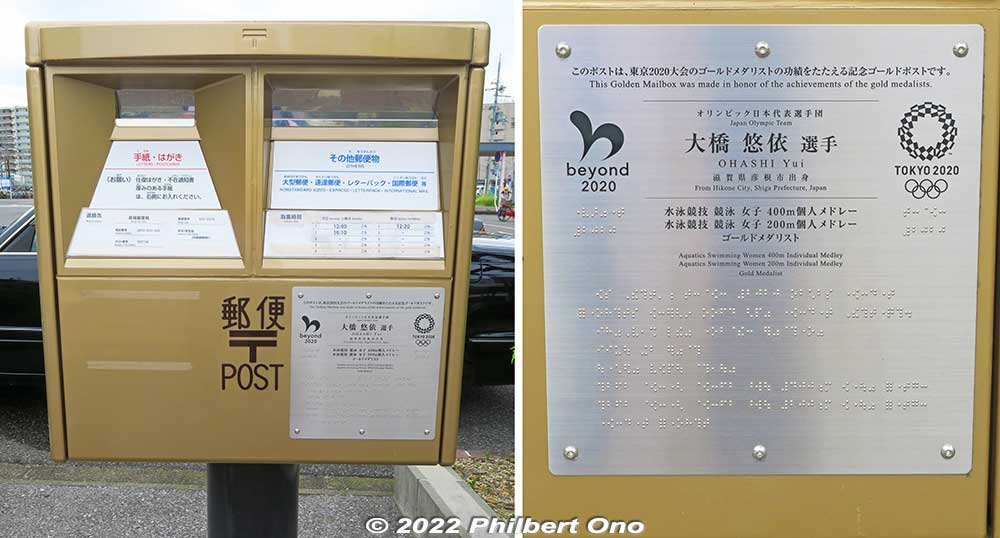 Oct 28, 2022: In front of JR Hikone Station (west exit), see this beautiful, golden mailbox honoring Hikone-native swimmer Ohashi Yui, Tokyo 2020 Olympic double-gold medalist. Tokyo 2020 Japanese gold medalists have their own golden mailboxes in their hometowns. #大橋悠依 #ゴールドポスト
Oct 28, 2022: Hikone Castle Parade will be held for the 1st time in 3 years on Nov. 3 at 1 pm. Olympic sprinter Kiryu Yoshihide will portray Lord Ii Naomasa on horseback and Tokyo 2020 gold medalist swimmer Ohashi Yui will be with Hiko-nyan. https://www.hikoneshi.com/event/article/c/parade
Oct 28, 2022: Koto Sanzan Temple Trio in eastern Shiga (Aisho, Kora, Higashi-Omi) will have beautiful autumn colors in mid-Nov. Convenient shuttle buses will run from Hikone Station during Nov. 19–23, 2022. #湖東三山
Details here: https://shiga-ken.com/blog/2022/10/koto-sanzan-temple-trio-autumn-foliage-2022/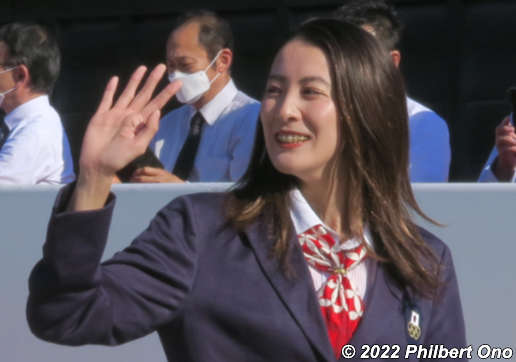 Nov 3, 2022: Held for the 1st time in 3 years, Hikone Castle Festival Parade held today with Tokyo 2020 double-gold medalist and Hikone native Ohashi Yui as a special guest with mascot Hiko-nyan. Looking radiant. #第69回ひこねの城まつりパレード #大橋悠依 https://twitter.com/i/status/1588133841918521344
Nov 3, 2022: Also at Hikone Castle Festival Parade today, Tokyo 2020 Olympic sprinter and Hikone native Kiryu Yoshihide as Lord Ii Naomasa. Sunny smiles on a sunny day. Followed by the Ii Clan Red Devil Warriors. #第69回ひこねの城まつりパレード #桐生祥秀 https://twitter.com/i/status/1588134560243412992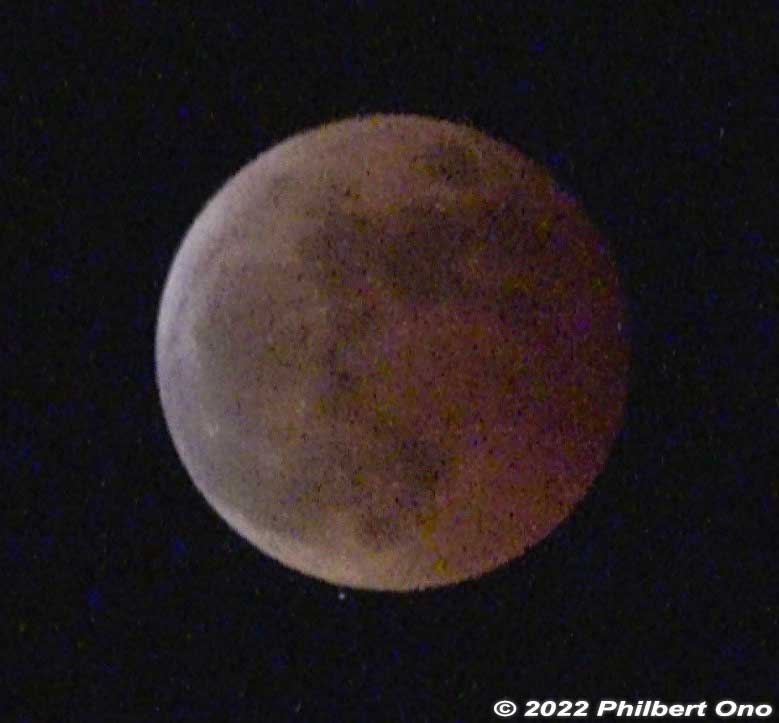 Nov 9, 2022: From northern Shiga, clear view of the lunar eclipse last night on Nov. 8, 2022. Tiny white speck toward the bottom is Uranus before hiding behind the "blood moon." Lunar occultation seen in Japan for the 1st time in 442 years. Next one in July 2344. #皆既月食 #惑星食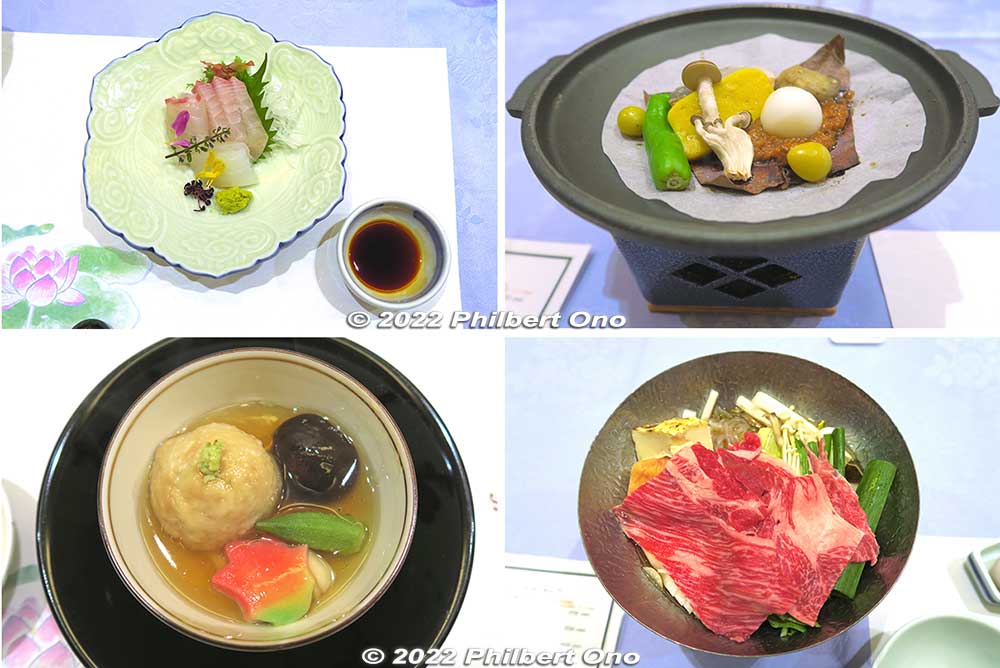 Nov 12, 2022: Autumn is for food (食欲の秋). Enjoyed a family dinner at the classy Hamakogetsu ryokan in Nagahama with fine kaiseki cuisine of local dishes such as lake fish and Omi beef. #浜湖月 https://hamakogetsu.co.jp/ryouri/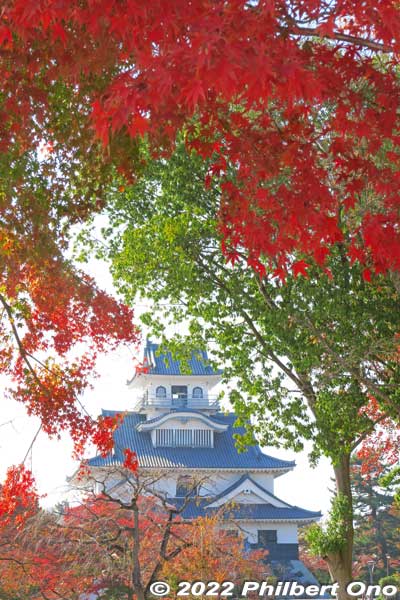 Nov 12, 2022: Nagahama Castle and autumn leaves now starting peak colors. More famous for cherry blossoms, but there are a few maple trees too. #長浜城 #紅葉 #滋賀
Dec 3, 2022: Ryuo resident Honjo Kaoru (41, 本庄薫), male staff at Shiga's Board of Education, has been arrested for using his smartphone to take an upskirt photo of age 18 woman going up the stairs at JR Shinohara Station in March 2022. Security camera found him & he confessed to his crime.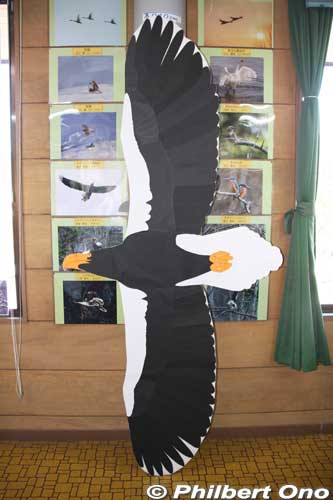 Dec 3, 2022: Steller's sea eagle (オオワシ) has returned to Mt. Yamamoto-yama in Nagahama on Nov. 26 for the winter. Wingspan of 2.5 meters. Endangered species. Kohoku Wild Bird Center nearby should have telescopes for viewing the bird until it leaves in late Feb. http://www.biwa.ne.jp/~nio/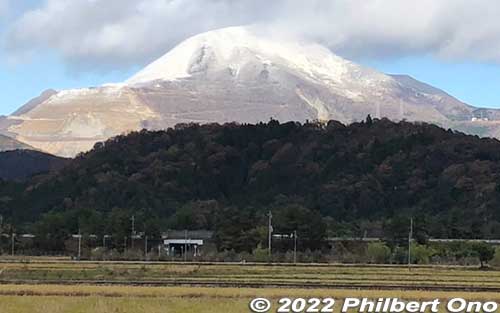 Dec 3, 2022: Mt. Ibuki saw its first snowcap this season on Dec. 2, 2022, 9 days later than last year. On the day before, Hira mountains also got its first snow. #伊吹山 #初冠雪
Dec 3, 2022: Shiga Lakes pro basketball team head coach Luis Guil left the team in Nov. 2022 after his contract was canceled. Assistant Coach Takayuki Yasuda has taken over as acting HC. However, the Lakes are seeing a major losing streak with 10 consecutive losses. https://www.lakestars.net/news/detail/id=17950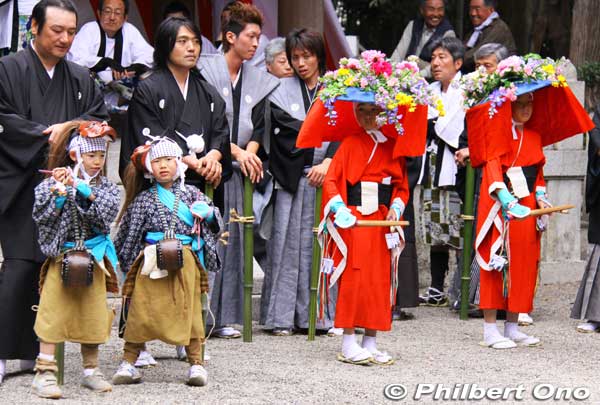 Dec 3, 2022: Naginata Odori at Ozu Jinja Shrine in Moriyama is one of the furyu-odori folk dances in Shiga now a UNESCO Intangible Cultural Heritage. Held annually on May 5. Video: https://youtu.be/1-Ti5JQTt_o #風流踊 #ユネスコ無形文化遺産 #近江のケンケト祭り長刀振り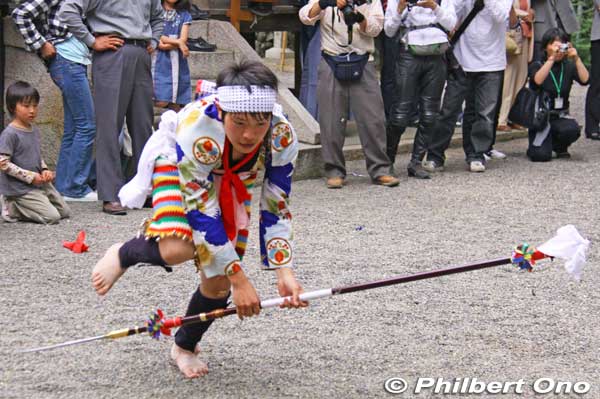 Dec 3, 2022: Kenketo Matsuri & Naginata Dance held at Suginoki Shrine in Ryuo is one of the furyu-odori folk dances in Shiga now a UNESCO Intangible Cultural Heritage. Held annually on May 3. Video: https://youtu.be/isdfpgLUa54
#風流踊 #ユネスコ無形文化遺産 #近江のケンケト祭り長刀振り
Dec 3, 2022: Kenketo Odori Dance held at Tagi Shrine in Tsuchiyama, Koka is one of the furyu-odori folk dances in Shiga now a UNESCO Intangible Cultural Heritage. Held annually on May 3. Video: https://youtu.be/59UfQMWjkZY
#風流踊 #ユネスコ無形文化遺産 #近江のケンケト祭り長刀振り
Dec 3, 2022: Congratulations to furyu-odori folk dances in Shiga to become UNESCO Intangible Cultural Heritage! One is Omi Konan Sanyare Odori in southern Shiga praying for rich harvests. Video shows kids practicing the dance in Kusatsu. #風流踊
#近江湖南サンヤレ踊り #ユネスコ無形文化遺産 https://twitter.com/i/status/1599035031737204737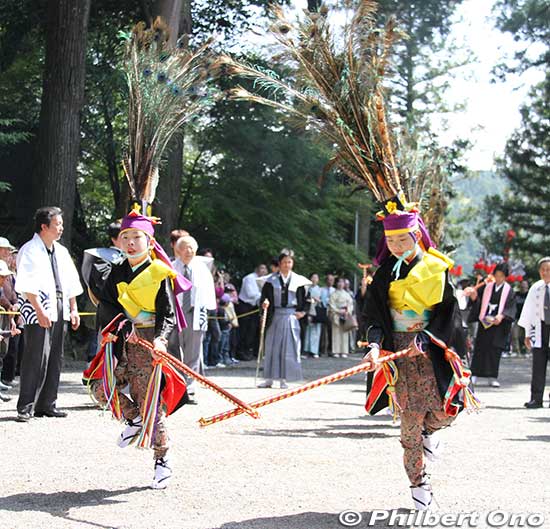 Dec 3, 2022: Total 41 furyu-odori folk dances in 24 Japanese prefectures will become UNESCO Intangible Cultural Heritage. In Shiga, they include Omi Kenketo & Naginata Dances in Moriyama, Koka, Higashi-Omi, & Ryuo. Photo: Kenketo odori dance at Tagi Jinja, Koka. #風流踊 #ユネスコ無形文化遺産
Shiga History Jan.–June 2022 | Chronological History of Shiga | Shiga History Jan.–June 2023