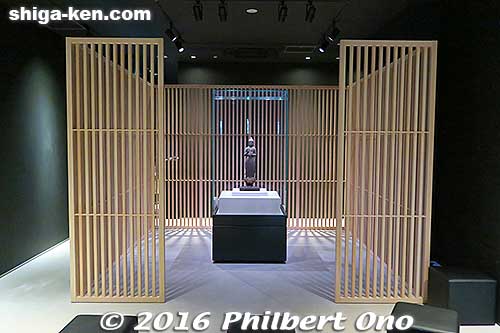 Note: Biwako Nagahama Kannon House permanently closed on Oct. 31, 2020 amid the pandemic.
The city of Nagahama boldly opened a little museum in Ueno, Tokyo called "Biwako Nagahama Kannon House" (びわ湖長浜 KANNON HOUSE) on March 21, 2016. It exhibits one precious kannon Buddha statue (Goddess of Mercy) brought over from Nagahama, Shiga Prefecture. The exhibit changes every two months so Tokyoites can see six different kannon statues from Nagahama every year.
The museum is small, but nice. It has only one medium-size room divided into the kannon exhibition space and a mini theater showing a video about Nagahama. The small exhibition space is enclosed by a wooden, temple-like fence modeled after a Kannon-do (観音堂) or small kannon worship hall. The wood is hinoki cypress from Nagahama. At the center of the enclosure is a kannon statue in a glass case. You can see it up close and take pictures.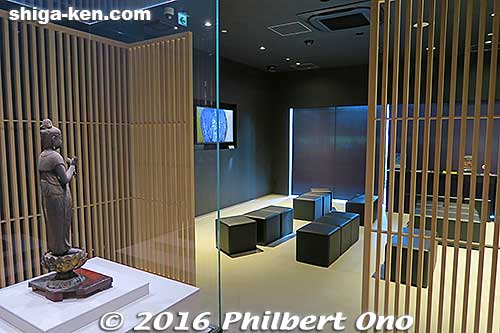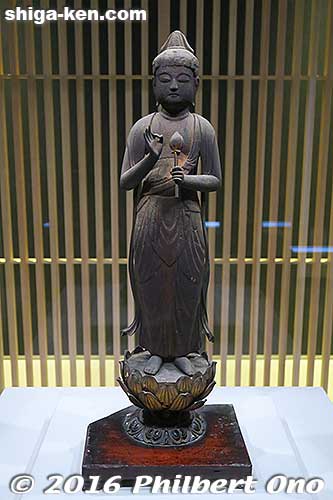 When I visited this month in June 2016, the kannon exhibit had just changed so I saw the second kannon statue to be exhibited at the museum. It was from Sonju-in temple (尊住院) in Nagahama's Kawamichi-cho district. It is wooden, 53 cm tall, and very old, like from the 12th century (Heian Period). The first kannon statue they exhibited during March to May 2016 came from Hogonji temple on Chikubushima island in Lake Biwa.
The museum is staffed by two or three women at a small reception desk when you enter the door. They also have Nagahama tourist brochures.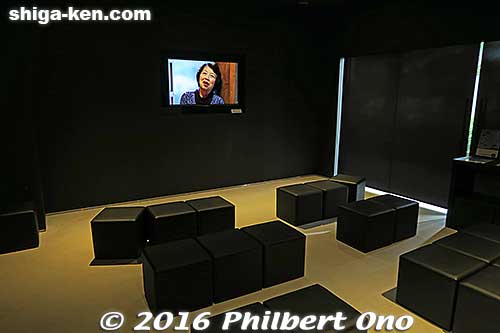 The museum was apparently inspired by the large turnout at the Nagahama kannon statue exhibition held at the University Art Museum (東京藝術大学美術館), Tokyo University of the Arts (Geidai) from March 21 to April 13, 2014 when 18 kannon statues from Nagahama were displayed. It was impressive indeed. As a follow-up, they will hold another kannon exhibition at the same venue this year during July 5 to Aug. 7, 2016: Life and Prayer, Kannon Sculptures from Nagahama II (観音の里の祈りとくらし展 II-びわ湖・長浜のホトケたち). This time they will have a whopping 40 kannon statues on display. Not to be missed.
Biwako Nagahama Kannon House is near JR Ueno Station and Keisei Ueno Station. The museum is on the 1st floor in an office building on the fringe of Shinobazu Pond and Ueno Park. It's close to the train/subway stations, but it's on a back street of Ueno Park and you need to know where it is to find it. (See map below.)
Why did they decide to be near Shinobazu Pond? It's because Shinobazu Pond has a Nagahama connection via the tiny Bentenjima island and the Benten-do temple dedicated to the goddess Benzaiten or Benten. When the renown Tendai Buddhist priest Tenkai (1536–1643) was out to build a mighty Tendai Buddhist temple headquarters called Kan'eiji in the Ueno area of Tokyo similar to Enryakuji in Shiga, he saw Shinobazu Pond as Lake Biwa and built a small island modeled after Chikubushima and built the Benten-do temple on it. The island today is connected to land so it doesn't seem like an island, but the rebuilt Benten-do temple is there. Hogonji temple on Chikubushima island in Nagahama is dedicated to Benzaiten and one of Japan's Big Three Benzaiten temples.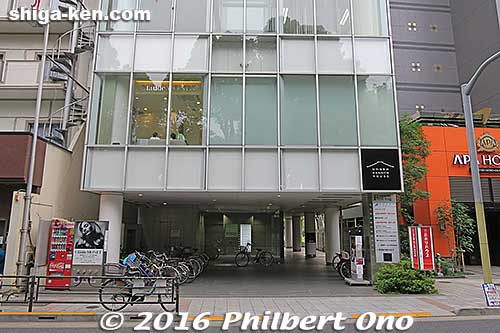 Shinobazu Pond is a popular tourist spot with cherry blossoms, lotus, Benten-do, monuments for kitchen knives and eyeglasses, and swan boats. But the Kannon House does not face Shinobazu Pond nor any major road, so it's not very visible. Which means they can't expect many off-the-street visitors. There's nothing much next to the museum either, except for a small hotel.
A museum like this should be closer to another museum or major kannon temple (Asakusa would be good) for better synergy. Too bad it can't be next to the Shitamachi Museum that faces Shinobazu Pond. The museum should also have more space for a tourist information office and/or Shiga gift shop. Right now, it's basically a standalone facility. The upcoming kannon exhibition at Geidai might give it a publicity boost, but the museum is limited to showing only one kannon statue at a time.
Shiga has Japan's highest number of Kannon statues designated as National Important Cultural Properties (including a National Treasure). There are over 130 Kannon statues in Nagahama. It is not known for certain why northern Nagahama has so many beautiful Kannon statues. One theory says that it may be largely due to Mt. Kodakami-yama (己高山, 923 m) in Kinomoto that could be seen far and wide and became an object of worship (山岳信仰). Kodakami-yama's main temple was a Kannon temple. Written records show that there were many temples dedicated to Kodakami-yama, and Kannon statues were made for them.
Well, let's see how it goes. I'll try to visit whenever I'm in Ueno. Concept-wise, I think it's great for a Shiga city to have a presence in Tokyo. But location and synergy are very important. I hope this is the first step toward having a more substantial space in Tokyo to showcase Shiga's best things. An exhibition space showing arts and crafts, gift shop for food and crafts, eatery to taste funza-zushi, and tourist information desk, all in one, right on the main drag somewhere.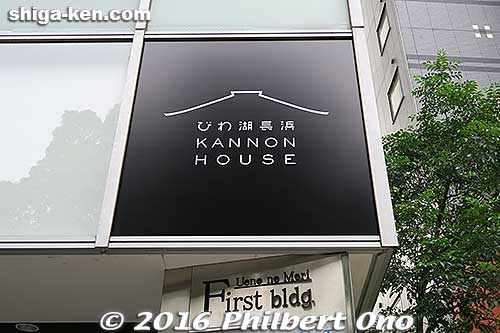 Note: Biwako Nagahama Kannon House permanently closed on Oct. 31, 2020 amid the pandemic. They have created this Farewell video:
Biwako Nagahama Kannon House (Permanently CLOSED on Oct. 31, 2020)
Hours: 10 am–6 pm
Closed: Mondays (open if a national holiday and closed on Tue. instead), Dec. 29–Jan. 3, and during exhibition changes
Admission: Free
Nearest station: JR Ueno Station (Shinobazu Exit) and Keisei Ueno Station
Address: Ueno-no-Mori First Building 1st floor, Ueno 2-14-27, Taito-ku, Tokyo
東京都台東区上野2丁目14番27号 上野の森ファーストビル1階
Phone: 03-6806-0103
Website (CLOSED): http://www.nagahama-kannon-house.jp/
Map link: https://goo.gl/maps/tuSrFqYyLWQ2