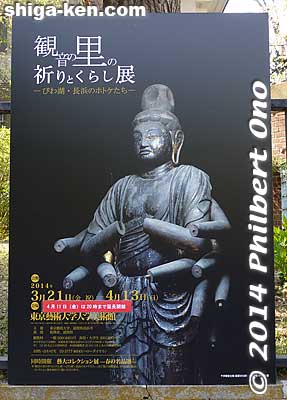 A rare and magnificent exhibition of eighteen Kannon statues from Nagahama is being held at The University Art Museum (東京藝術大学美術館), Tokyo University of the Arts (Geidai) from March 21 to April 13, 2014 near Ueno Station in Tokyo. Kannon is called the Goddess of Mercy.
The show is titled, Life and Prayer, Kannon Sculptures from Nagahama (観音の里の祈りとくらし展-びわ湖・長浜のホトケたち). Organized by the Tokyo University of the Arts and the city of Nagahama.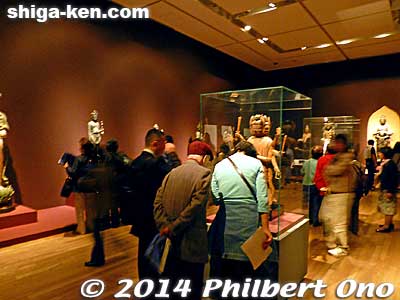 Although the National Treasure 11-face Kannon statue from Doganji (Kogenji) in Takatsuki is not in the show, three of the eighteen Kannon statues are Important Cultural Properties. Most of the statues date from the 12th century, and three are from the 9th century or earlier. There is a wide variety of Kannon statues: Large, small, black, wood grained, standing, sitting, grinning, multi-faced, and ones with many arms. Fabulous collection, all displayed in one room. A good crowd of people have been going to the exhibition even on weekdays.
Each statue has a Japanese description (no English). Interesting to read about how statues were buried by villagers to protect it from being destroyed by warlord Oda Nobunaga who purged warrior monks and temples in Shiga. Two wooden statues that were buried now look very worn out from the burial. But somehow they still retain their beauty and dignity. Many of the statues have survived over the centuries thanks to the efforts of the local people. I was upset to learn that one temple was burglarized twice and so it now has fewer statues. Temple burglaries is a problem, especially in Shiga where there are so many temples and treasures. A temple in Koka is missing two of its Buddhist statues which are Important Cultural Properties, believed to have been stolen and sold on the black market.
Shiga has Japan's highest number of Kannon statues designated as Important Cultural Properties (including a National Treasure). There are over 130 Kannon statues in Nagahama. It is not known for certain why northern Nagahama has so many beautiful Kannon statues. One theory says that it may be largely due to Mt. Kodakami-yama (己高山, 923 m) in Kinomoto that could be seen far and wide and became an object of worship (山岳信仰). Kodakami-yama's main temple was a Kannon temple. Written records show that there were many temples dedicated to Kodakami-yama, and Kannon statues were made for them.
When you enter the exhibition room, they give you a very nice plastic file folder with a Kannon statue design. It feels thick like an exhibition pamphlet, but it only contains Nagahama tourist pamphlets. Nice that it included a free ticket (worth ¥500) to the Kurobe Kanbee Expo currently held in Nagahama. I plan to see the expo so this show turned out to be a good deal for me.
They also sell a small exhibition catalog/book for ¥1,500. The museum gift shop is also selling a bunch of books about Nagahama Kannon statues published by local publishers in Shiga. Nothing in English though.
Museum admission is 500 yen for adults, ¥300 for high school and college students, and free for younger kids. Museum hours 10 am – 5 pm (enter by 4:30 pm). The museum is a 15-min. walk from Ueno Station. Just walk through Ueno Park (Map). Tokyo University of the Arts (nicknamed Geidai) is one of Japan's most venerated art universities. Website