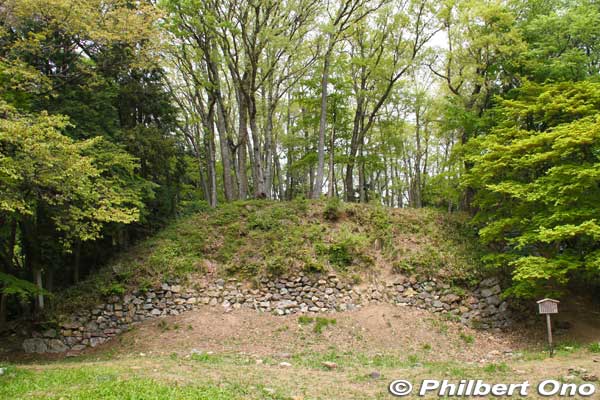 In Nagahama, the Azai Clan's Odani Castle is one of Japan's most historic castles very much worth a visit. But it's a mountain castle, way up on Mt. Odani, quite far from any train stations.
If you don't have a car, here are your options for getting to Odani Castle:
If you have a car, you can park at Sengoku Guide Station, but still need to walk uphill on the paved road for about 30 min. to reach Bansho-ato (gate) on Mt. Odani. From there, it's a short walk to the Honmaru.
If you're hiking up in summer, have fun with the many flying insects buzzing you along the way. It's quite strenuous with the heat and perspiration.
If it's April-May (Golden Week), mid-September, or November, there are weekend shuttle buses running from Sengoku Guide Station at the foot of Mt. Odani to halfway up the mountain twice an hour (schedule below). It really helps. The ride is only 5 minutes and costs only ¥500 one way. Highly recommended to save time and energy.
Sengoku Guide Station is next to a parking lot. On the shuttle bus days, they also have volunteer castle guides to take you around the castle. No English, but you can walk around the castle grounds on your own.
Odani Castle shuttle bus schedule for 2021:
Days of Operation: April 29, 30; May 1–5; September 18–20, 23, 25, 26; November 3, 6, 7, 13, 14, 20, 21, 23.
Departure time from Sengoku Guide Station to Bansho-ato: 9:45, 10:00, 10:30, 11:00, 11:30, 12:30, 13:00, 13:30, 14:00, 14:30, 15:00 (Takes 5 min.)
Departure time from Bansho-ato to Sengoku Guide Station: 10:10, 10:40, 11:10, 11:40, 12:40, 13:10, 13:40, 14:10, 14:40, 15:10, 15:40, 16:10 (Takes 5 min.)
*If you miss the bus, you can always walk down the mountain (paved road). Much easier going downhill.
On the same days of operation above, there's also a shuttle bus going from JR Nagahama Station at 9:15 am to Sengoku Guide Station. Bus fare is only ¥500, but you still have to catch another shuttle bus at Sengoku Guide Station to go up Mt. Odani. There's only one shuttle bus running from Nagahama Station each day on the weekend days above.
Odani Castle location on Google Maps.
More photos of Odani Castle here.
More info in Japanese: https://kitabiwako.jp/spot/spot_25272
Phone (in Japanese only): 0749-78-0300