Chronology of Shiga Prefecture's major news headlines for July–December 2021.
Originally posted on Twitter under Shiga Headlines by Philbert Ono. Twitter posts are limited to 280 English characters including spaces and links (shortened by Twitter). Dates are based on Japan time.
Jul 18, 2021: Rainy season ended in the Kansai Region today (July 17), two days earlier than usual. It was the longest rainy season on record lasting 62 days (starting on May 16). Summer temperatures in Shiga today, exceeding 30˚C. More dog days to come.🥵
Jul 25, 2021: Shiga's first Tokyo 2020 Olympic GOLD!!! Congrats to swimmer OHASHI Yui (橋悠依) for winning the women's 400m individual medley at Tokyo Aquatics Centre!! She's from Hikone where she started swimming from age 6. Next for her will be the 200m medley. https://olympics.com/en/news/ohashi-yui-triumphs-in-women-s-400m-im-final
Jul 29, 2021: Shiga goes wild with the Hikone girl doing it again!! Another GOLD for Shiga!! OHASHI Yui wins the 200m individual swimming medley. First Japanese female swmmer to win TWO GOLD medals at a Summer Olympics!! #大橋悠依
Sep 5, 2021: Paralympic GOLD!! for Kimura Keiichi, finally!! After four Paralympic Games, his first gold medal in Para swimming for 100m butterfly on Sept. 4 at Tokyo Aquatics Centre. Congratulations to the Ritto native!! https://www.paralympic.org/news/emotional-keiichi-kimura-saves-best-last
Sep 14, 2021: Very busy and exciting summer with the Olympics and Paralympics in Tokyo. Now it's back to business and back to Shiga's news headlines.
Sep 14, 2021: On Sept. 9, the State of Emergency for Covid was extended for 19 prefectures including Shiga from Sept. 12 to Sept. 30. This has further damaged the local tourist industry with hotel cancellations, etc.
Sep 14, 2021: Due to fewer travelers and red ink, JR West is planning to schedule fewer train runs in Shiga from Oct. Fewer trains between Nagahama and Maibara, and fewer trains all over Shiga from next spring. Hopefully, it won't affect commuters and students too much.
Sep 14, 2021: Age 23 male office clerk at Nagara Elementary School in Otsu was fired on Sept. 7 for embezzling ¥1.7 million for 2 years from a fund for school trips. He used the money to pay off debts, but apologized and repaid the money to the school. Name undisclosed. #大津市立長等小学校
Sep 14, 2021: Maibara Senior High School principal (田邉雅之) got a 10% pay cut for 3 months for power harassment remarks to two subordinate teachers. Hmm, still no public apology on the school's website. Shiga Board of Education section chief apologized for him. #滋賀県立米原高等学校
Sep 14, 2021: In 2020, 36.41 million tourists visited Shiga, about 32% less than in 2019. This number fell below 40 million for the first time in 25 years & far below the 54.03 mil. peak in 2019. Most popular attraction: La Collina in Omi-Hachiman, followed by Taga Taisha, & Kurokabe Square.
Sep 14, 2021: To mark the 450th anniversary of Oda Nobunaga torching Enryakuji, a memorial service was held on Mt. Hiei on Sept. 12 with descendants of both Nobunaga and Akechi Mitsuhide (who assassinated Nobunaga) attending in friendship and giving prayers.
Sep 14, 2021: Due to Covid, mountain hiking is becoming more popular. But Shiga is also seeing more stranded hikers needing to be rescued. In 2020, there were 79 such cases. Best not to hike alone and be sure to tell someone where you are hiking. And follow the rules.
Sep 14, 2021: Shiga Prefectural Gov't employees are finally getting vaccinated since Sept. 8. Shiga is also finally vaccinating people age 16 to 29 on a priority basis from Sept. 13. The clinic at Shiga Prefectural Gov't is accepting online reservations from people who live or work in Shiga.
Sep 14, 2021: As of Sept. 13, 2021, Shiga has had 11,786 Covid cases and 97 Covid deaths. Vaccinations are progressing with 90% of Shiga's elderly population fully vaccinated and 44% of the total population fully vaccinated.
Oct 31, 2021: On the morning of Oct. 25, 2021, Koka City received an email saying that the City Hall & Koka schools would be blown up at 3:34 pm. Koka's 27 elementary & junior high schools were evacuated after lunch & City Hall was also evacuated and closed. No explosives were found anywhere.
Oct 31, 2021: Like the rest of Japan, Covid cases in Shiga have decreased dramatically this month. Daily cases are now only single digits in Shiga. Total cases in Shiga 12,407 and 103 deaths as of Oct. 30, 2021. About 70% of Shiga's population is fully vaccinated.
Oct 31, 2021: In 2020, 84 hikers got lost in Shiga's mountains and 8 of them died. Five fell off the trial and 2 got lost. (In 2019, 5 died.) One problem not mentioned is a lack of clear directional signs on the mountains. Know before you go and tell people where you're hiking.
Oct 31, 2021: In Higashi-Omi, Hyakusaiji's main Buddha, a wooden, 11-faced Kannon Bodhisattva statue, will be designated as an Important Cultural Property. At 2.49 meters tall, it has a large body & small head. Dates from the mid-8th century (Nara Period). Normally hidden. #木造十一面観音立像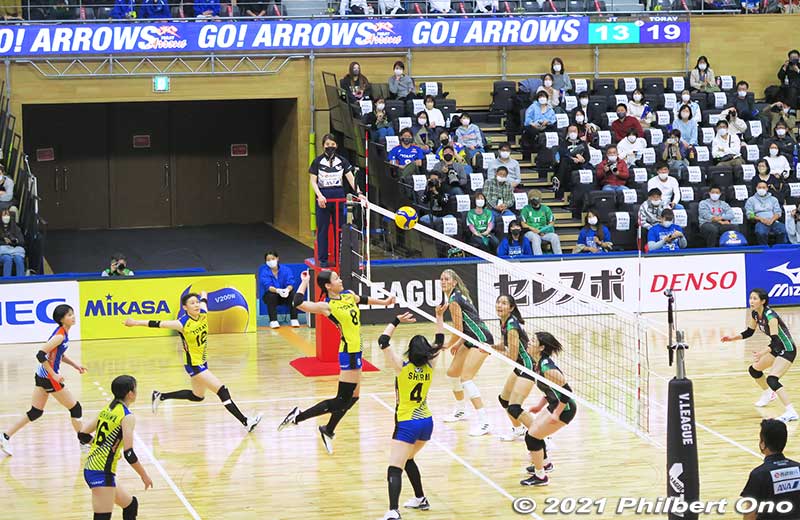 Nov 7, 2021: First time to see Toray Arrows volleyball today (YMIT Arena in Kusatsu). Nice to see spectators after a spectatorless Olympics. The women lost to JT Marvelous (1-3). Too bad Kurogo Ai was not playing. #東レアローズ
#JTマーヴェラス https://www.toray-arrows.jp/women/game/v_league/detail_21_22.html?key=B2AFA6F4702E70334925878600334006
Nov 7, 2021: Koto Sanzan Temple Trio autumn shuttle bus will run from/to Hikone Station on Nov. 20th–23rd, 2021. Visit Saimyoji, Kongorinji, and Hyakusaiji for spectacular autumn colors. https://shiga-ken.com/blog/2021/11/koto-sanzan-temple-trio-autumn-foliage-2021/
Dec 5, 2021: AyahaDIO home improvement center's online store got hacked and the credit card or personal information for over 700 customers got stolen in Sept. 2021. Affected customers are only now being notified with apologies after 3 months. #アヤハディオ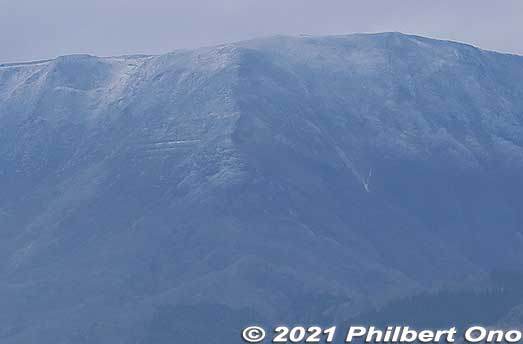 Dec 5, 2021: Season's first snow on Mt. Ibuki on Nov. 23, 2021.
Dec 5, 2021: Age 47 Koka man Takenaka Makoto (竹中誠) arrested for kidnapping a 4th grade Otsu girl from a shopping mall (game arcade) in Kusatsu on Nov. 28, 2021. He took her for a ride in his car. Police found the girl with Takenaka shopping at a supermarket at 11:30 pm. She was unharmed.
Dec 5, 2021: Shiga Prefectural Board of Education survey conducted in Nov.–Dec. 2020 found 1,337 (16.5%) of the 8,087 public school teachers who responded had experienced power harassment. Four teachers were reprimanded for power harassment and 15 others were warned for inappropriate remarks.
Dec 5, 2021: Survey by NHK found that Konan City Hall does not meet earthquake-resistance standards. Built in the latter 1970s, the building might collapse in an M6+ earthquake. No plans yet to rebuild or reinforce the building. #湖南市役所
Dec 5, 2021: Nishikawa is a famous futon maker founded in Omi-Hachiman by Omi merchant Nishikawa Niemon 450+ years ago. They opened a new museum in their storehouse in Omi-Hachiman to explain their corporate history & historical products such as mosquito nets for beds. https://nishikawa-omihachiman.jp/museum/
Dec 5, 2021: Ohmi Railways & Shigaraki Kohgen Railway now sell digital day passes for unlimited rides for 1 day. Purchase the pass with the RYDE PASS app (no English) & show the pass on your smartphone to ride the train. No need to go to a staffed train station to purchase the pass (¥1,050).
Dec 5, 2021: Shiga's health workers and elderly will receive their third COVID-19 vaccine shots from Dec. 2021 to Jan. 2022. People who had their 2nd shot at least 8 months before are eligible.
Dec 5, 2021: As of Dec. 2, 2021, Shiga had zero COVID-19 cases for 12 days in a row. However, one case was reported on Dec. 3, followed by two cases on Dec. 4.
Dec 5, 2021: Due to the lack of rain, Lake Biwa's water level is at its lowest in 14 years at -68 cm as of Nov. 29, 2021 & -64 cm as of Dec. 4. If it goes down to -75 cm, Shiga will implement water conservation. Normally submerged ancient castle wall is now exposed at Sakamoto Castle in Otsu.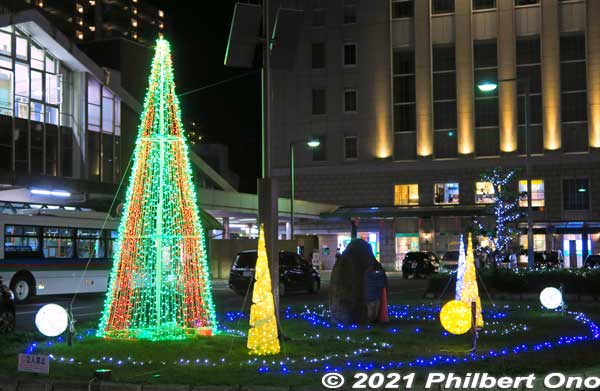 Dec 5, 2021: Holiday illuminations in Shiga such as Kusatsu Station (till Feb. 14, photo), Moriyama Station (till Jan. 31), Yasu Station (till Jan. 16), Biwako Otsukan in Otsu (till Feb. 14), Toyosato Elementary School (till Dec. 26), and Rosa & Berry Tawada in Maibara (till Feb. 14).
Dec 30, 2021: In Koka, age 28 male jr. high teacher suspended on Dec. 24, 2021 for 3 months for collecting child porn online and sharing them with Twitter friends. He has already been fined ¥300,000 and quit his job.
Dec 30, 2021: Heiwado Group saw record sales and net profits during Feb.–Nov. 2021 due to people staying home and buying food for home cooking. Heiwado's eat-in restaurants also saw more customers. Net profit increased by 14.8% compared to the same period in 2020.
Dec 30, 2021: Heavy snowfall struck Shiga during Dec. 26–28. JR Biwako Line canceled all trains for the day after 11 am on Dec. 27 (between Yasu, Nagahama, and Omi-Shiotsu). Service was restored on the 28th evening.
Dec 30, 2021: On Dec. 27 at 3:30 am, a large truck going north on Route 8 in Hikone's Higashi Nonami-cho got stuck on the snow, creating a traffic jam over 2 km long. Truck was moved after 10 am.
Dec 30, 2021: By Dec. 27 morning, record snowfall (68cm) for a 24-hour period was recorded in Hikone. At 3:30 am, a large truck going north on Route 8 in Hikone's Higashi Nonami-cho got stuck on the snow, creating a traffic jam over 2 km long. Truck was moved after 10 am. Hikone Castle closed.
Dec 30, 2021: Due to heavy snow, about 560 homes in Takashima suffered a power outage on Dec. 27. By the 28th morning, 220 homes are still without power.
Dec 30, 2021: Thanks to much rain, Lake Biwa's water level has recovered to normal levels (-35 cm). The recent heavy snowfall will also help. Shiga's task force to deal with the problem was disbanded on Dec. 27, 2021.
Dec 30, 2021: On Dec. 27 before 2 pm, a two-car Ohmi Railways test train derailed near Hikone-guchi Station due to heavy snow. No injuries. However, no train service between Maibara and Yokaichi and between Takamiya and Taga Taisha-mae until the 29th.
Dec 30, 2021: From Dec. 30th, Ohmi Railway trains will run only between Yokaichi and Kibukawa/Omi-Hachiman. Check the website for latest info (in Japanese only): https://www.ohmitetudo.co.jp/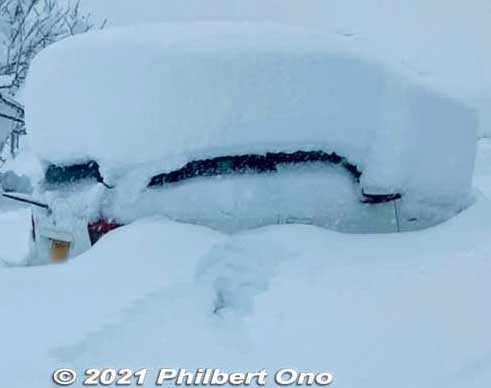 Dec 30, 2021: More heavy snow is forecast, peaking during Dec. 31-Jan. 1 especially in northern Shiga. Avoid unnecessary outings in heavy snow. Photo shows snow in Maibara on Dec. 27.
Shiga History Jan.–June 2021 | Chronological History of Shiga | Shiga History Jan.–June 2022