Updated: April 22, 2023
Golden Week is Japan's spring vacation from late April to early May with a string of national holidays. April 29 is Showa Day, May 3 is Constitution Day, May 4 Greenery Day, and May 5 Children's Day.
It is prime time for matsuri festivals in Japan and Shiga has a load of them. There are so many matsuri in Shiga during this time that it took me at least 4 or 5 years to see most of them because many are held at the same time. You really have to decide which one to see. In 2023, many of these festivals will be held for the first time since before the pandemic.
Here is a list of spring and Golden Week festivals in Shiga I recommend. A wide variety for sure.
CONTENTS
April 13–16 (Main day 15th): Nagahama Hikiyama Matsuri (長浜曳山祭), Nagahama Hachiman Shrine, Nagahama
Nagahama Hikiyama Matsuri gained international recognition in Dec. 2016 as a UNESCO Intangible Cultural Heritage of Humanity being one of the 33 "Yama, Hoko, and Yatai float festivals in Japan." The festival's main attraction is child kabuki performed on four ornate floats (hikiyama) having a small stage. The authentic kabuki plays are performed by grade school boys. They undergo weeks-long rigorous training in voice and acting to put on a kabuki play during the festival.
Even if you cannot understand what they are saying, just looking at their makeup, costumes, and acting will delight. The kabuki performances start at the shrine at 9:45 am and end at around 2 pm. Then the floats are pulled to other spots across central Nagahama (Otemon-dori shopping arcade) where the boys perform again.
By the evening, all the floats gather at the Otabisho rest place across town (near Hokoku Shrine) for more revelry until 9:30 pm when it ends. Although it gets crowded in front of the float, you can usually see the kabuki actors because they are elevated on the float. Although April 15 is the main festival day, they also have other festival events on adjacent days and kabuki is performed on April 13, 14, 15, and 16 as well. Festival and more info | My video | Website | Google Map
April 12-15: Sanno-sai Festival (山王祭), Hiyoshi Taisha Shrine, Otsu
Held by Hiyoshi Taisha Shrine in western Otsu at the foot of Mt. Hiei. This is perhaps Shiga Prefecture's largest festival in terms of participants and the number of events. Held over a few days, you can see diverse events and rituals like an evening torch procession, thunderous rocking of portable shrines, and even a boat procession on the lake.
One thing I like is the joint cooperation of Shinto and Buddhist priests in the ceremonies. You can see and hear both Shinto priests and Tendai Buddhist priests from Enryakuji temple praying or chanting at the same ceremony during the festival. So it's not entirely a Shinto festival.
Hiyoshi Taisha Shrine was historically affiliated with Enryakuji temple until the state required that Shinto and Buddhism be separate organizations. It's up to you to decide which day and what time to see the festival.
Click on the link above to see my photos of the festival (taken on April 13-15) to decide what you want to see. I saw and photographed all the major festival events except on the first day when they brought down the portable shrine from a low mountain. If it's one festival that wore me out after three days, it's this one. My video | Website | Google Map
April 14: Hachiman Matsuri (八幡まつり), Himure Hachimangu Shrine, Omi-Hachiman
Shiga's biggest fire festival featuring several tall straw torches (as high as 10 meters) that are lit from 8 pm. If you have time during the day, you should come and look at the torches which are great works of art.
The festival is prayer for an abundant harvest. They light the torches one by one. This festival is usually billed together with the Sagicho Matsuri another fire festival held in March. Sagicho Matsuri is still my favorite festival in Omi-Hachiman. My video | Website | Google Map
April 22: Taga Matsuri (多賀まつり), Taga Taisha Shrine, Taga
If you like horses and traditional costumes, see this festival. They have a long procession featuring Shinto priests, children in costume, women warriors, and more people on 40 horses. A total of 500 people are in the procession. This festival has been held since the Kamakura Period () as a prayer for rich harvests in the coming year.
There is a morning procession leaving Taga Taisha at 10:30 am for Totonomiya Shrine deep in Taga's countryside arriving at 11:30 am and leaving at 1 pm, and an afternoon (main) procession leaving Taga Taisha at 2 pm for the Otabisho rest place, a short distance away from Taga Taisha. Walkable from Taga Taisha-mae Station. Total procession walk is about 10 km. My video | Website | Google Map
April 23: Kusatsu Shukuba Matsuri (草津宿場まつり) celebrates Kusatsu's history as a stage town on the Nakasendo and Tokaido Roads. Numerous events and activities are held such as flea markets, street & stage performances, and Japanese dances on the riverside park. The main highlight is the Kusatsu Jidai Gyoretsu mini procession of people dressed in historical costumes from noon to 12:30 p.m. on the riverside park. Near JR Kusatsu Station. Photos | Official site | Map
April 29: Sakata Shinmeigu Yakko-buri Procession (坂田神明宮の蹴り奴振り), Maibara
This reenacts the procession of Lord Ii Naonobu from Hikone when he came to worship at Sakata Shinmeigu Shrine (坂田神明宮) in 1733 in Maibara. The yakko men walk with a stylized, kicking action. Yakko are samurai laborers. It starts with a Shinto ceremony at 1 p.m. which includes dancing by shrine maidens. The procession starts at 2 p.m. at Sakata Shinmeigu Shrine near JR Sakata Station (Hokuriku Line). Photos | Website | Map
April 29 (canceled in 2023): Kaizu Rikishi Matsuri (海津力士まつり) features men dressed as sumo wrestlers (rikishi) carrying two mikoshi portable shrines around their respective lakeside neighborhoods near JR Makino Station in northern Takashima. They wear kesho mawashi ceremonial aprons. They jostle the mikoshi during the day from 1 pm to 3 pm, and then from 5 pm.
At around 8 pm, they proceed to Kaizuten Jinja Shrine (海津天神社) for the festival climax with lit torches. They carry and jostle the portable shrines. Be aware that the festival goes on until after 10 pm which may be past your last train home.
Also, if you're walking back to Makino Station from the shrine, be careful as part of the highway has no sidewalk. Bring a flashlight (or lit-up smartphone) so the cars (and big trucks) can see you on the road at night. Otherwise, it's very hazardous. Photos | Website | Google Map
May 3: Hino Matsuri (日野祭) in Hino is the largest festival in eastern Shiga Prefecture and one of Shiga's grandest float festivals. Sixteen ornate floats and three portable shrines are paraded through the streets and gather at Umamioka Watamuki Shrine amid festival music of flutes and taiko drums. It's all day long from morning till late afternoon when the floats leave the shrine. The three portable shrines are taken across town to the Otabisho and back.
They also hold a festival eve on the evening of May 2. Buses run from Hino Station to Umamioka Watamuki Shrine. If you have time, I also highly recommend taking the bus from Hino Station to Shakunage Gorge (しゃくなげ渓) for a relaxing nature stroll in a gorge adorned with shakunage (rhododendron), Hino's official flower. Photos | Website | Google Map
May 3: Taki Shrine Kenketo Odori (龍樹神社ケンケト踊り) at Taki (Tag) Jinja Shrine (龍樹神社) in Tsuchiyama, Koka is a dance performed by eight boys aged 7 to 12. The dance was originally started to ward off calamities. This kenketo dance became a UNESCO Intangible Cultural Heritage in 2022, one of the 41 furyu-odori folk dances in 24 Japanese prefectures.
The boys wear tall peacock feathers on their heads. Starting in the early afternoon at the shrine, the delightful dance is a National Intangible Folk Cultural Property. The festival starts at 10 a.m. with a Shinto ceremony. The boys start to dance at the shrine at 2 p.m. From Kibukawa Station (JR Kusatsu Line and Ohmi Railways), catch the Aikuru Bus and get off at Higashi Maeno. The shrine is a short walk toward the river. Photos | Website | Google Map
May 3: The Kenketo Festival (ケンケト祭り) is held at few Shinto shrines in Ryuo and neighboring Higashi-Omi. It is mainly a naginata (pole sword) dance and procession by boys dressed in costume. From mid-morning, they travel to these different shrines and perform, but the main venue is Suginoki Shrine (杉之木神社) in Yamanoue (山之上), Ryuo town, Shiga. They perform there from mid-afternoon to late afternoon.
This kenketo dance became a UNESCO Intangible Cultural Heritage in 2022, one of the 41 furyu-odori folk dances in 24 Japanese prefectures. Photos | Website | Google Map
May 4: The Shichikawa Matsuri (七川祭) at Oarahiko Shrine in Takashima features a procession of yakko-furi samurai laborers carrying archery targets (photo), yabusame horse runs, and a portable shrine procession.
This is the largest festival in the Kosei area (western Shiga) and the only one featuring horses in Kosei. Attracts a good crowd. The shrine is near Shin-Asahi Station (JR Kosei Line), but renting a bicycle at the station is recommended. Photos | Website | Google Map
May 4: Omizo Matsuri (大溝祭) has five ornate floats pulled around the neighborhood of JR Omi-Takashima Station (JR Kosei Line). The festival eve on May 3 from 6 p.m. has the floats festooned with lit paper lanterns as they are pulled around in the evening.
On May 4, they pull the floats around from 10 a.m. and gather at Hiyoshi Jinja Shrine by 11:30 a.m. When entering the shrine, they dramatically run while pulling the float. A mikoshi portable shrine also arrives. At around noon, they will throw rice cakes to the crowd. From 12:30 p.m., they start to leave the shrine and parade around their neighborhoods. Photos | Website | Google Map
May 4: Iba-no-saka-kudashi Matsuri (伊庭の坂下し祭), Higashi-Omi, Shiga Prefecture
Held by Sanposan Shrine, a most unusual festival with three portable shrines hauled down a steep mountain (Kinugasa-yama 繖山) for about 500 meters. It doesn't sound that far, but it's all steep, rocky terrain. Held from noon to 4 p.m.
The mikoshi portable shrine bearers can easily get injured. This is also one of the hardest festivals to view. You have to climb up this steep, rocky mountain and perch on a ledge. One earthquake and you can fall. The locals have an easy time climbing up the mountain though, even with kids. Might be hard to climb with a lot of camera equipment. Photos | Website | Google Map

May 4 evening: Shinoda Hanabi (篠田の花火) is a super spectacular and artistic fireworks display at Shinoda Shrine in Omi-Hachiman. Torch fireworks, Niagara Falls, and panel-type fireworks provide an explosive, close-up experience. The fireworks are mounted on a large, outdoor wall 10 meters high and 22 meters wide. For people who cannot wait till summer to see fireworks. Beware of a forest of camera tripods and photographers in front. Get there early if you want to take good shots.
Not recommended if you don't like sudden and loud explosions. Intangible Folk Cultural Property. Walk from Omi-Hachiman Station. Photos | Website | Google Map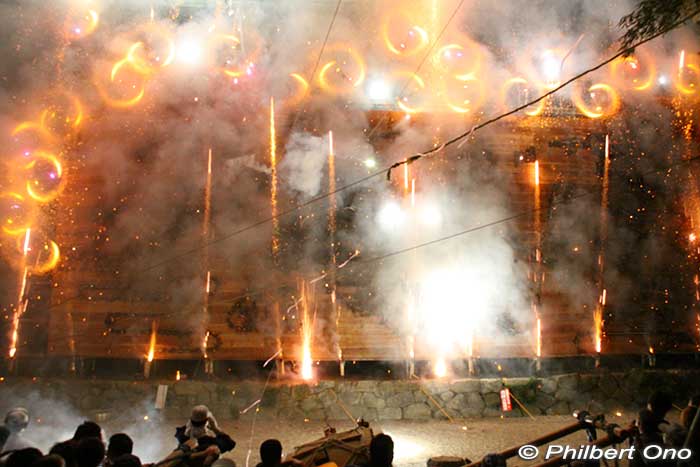 May 4: The Misaki Shrine Fire Festival (御崎神社 火まつり) in Aisho climaxes with a towering clump of bamboo set afire to create a fire column well over 10 meters high. It starts at 7:30 pm when people carry 2-meter long torches from their homes to the shrine. A taiko drum is also carried and beaten. Very dramatic. The shrine is a 20-min. walk from JR Inae Station. Photos | Website | Google Map
May 4 (once every several years, not to be held in 2023): Nyu Chawan Matsuri (丹生 茶わん祭り), Nyu Shrine, Yogo (Nagahama)
Another of my all-time favorite festivals. They have three wooden floats topped with lofty "balancing act" chawan bowl decorations. They also hold beautiful sacred dances by boys dressed as girls. A procession of colorful flower umbrella dancers also provides a colorful accent to the festival.
It's held deep in a mountain valley of Yogo in northern Nagahama so the whole area is lush and peaceful. The only problem is that the festival is held only once every 5-6 years. As of spring 2023, there has been no announcement when the next time this festival will be held. Nyu also has the Chawan Matsuri Museum (茶わん祭りの館) open on weekends. My video | Website | Facebook | Google Map
May 5: Hyozu Matsuri (兵主祭) is Shiga's preeminent mikoshi (portable shrine) festival with 35 mikoshi paraded around Hyozu Taisha Shrine in Yasu. Two of them are carried only by spunky young women called "Ayame," meaning iris flowers.
Very colorful and lively festival as they frequently stop, yell, and hold up the mikoshi high in the air. Beware that it can be dusty on the gravel paths. Other mikoshi are carried by children and men. They also recruit women to carry the two women-only Miyoshi. Apply by April 20 or so. See their Facebook page. From JR Yasu Station's north exit, take a bus for Hyozu Taisha-mae taking 15 min. Photos | Website | Google Map
May 5: The Sushi-kiri Matsuri (すし切りまつり) sushi-cutting festival at Shimoniikawa Shrine in Moriyama has two young lads very stylistically and meticulously cutting funa-zushi fermented fish (crucian carp native to Lake Biwa) as an offering. All throughout, they are verbally heckled by some men. Not visually spectacular, but unusual and intriguing. The festival starts from around noon.
The best part is at the end when they give free morsels of funa-zushi to spectators. (Not sure if they still do this.) Shiga's best-known delicacy from Lake Biwa. From Moriyama Station, take the bus and get off at Shimoniikawa Jinja. Photos | Website | Google Map
May 5: Naginata Odori Matsuri (長刀踊り まつり) at Ozu Jinja Shrine (小津神社) in Moriyama consists of colorful dances and music by children, taiko drumming, a naginata dance and acrobatics by boys using a pole sword. They conduct a roundtrip procession from Ozu Shrine to Ozu Wakamiya Shrine. A great variety of eye candy for Children's Day.
This naginata dance also became a UNESCO Intangible Cultural Heritage in 2022, one of the 41 furyu-odori folk dances in 24 Japanese prefectures. Photos | Website | Google Map
May 5: Sekku Matsuri Festival (苗村神社 節句祭) at Namura Shrine in Ryuo is for horse lovers. After children carry around a portable shrine from 3 pm, yabusame horseback archery is held in front of the shrine gate at 4 pm. Several horses make their runs, but only one of them shoots arrows at the targets.
A good excuse to visit this shrine noted for its elegant-looking, thatched-roof main gate and Nishi Honden hall which is a National Treasure. The shrine's architecture is from the Kamakura Period. Photos | Website | Google Map

Last Sun. in May if held: Higashi-Omi Giant Kite Festival (東近江大凧まつり) (formerly Yokaichi Giant Kite Festival) (Odako Matsuri), Higashi-Omi
*Update: Due to a tragic kite crash in May 2015, the Odako Matsuri kite festival has been suspended from May 2016.
The giant kite, made of washi paper and a bamboo frame, measures about 13 meters by 12 meters (size of 100 tatami mats) and weighs 700 kg. It is a work of art with a distinct shape, cutouts, and paint job featuring a traditional design of a large kanji character and twin animals. The design is selected from entries from the public and a new giant kite with a new design is made every three years. The public is also invited to help build the new kite every three years during the summer.
On the festival day, the kite is flown on a riverbank a few times. It usually doesn't stay aloft for very long unless there are strong winds. It can even crash so they clear the whole area whenever they fly the kite. You can also sign up to pull the kite. I did it once and they run at full speed. Kind of scary because if you trip and fall, you might get trampled. From 2013, the festival site shifted to the Fureai Undo Park in Notogawa. Free shuttle buses will run from Notogawa Station. After (or before) the festival, be sure to check out the Odako Kaikan Giant Kite museum. Shuttle buses run to the museum. My video | Google Map
Other Attractions
April 29–May 7, 2023: William Vories Architecture Tour, Omi-Hachiman
In central Omi-Hachiman, major Western-style buildings designed by William Vories will be open to the public. They include Andrews Memorial Hall and the former Vories residence.
Born in Kansas, Vories (1880-1964) moved to Omi-Hachiman in 1905 to work as an English teacher while engaging in Christian missionary activities. He opened his own architectural firm in Omi-Hachiman in 1908. He and his firm went on to design numerous buildings in Shiga and other places in Japan. Admission charged.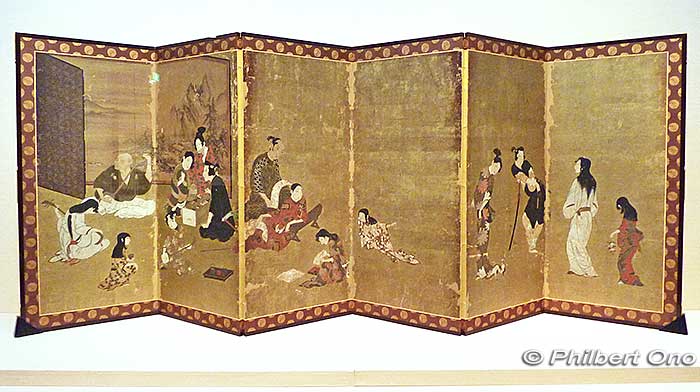 April 20–May 16, 2023: Hikone Byobu folding screen exhibition, Hikone
Hikone Castle Museum will exhibit the Hikone Byobu folding screen during Golden Week. Dating from the 17th century, this folding screen is a National Treasure. Details here.