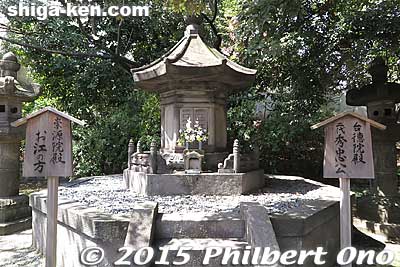 Back in 2011, NHK TV broadcast its yearlong Taiga Drama called Go–Himetachi no Sengoku (江〜姫たちの戦国〜) which I translate as "Go–Noble Ladies of Feudal Japan." This series made the main character nationally famous. She was Go (1573-1626), also called Ogo or Oeyo and Sugen'in in her final years.
She was the youngest of three sisters born to Azai Nagamasa (1545-1573), Lord of Odani Castle in northern Shiga (present-day Nagahama) and wife Oichi (1547?-1583) who was the younger sister of Oda Nobunaga (1534-1582). Born in Shiga's Odani Castle, the three Azai sisters, called Azai sanshimai (浅井三姉妹), are perhaps Japan's most famous or historical trio of sisters. Her oldest sister was Chacha, also known as Yodo, who at age 19 married Toyotomi Hideyoshi who was 51 and met a tragic end, and her other sister was Ohatsu who married Kyogoku Takatsugu.
Of the three sisters, Go became part of a lasting dynasty in Japanese history by marrying the second Tokugawa Shogun Hidetada (1579-1632) and giving birth to the third Tokugawa Shogun Iemitsu (1604-1651). We can say that most of the Tokugawa shoguns have roots in Shiga since Go was born in Odani, Shiga.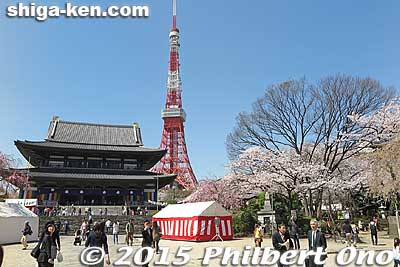 In late March 2015, I visited Zojoji temple (増上寺) in Tokyo when the cherry blossoms were in full bloom. Zojoji is a Jodo-shu Buddhist temple that was the official temple of the Tokugawa shoguns. Six of the Tokugawa shoguns are buried at Zojoji, including Tokugawa Hidetada. His tomb includes Go's ashes. They are interred together, evidence of how much Hidetada loved his wife Go.
From April 2, 2015, the Tokugawa graves became open to the public every day except on Tuesdays and Dec. 28-31. The graves were previously closed to the public. Hours are 10 am to 4 pm. You can also see the tombs of the 6th Tokugawa Shogun Ienobu (1662-1712), 7th Tokugawa (child) Shogun Ietsugu (1709-1716), 9th Tokugawa Shogun Ieshige (1712-1761), 12th Tokugawa Shogun Ieyoshi (1793-1853), and 14th Tokugawa Shogun Iemochi (1846-1866). Iemochi's famous wife Princess Kazunomiya also has a tomb.
I paid the ¥500 admission and entered a small courtyard-like area with the tombs of the shoguns. Cherry trees accented the tombs nicely with Tokyo Tower towering in the background. Hidetada and Go's tomb is in the right corner, below Tokyo Tower.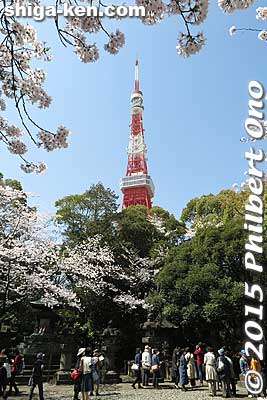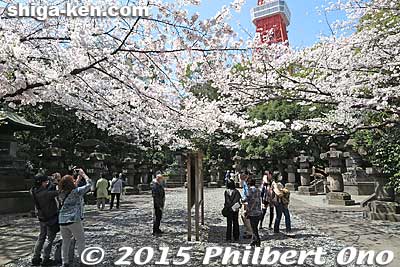 Hidetada's tomb was originally housed in a magnificent mausoleum structure with intricate carvings similar to the Toshogu shrine in Nikko where Ieyasu is interred. Sadly, this building was destroyed in May 1945 during the firebombing of World War II.
But the good news is that a high-precision scale model of the building, called the Taitokuin Mausoleum (台徳院殿霊廟), had been built in 1910 to be exhibited at the Japan-British Exhibition at White City, London, from May to October 1910. After the Exhibition, the model went to the Royal Collection and it has survived in the UK. In 2014, it was shipped to Zojoji to be restored and displayed to mark the 400th anniversary of Tokugawa Ieyasu's death.
The model of Shogun Tokugawa Hidetada's Taitokuin Mausoleum is now on display at Zojoji's museum from April 2, 2015 (10 am – 4 pm, closed Tue., admission ¥700). The original structure was magnificent for sure, but this 1/10 scale model is also magnificent. A precious 3D record of what the structure looked like. This exhibit will be on indefinitely it seems. More info about the scale model here at the Royal Collection website. Also see the Zojoji site for photos of the exhibited model. More about Go here.