Updated: July 14, 2023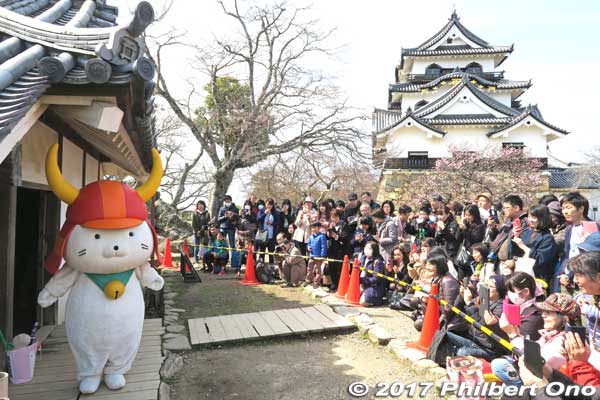 Hikone's nationally famous official mascot, Hiko-nyan (ひこにゃん) (also spelled Hikonyan ひこんやん), is a white beckoning cat (maneki-neko) wearing a red samurai helmet with golden horns. "Hiko" refers to Hikone, and "nyan" is a baby word for cat.
Hiko-nyan was originally the official mascot for Hikone Castle's grand 400th anniversary in 2007. He proved to be so popular that he was retained as the city's official mascot indefinitely. He remains popular enough to appear for tourists daily at Hikone Castle.
He appears two or three times every day at Hikone Castle when weather permits. The show time is usually 10:30 am, 1:30 pm, and 3:00 pm. Each appearance lasts 30 min. In summer or on slow days, the morning show might not be held. See the current show times in Japanese here. Best to time your visit to the castle when Hiko-nyan will appear.
The 10:30 am show is usually held near the main tenshu castle tower on top of the hill. Castle admission is required. The afternoon shows are held near Hikone Castle Museum where you need not pay the castle admission. Hiko-nyan shows are free.
During the show, Hiko-nyan basically just struts around and makes cute poses for camera-toting fans while interacting with an emcee/handler speaking through a microphone and giving various props. Although the show is 30 minutes long, most tourists just spend 10–15 min. taking pictures and then leave. Hiko-nyan doesn't talk (not even "meow" or "nyan-nyan") nor do any tricks for entertainment. He mainly just poses for photos. (Although his sex is not stated, I think it's safe to assume that he is male since he is modeled after a male samurai. But I suspect the human inside the costume is female.)
Besides Hikone Castle, Hiko-nyan also appears at various events and places in and outside Shiga to promote Hikone. Apparently there are at least two Hiko-nyan suits since he can be at two places at the same time. His detailed monthly schedule is in Japanese here.
Hiko-nyan also sparked the boom in mascot characters in Japan. Cities, towns, companies, organizations, and events left and right in Japan have developed their own mascots, but very few have gained national prominence like Hiko-nyan. Hiko-nyan's super success spawned many other feline and cutesy mascots.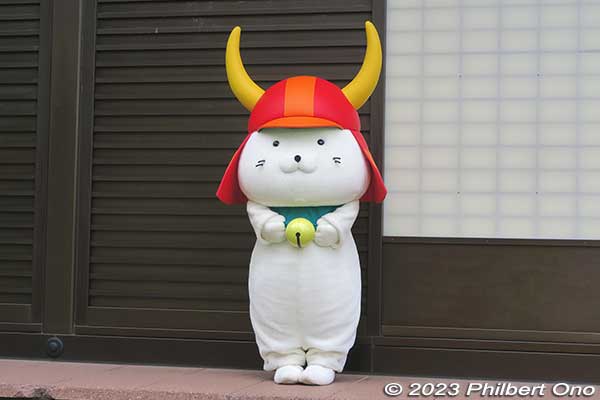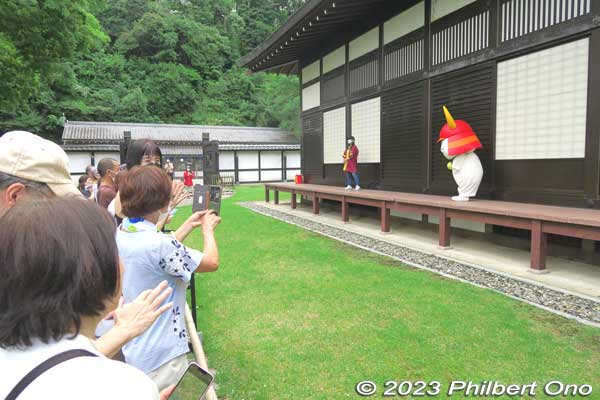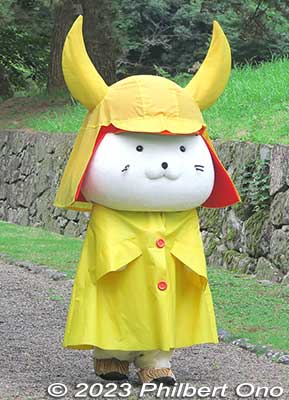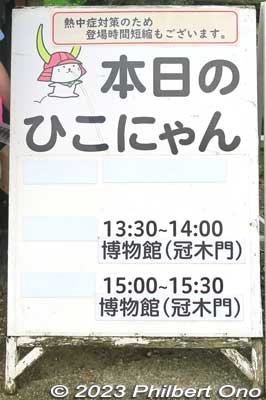 Hiko-nyan is based on a real or perhaps legendary cat. According to one legend, one day, Ii Naotaka, the third lord of Hikone Castle, was practicing falconry in Tokyo's (Edo) Setagaya district largely owned by the Ii Clan. He was near Gotokuji Temple when he saw a white cat raising its paw. The cat beckoned him to enter the temple where he was able to rest inside. A major thunderstorm ensued, and the cat saved him from getting wet. Another legend says that as soon as the cat beckoned Naotaka into the temple, lightning struck the tree where he was standing. Thus, the cat saved his life.
This same legend is also one theory as to how the ubiquitous beckoning cat (maneki-neko) you see at shops and restaurants in Japan originated. The beckoning cat can be called Hiko-nyan's cousin.
The Ii Clan then renovated and expanded Gotokuji and made it their family temple. Over 300 Ii Clan lords (including six Hikone Castle lords), wives, concubines, and children related to the Ii Clan, are buried here. They include graves for Ii Naotaka and Ii Naosuke who helped to open Japan to America represented by Commodore Perry. The graves are open to the public.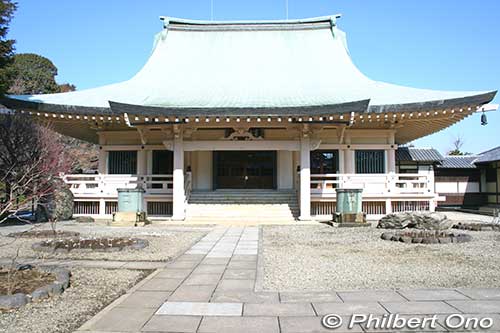 Today, Gotokuji Temple (豪徳寺) is famous as the "cat temple" with many white beckoning cats (maneki-neko) on long shelves. They supposed to bring good fortune and prosperity. Many worshippers have been buying beckoning cats and offering it to the temple. Gotokuji is near Odakyu Line's Gotokuji Station in Tokyo. More Gotokuji photos here.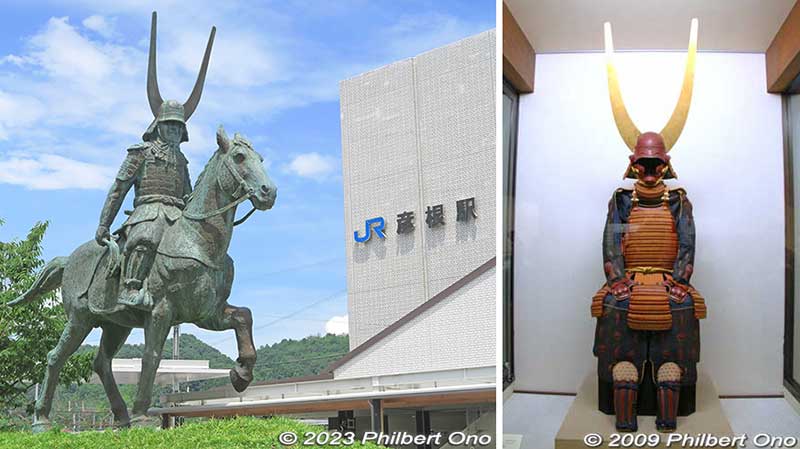 Hiko-nyan's red, horned helmet is modeled after the one worn by Lord Ii Naomasa, the first lord of Hikone Castle. Naomasa's samurai armor was red, and his helmet was red with golden horns. The Ii Clan's samurai armor was red, and they were nicknamed "Red Devils." Naomasa was a close ally of Shogun Tokugawa Ieyasu who gave Naomasa the strategic domain of Hikone as a reward for helping him win the Battle of Sekigahara in 1600.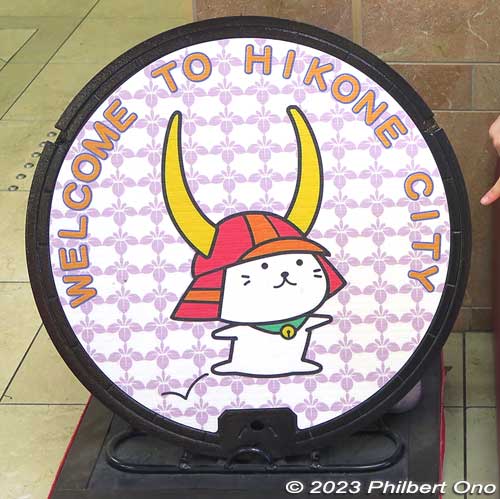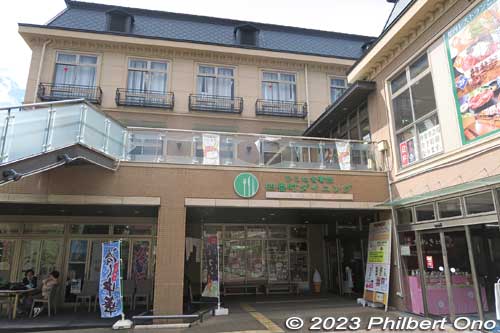 Hiko-nyan also appears on a wide variety of merchandise. For a long time, Hiko-nyan appeared on merchandise only in a limited number of poses. Lately, new poses have been created for Hiko-nyan.
You can find Hiko-nyan merchandise in major shops in Hikone including Heiwado (AL Plaza) in front of Hikone Station and Yonbancho Square along Yume-Kyobashi Castle Road adjacent to Hikone Castle. It's a good place to drop by before or after visiting Hikone Castle. The Castle Road also has a number of restaurants including the new Ukrainian restaurant Faina.
Back in 2007, the city allowed businesses to sell Hiko-nyan merchandise royalty-free to help spread word about the castle's annniversary. But not anymore. The city now takes a cut on sales of authorized Hiko-nyan goods.
Hiko-nyan's unexpected and explosive popularity prompted Japanese artist Moheron (もへろん) who created Hiko-nyan for Hikone to file suit against the city over Hiko-nyan's copyright and trademark rights (details here) after the castle's year-long anniversary celebration ended. What the artist was paid to create the character suddenly seemed paltry compared to the enormous merchandising sales the mascot was generating. The dispute was eventually resolved.
In spring 2019, Hiko-nyan faced a major crisis for its survival when the Hikone City Assembly declined to provide funding for Hiko-nyan's activities. I was flabbergasted at the news. You mean all that time, the city couldn't figure out how to monetize the mascot? The city's most famous symbol was not worth the cost?? Fortunately, the Hikone-based Japan Local Character Association (日本ご当地キャラクター協会) took over Hiko-nyan operations and he has continued to delight visitors as he should.
Hiko-nyan's official birthday is April 13, 2006 when the name "Hiko-nyan" was decided. They celebrate his birthday at the castle. Every year, he receives thousands of New Year's postcards (nengajo) and numerous Valentine's chocolates (unknown who actually gets to eat the chocolates) from all over Japan and overseas as well.
Hiko-nyan has traveled widely around Japan and even ventured overseas like to Hawaii in 2009 (photos here) to promote Hikone. In July 2013, Hiko-nyan attended the Japan Expo in Paris, France.
Most Japanese spell the name in English as, "Hikonyan" which I think is a mistake since people tend to mispronounce it as "Hikon-yan" (ひこんやん). I decline to promote incorrect or misleading pronunciations and spellings.
If you've never visited Hikone Castle before, do time your visit with Hiko-nyan's show. Besides the castle, there's Genkyuen Garden and the Yume-Kyobashi Castle Road restaurants. Allow at least half a day in Hikone including a meal or coffee break. Cherry blossom season in April is breathtaking, but autumn is nice too. Summer is very green, and winter sees fewer tourists.
Hikone Castle is a 15-min. walk from JR Hikone Station on the JR Biwako Line.