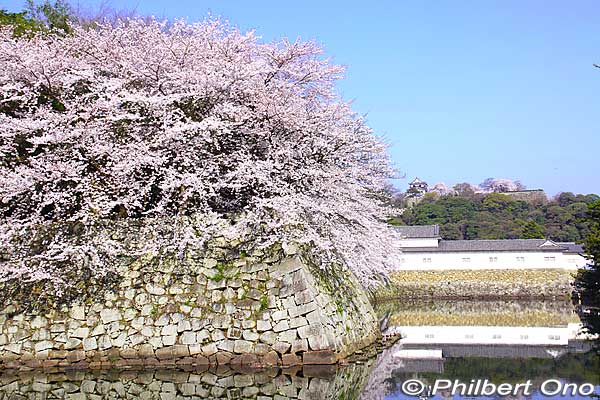 Updated: March 27, 2023
Here are my favorite cherry blossoms (called sakura in Japanese) in Shiga. They bloom in April, starting with southern Shiga (Otsu, etc.) and followed by northern Shiga (Takashima, Hikone, Maibara, Nagahama).
Most cherry blossoms in Shiga are the popular Somei-Yoshino variety. They are whitish pink with no fragrance. Weeping cherry blossoms (shidare-zakura) and early bloomers like Kawazu-zakura will bloom earlier than the Somei-Yoshino. Other varieties bloom later such as greenish-white Oshima cherry blossoms found at Lake Yogo.
If you like to take pictures of cherry blossoms, you know that the best time is when they are in full bloom on a sunny, blue-sky day. However, such ideal conditions can be elusive. Often times, the weather is rainy or overcast. Strong winds and spring rains often occur right during peak bloom which lasts only a few days. One alternative is to see it at night if it's illuminated. If you see cherry blossoms in full bloom on a sunny day, consider yourself lucky.
Check the Weather News Sakura page for Shiga (in Japanese) to see the current blooming status. Major sakura spots in Shiga are marked with an emoji indicating the current status, from brown buds to full bloom and fallen flowers. It gives bloom status percentages too (100% is full bloom). You can also check the weather forecast.
Click the title links below to see more photos. Thumbnails can also be enlarged.
🌸 Hikone Castle (彦根城)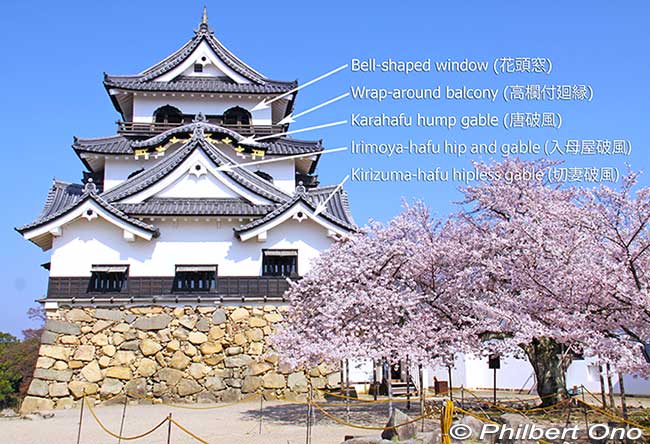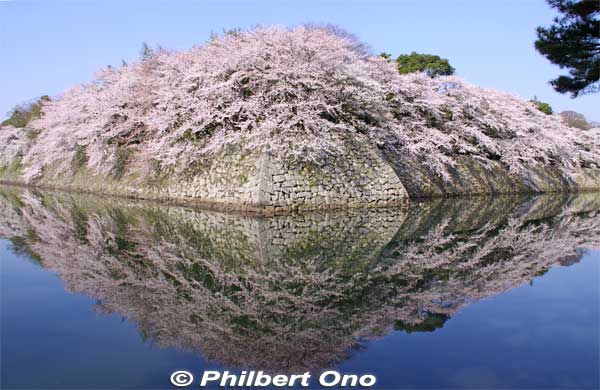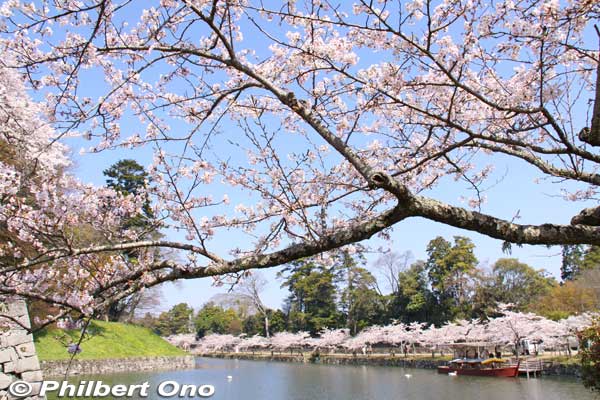 I would say Hikone Castle is one of the Top Three sakura spots in Shiga. Although Hikone Castle is not one of the 100 Famous Cherry Blossom Spots of Japan (according to the Japan Cherry Blossom Association), I think it's Shiga's prettiest and most photogenic. It has a lot of cherry blossom trees almost everywhere amid the dramatic backdrop of the castle, white and stone castle walls, and moats. I found so many varied views and great camera angles for shooting cherry blossoms here.
Although Japanese castles did not originally have cherry blossoms, they really go well together, especially when the castle is a National Treasure. The cherry blossom is a symbol of the samurai whose life was as fleeting as the sakura. Hikone Castle is a short walk from Hikone Station. Small admission charged. Google map.
🌸 Kaizu-Osaki (海津大崎), Takashima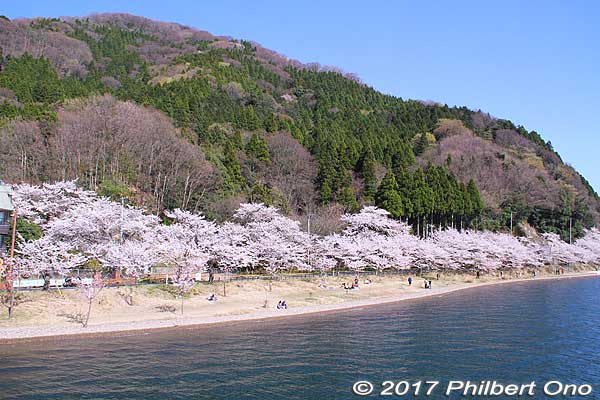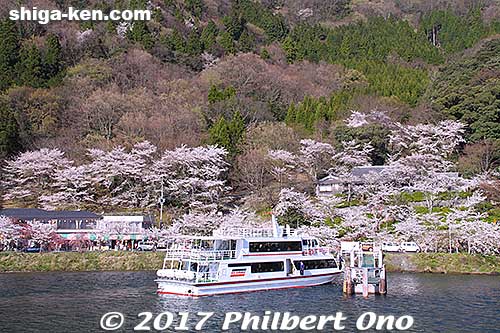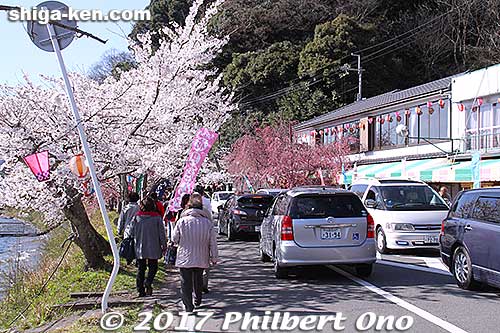 Kaizu-Osaki has cherry trees lining the northern shore of Lake Biwa for a few kilometers. The blue lake water and Chikubushima island provide a very Shiga-esque backdrop for the cherries. It's one of Japan's 100 Famous Cherry Blossom Spots (日本さくら名所100選), and I would rank it as Shiga's No. 1 sakura spot if it weren't for the hazardous viewing conditions.
Kaizu-Osaki has a narrow and hazardous lakeshore road (with no sidewalk) right next to the shoreline trees. During the peak period, there are just too many cars passing by, squeezing out pedestrians and polluting the air. There is a short pedestrian path and small park at the beginning if you go from Makino Station, but it doesn't go to the main part of the trees.
Since there is no sidewalk on most of the lakeshore, you always have to be on guard for cars. Not recommended for families with young kids, especially on weekends. Also, the tunnels are dark and very narrow (no sidewalks). Bring a flashlight so the cars can see you walking or riding your bicycle inside the tunnel.
So I recommend seeing Kaizu-Osaki by boat from Imazu Port, Nagahama Port, or Hikone Port. Boats leave three or four times daily, and they may schedule extra boats on peak weekends. The fare is around ¥3,600.
I highly recommend going on a cruise that also docks at Kaizu-Osaki Port where you can get off the boat and walk around Kaizu-Osaki for about 30 or 40 min. before returning to the boat. Otherwise, other boats just cruise along Kaizu-Osaki without docking. Note that if the water is rough on windy days, the boat might not be able to dock. More details here.
If you have a car, be aware that there is very little parking. Shuttle buses run infrequently from train stations (most people walk from Makino Station). I recommend renting a bicycle at Makino Station (at the tourist info office) and cycling to Kaizu-Osaki.
If you have the time and energy, bicycling from Makino Station to Nagahara Station (or vice versa) along the lake would be very scenic. You can return the bicycle at either station. And oh, beware of wild monkeys. Best not to carry a plastic bag, etc., that the monkeys may think contains food. They may attack you or grab the bag. Google Map
🌸 Nagahama Castle and Hokoen Park (長浜城・豊公園)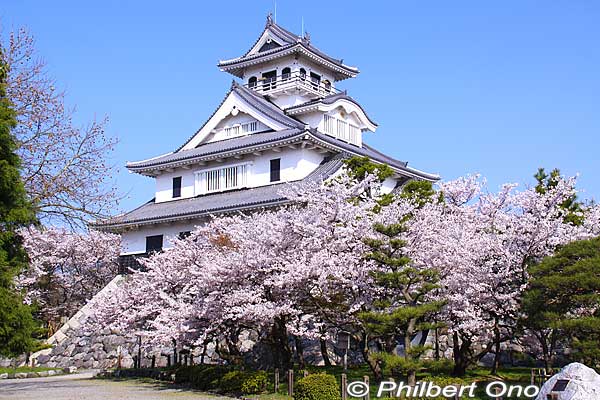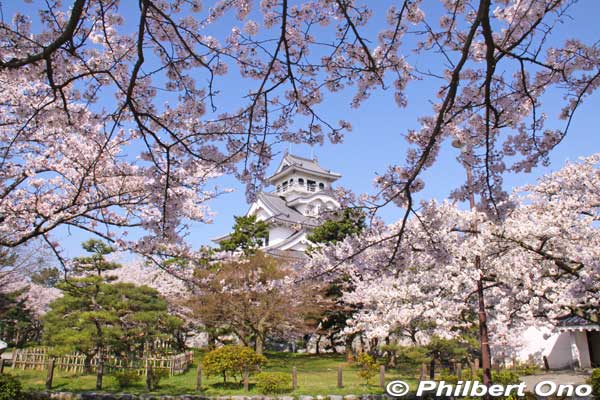 Hokoen Park (or Ho Park) is another photogenic backdrop with a huge cluster of cherry blossoms. Be sure to go up to the castle tower's lookout deck (admission charged to enter the castle museum) to see the cherry blossoms surrounding the castle. Breathtaking. One of Japan's 100 Famous Cherry Blossom Spots (there's a monument saying so) and a major spot for hanami flower-viewing picnics.
They have areas for picnicking as well as areas to just stroll under the cherries. Nagahama Castle is in the lakeside Hokoen Park near Nagahama Station. Google Map
🌸 Biwako Canal (琵琶湖疏水), Otsu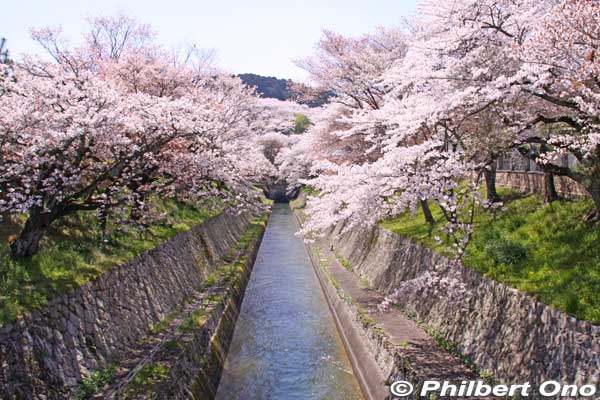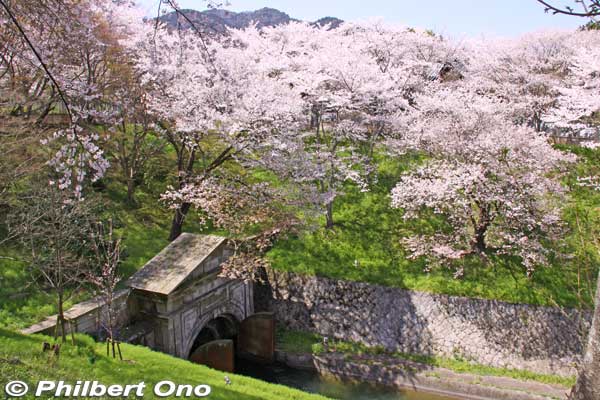 After four years of monumental construction, Biwako Canal (Biwako Sosui) was completed in 1890 to supply water from Lake Biwa to Kyoto (Keage). Kyoto was thereby revitalized with electric power and a stable water supply. A second, almost parallel canal to supply drinking water was also constructed in 1912. Both canals are still in use. This canal portion near Miidera Temple in Otsu is noted for cherry blossoms in early April.
From Miidera Station (Keihan Line), you can't miss it. It's lined with many cherry trees, but it's fenced off so it's see but don't touch. If you look closely, you will notice a pretty fast current in the canal. Kyoto is very thirsty.
In the early years, they had boats going all the way through the canal (including a long tunnel) to Kyoto. This was discontinued, but resurrected with Lake Biwa Canal boat rides between Miidera and Keage in Kyoto. Online reservations are required, but usually sold out during cherry blossom season. You can just walk along the canal toward Miidera Temple to see the cherry blossoms. They also light up the trees at night until 9:30 pm or so. Near Miidera Station on the Keihan Line. Google map
🌸 Miidera Temple (三井寺), Otsu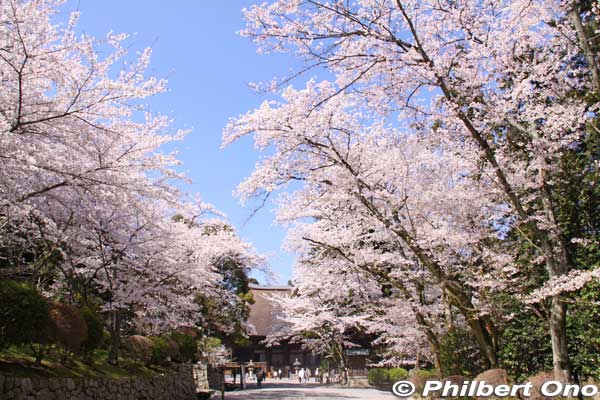 After walking past the cherry blossoms along Biwako Canal, head for Miidera Temple. There's a great synergy between Biwako (Lake Biwa) Canal and Miidera Temple during cherry blossom season. Both are noted spots for sakura.
After walking along Biwako Canal, turn right and walk to the sprawling Miidera Temple. They have cherry trees here and there greatly complementing the old temple buildings (including a few National Treasures).
There's also a great lookout point on a hill giving great views of Otsu (concrete jungle) and the lake. They also light up the trees at night as they do at Biwako Canal (until 9:30 pm or so). Beautiful and serene. Near Miidera Station on the Keihan Line. Google Map
🌸 Hachiman-bori (八幡堀), Omi-Hachiman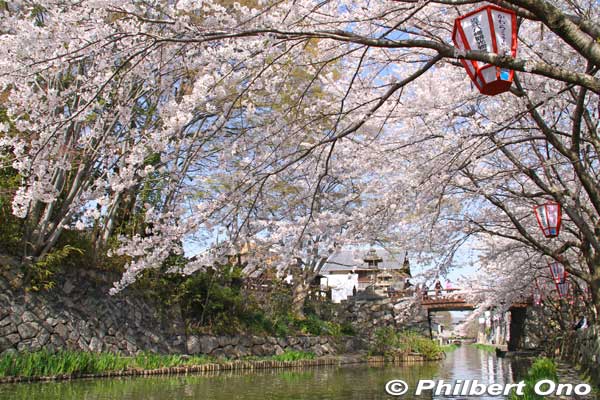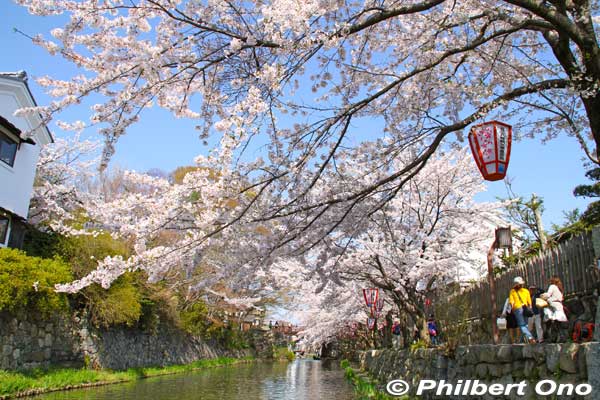 Hachiman-bori canal has a long canopy of sakura trees along this scenic section near Himure Hachimangu Shrine. The moat and white-walled traditional buildings make it photogenic, fit for shooting a samurai movie. Hachiman-bori is also part of the National Important Traditional Townscape Preservation District (重要伝統的建造物群保存地区). It's not so crowded either so you can enjoy a laid-back atmosphere while walking on a nice sidewalk or path along the moat.
There are also moat boat rides starting near the Kawara Tile Museum. After seeing the flowers, you have the option to see many other nearby sights such as Hachiman-yama (via ropeway), Himure Hachimangu Shrine, Kawara Roof Tile Museum, Hakuunkan, Omi-shonin merchant homes on Shinmachi-dori, and buildings by William Merrell Vories. There is much more than just cherry blossoms which is my reason to include Hachiman-bori among Shiga's top sakura spots. From JR Omi-Hachiman Station's north exit, go to bus stop 6 and board the bus going to Chomeiji.Get off at Shinmachi (新町) or Osugicho (大杉町) and walk to Hachiman-bori. Google Map
🌸 Lake Yogo (余呉湖), Nagahama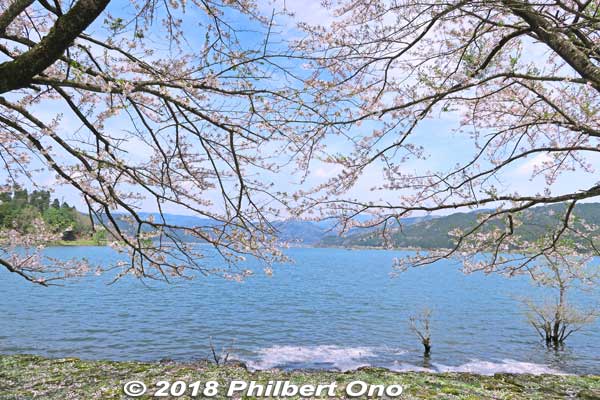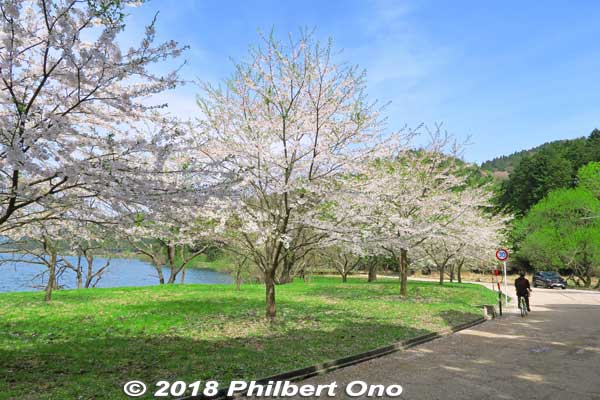 It's always a pleasure to visit Lake Yogo. It's out of the way, quiet, and secluded with hardly any tourists. Great place to get away from it all without going too far. Enjoy flowers and colors in all seasons. Lake Yogo has a few clusters of lakeside cherry blossoms here and there.
They bloom from mid-April. There are also late-blooming sakura like the Oshima-zakura with greenish-white flowers in late April and the fluffy pink yae-zakura from early May. If you missed the cherry blossoms in southern Shiga in mid-April, go north to Lake Yogo. Best to rent a bicycle at JR Yogo Station and ride completely around the lake. More photos here. Google map.
🌸 Mt. Toragozen (虎御前), Torahime, Nagahama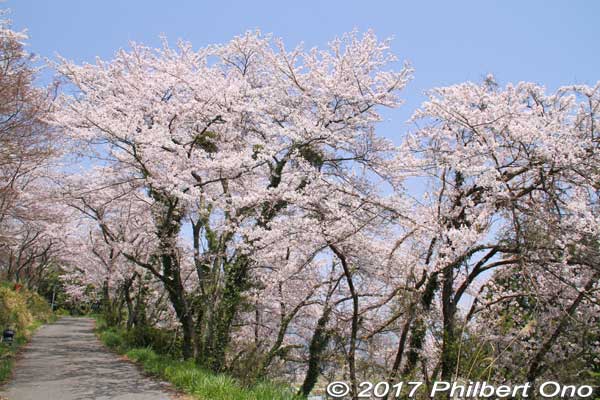 Mt. Toragozen-yama (elevation 225.5 m) has low hills, ancient tumuli, shrines, campgrounds, and lots of cherry blossoms. It also has fine views of the area including Mt. Ibuki. Beautiful in spring with numerous cherry trees. Hardly any people too. Very quiet place.
From the JR Hokuriku Line, you can see Mt. Toragozen covered in pink. Many cherry blossoms also line the quiet road from the train station to the mountain. Beautiful walk.
Toragozen was a historic battle site during warlord Oda Nobunaga's siege of Azai Nagamasa's Odani Castle in October 1573. Before the siege, Nobunaga fortified Mt. Toragozen and stationed his troops here as a springboard to attack nearby Mt. Odani. (Nagamasa later committed seppuku). There is a marker showing where Nobunaga was positioned, but it's further northward.
Toragozen also has Yaai Shrine (矢愛神社) dedicated to a water god to pray for water when it was scarce in the old days. It is connected to archery (kyudo).
After getting back down the mountain, walk to nearby Jiyukan Hall community center for exhibitions, tourist info, and a place to relax and rest. Near JR Torahime Station on the JR Hokuriku Line. Google map
🌸 Mishima Pond (三島池), Maibara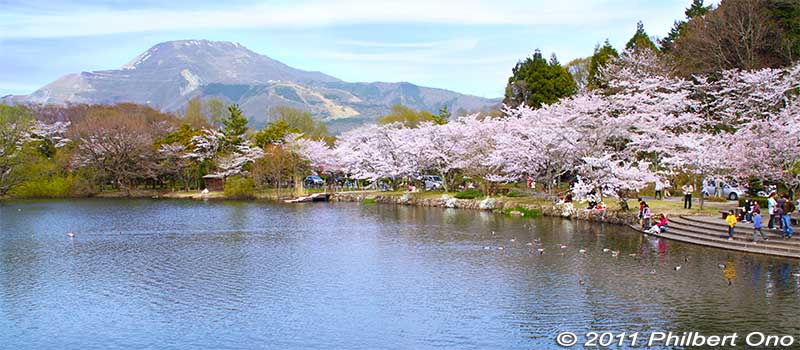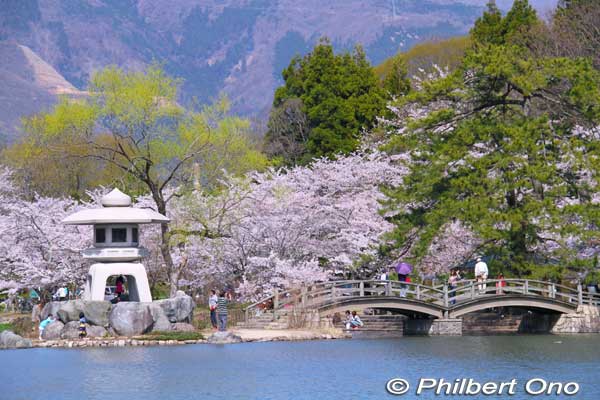 Mishima Pond is a small, picturesque pond with Mt. Ibuki in the background. For photos of Mt. Ibuki, Mishima Pond is one of the most picturesque places especially in winter and spring.
The oblong pond's circumference is about 780 meters. It was first created about 700 years ago as a water reservoir for agriculture. It's also a bird sanctuary where migratory birds, mainly ducks, gather. The pond has carp, koi, catfish, and bluegill.
The northern fringe of the pond is lined with cherry blossoms. Walk through or drive along it. Nice to just walk around and explore the perimeter of the pond. There's also a small visitors' center with wildlife exhibits. It might still be open.
Mishima Pond is adjacent to the Green Park Santo recreational park. The nearest train station is JR Omi-Nagaoka on the JR Tokaido Line. Take a taxi. Google map
🌸 Omi-Fuji Karyoku Koen Park (Omi-Fuji Green Acres 近江富士花緑公園), Yasu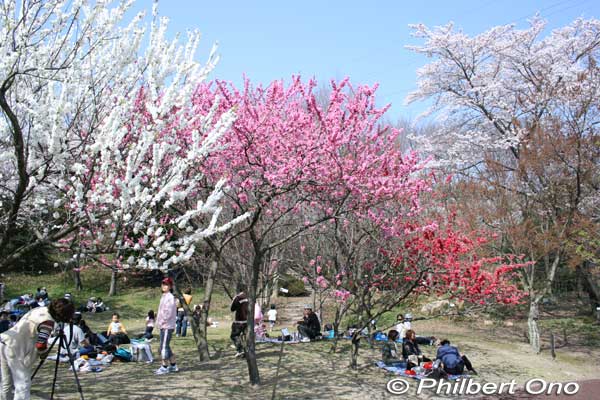 Omi-Fuji Green Acres is a prefectural park at the foot of Mt. Mikami or Omi-Fuji, Shiga's Mt. Fuji. It's a nice park with recreational facilities such as camping cabins, BBQ, and some cherry blossoms in the botanical gardens. It also has early-blooming Kawazu-zakura in mid-March. Most visitors come by car. Lots of parking.
I visited after climbing Mt. Mikami. It's also next to the huge Kibogaoka Cultural Park (滋賀県希望が丘文化公園) which also has a few cherry blossoms.
Omi-Fuji Karyoku Koen Park is open 9:00 am to 5:00 pm, closed on Mondays (open if a national holiday and closed on the next day instead). Free admission. From JR Yasu Station, take the bus bound for Omi-Fuji Karyoku Koen and get off at the last stop. Or take the bus bound for Kibogaoka Bunka Koen Park Nishi (west) gate. Google map
🌸 Zeze Castle Park (膳所城跡公園), Otsu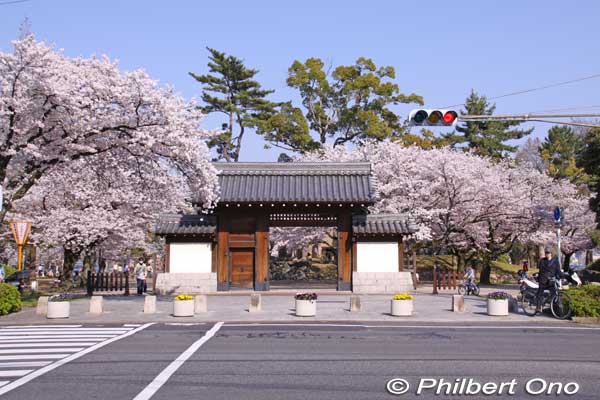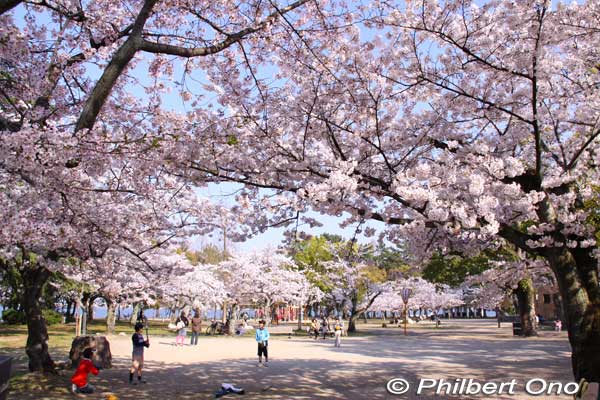 Nice lakeside park full of cherry blossoms. Used to be the site of lakeside Zeze Castle, the Honmaru main keep is the park. Nothing remains of the castle, only a stone monument for it.
Zeze Castle was built in 1601 upon the order of Shogun Tokugawa Ieyasu after he won the Battle of Sekigahara in 1600. He dismantled Otsu Castle and assigned Zeze Castle to guard the Tokaido Road in Otsu.
Zeze Castle was controlled by a fudai daimyo, a lord with close ties to the Tokugawa. It was considered a strategic location being close to the Tokaido Road and Seta-no-Karahashi Bridge. The first Zeze Castle lord was Toda Kazuaki who moved from Otsu Castle. The Zeze-han domain was thereby established. The castle was abolished in 1870.
Today, the castle site is a local favorite for hanami picnics after work and on weekends during cherry blossom season. There's lots of cherry trees. Beyond the lake, there's Omi Ohashi Bridge. Near Zeze-Honmachi Station on the Keihan Line. Google map.
🌸 Sakamoto (坂本), Otsu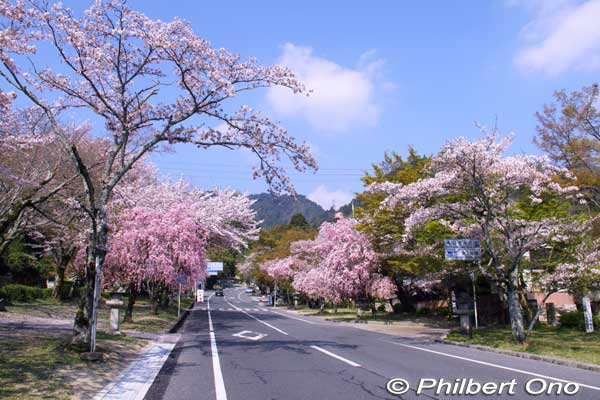 Sakamoto is a National Important Traditional Townscape Preservation District (重要伝統的建造物群保存地区). A temple town at the foot of Mt. Hiei noted for traditional stone walls. Enryakuji Temple's retired priests live here.
There's also Hiyoshi Taisha Shrine, Sakamoto Castle site, Saikyoji Temple, and the Cable Sakamoto Station for the cable car to Mt. Hiei. In spring, pockets of cherry blossoms can be spotted.
Near Sakamoto Station on the Keihan Ishiyama-Sakamoto Line. JR Hiezan-Sakamoto Station on the JR Kosei Line is also nearby. Google map
Essential Cherry Blossom Vocabulary
sakura さくら or 桜 – Cherry blossom and Japan's national symbol and flower. By far, it is the most celebrated flower in Japan.
tsubomi つぼみ – Flower buds.
shichibu-zaki 七分咲き – Cherry blossoms in 70% bloom which is right before they reach full bloom. News reports consider 80% bloom to be full bloom (mankai).
sakura zensen 桜前線 – Cherry blossom front as they bloom across Japan from Okinawa to Hokkaido.
kaika 開花 – Flowers started blooming. This is about a week before the tree reaches full bloom.
mankai 満開 – Full bloom. You will hear this on the news often.
hayasaki 早咲き – Early-blooming flowers. A few varieties of cherry blossoms bloom earlier than usual.
hanami or ohanami 花見 – Flower-viewing picnic (often with alcohol) under the cherry blossoms at a park. The most common way to celebrate spring under the flowers and commonly seen in the news. Hanami picnics are usually not allowed in shrines and temples.
sakura matsuri さくらまつり or 桜祭り- Cherry blossom festival. Not a religious festival, but can take the form of various events and stage entertainment.
Somei Yoshino 染井吉野 – The most common and coveted, hybrid species of cherry blossoms whose light pink (almost white) flowers bloom in fluffy bunches on the tree.
kawazu-zakura – Species of early-blooming cherry blossom, usually in early March. Very pink.
yae-zakura – Species of late-blooming cherry blossom, usually in late April. Large, fluffy flower clusters and very pink.
yo-zakura 夜桜 – Cherry blossoms lit up at night. Some temples and parks light up the flowers at night.
shidare-zakura しだれ桜 or 枝垂桜 – Weeping cherry blossoms with long, hanging branches of flowers.
hana-gumori (花曇り) – Cloudy skies when the flowers are in bloom.
sakura meisho さくら名所 – Famous cherry blossom spot. It is most often a castle, public park, garden, shrine/temple, or riverside.
Nihon Sakura Meisho Hyaku-sen 日本さくら名所100選 – 100 Famous Cherry Blossom Spots.
Sakura, Sakura さくら さくら- Famous folk song about cherry blossoms.
chiru, chitta 散る、散った – Flowers fell off the tree. Happens a few days after full bloom when the petals fall like pink snow.
sakura fubuki さくら吹雪 – Swirling cherry blossom petals. Occurs when the wind blows off the flower petals, creating a pink snow.