Shiga's Top 5 cherry blossom spots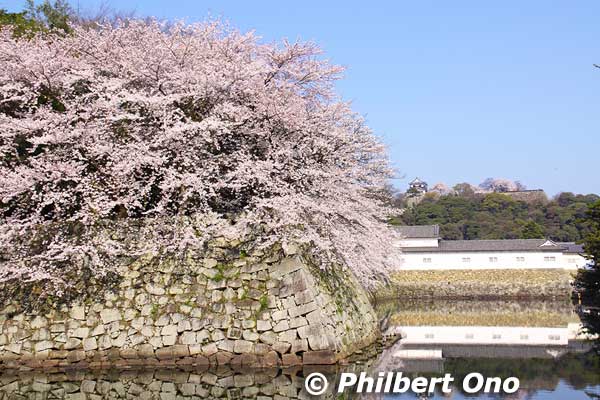 Here are my Top 5 favorite sakura spots in Shiga (click on the links or image to see more photos). Note that cherry blossoms bloom later in northern Shiga (Takashima and Nagahama) than in southern Shiga (Kusatsu, Otsu, etc.).
*Tip: To see the current blooming condition, see the Weather News Sakura page for Shiga. Starting with brown that indicates buds, the markers show warmer colors until it becomes red (full bloom) indicating how far the flowers have bloomed.
1. Hikone Castle – Coming at No. 1 is Hikone Castle. Although Hikone Castle is not one of the 100 Famous Cherry Blossom Spots of Japan (according to the Japan Cherry Blossom Association), I think it's Shiga's prettiest and most photogenic. It has an awful lot of cherry blossom trees almost everywhere amid the dramatic backdrop of the castle, white walls, and moats. I found so many varied views and great camera angles for shooting cherry blossoms here. You can see cherries on the big stone walls, along the moats, and next to the main castle tower. Culturally and historically, cherry blossoms best match a castle (especially one that is a National Treasure, another reason why I rank it No. 1), a symbol of the samurai whose life was as fleeting as the sakura. Hikone Castle is a short walk from Hikone Station. Google map.
2. Kaizu-Osaki, Takashima – Kaizu-Osaki has cherry trees lining the northern shore of Lake Biwa for a few kilometers. The blue lake water and Chikubushima island provide a very Shiga-esque backdrop for the cherries. It's one of Japan's 100 Famous Cherry Blossom Spots, and I would rank it as Shiga's No. 1 sakura spot if it weren't for the hazardous viewing conditions. Kaizu-Osaki has a narrow and hazardous lakeshore road (with no sidewalk) right next to the shoreline trees. During the peak period, there are just too many cars passing by, squeezing out pedestrians and polluting the air. There is a short pedestrian path and small park at the beginning if you go from Makino Station, but it doesn't go to the main part of the trees. Since there is no sidewalk on a large section of the lakeshore, you always have to be on guard for cars. Not recommended for families with young kids, especially on weekends. Also, the tunnels are dark and very narrow (no sidewalks). Bring a flashlight so the cars can see you walking or riding your bicycle inside the tunnel.
So I recommend seeing Kaizu-Osaki by boat from Imazu Port, Nagahama Port, or Hikone Port. Boats leave quite frequently daily, and they may schedule extra boats on peak weekends. The fare is around ¥3,000 to ¥3,500. I highly recommend going on a cruise that also docks at Kaizu-Osaki Port where you can get off the boat and walk around Kaizu-Osaki for about 30 min. before returning to the boat. Otherwise, other boats just cruise along Kaizu-Osaki without docking. Note that if the water is rough on windy days, the boat might not be able to dock. More details here.
If you have a car, note that there is very little parking. Shuttle buses run infrequently from train stations (most people walk from Makino Station). I recommend renting a bicycle at Makino Station (at the tourist info office) and cycling to Kaizu-Osaki. If you have the time and energy, bicycling from Makino Station to Nagahara Station (or vice versa) along the lake would be very scenic. You can return the bicycle at either station. And oh, beware of wild monkeys. Best not to carry a plastic bag, etc., that the monkeys may think contains food. Google Map
3. Nagahama Castle and Hokoen Park
Another photogenic backdrop with a huge cluster of cherry blossoms. Be sure to go up to the castle tower's lookout deck (admission charged to enter the castle museum) to see the cherry blossoms surrounding the castle. Breathtaking. One of Japan's 100 Famous Cherry Blossom Spots (there's a monument saying so) and a major spot for hanami flower-viewing picnics. They have areas for picnicking as well as areas to just stroll under the cherries. Nagahama Castle is in the lakeside Hokoen Park near Nagahama Station. Google Map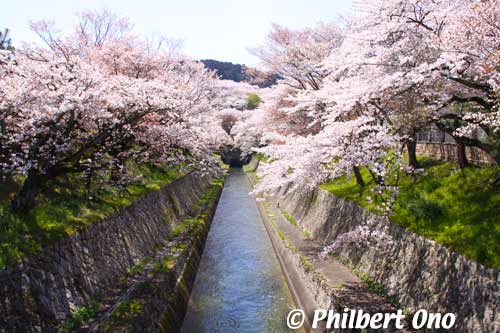 4. Miidera temple and Biwako Canal, Otsu
There's a great synergy between Biwako (Lake Biwa) Canal and Miidera temple during cherry blossom season. Biwako Canal supplies water from Lake Biwa to Kyoto. From Miidera Station (Keihan Line), you can't miss it. It's lined with many cherry trees, but it's fenced off so it's see but don't touch. If you look closely, you will notice a pretty fast current in the canal. In the old days about a century ago after the canal was built, they had boats going all the way through canal to Kyoto. They have resurrected this with Lake Biwa Canal boat rides between Miidera and Keage in Kyoto. Online reservations is required, but it can be done only in Japanese (no English). After walking along the canal, turn right and walk to the sprawling Miidera temple. They have cherry trees here and there providing a great accent to the old temple buildings (including a few National Treasures). There's also a great lookout point on a hill giving great views of Otsu (concrete jungle) and the lake. They also light up the trees at night as they do at Biwako Canal (6:30 pm-9:30 pm). Beautiful and serene. Google Map
5. Hachiman-bori, Omi-Hachiman – Hachiman-bori canal has a long canopy of sakura trees along this scenic moat. The moat and white-walled traditional buildings make it photogenic, fit for shooting a samurai movie. It's not so crowded either so you can enjoy a laid-back atmosphere while walking on a nice sidewalk or path along the moat. There are also moat boat rides starting near the Kawara Tile Museum. After seeing the flowers, you have the option to see numerous other nearby sights such as Hachiman-yama (via ropeway), Himure Hachimangu Shrine, Kawara Roof Tile Museum, Hakuunkan, Omi-shonin merchant homes on Shinmachi-dori, and buildings by William Merrell Vories. There is much more than just cherry blossoms which is my reason to include Hachiman-bori among the Top Five. Google Map
So, the places above are where I would show a first-time visitor wanting to see cherry blossoms in Shiga. I selected them based on Shiga's unique beauty or scenery, easy accessibility, and sightseeing value.
Honorable Mention
Here are other cherry blossoms spots in Shiga worth mentioning: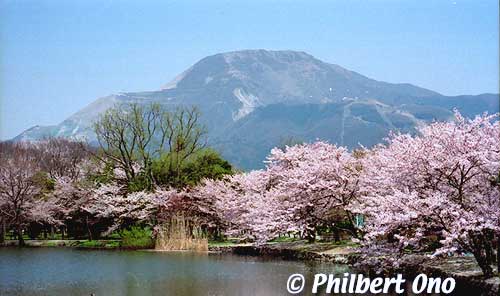 To see the current blooming condition, see the Weather News Sakura page for Shiga. Starting with brown that indicates buds, the markers show warmer colors until red (full bloom) indicating how far the flowers have bloomed right now.
Enjoy the spring.
Essential Vocabulary
sakura さくら or 桜 – Cherry blossom and Japan's national symbol and flower. By far, it is the most celebrated flower in Japan.
tsubomi つぼみ – Flower buds.
shichibu-zaki 七分咲き – Cherry blossoms in 70% bloom which is right before they reach full bloom. News reports consider 80% bloom to be full bloom (mankai).
sakura zensen 桜前線 – Cherry blossom front as they bloom across Japan from Okinawa to Hokkaido.
kaika 開花 – Flowers started blooming. This is about a week before the tree reaches full bloom.
mankai 満開 – Full bloom. You will hear this on the news often.
hayasaki 早咲き – Early-blooming flowers. A few varieties of cherry blossoms bloom earlier than usual.
hanami or ohanami 花見 – Flower-viewing picnic (often with alcohol) under the cherry blossoms at a park. The most common way to celebrate spring under the flowers and commonly seen in the news. Hanami picnics are usually not allowed in shrines and temples.
sakura matsuri さくらまつり or 桜祭り- Cherry blossom festival. Not a religious festival, but can take the form of various events and stage entertainment.
Somei Yoshino 染井吉野 – The most common and coveted species of cherry blossoms whose light pink (almost white) flowers bloom in fluffy bunches on the tree.
yo-zakura 夜桜 – Cherry blossoms lit up at night. Some temples and parks light up the flowers at night.
shidare-zakura しだれ桜 or 枝垂桜 – Weeping cherry blossoms with long, hanging branches of flowers.
Sakura Meisho さくら名所 – Famous cherry blossom spot. It is most often a castle, public park, garden, shrine/temple, or riverside.
Sakura, Sakura さくら さくら- Famous folk song about cherry blossoms.
chiru, chitta 散る、散った – Flowers fell off the tree. Happens a few days after full bloom when the petals fall like pink snow.
sakura fubuki さくら吹雪 – Swirling cherry blossom petals. Occurs when the wind blows off the flower petals, creating a pink snow.