Sakura cruises to Kaizu-Osaki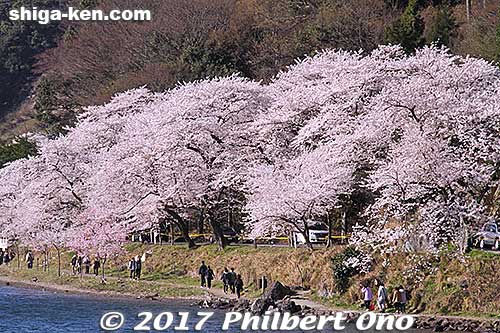 Kaizu-Osaki is deservedly one of Japan's 100 Famous Cherry Blossom Spots (さくら名所100選 according to the Japan Cherry Blossom Association). During the first half of April, four kilometers of cherry blossoms bloom along this lakeshore in northern Lake Biwa in Takashima.
During the peak bloom period in mid-April, the traffic along the lakeshore road is horrendous. Renting a bicycle at Makino Station and cycling to Kaizu-Osaki is recommended. Walking is also possible for people who don't mind walking at least 40 min. from Makino Station.
On sunny days, it's quite spectacular with the cherry blossoms against the blue lake and blue sky with Chikubushima island in the background. But watch out for the cars since much of the lakeshore does not have a walking path. The tunnels are also narrow. Use a flashlight or turn on your smartphone when walking or bicycling in the tunnels.
In mid-April 2017, I finally tried a different and much more pleasant way of enjoying the sakura along Kaizu-Osaki. I went on Biwako Kisen's "Sakura Cruise" from Imazu Port for the first time on board the megumi trimaran (triple hulled for stable ride). It was only one of many "sakura cruises" or "sakura hanami boats" that swarm the area during the cherry blossom season. ("Sakura" means cherry blossoms.)
Cruise operators Biwako Kisen (琵琶湖汽船) and Ohmi Marine (オーミマリン) both offer sakura cherry blossom cruises to Kaizu-Osaki during early to mid-April. Biwako Kisen has boats departing Imazu Port and Nagahama Port, while Ohmi Marine has boats going from Hikone Port and Makino Dock.
Both cruise companies have at least four boats daily, and they may schedule extra boats on peak weekends. The fare is around ¥3,000 to ¥3,500. I highly recommend going on a cruise that also docks at Kaizu-Osaki Port where you can get off the boat and walk around Kaizu-Osaki for about 30 min. before returning to the boat. Otherwise, other boats just cruise along Kaizu-Osaki without docking. Note that if the water is rough on windy days, the boat might not be able to dock.
From Imazu Port, the cruise that includes 30-min. docking at Kaizu-Osaki takes about 90 min. round trip. From Nagahama Port and Hikone Port, it takes about 2.5 hours.
The Biwako Kisen "sakura cruise" schedule is here.
The Ohmi Marine sakura hanami cruise schedule for Hikone Port is here and for Makino Dock here.
I was lucky to see the sakura in full bloom on a sunny afternoon. Here are some photos.