1. Shiga Prefecture is easy to find on a map of Japan. Just look for the large blue lake near the center of Honshu island. It is next to Kyoto. From Tokyo, Shiga is on the way to Kyoto.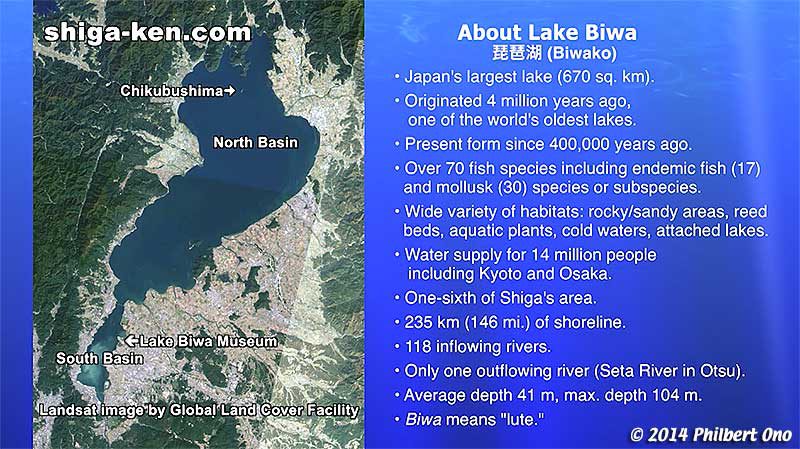 2. Shiga Prefecture's claim to fame is Lake Biwa (Biwako), Japan's largest lake and water supply for 14 million people in the Kyoto-Osaka area. Lake Biwa is one of the world's oldest lakes dating back 4 million years, home to over 70 endemic species found nowhere else in the world.
3. Shiga's most famous tourist sights include Enryakuji Temple (World Heritage Site) on Mt. Hiei, Hikone Castle (National Treasure), Chikubushima island in northern Lake Biwa, Shigaraki pottery district, Harie, Koka Ninja House, numerous National Treasure buildings, and traditional townscapes.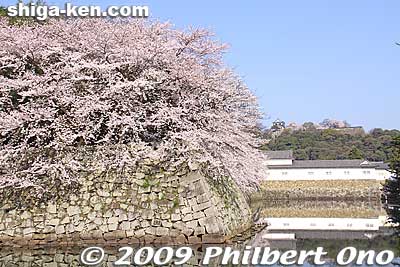 4. Shiga's most compact and convenient tourist cities are Otsu, Kusatsu, Omi-Hachiman, Hikone, and Nagahama. These cities have multiple tourist sights within a compact area. They also usually have English-speaking staff at the tourist information desk in the train station. Larger cities like Higashi-Omi, Koka, and Takashima have tourist sights spread out over a wide area which may require more time to visit.
5. When traveling by shinkansen high-speed train, Kyoto Station and Maibara Station are the most convenient for Shiga. Kyoto Station is near southern and western Shiga (Otsu, Kusatsu, and Takashima), while Maibara Station is convenient for visiting northern or eastern Shiga (Hikone, Nagahama, Maibara, Omi-Hachiman, Higashi-Omi). Both Kyoto and Maibara Stations have local train lines that go to other areas of Shiga.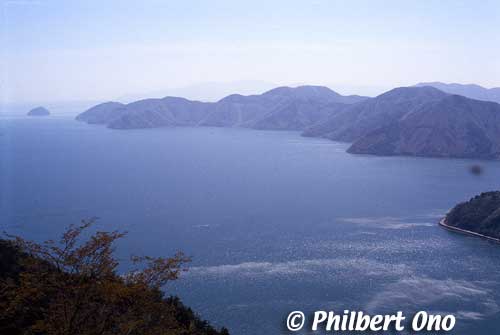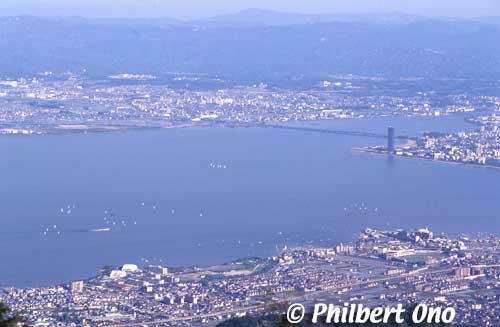 6. The eastern and southern sides of the lake are the most populated and developed, so the JR Biwako/Tokaido Line runs through here frequently. In contrast, the west side and northern side of the lake are more rural and the JR Kosei Line runs less frequently. Shiga is well connected to Kyoto/Osaka through local train lines.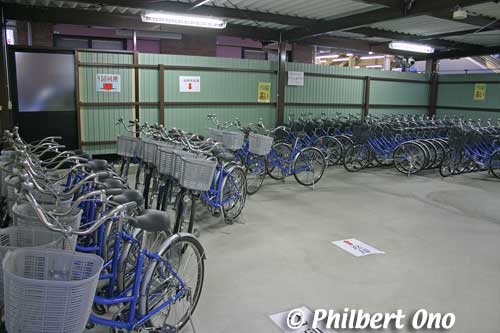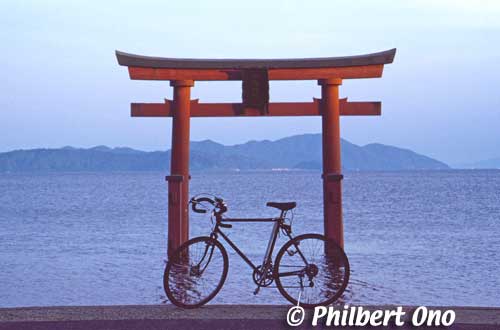 7. Most train stations in Shiga have rental bicycles. You can rent a bicycle at one train station and return it at another station. High-end bicycles for long-distance cycling can be rented at Maibara Station. Bicycling around the lake (called "Biwa-ichi") takes two (via Biwako Ohashi Bridge) or three days.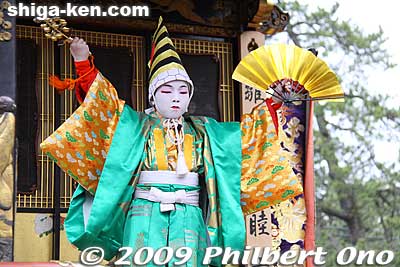 8. Shiga's major festivals (matsuri) include Sagicho Matsuri in Omi-Hachiman in mid-March, Nagahama Hikiyama Matsuri in mid-April, Sanno Matsuri in Otsu in mid-April, Otsu Matsuri in Oct., and Hikone Castle Festival Parade in Nov. Detailed festival schedule here.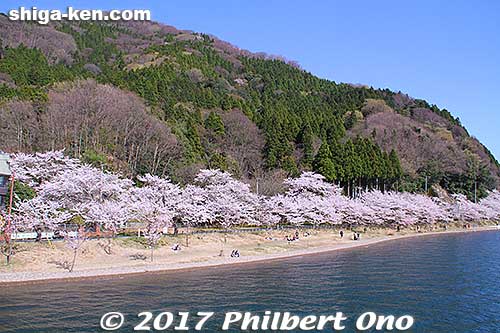 9. Shiga's most beautiful cherry blossoms in April are at Hikone Castle, Nagahama Castle, and Kaizu-Osaki northern lakeshore. More about Shiga's cherry blossoms here.
10. Shiga's famous spots for autumn leaves in Nov. are the Koto Sanzan Temples (Saimyoji, Kongorinji, and Hyakusaiji) and Eigenji Temple in eastern Shiga. At Genkyuen Garden next to Hikone Castle, the autumn leaves are lit up in the evenings, creating beautiful reflections on the pond.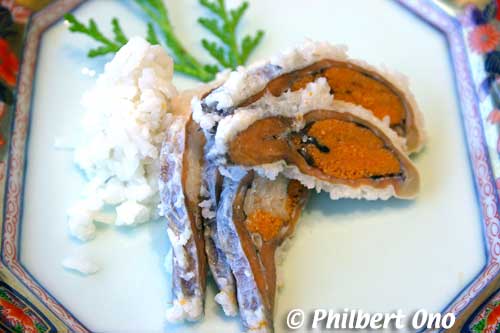 11. Shiga delicacies include fermented fish called funazushi made with endemic lake carp called nigorobuna, locally-grown wagyu beef called Omi-gyu, red devil's tongue (aka-konnyaku), Omi tea, and Club Harie Baumkuchen cake.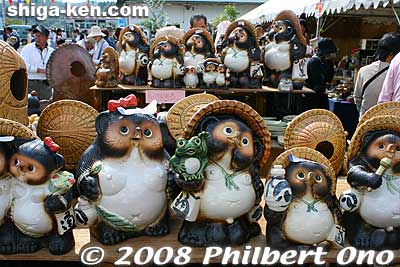 12. Shiga's famous souvenirs include Shigaraki pottery (especially tanuki racoon dog statues), Lake Biwa freshwater pearls, Omi sensu folding fans, Otsu-e paintings/prints, Hiko-nyan dolls, and Shiga die-cut postcards sold only at post offices in Shiga.
13. It is possible to go completely around Lake Biwa by train, but it is not a continuous, looping train ride. You will have to transfer trains at least twice, usually at Yamashina Station in Kyoto and Omi-Shiotsu Station in Nagahama. But it's not a tourist thing to go completely around Lake Biwa by train. Only the JR Kosei Line along the west side of the lake gives nice views of the lake.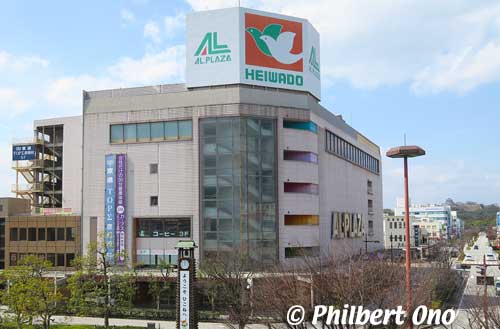 14. "Omi" (also spelled "Ohmi") is one word you may often see in Shiga. It was the former name of Shiga before Japan's modern era and still synonymous with "Shiga." It is also used as a prefix in place names or train station names such as "Omi-Hachiman" to distinguish it from other places named "Hachiman."
"Heiwado" is another word you may often see as Shiga's most ubiquitous and beloved corporate brand. It is a supermarket and local department store chain near major train stations. Great place to buy local food and souvenirs.
15. Staying at a hotel in Shiga (especially in Otsu) would be viable even for visiting Kyoto. Finding a hotel room in Shiga may be easier (like the capsule hotel in Otsu Station). Otsu is a short train ride to Kyoto (JR line or Keihan Line).
16. Shiga Prefecture is not be confused with the famous Shiga Kogen Highland ski area in Nagano Prefecture, a totally different place.
*To find out more interesting things about Shiga, take the Shiga Image Quiz.