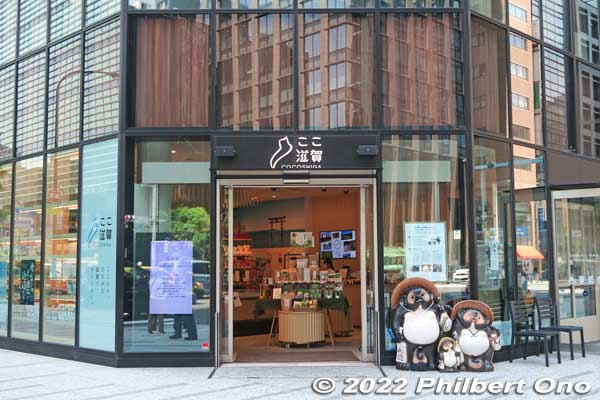 Updated: April 2, 2023
On October 29, 2017, Shiga Prefecture finally opened a full-fledged "antenna shop" in Tokyo named "COCOSHIGA" (ここ滋賀) in the Nihonbashi district. People in Tokyo could now buy food, sake, and souvenirs from Shiga more than ever before. We could also have food and drinks from Shiga at the bar and upscale restaurant upstairs. It's a prefectural specialty shop selling and promoting products from Shiga Prefecture while getting customer feedback.
After five years in business, COCOSHIGA underwent month-long renovations and reopened on April 29, 2022 under new management contracted for the next five years. The biggest changes are the completely renovated restaurant on the 2nd floor under new management and the sale of raw Omi beef made to order like in a meat shop. Otherwise, it looks pretty much the same. Great that COCOSHIGA has apparently been doing well enough to remain in business for another five years.
COCOSHIGA is in its own little three-story building on a corner of the main Nihonbashi intersection (Chuo-dori and Eitai-dori roads). Prime location (map below) right outside Nihombashi Station (Exit B8 or B6) on the Tozai, Ginza, and Toei Asakusa subway lines. It's also a short walk from Tokyo Station's Yaesu or Nihonbashi Exit. Takashimaya Dept. Store is nearby on the same road (Chuo-dori) that goes to Nihonbashi Bridge. I believe the name can also be spelled CocoShiga, but not Coco Shiga, Cocoa Shiga, nor Koko Siga. (The Japanese like to render English names in all capital letters which is not really necessary except for acronyms.)
Market and Shiga's Bar (1st floor, open 10 a.m. to 8 p.m.)
CocoShiga's first floor is a shop area simply named "Market" selling Shiga merchandise and a small bar named "Shiga's Bar" where you can try Shiga sake, cafe beverages, and Omi beef. They also have Shiga tourist pamphlets.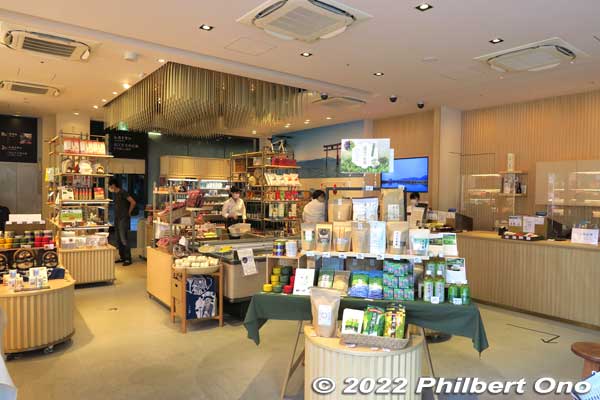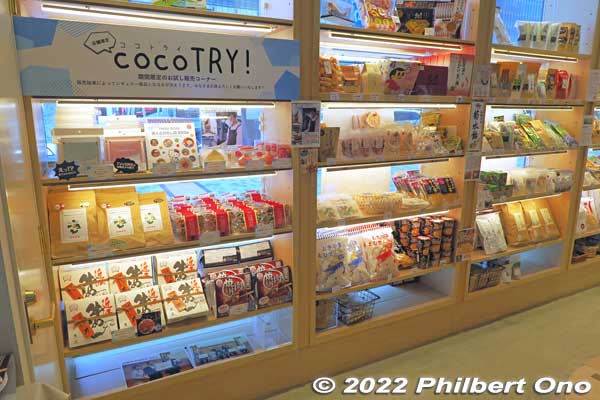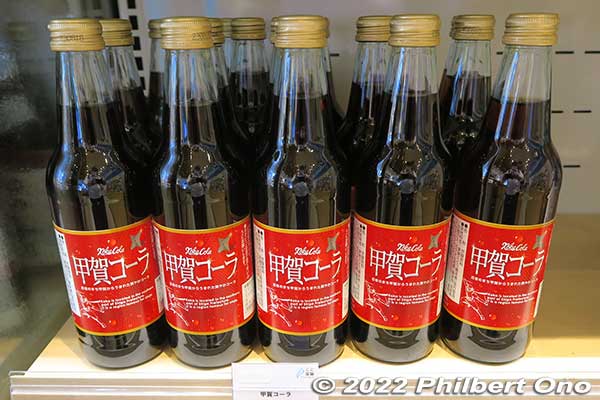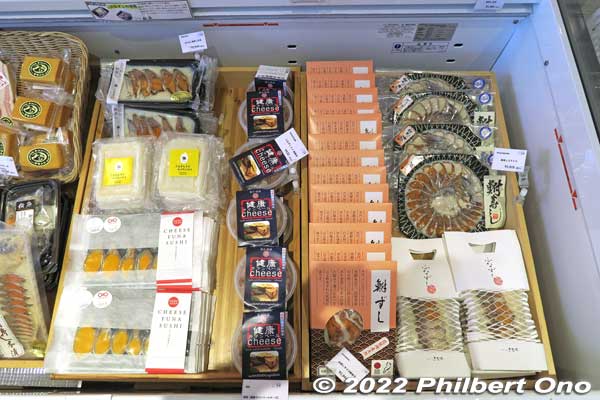 If you don't know Shiga products, it might be difficult to figure out which products are the most famous or what you should buy. The store does not really highlight particular products. So just to let you know, Shiga's most famous delicacy is funazushi fermented carp (get the ones made with female nigorobuna fish), marbled Omi beef from wagyu cattle raised in Omi-Hachiman, Biwa salmon, red konnyaku (devil's tongue), Omi tea (from Tsuchiyama), and Omi rice.
Note that even though CocoShiga's 1,000 different products (as of April 2017) sounds impressive, it's still only a small sample of products from Shiga. They can never stock everything that Shiga has to offer. Perhaps their upcoming online store might have more products. Personally, I would like to see Funazushi Pie cookies from Moriyama, more Adoberry confections from Takashima, Omi-jofu fabrics, Shigaraki tanuki statues, and Shiga books and magazines. Famous confections from Taneya and Club Harie are also missing, but they have their own outlets in Tokyo.
Shiga businesses wanting to sell their products at CocoShiga have to undergo a product screening. Not all businesses apply to sell at CocoShiga and not all products pass the screening. So we can never see everything from Shiga. CocoShiga changes or rotates the product lineup every season so we may see more products at different times. Needless to say, prices in Tokyo have a slight markup compared to prices in Shiga for the same product.
Shiga's Bar seats three or four people and serves over 30 brands of sake from Shiga, craft beer (¥540), coffee (¥240), matcha latte tea (¥400), and side dishes of Omi beef (¥600). For ¥880, you can try and compare a cup of three different sake. Or one shot of sake for ¥300. However, I'm disappointed that the bar doesn't serve funazushi anymore. Something I want all my non-Shiga friends to try.
CocoShiga also holds seminars, lectures, hands-on workshops, and events on its 1st floor or 2nd floor.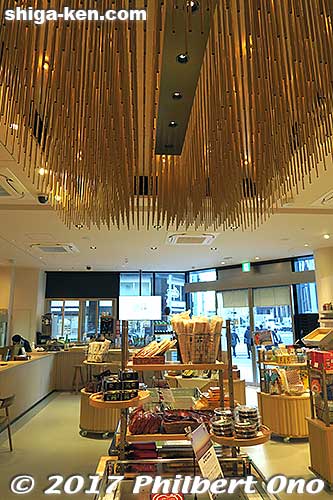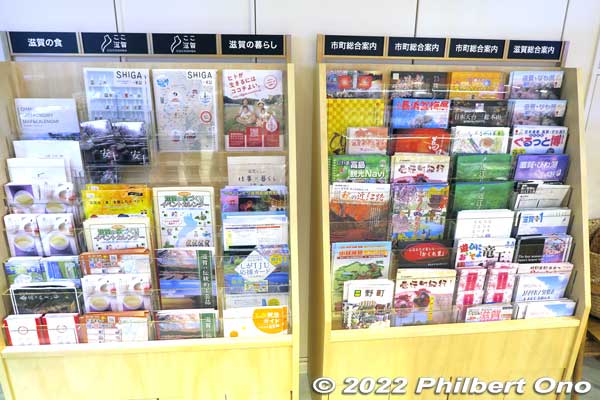 Restaurant (2nd floor)
The second floor is a new restaurant named "Omi-ushi Morishima" (江牛 毛利志満) specializing in Omi-gyu beef. They are from Omi-Hachiman and opened here on April 29, 2022 after CocoShiga completed month-long renovations. It's their first branch in Tokyo. They took over from Nihonbashi Jinomi (日本橋 滋乃味) which was the original restaurant tenant in CocoShiga and now closed.
The restaurant interior has been completely renovated. It still has a nice view of the Nihonbashi intersection. Most food is served on Shigaraki pottery. Open for lunch (11:30 a.m.–2:30 p.m.) and dinner (5:00 p.m.–10:00 p.m.). Lunch prices average ¥2,500, while dinner courses average ¥8,000 per person. Take-out also available. Their specialty is Omi-gyu beef, and funazushi seems to be available only on the dinner menu.
If I ever eat here, I'll post photos of the food. Also, if you take the stairs to the 2nd floor instead of the elevator, you will see an exhibition space on the staircase walls.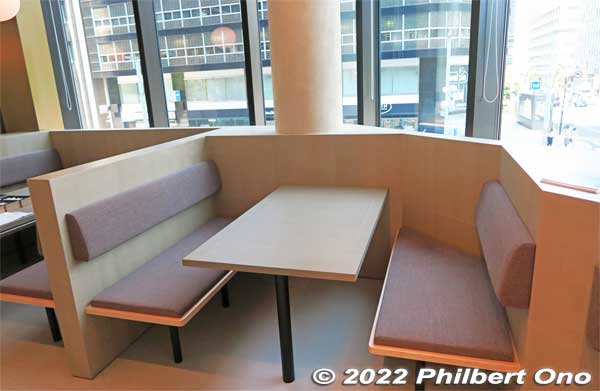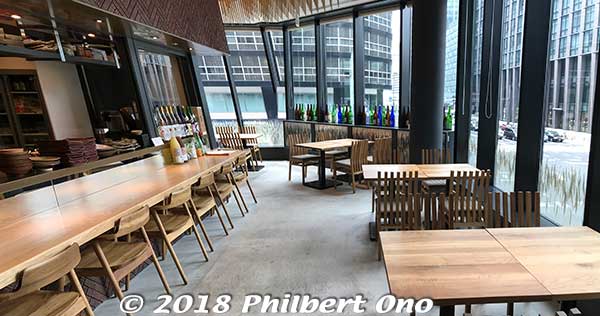 Terrace (3rd floor)
The third floor is an open-roof Terrace with parasol tables. You can buy food or snacks at the Market and take it upstairs to the Terrace to eat. (Alcohol consumption is not allowed on the Terrace.) Great place to hang out if it doesn't rain. The Terrace looks the same as before.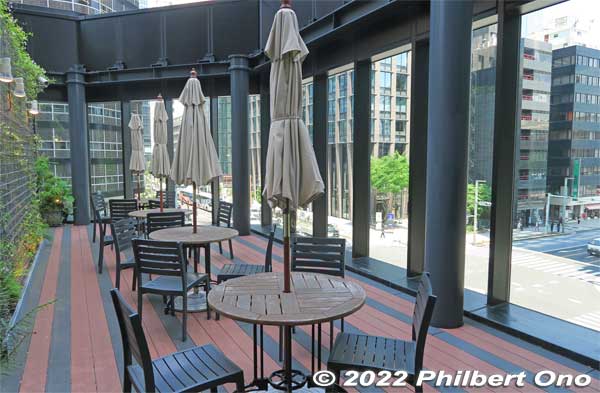 Shiga's Nihonbashi connection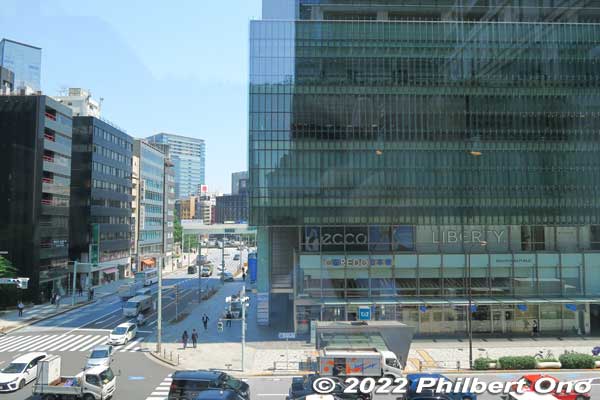 Nihonbashi has historically been Tokyo's district for textile wholesalers and trading companies. Big commercial district with Japan's Five Major Roads starting from Nihonbashi. Two of them (Tokaido and Nakasendo) went to Shiga (Omi).
Shiga has had close ties with Nihonbashi ever since Omi shonin merchants from Shiga opened shop here during the Edo Period (17th to late 19th century) to sell fabrics made in Shiga. The most famous Shiga clothing store in Nihonbashi was Shirokiya (白木屋) opened by Nagahama-born Omura Hikotaro I (大村 彦太郎) in 1662 across the street from CocoShiga. (This was even before the Mitsui family opened the store that would become Mitsukoshi Dept. Store in Nihonbashi.) Shirokiya was absorbed by Tokyu Dept. Store in 1958 which eventually closed this flagship store in 1999 where the huge COREDO Nihonbashi shopping complex took its place.
Although sadly Shirokiya no longer exists in Japan (only an offshoot store in Honolulu, Hawaii remained until late 2020), Nihonbashi still has a good number of businesses (mainly fabric wholesalers) originally from Shiga. Shiga Bank's Tokyo branch and the Tokyo Shiga Kenjinkai office (built in 1978 and rebuilt in 2015 as Grand Suite Higashi Nihonbashi Square) are in Nihonbashi.
Nearby Takashimaya Department Store (Nihonbashi branch) was named after Takashima (now a city) in Shiga. The current flagship store was built in 1933. The original marble and rare, manually-operated elevators still remain. The building is a National Important Cultural Property. Next time you visit, admire the many dignified ornaments and decorations inside and out.
Takashimaya was founded in 1831 by Iida Shinshichi (1803–1874 飯田新七) as a branch store of his father-in-law's rice shop in Kyoto. Being from Imazu, Takashima in Shiga, the father-in-law had named his Kyoto rice shop "Takashimaya." Shinshichi's Takashimaya in Nihonbashi started off selling used clothing and cotton fabrics. He also later founded a trading company named Marubeni Iida which eventually merged with Marubeni. Because of this Shiga connection, Shiga people in Tokyo patronize Takashimaya. Ironically, there is no Takashimaya branch in Shiga.
Major bedding maker Nishikawa from eastern Shiga founded in 1566 has had a store in Nihonbashi since 1615. Mosquito nets were a major seller. In June 1923, it had just built a new five-story store only to be heavily damaged by the Great Kanto Earthquake three months later.
Big trading companies Itochu and Marubeni founded by Ito Chubei from Toyosato got their start in clothing fabrics and conducted business in Nihonbashi. Itochu's Tokyo office was in Nihonbashi for many years before it moved to Aoyama.
In the old days, the road in front of CocoShiga was the Tokaido Road that went directly to Shiga. So for Shiga, I agree that Nihonbashi is the ideal Tokyo location for CocoShiga.
Nihonbashi is most famous for its namesake Nihonbashi Bridge which was the starting point (Zero Milestone) of the old Tokaido Road and Nakasendo Road both of which go through Shiga before reaching Kyoto. Nihonbashi thus became Japan's most famous bridge (originally a wooden bridge) and Nihonbashi was destined to become one of Japan's most famous places. The current bridge was built in 1911. A short walk from CocoShiga. Be sure to see it if it's your first visit. Might be disappointing to see the ugly expressway overhead though. There's talk of moving the expressway underground to allow the sun to shine on Nihonbashi Bridge once again.
Before COCOSHIGA
CocoShiga is a huge leap over its previous incarnation called "Yume Plaza Shiga" (ゆめぷらざ滋賀 yume means "dream" ) in the Tokyo Kotsu Kaikan building near Yurakucho Station (one stop from Tokyo Station). Yume Plaza was Shiga's tourist information office and small gift shop in Tokyo. Tokyo Kotsu Kaikan is a large office building for travel-related offices, and it still has a few antenna shops such as for Hokkaido, Akita, and Tokushima/Kagawa Prefectures.
The problem was, Shiga's Yume Plaza was on the second floor where there was little foot traffic. Meanwhile, Hokkaido's large Dosanko store on the ground floor facing the main road and Yurakucho Station was always packed with people. The ground floor saw heavy foot traffic while few customers bothered to go upstairs.
The Yume Plaza was just a small room where they sold a few trinkets and non-perishable food. Can't even call it an antenna shop. It was more a tourist information office to pickup tourist brochures.
For many years, Yume Plaza was closed on weekends when people in Tokyo had free time to go shopping or plan trips. It certainly didn't make sense to be closed on weekends. But they later decided to stay open on weekends using part-time staff. The atmosphere was lax and the former Biwako Visitors Bureau Tokyo Office Manager (Ito Masahiro, 60, 伊藤雅博) who worked there was charged in July 2017 with falsifying & pocketing ¥1.24 million in travel expenses. Such shocking news. He was also a JTB employee.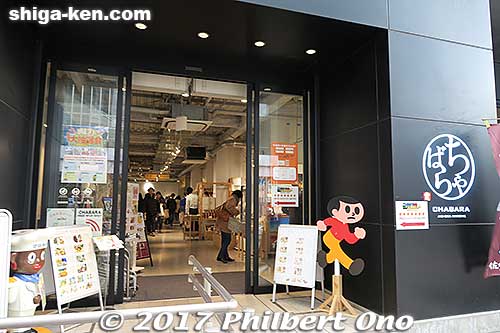 Shiga people in Tokyo were well aware of Shiga's Yume Plaza shortcomings. But we finally got some relief in Sept. 2015 when a small mall called "Chabara" (Nippon Hyakkaten Shokuhinkan) under the train tracks next to Akihabara Station opened. Chabara was a shopping space with small booths for many prefectures, including Shiga, selling their goods. People in Tokyo finally had a relatively large selection of Shiga merchandise including funazushi, Omi beef, sake, Omi rice, confections, and more.
With the opening of CocoShiga in 2017, Shiga's booth in Chabara was largely discontinued by Oct. 2018. I notice that Shiga now has only a small shelf space in Chabara.
Another welcomed development occurred on March 21, 2016 when Nagahama boldly opened its own little museum near Shinobazu Pond in Ueno, Tokyo called "Biwako Nagahama Kannon House" (びわ湖長浜 KANNON HOUSE). It exhibited one precious kannon Buddha statue (Goddess of Mercy) brought over from Nagahama which has many kannon statues and temples. Small, beautiful, and unique museum to connect with Shiga culture, but they didn't sell Nagahama merchandise. Foot traffic was also low. Sadly, the Kannon House eventually closed on Oct. 31, 2020 amid the pandemic.
When it was announced that Shiga was planning to open a large "antenna shop" in Nihonbashi, it was very exciting news. It was hard to believe, after all these years of obscurity when other prefectures were already operating high-traffic antenna shops in prime locations in Tokyo. Shiga's dinky and barren outpost in Tokyo lagged so far behind. Now it has leapfrogged to Nihonbashi. We've come along way.
CocoShiga's first five years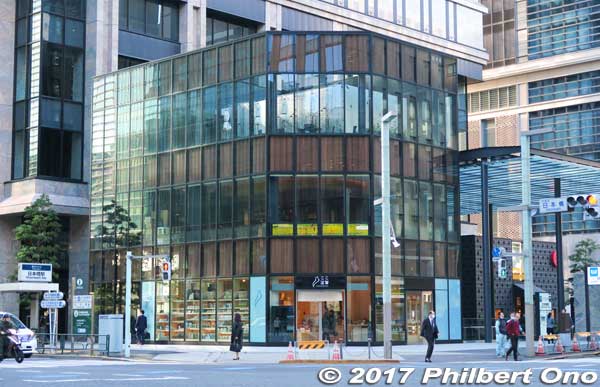 CocoShiga had a grand opening on Oct. 29, 2017 just when a typhoon hit Tokyo. The tape-cutting was done by Shiga Governor Mikazuki, noted journalist Tahara Soichiro from Hikone, and pop singer Nishikawa Takanori (T.M.Revolution) who is from Yasu and a Shiga tourism ambassador. Hiko-nyan was there too. About 2,300 customers came on the opening day, lining up in the rain. Many had to wait two hours to get in.
For the first five years, CocoShiga was managed by Tokyo-based company UDS Ltd. under a five-year contract until March 2022. They have a branch office in Omi-Hachiman and have experience in the hospitality industry, managing a few hotels and restaurants. They seemed to be well-qualified to run CocoShiga, but the staff were not from Shiga. The General Manager was from Okinawa.
Being newbies to Shiga, the staff visited Shiga multiple times over a year to learn about the products CocoShiga would be selling. There are positive things about hiring outsiders since they can notice things Shiga people might not. But you can't talk to them about home in Shiga, like at the bar while drinking or in the restaurant.
At any rate, having the private sector manage and operate the antenna shop was the best way to go instead of having any semi-government agency like the visitors bureau.
Nihonbashi is a high-rent district and CocoShiga sits on one of Tokyo's prime locations next to a subway station. CocoShiga's rent has been reported to be a whopping ¥8.6 million per month (as of 2017). That's about ¥286,666 per day, not including personnel costs. I'm amazed that this little building was built on this prime location instead of a larger/taller building.
CocoShiga started as a five-year project by Shiga Prefecture which is investing over ¥1.3 billion. In return, they are expecting ¥252 million worth of PR and inbound tourism to Shiga during the five years. Shiga was finally shooting for the big time with CocoShiga.
In mid-Dec. 2017, CocoShiga announced that they saw 100,000 customers after a little over a month in business. That's about 2,300 customers a day. So far, so good.
CocoShiga later announced that they saw 530,000 customers by Oct. 10, 2018. This was ahead of their projection that expected this number by the end of Dec. 2018. By June 2021, 1.5 million customers visited CocoShiga. By spring 2022, 1.73 million customers. Survey shows that over 90 percent of customers wanted to visit Shiga, but not sure how many actually visited Shiga.
Unfortunately, after three years in business, the coronavirus pandemic hit in spring 2020 and CocoShiga had to close or scale back operations.
The CocoShiga management contract with UDS Ltd. expired at the end of March 2022. So a big "Otsukaresama deshita" to this management team who took care of CocoShiga during the first five years.👏
Back in 2017, it was unclear whether Shiga would renew the project after five years. In April 2022, it has become apparent that the project has been extended for another five years.
What's in a name?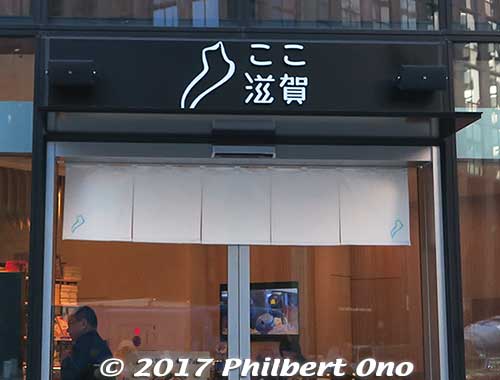 "CocoShiga" (ここ滋賀) literally means "Here's Shiga" and has nothing to do with hot chocolate (cocoa) or coconuts. Although in Japanese it's short and easy to remember, it's not very original and not easily understandable by foreign tourists.
The Japanese word "Coco" (koko ここ) meaning "here" has become a popular prefix in business names. In Shiga, we already have Kokocool (online shop in Shiga) and Kocopia (local gift shop in Konan). Outside Shiga, there is kokoka (Kyoto International Community House), Coco Miyagi (Miyagi Prefecture's antenna shop in Tokyo), and Nagoya-based convenience store chain Cocostore before it was recently bought out by a rival chain.
Perhaps the most famous "Coco" in Japan is the Coco Ichibanya curry restaurant chain (eight branches in Shiga). So please Shiga, let's not have any more "Coco" or "Koko" names. It's like "Yume" (dream), "Dream," "Rainbow," and "something-pia" (as in Utopia) which are also popular and unoriginal names across Japan as well.
Other problematic CocoShiga names are "Shiga's Bar," Shiga's Concierge," and "Shiga's Guide." They don't belong to any person named "Shiga." They are just a mistranslation of the Japanese. It should just be "Shiga Bar," Shiga Concierge," and "Shiga Guide."
Antenna shops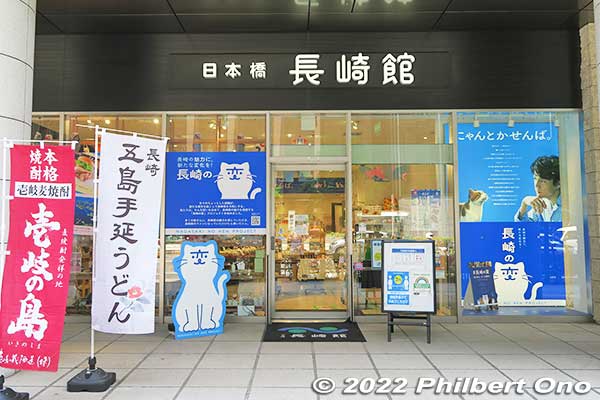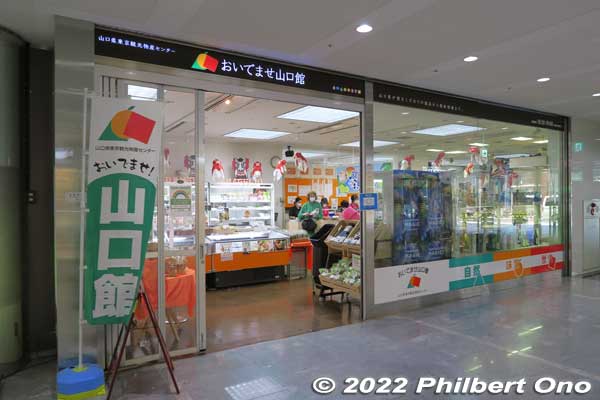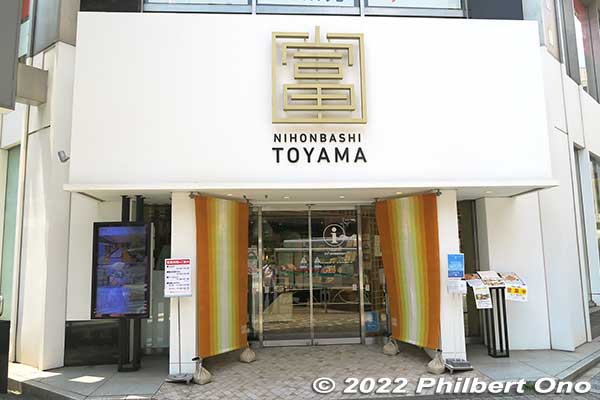 As you know by now, antenna shops in Japan do not sell antennas. It's a Japanese-invented English term for a promotional store selling food, crafts, and souvenirs from a prefecture, municipality, or company. They supposed to be feelers (like insect antennae) or feedback shops to gauge what products are well received. Prefectural antenna shops also typically include a small restaurant serving food and drink from the prefecture. Tourist information and brochures are also provided. We can call them prefectural specialty stores or prefectural PR shops.
Many Japanese prefectures have an antenna shop in central Tokyo to promote their products and tourism. Most of them are clustered in major tourist/shopping areas such as Tokyo Station (Yaesu), Yurakucho, Nihonbashi, and Ginza-Shimbashi.
Near CocoShiga in the Nihonbashi are several other prefectural antenna shops: Nagasaki, Yamaguchi, Yamanashi (wines), Toyama, Niigata, Mie, Fukushima, and Sumoto (Awaji island, Hyogo). Most also have a small restaurant. It's fun to visit these antenna shops and see a bit of each prefecture. There's also a small Nihonbashi tourist information center near Nihonbashi Bridge with free tourist maps, etc. The staff can show you where all the antenna shops are.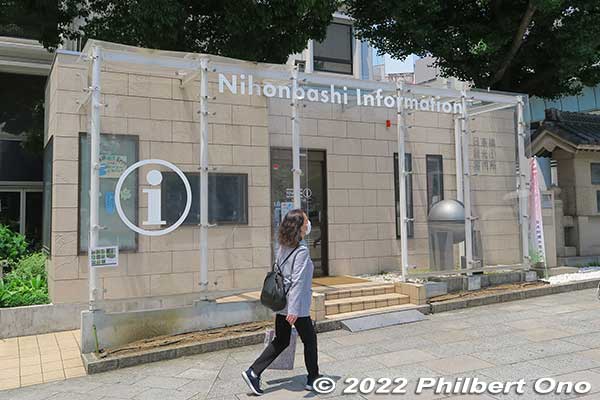 Prefectural antenna shops are an outgrowth of prefectural tourist information offices in Tokyo. Once upon a time, most of the prefectural tourist information offices were conveniently concentrated in a tourism-geared office building named Kokusai Kanko Kaikan (国際観光会館) right next to Tokyo Station's Yaesu entrance. This made it easy to pick up tourist brochures before hopping on your train to the prefecture.
However, this convenient building was eventually demolished as part of Tokyo Station's redevelopment of the Yaesu side. Those prefectural tourist information offices moved out and scattered around in Tokyo. Many remained near Tokyo Station and Yurakucho Station (especially inside the Tokyo Kotsu Kaikan building which also housed the Japan National Tourist Organization).
It then became quite inconvenient for us to pick up tourist brochures from multiple prefectures, but the Internet changed all that when much tourist information went online. So now, having a shop to sell physical goods (especially food) became more important than having a tourist information office for the public.
All these antenna shops are quite useful for people planning a trip to the respective prefecture. It gives you an idea of what the prefecture has to offer. You can also ask sightseeing questions, although they might not know everything. These antenna shops are also nice for people from that prefecture, but now living in Tokyo. Visit when you miss your hometown or when you want to give hometown gifts to friends in Tokyo.
There are useful lists of prefectural antenna shops in English online, but they can always get outdated when antenna shops close or move. So check the the shop's official website before visiting. For example, Nara Prefecture's antenna shop in Nihonbashi closed in June 2021 and moved to Shimbashi two months later. And Hyogo Prefecture's antenna shop in Tokyo Kotsu Kaikan shut down on March 21, 2022 after 11 years. No word if they will open a shop in Tokyo. Kyoto's large antenna shop near Tokyo Station (Yaesu) has also closed since the building was torn down.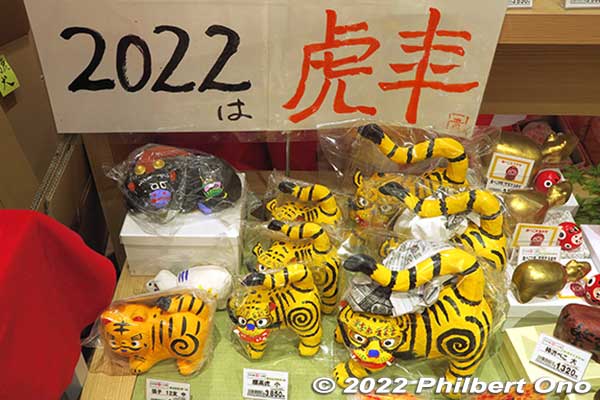 CocoShiga's next five years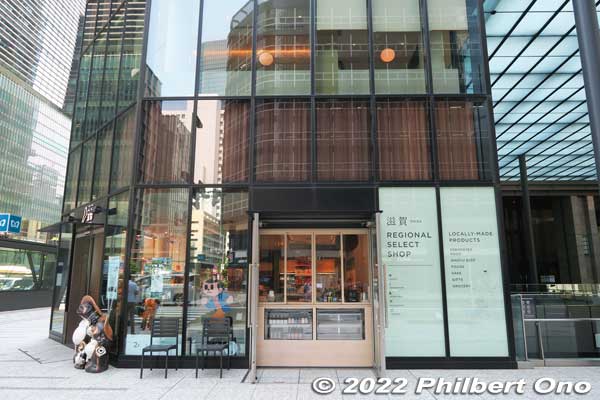 For CocoShiga's second five-year period of operation, the store (especially the restaurant) was renovated and reopened on April 29, 2022 with a tape-cutting ceremony attended by Shiga Governor Mikazuki, Hiko-nyan, Hello Kitty, and award-winning novelist and Otsu resident Imamura Shogo (今村翔吾). The mascots entertained on stage and only a limited number of people from the public were allowed to attend.
From April 1, 2022, under a five-year contract, CocoShiga is now being managed by EINS Corporation (アインズ株式会社), a printing and PR company based in Ryuo Town. Meanwhile, the Market is being run by Hyogo-based Tanmi Co., Ltd. (株式会社 淡味) which also operates antenna shops for Fukui Prefecture and Sumoto (Awaji, Hyogo Prefecture). The restaurant and bar are operated by Omi-ushi Morishima (近江牛毛利志満) based in Omi-Hachiman. They have been in business since the 19th century and promoted Omi beef in Shirokiya in Nihonbashi in the 1940s. Their contracts are effective until March 31, 2027. They don't receive any subsidies from Shiga Prefecture. They keep the profits while Shiga receives a 3 percent commission annually. They aim to see over 2.2 million customers during the next five years. Wish them all the best of luck.
The pandemic certainly had an adverse impact on antenna shops during the past two years. It underscored the importance of online shopping, something that CocoShiga has not yet put on track. But it's in the works since it says, "Under construction" on the website. Hopefully, whatever online shop they open won't close after five years when the management contract expires.
There are signs that things are starting to return to normal. Plexiglass is being removed in restaurants, and mask wearing is loosening up outdoors. Hopefully, the retail and tourist industries will start to recover from this year.
I also hope CocoShiga will provide information in English and other foreign languages. After five years, I'm still disappointed that there's no English to promote Shiga and its products, not even on their website. Even the Tokyo Olympics didn't spur Shiga to become more international. 😩
They should at least have the address, map, directions, and a basic description in English and other languages. I know most prefectural antenna shops don't provide English either. But some do, like Iwate Prefecture's antenna shop and Gunma's too.
Whenever you're in the area, drop by CocoShiga and help support Shiga. Visit the other nearby antenna shops too. 👍