Updated May 7, 2014
Update: Gov. Yukiko Kada announced on May 7, 2014 that she will not run for a third term as governor of Shiga Prefecture. She will instead support Mikazuki Taizo (三日月 大造) who plans to run.
There's now only a 50-50 chance that Shiga Governor Yukiko Kada will seek reelection to a third term on July 13, 2014, election day. Despite her massive popularity among voters, it's no longer a no-brainer decision for her to run.
We will have to wait until May 7, 2014 when she will announce whether or not she will run.
On April 29, 2014, the Yomiuri and Mainichi Shimbun newspapers reported that Governor Kada privately told her support group (対話でつなごう滋賀の会) that she would not seek reelection and was inclined to support the younger (age 42) and already-declared candidate Mikazuki Taizo (三日月 大造) from the Democratic Party of Japan. On her Facebook page, Governor Kada vehemently protested against these unconfirmed and speculative articles.
Of course, sensationalist, erroneous, or irresponsible reporting is nothing new. A fact of life for a politician and most kinds of celebrity and mysteries. If people don't know what they want to know, they are apt to make things up or spread false or negative information or rumors. (Remember how the Tohoku disaster was sensationalized in the West and compelled the Japan Center for Michigan Universities in Hikone to needlessly evacuate their perfectly safe students back to the States?)
Governor Kada has been meeting with Mikazuki since March 2014 to coordinate their views on key policies such as nuclear power (which they both oppose), dams, and medical and social welfare. On April 26, 2014, they held a joint gathering chaired by former Shiga governor Takemura Masayoshi to evaluate Kada's administration. Kada and Mikazuki voiced their policy views to clarify their similarities and differences.
They also announced that they would work toward a joint platform and establish a policy research group called "Team Shiga" (チームしが) on May 7, 2014. That's when they will announce who will be their candidate for the gubernatorial election. Kada wants Mikazuki to agree to support the other if the other is the candidate. So if they decide Mikazuki should run, Kada will support him as her successor instead of running. And vice versa. If Kada decides to run, he should support her and not run. However, Mikazuki seems to be lukewarm toward this strategy. He has not clearly stated what he would do in case Kada decides to run. He will be with the governor on May 7 for the press conference and state his position after Kada states hers.
Both are worried about the prospect of the Liberal Democratic Party's candidate winning the governorship which would further extend the dominance of the Liberal Democratic Party (which favors nuclear power) currently in power in Tokyo. Kada and Mikazuki want opposition parties to retain a voice. They are wisely joining forces upon the auspices of former Shiga governor Takemura Masayoshi (also a member of the Democratic Party of Japan) who brought them together.
Born in 1971 in Kyoto and raised mainly in Otsu, Mikazuki Taizo is a National Diet House of Representatives member representing Shiga's No. 3 electoral district. He and the Democratic Party of Japan supported Kada in 2010 for her reelection.
Governor Yukiko Kada made history in 2006 as Shiga's first woman governor after defeating the entrenched incumbent. She ran on the Mottainai (Wasteful) slogan referring to the exorbitant expenses slated for a new shinkansen station in Ritto and Daidogawa Dam in Otsu. She successfully saved us from wasting tax money on such boondoggle projects and was reelected in 2010 garnering a resounding 420,000 votes, the most ever for a Shiga governor and twice the number of her closest opponent. In 2006, she won with 217,842 votes.
However, since she did not belong to any of the major political parties, she had many political opponents in the prefectural assembly (legislature), especially from the Liberal Democratic Party who had pushed for the public works projects (her predecessor was from Ritto and belonged to the Liberal Democratic Party). The 2011 local elections finally brought her party and allies the majority in the prefectural assembly.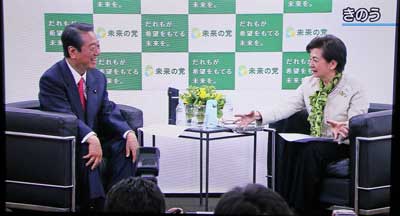 However, in late Nov. 2012, a sensational misstep had Governor Kada form a new political party called Nippon Mirai no To (Tomorrow Party of Japan) with political kingpin Ozawa Ichiro. With the platform of abolishing nuclear power, they aimed to win many National Diet seats in the Dec. 2012 election and become a "third force" in national government. However, when Ozawa's camp realized that Kada wouldn't be their political puppet as the party head, they dumped her and split from the party to form a new one after only a month. Meanwhile, Kada got criticism from her opponents in Shiga for shifting her attention from Shiga to her new party.
Also, the Democratic Party of Japan, who had supported her reelection in 2010, became one of her opponent parties during her brief stint as head of the new party in late 2012. Therefore, they might not be inclined to support her again in the upcoming election in July 2014. This may be one factor behind any decision for her not to run. But most voters in Shiga view her temporary deviation as a hiccup and nothing major.
The fact is, Kada still remains very popular and admired in Shiga. Many of us affectionately call her "Kada-chan." Mikazuki has his youth going for him, but will voters go for a relatively unknown figure compared to Kada? Then again, all the declared candidates so far are rather obscure. He may have some advantage if he receives Kada's endorsement, but it may be an uphill battle since the Liberal Democratic Party is in power at the national level. On the other hand, Kada is a shoo-in to win. Take a chance on a not-so-popular Young Turk or stick with a super popular and proven vote getter? That is the question.
I wouldn't call Facebook a barometer of one's popularity, but I cannot ignore that Governor Kada has several thousand FB friends plus 3,600+ followers. Her posts elicit numerous likes and comments. Meanwhile, Mikazuki only has 493 likes on his FB page as of this writing. Also, at the gathering on April 26 and on Kada's Facebook page, voters have expressed their opposition to Mikazuki's candidacy and the Democratic Party of Japan. Kada will be touring Shiga during Golden Week and talking to people for their opinions. After "careful consideration," she will make a decision and announce it after Golden Week on May 7.
I think part of Kada's popularity is due to her down-to-earth and honest, sincere character. She's not putting on an act (shibai). She's very approachable and not intimidating. You can talk to her like you can talk to your grocer.
Looking forward to her announcement on May 7. (Fingers crossed.)
Related posts: