Recommended festivals, events, exhibitions, and autumn leaves in Shiga Prefecture in November 2013. (Most official Web sites are in Japanese only.) Compiled by Philbert Ono.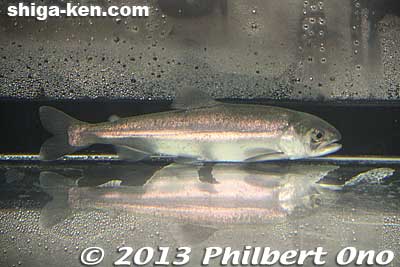 Oct. 26 – November 24, 2013
♦ Kunimasu Trout Special Exhibit, Lake Biwa Museum, Kusatsu, 9:30 am – 5:00 pm
A special and rare exhibit (the first in western Japan) of live kunimasu trout (Oncorhynchus kawamurae or black kokanee), previously thought to have gone extinct in the 1940s. Kunimasu was an endemic fish found only in Lake Tazawa in Akita Prefecture, but became extinct (along with most other fish species in the lake) in the 1940s when the water became too acidic. The acidic water came from nearby Tamagawa hot springs. In 1940, they allowed the hot spring's highly acidic water to flow into the lake for a hydroelectric power plant and for diluting the hot spring's acidity. The war effort was Japan's top priority at the time, and they didn't care about the environment and some fish becoming extinct. A far cry from today. The lake still has not fully recovered from its acidic water.
In 1930, kunimasu fish eggs were sent to a number of lakes in Nagano, Yamanashi, and Toyama Prefectures as an experiment to see if they could be hatched and bred artificially. Sending fish eggs to other places was done to increase stocks of food fish. In 1935, the eggs were sent to Lake Saiko and Lake Motosu near Mt. Fuji and even to Shiga Prefecture's Samegai Trout Farm in Maibara. The hatching experiment was deemed to have failed since no kunimasu were ever caught outside Lake Tazawa. In 1997-98, the Lake Tazawa Tourist Association offered a 5 million yen cash reward for any kunimasu caught in Japan. But no luck.
Then in 2010, Kyoto University professor Nakabo Tetsuji (中坊 徹次) requested a fish fanatic celebrity and illustrator, nicknamed Sakana-kun, to draw an illustration of a kunimasu. To help him draw this "extinct" fish, Sakana-kun had people send him specimens of himemasu (Oncorhynchus nerka or kokanee) which is a close relative of kunimasu. Then one fish sent from Lake Saiko in Yamanashi Prefecture caught Sakana-kun's attention since it looked like kunimasu. He sent it to Professor Nakabo who examined and checked the DNA. He and his research team confirmed it to be kunimasu in mid-December 2010. They announced the find to the press and it was Japan's fish story of the century.
It turned out that fishermen at Lake Saiko had been catching kunimasu all along, but called it kuromasu because it turned black (kuro means "black") before spawning. It was relatively common to catch even among sport fishermen. People who dared to eat the black fish found it to be very delicious. Lake Saiko now retricts fishing in areas where the deep-water kunimasu is thought to dwell. And Lake Tazawa is working to cleanse its acidic water to allow kunimasu back to its original home.
Five artificially-hatched kunimasu are displayed in the Lake Biwa Museum aquarium's special exhibition room. Museum admission for adults is 750 yen (kids free), but it will be free for all on Nov. 16-17 as part of Kansai Culture Day when most museums in Shiga and neighboring prefectures will be free.
By train, get off at JR Kusatsu Station on the Tokaido/Biwako Line. Get out the Nishi-guchi west exit and wait at bus stop 2. Take the bus going to Karasuma Hanto (peninsula) and get off at Biwako Hakubutsukan (琵琶湖博物館). About 25 min. Buses run about twice an hour on weekends and once an hour on weekdays. Bus fare 420 yen. Bus schedule here. Google Map
琵琶湖博物館 よみがえった魚 クニマス
http://www.lbm.go.jp/tenji/ex_suizoku/s_topic_131026_kunimasu.html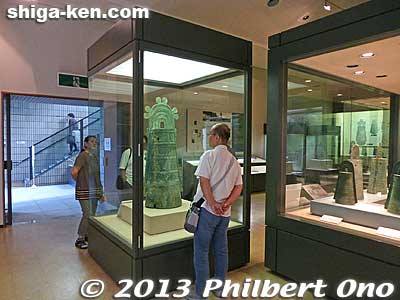 October 5-Nov. 24, 2013
♦ Homecoming Exhibition for Japan's Largest Bronze Bell and Yayoi no Mori Foliage Illumination, Dotaku Bronze Bell Museum (Yasu Folk History Museum) (Yasu Rekishi Minzoku Hakubutsukan 銅鐸博物館 野洲市歴史民俗博物館), Yasu, 9:00 am – 5:00 pm (till 9 pm on Nov. 16-17), closed Oct. 15 and Nov. 5
Yayoi no Mori Foliage Illumination on Nov. 15, 16, 17, 19, 20, 21, 22, 23, and 24 at 5:45 pm – 9 pm (enter by 8:30 pm).
A very special and rare exhibit of Japan's largest ancient bronze bell (called dotaku) found near the museum in Yasu. The bell, designated as an Important Cultural Property, is owned by the Tokyo National Museum where it is normally exhibited. This is the first time this bell will be exhibited in its hometown of Yasu since it was unearthed in 1881. A smaller dotaku on loan from the Tokyo National Museum and numerous replica dotaku bells are also on display.
On Aug. 20, 1881, two young lads were playing on nearby Mt. Oiwa when they stumbled across three dotaku bells partially exposed in the ground. The next day, eleven more dotaku were discovered in the same area. The bells are dated from around 100 BC to 300 AD (Japan's Yayoi Period). The bells were not really used as bells. They were more for decorative and religious purposes. Two of the dotaku were acquired by the Tokyo National Museum. The remaining dotaku were scattered among various people. Their whereabouts were unknown until an investigation found 12 of them at temples and Japanese and overseas museums. It's frustrating that none of the original dotaku discovered in Yasu are in Yasu. Another case of bungling and ineptness by local officials who couldn't recognize a good thing when they saw it. Near the museum, there's a monument where the large bell was found. Yasu's official mascot, Dotaku-kun, is modeled after this bell.
Also, the museum has Yayoi no Mori, an outdoor display of Yayoi-Period grass shacks and garden of autumn foliage that will be illuminated in the evening on the days listed above. The museum will also be open till 9 pm on Nov. 16-17. Museum admission 200 yen for adults. Free admission for Yasu residents and free for all on Nov. 16-17 for Kansai Culture Day.
From JR Yasu Station's South exit (Minami-guchi), take a bus going to Karyoku Koen (花緑公園) or Murata Seisakusho (via Nishi Gate 西ゲート経由 村田製作所行き) and get off at Dotaku Hakubutsukan-mae (銅鐸博物館前). Bus ride is only a few minutes. From bus stop, cross the road to get to the museum. The bus stop to go back to Yasu Station is up the slope on the other side of the road where you got off. You can ask the museum about the bus times to go back. Buses run infrequently. Bus schedule for weekdays, Sat. and Sun. here. Or 10 min. by taxi. Google Map
銅鐸-日本最大銅鐸の里帰り-
http://www.city.yasu.lg.jp/doc/kyouikubu/hakubutukan/2013doutaku.html
November 3, 2013
♦ Little Edo Hikone Castle Festival Parade, Hikone Castle, 1:00 pm – 3:00 pm
Very elaborate costume parade of mainly kids dressed as samurai and Edo-Period ladies. Highlights include the Hikone Gun Battalion giving a matchlock gun demo (in front of Horse Stable), Ii Naosuke played by an actor on horseback, fireman acrobatics, and Sarugaku dancers. The parade route starts from Joto Elementary School and proceeds along the road to the castle and passes in front of the Umaya Horse Stable. Video here. Short walk from JR Hikone Station. Google Map
小江戸彦根の城まつりパレード
http://www.city.hikone.shiga.jp/kanko/event/event111103.html
November 3, 2013
♦ Omi Jingu Shrine Yabusame Horseback Archery, Otsu, 12:30 pm – 2:00 pm
One of Shiga's largest shrines, Omi Jingu will hold horseback archery on this national holiday known as Culture Day. The festival starts with a ceremony at 12:30 pm and the archery begins at 1 pm along the main path. Reserved seating is also available for 500 yen. Call the shrine at 077-522-3725 to make reservations. Otherwise, get there early to get a good spot. The shrine is also famous for clocks and karuta tournaments. Near Omi Jingu-mae Station on the Keihan Ishiyama-Sakamoto Line. Google Map
近江神宮流鏑馬神事
http://oumijingu.org/publics/index/134/
November 9, 2013
♦ Traditional Fireworks Summit in Koka, Koka-shi Minakuchi Sports No Mori (soccer field), 5:00 pm
Awesome display of ground fireworks from masters all over Japan. If seeing fireworks in summer is too hot for you, this would be good. Free admission.
20-min. walk from Minakuchi Jonan Station on the Ohmi Railways. Or from Kibukawa Station, take the Heart bus and get off at Sports no Mori. Google Map
第14回全国伝統花火サミットin甲賀
http://www.koka-kanko.org/res/?evid=325
November 10-December 1, 2013
♦ Hiyoshi Taisha Shrine Maple Festival Light-up, Otsu
Hiyoshi Taisha Shrine at the foot of Mt. Hie in Otsu, Shiga Prefecture is the head shrine for all Hiyoshi, Hie, and Sanno Shrines in Japan (around 2,000). The spacious grounds includes two shrines that are National Treasures and 3,000 maple trees lit up at night 5:00 pm – 8:30 pm during this period. Even the green leaves look great against the dark sky. Highly recommended if you're in that part of the city. Near Hiezan Sakamoto Station on the JR Kosei Line and Keihan Line's Sakamoto Station. Google Map
もみじ祭
http://hiyoshitaisha.jp/event/momiji/
November 16-December 1, 2013
♦ Koto Sanzan Temple Trio autumn foliage, Kora, Aisho, and Higashi-Omi
Koto Sanzan (湖東三山) is a trio of large Tendai Buddhist temples in eastern Shiga: Saimyoji (西明寺) in Kora, Kongorinji (金剛輪寺) in Aisho, and Hyakusaiji (百済寺) in Higashi-Omi. They are famous for autumn leaves and structures that are National Treasures or Important Cultural Properties. Each temple also has its own unique characteristics. Saimyoji has a National Treasure Hondo worship hall and National Treasure pagoda that you can enter. It's also deservedly one of Japan's 100 Grand Autumn Foliage Sites. Kongorinji has many little Jizo statues and a National Treasure Hondo main hall housing an 11-faced Kannon statue and 13 other statues that are Important Cultural Properties. Hyakusaiji is famous for giant straw sandals on a gate and a Japanese garden. Established by Shotoku Taishi in 609, Hyakusaiji is Shiga Prefecture's oldest temple and one of Japan's oldest. The Hondo temple hall has an 11-faced Kannon statue carved by Shotoku Taishi, a prince credited with spreading Buddhism in Japan.
During this period, convenient shuttle buses (Koto Sanzan Shuttle Bus) run every day between these three temples and a few train stations. The shuttle buses run most frequently from north to south, that is, from Saimyoji to Kongorinji and then to Hyakusaiji. Board the shuttle bus at JR Kawase Station or Ohmi Railways Amago Station. The bus will stop at Saimyoji first. Check the bus stop for bus departure times. After touring Saimyoji, catch another shuttle bus to the next temple, Kongorinji, and then Hyakusaiji. Shuttle buses also run from Hyakusaiji to Eigenji (listed below), another temple famous for foliage. From Hyakusaiji and Eigenji, buses go to Ohmi Railways Yokaichi Station. Buses depart once or twice an hour from 9:10 am at Kawase Station and 9:20 am at Amago Station. From Hyakusaiji, the last shuttle bus leaves at 4:35 pm for Ohmi Railways Yokaichi Station arriving at 5 pm. Or you can catch the 5 pm shuttle bus for Amago Station (arrive 5:46 pm) or Kawase Station (arrive 5:56 pm).
If you want to go from south to north, catch the shuttle bus at Ohmi Railways Yokaichi Station at 9:35 am and get off at Hyakusaiji. From Saimyoji, the last shuttle bus leaves at 5:33 pm for Ohmi Railways Amago Station and JR Kawase Station. Buses also run between Ohmi Railways Taga Taisha-mae Station and Saimyoji. See the bus schedule here (in Japanese).
Bus fare is 200 yen per ride which is only 10-20 min. They also offer a day pass called Momiji kippu (Maple ticket) for 1,650 yen. This day pass includes passage on all Koto Sanzan shuttle buses and all Ohmi Railways trains. A good deal if you plan to ride on Ohmi Railways. Each temple also charges admission of 500 yen. Note that if you like to take your time, you might not be able to see all three temples in one day.
Saimyoji Map | Kongorinji Map | Hyakusaiji Map
秋の湖東三山
http://www.ohmitetudo.co.jp/bus/event/2013/kotoushuttle/images/kouyou.pdf
Official sites: Saimyoji | Kongorinji | Hyakusaiji
November 9-30, 2013
♦ Eigenji Temple Autumn Foliage and Light-up, Higashi-Omi, 5:00 pm – 8:30 pm for light-up
Although this temple is not one of the Koto Sanzan Temple Trio, it's also famous for autumn leaves with 3,000 maple trees. Along with Saimyoji, Eigenji is also one of Japan's 100 Grand Autumn Foliage Sites. Established in 1361, Eigenji belongs to the Zen Rinzai Buddhist Sect (Eigenji School). Since it's a different sect, Eigenji is not a member of the Koto Sanzan trio of Tendai Sect temples. Impressive during the day, but also beautiful at night when the leaves are illuminated along with the walking paths. Admission 500 yen.
From Ohmi Railways Yokaichi Station, go to Bus stop 1 and take the bus going to Eigenji Shako (永源寺車庫) and get off at Eigenji-mae (永源寺前). Takes about 35 min. Bus schedule from Yokaichi Station on weekdays | Saturday | Sunday. Note that from Eigenji-mae, the last bus for Yokaichi Station leaves at 7:26 pm on Sat./Sun. and 8:27 pm on weekdays. Shuttle buses from Hyakusaiji also run to Eigenji during Nov. 16-Dec. 1. Google Map
永源寺 ライトアップ
http://eigenji-t.jp
November 15, 16, 17, 19, 20, 21, 22, 23, 24, 2013
♦ Hyozu Taisha Shrine Garden Autumn Foliage Light-up, Yasu, 5:45 pm – 9:00 pm
Established in 717 (Nara Period), Hyozu Taisha Shrine has a noted Japanese garden with a pond ringed by small rolling hills and autumn leaves. The fall leaves certainly look colorful and impressive when illuminated in the evenings and reflected in the pond. Mini concerts will be held during the foliage illumination in the evenings.
A short bus ride from JR Yasu Station's North Exit (Kita-guchi). Take the Yoshikawa Line (going to Nishi Kawahara 2-chome 西河原2丁目 or Ayame-hama あやめ浜) and get off at Hyozu Taisha 兵主大社. Buses are infrequent (schedule here). The last bus leaving Hyozu Taisha for Yasu Station leaves at 9:02 pm on weekdays and 7:17 pm on Sat./Sun. Or take a taxi (costing about 2,000 yen from Yasu Station). Google Map
兵主大社庭園紅葉ライトアップ
November 15-December 1, 2013
♦ Genkyuen Garden Autumn Foliage Light-up, Hikone, 6:00 pm – 9:00 pm (enter by 8:30 pm)
Adjacent to Hikone Castle, Genkyuen was built as a castle garden in 1677 by Ii Naooki, the fourth lord of Hikone Castle. I would call this Shiga's best place to view autumn foliage illumination. The pond's reflection of the colorful autumn leaves at night doubles the impact. Hikone Castle in the background is also lit up for a perfect night scene. Reminds me of a master painter using a black canvas. Admission 500 yen. Short walk from JR Hikone Station. Google Map
錦秋の玄宮園ライトアップ
http://www.hikoneshi.com/jp/event/articles/c/
November 16-December 1, 2013
♦ Konan Sanzan Temple Trio Tour, Konan, all day
Not to be confused with Koto Sanzan, Konan Sanzan is a trio of Tendai Buddhist temples in the city of Konan. A small city like Konan is lucky to have as many as four National-Treasure structures at the three Konan Sanzan temples. Like Koto Sanzan, Konan Sanzan temples are also noted for autumn leaves. During this period, a convenient shuttle bus plies between the temples and train stations.
The temples are Jorakuji 常楽寺, Chojuji 長寿寺, and Zensuiji 善水時. Jorakuji has not one, but two buildings that are National Treasures: the Hondo main hall and three-story pagoda. Chojuji means, "Long Life Temple," and its small, but distinctive Hondo hall is a National Treasure. Zensuiji has the largest and most impressive Hondo hall (National Treasure) bearing elegant roof lines. Not to be missed by architectural buffs. The three temples are all in quiet, rural neighborhoods.
One thing you have to understand is that two of the temples (Jorakuji and Chojuji) are on one side of the train tracks and the third temple (Zensuiji) is farther away on the other side of the tracks. So there are two separate bus routes going to the three temples and there's a train ride between Jorakuji/Chojuji and Zensuiji.
The Konan Community bus called Meguri-kun runs from JR Ishibe Station (JR Kusatsu Line) to Jorakuji and Chojuji once an hour from 8:24 am to 3:45 pm. From Jorakuji, you can take the bus to Chojuji. From Chojuji, take the bus back to JR Ishibe Station and catch the train to JR Kosei Station one stop away. From JR Kosei Station, take the bus to Zensuiji. The last bus leaves Zensuiji at 5:17 pm for JR Kosei Station. You can also tour the temples in reverse order, starting with Zensuiji. In the morning, buses leave JR Kosei Station (north exit kita-guchi) for Zensuiji at 8:28 am, 9:20 am, 9:30 am, 10:15 am, and 11:25 am. Bus schedule here. Google Map
湖南三山めぐり
http://www.burari-konan.jp/konan3zan/
November 16-December 8, 2013
♦ Kyorinbo Garden Autumn Foliage Light-up, Azuchi, Omi-Hachiman, 5:00 pm – 9:00 pm
Beautiful Japanese garden designed by Kobori Enshu. Part of a temple at the foot of Mt. Kinugasa. Autumn foliage at night is reputed to be most beautiful. Of course, you can also go during the day. Tripods/monopods not allowed. The garden is usually open only on weekends and holidays, but it will be open every day during Nov. 1 to Dec. 15. Admission 500 yen. From JR Azuchi Station, take a taxi for 10-min. ride. Google Map
石の寺 教林坊 紅葉ライトアップ
http://www.d1.dion.ne.jp/~marche/kyourinbou/
December 1, 2013
♦ Tonda Ningyo Bunraku Puppet Show, Lute Plaza, Nagahama, 1:30 pm
The famous Tonda Ningyo Bunraku puppet troupe will perform three acts. Admission 1,200 yen at the door.
At JR Nagahama Station, go to Bus stop 1 and take the bus at 12:27 pm going to Nagahama Shiyakusho Azai-shisho-mae (長浜市役所浅井支所前) and get off at Biwa Shisho-mae (びわ支所前). Takes about 20 min. Only three buses go there on Sunday. Or take a taxi if you're rich or going with friends. Google Map
人形浄瑠璃「冨田人形」
http://kitabiwako.jp/event/event_7133/?month=2013/12&area=nagahama
December 1, 2013
♦ Tarobogu Shrine Fire Festival, Higashi-Omi, Noon – 4:00 pm
Held annually on the first Sunday of December, the Tarobo Shrine Fire Festival burns a big pile of 100,000 wooden prayer tablets called goma (護摩) collected from believers all over Japan. The tablet is written with the believer's name, address, and prayer wish. The fire burns as a prayer for family health and safety. After the fire settles down, barefoot priests walk over the hot ashes. Very dramatic festival (photo here).
Short walk from Ohmi Railways Tarobogu-mae Station. Google Map
太郎坊宮お火焚大祭
http://www1.ocn.ne.jp/~tarobo/