Miki Ito wins World Cup dual moguls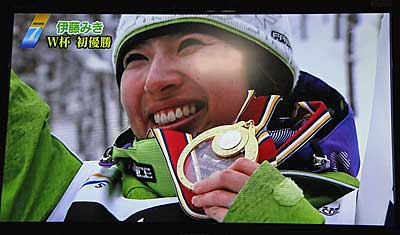 Congratulations to Miki Ito who won the World Cup dual moguls event today (Feb. 24, 2013) in Inawashiro, Fukushima. She is from Hino, Shiga Prefecture. It is her first freestyle moguls World Cup victory.
Dual moguls has two skiers compete against each other on each run. Ito, along with Aiko Uemura and Junko Hoshino, advanced to the final round of 16 competitors. For her final run, she beat an American to win the World Cup. She is gunning to appear in the Winter Olympics.
http://www.washingtonpost.com/sports/bradley-wilson-of-the-us-japans-miki-ito-win-world-cup-mogul-events-in-japan/2013/02/24/5a436cfe-7e58-11e2-9073-e9dda4ac6a66_story.html