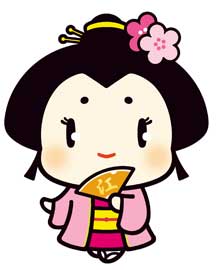 The tourist industry in Shiga is abuzz and excited over NHK TV's Taiga Drama for 2011 called Go-Himetachi no Sengoku (Go–Princesses of Feudal Japan 江〜姫たちの戦国〜) starting on Jan. 9, 2011 at 8 pm on NHK Sogo channel.
The NHK Taiga Drama is one of Japan's most famous TV series, going back 50 years. Each year, a different historical theme is depicted in year-long, weekly episodes of 45 min. Most of the years have featured feudal-era Japan with well-known samurai appearing. But in 1984, Sanga no Moyu was about the Japanese-American internment in the US during World War II.
"Go" is the 50th NHK Taiga Drama. Shiga is abuzz over this because much of the historical background of "Go" takes place in Shiga. The main character, Go, was born in Shiga (Odani Castle in present-day Nagahama). The NHK Taiga Drama often brings national attention and free publicity to the areas where the story takes place. Thus, Shiga will be front and center during the whole year in 2011 in TV land. That is if you watch TV and are interested in history.
When the Taiga drama is really popular, it brings hordes of tourists to the places related to the drama and historical characters. More tourists means more money coming into the local economy. Thus the excitement in Shiga. It can also raise Shiga's national profile which is quite low.
Shiga has been at work for well over a year to maximize and monetize this grand opportunity. For one thing, they will hold the Go and Azai Sister Trio Expo (江・浅井三姉妹博覧会) in Nagahama from Jan. 15 to Dec. 4, 2011. They will have three small pavilions in different locations in Nagahama. Details here.
Mascot characters for the three Azai sisters have also been created. The problem is, there are multiple versions and they all look different. It's confusing and hard to tell who is who. There are also multiple Web sites about the TV series and Go. It seems a lotta people wanna a piece of the action, and the resulting PR efforts are fragmented as a result.
But with little doubt, this Taiga Drama is almost certain to boost Shiga's national recognition. There is already much interest because "Go" centers on a woman instead of a man (like Sakamoto Ryoma in 2010). And one who went through many ordeals in life. The last Taiga Drama centering on a woman was Atsuhime in 2007 which was massively popular. With Go, NHK hopes to repeat the success of Atsuhime even by using the same writer (Tabuchi Kumiko) who wrote Atsuhime.
And if you go to a bookstore now, you can find a number of TV magazines and history mags featuring Go. NHK also has a special mook (magazine book) for Go.
I'll be writing more about Go and the TV series here.
Related Web sites:
http://www.nhk.or.jp/go/
http://www.go-shiga.jp/
http://www.azai-go.jp/
http://www.nhk.or.jp/otsu/go/
http://search.japantimes.co.jp/cgi-bin/ff20101231r1.html
The NHK Taiga Drama Go–Himetachi no Sengoku is broadcast in Japan on NHK General (Sogo) TV every Sunday night from 8 pm to 8:45 pm and rebroadcast on Sat. at 1:05 pm. The first episode will air on Jan. 9, 2011 from 8 pm to 9:15 pm.