In concert with NHK TV's year-long Taiga Drama called Go–Himetachi no Sengoku (Go–Noble Ladies of Feudal Japan), Nagahama is holding a year-long mini expo called Go and Azai Sister Trio Expo (Go–Azai Sanshimai Hakurankai 江・浅井三姉妹博覧会) from Jan. 15 to Dec. 4, 2011. The expo spotlights the three Azai sisters (Chacha, Ohatsu, and Go).
The expo has three pavilions (see below) in three different locations: central Nagahama, Odani, and Azai. The three pavilions are linked with a shuttle bus that runs every 40 min. (weekdays) or 30 min. (weekends) starting from Nagahama Station's west exit at 10 am on weekdays and 9:30 am on weekends and national holidays. (No bus service from noon to 1 pm or 1:30 pm.) The bus also stops at attractions between pavilions such as the Kunitomo Gun Museum. Each bus also has a bus guide. Bus schedule here.
The pavilions are open from 9 am to 5 pm. For adults (high school and older), admission is 750 yen for all three pavilions or 1,000 yen if you also want to use the shuttle bus between the three pavilions.
You can also pay admission separately for each pavilion if you will not visit all three. For junior high and younger kids, admission is about half price. Tickets are sold at each pavilion and at the tourist information counter in Nagahama Station. Unfortunately, none of the pavilions have English information.
Nagahama Kurokabe Rekishi Drama 50-saku-kan (長浜黒壁・歴史ドラマ50作館)
You may want to visit this pavilion last since it is the smallest and least important. You can easily drop by on your way home if you plan to go back to Nagahama Station. The pavilion is actually a small exhibition room in a shopping complex in central Nagahama (across from the Hikiyama Museum). Using panel displays and a small theater, the pavilion introduces the 50 NHK Taiga Drama TV series broadcast from 1963 to 2011. Incidentally, the very first NHK Taiga Drama, called Hana no Shogai, was about Hikone Lord Ii Naosuke. This pavilion opened earlier on Dec. 25, 2010. Admission 300 yen for adults. Shuttle bus service is provided from Nagahama Station's West exit and to go to the next pavilion near Odani Castle, taking about 30 min.
Pavilion address/map: 滋賀県長浜市元浜町13-31 パウビル2階
Odani–Go no Furusato-kan (小谷・江のふるさと館)
Being near Odani Castle where the three Azai sisters were born, this pavilion focuses on the history of the Azai clan, the attack and fall of Odani Castle, and a small video theater showing a good video of the castle. There is also an impressive scale model of Mt. Odani with Odani Castle on it. There is bus service (500 yen) from this pavilion to Odani Castle during the warmer months when the road is not snowed in. The 5-min. ride takes you well up the mountain from where you can explore the castle remains (mainly stone walls). A guide will be on hand to show you around the castle remains (probably no English). Pavilion admission 300 yen for adults. Shuttle bus service is provided to go to the next pavilion in Azai, taking about 10 min. If you have time, you should also visit the Odani Castle Sengoku Historical Museum (小谷城戦国歴史資料館) a short walk away. Admission 300 yen (not included in the expo ticket price).
Pavilion address/map: 滋賀県長浜市湖北町伊部757-1
Azai–Go no Drama-kan (浅井・江のドラマ館)
In the area named after the Azai clan, this is the main pavilion and the most impressive of the three. It displays kimono worn by the actresses (Ueno Juri, Miyazawa Rie) and samurai armor worn by the actors playing Oda Nobunaga and Azai Nagamasa. There's also a small video theater showing the making of a scene where the three sisters and Nagamasa and Oichi are filmed on Mt. Odani. Admission 500 yen for adults. Shuttle bus service is provided to go back to the pavilion in central Nagahama, taking about 20 min. There is also a large gift shop next to the pavilion, selling Azai sisters-related goods, guide books, and local produce. Do your gift shopping here.
Pavilion address/map: 滋賀県長浜市内保町2843
Official Web site (no English): http://www.azai-go.jp/
Also, during July 23 to Aug. 31, 2011, the Nagahama Castle History Museum will hold an exhibition on Go, displaying about 130 items related to Go. Her possessions, writings, etc.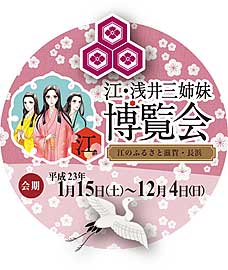 The NHK Taiga Drama Go–Himetachi no Sengoku is broadcast in Japan on NHK General (Sogo) TV every Sunday night from 8 pm to 8:45 pm and rebroadcast on Sat. at 1:05 pm. The first episode will air on Jan. 9, 2011 from 8 pm to 9:15 pm.