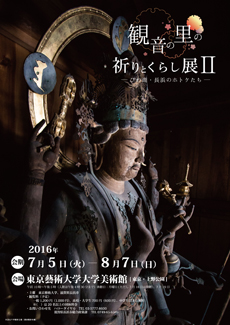 Another rare and magnificent exhibition of Kannon statues from Nagahama is being held in Tokyo at The University Art Museum (東京藝術大学美術館), Tokyo University of the Arts (Geidai) from July 5 to Aug. 7, 2016 near Ueno Station. Kannon is also known as the Goddess of Mercy.
The exhibition is titled, Life and Prayer, Kannon Sculptures from Nagahama II (観音の里の祈りとくらし展 II-びわ湖・長浜のホトケたち). Organized by the Tokyo University of the Arts and the city of Nagahama, it is the followup to the first Nagahama Kannon exhibition held in 2014 at the same venue. This second Kannon exhibition has been greatly expanded with over 40 Kannon and Buddha statues from Nagahama, over twice the number shown in 2014.
I've never seen so many precious Kannon and Buddha statues in one place, except maybe at the Museum of Fine Arts in Boston, USA. There are two rooms filled with really old Kannon and Buddha statues dating from centuries ago or even 1,000+ years ago. There is a great variety with large and small, seated and standing statues. It also includes Buddha statues, so it is not entirely a Kannon exhibition. An amazing collection. Many people from Shiga, especially Nagahama, are traveling to Tokyo to see this exhibition. Too bad you can't see a similar exhibition in Shiga itself.
After you pay the ¥1,200 admission, they give you a nice plastic file folder with a Kannon statue design. It contains Nagahama tourist pamphlets in Japanese (no English).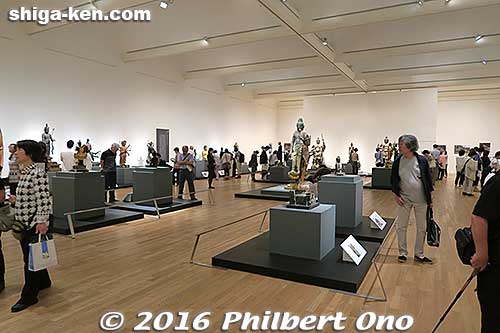 Step into the exhibition room and you see long rows of Kannons and Buddhas along the walls with a few in the middle of the room. It feels like you're joining a grand Nagahama Kannon Summit. I can imagine them talking (or chanting?) to each other after we humans leave. They must be congratulating each other on their longevity and good physical condition. If we could only hear all the wishes and prayers they have heard from worshippers over the centuries.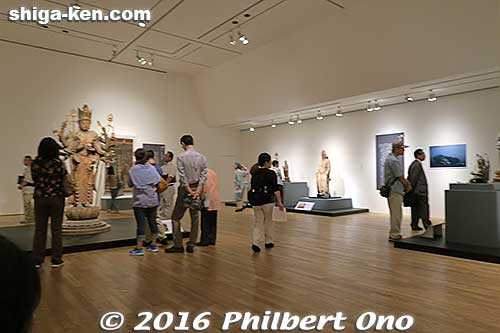 Seeing so many peaceful-looking Kannons and Buddhas with half-closed eyes and serene faces is really pacifying and relaxing. You don't need to be Buddhist nor a Buddhist art expert to appreciate these masterpieces either. Even a non-expert can notice the fineness and subtleties of the facial expressions, form, and shape. Look closely, and you can see how the similar-looking faces actually look different. A face may even be grinning at you. There are also fierce-looking ones and unusual ones with "a thousand arms/legs" or a horse's head on the head. I can't imagine how many days it would take to see all these statues in their original temples in Nagahama. So it's a bargain to see this exhibition, although I do hope to see some of them in their original habitat someday.
My favorites at the exhibition (page numbers refer to the exhibition catalog and links show the sculpture's official photo):
Den-Senju Kannon (伝千手観音立像) from Kuroda Kannon-ji temple in Kinomoto. Important Cultural Property of Japan, dating back to the Heian Period (794–1185). This masterpiece is definitely the exhibition's centerpiece. A larger-than-life, 11-headed, 1000-armed Kannon that dominates the second exhibition room. All those arms (actually only 18 instead of 1,000) have a hand holding something interesting, even a small snake. The crown on the head has eleven little kannon heads. The face is very serene, mustache and all. The back view is also impressive. Spent a good 10-15 min. staring at this piece. (p.74)
Senju-Senzoku Kannon (千手千足観音立像) from Shomyoji temple (正妙寺) in Takatsuki. Small standing statue only 42 cm high with a whopping 1,000 hands AND 1,000 legs, PLUS 9 Kannon heads on the crown! Somebody ordered this statue with everything on it. Golden statue from the Edo Period. Very rare to have both "1,000" arms and legs. Imagine what you could do with all those arms and legs. (p.56)
Eleven-headed Sitting Kannon (十一面観音坐像) from Okamoto Shrine in Odani. Serene-looking Kannon with four pairs of arms/hands from the Heian Period. What struck me was the beautiful wood grain pattern radiating from the tip of the nose like tree rings across the rest of the face. Very aesthetic. (p.51)
Horse Head (Bato) Kannon (馬頭観音立像) from Tokuenji temple (徳圓寺) in Nishi-Azai. This standing, black statue with three scowling faces, four pairs of arms/hands, and a horse's head on top was most bizarre-looking, but somehow impressive. The Kannon's hairdo streaks upward like a madman. Farmers pray to Horse Head Kannon to protect their farm animals and appease the spirits of dead ones. (p.115)
Tamonten (多聞天立像) from Shakudoji temple (石道寺) in Kinomoto. Tamonten is also known as Bishamonten, one of the Four Heavenly Kings. It's a large, fierce-looking statue with big glass eyes and its mouth open to breath in. It looks so realistic that when I looked at his face, I could've sworn that his chest also expanded. He looks alive. I guess my eyes are trained to see an expanding chest whenever I see a face breathing in through the mouth. A brilliant optical illusion perhaps. Important Cultural Property of Japan. (p.92)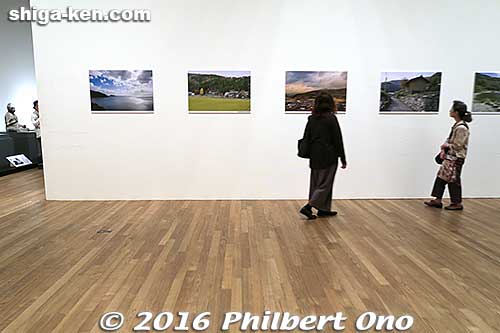 There are many more great pieces. I can highly recommend seeing this show. Each statue has a Japanese description showing the name of the statue, the name of the temple it belongs to, the date, and other basic info. There is no English. Having such a high-profile exhibition makes me worry about temple burglaries in Shiga where there are so many temples and treasures. I hope they have adequate security at these temples.
Shiga has Japan's highest number of Kannon statues designated as Important Cultural Properties (including a National Treasure). There are over 130 Kannon statues in Nagahama. It is not known for certain why northern Nagahama has so many beautiful Kannon statues. One theory says that it may be largely due to Mt. Kodakami-yama (己高山, 923 m) in Kinomoto that could be seen far and wide and became an object of worship (山岳信仰). Kodakami-yama's main temple was a Kannon temple. Written records show that there were many temples dedicated to Kodakami-yama, and Kannon statues were made for them.
The museum also sells a small exhibition catalog/book for ¥1,500. The catalog for the previous exhibition is also available. The museum gift shop also sells a bunch of books about Nagahama Kannon statues published by local publishers in Shiga. Nothing in English though (except this article).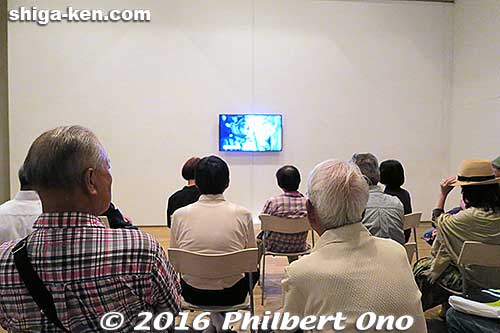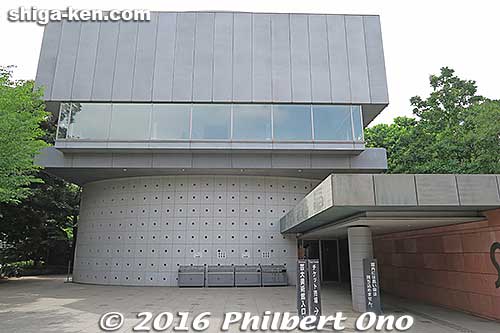 Exhibition: Life and Prayer, Kannon Sculptures from Nagahama II (観音の里の祈りとくらし展 II-びわ湖・長浜のホトケたち)
When: July 5 to Aug. 7, 2016
Hours: 10 am–5 pm (till 8 pm on Fri.)
Closed: Mondays (open on July 18, and closed July 19)
Where: The University Art Museum (東京藝術大学美術館), Tokyo University of the Arts (Geidai). The museum is a 10-min. walk from Ueno Station. Just walk through Ueno Park (map below). Tokyo University of the Arts (nicknamed Geidai) is one of Japan's most venerated art universities.
Nearest station: JR Ueno Station (Koen Exit)
Admission: ¥1,200 for adults, ¥600 for high school and college students, and free for younger kids.
Phone: 03-5777-8600 (in Japanese only)
Website (in Japanese only): http://www.geidai.ac.jp/museum/exhibit/2016/nagahama2/nagahama2_ja.htm
Map link: https://goo.gl/maps/eua8Qo4572r