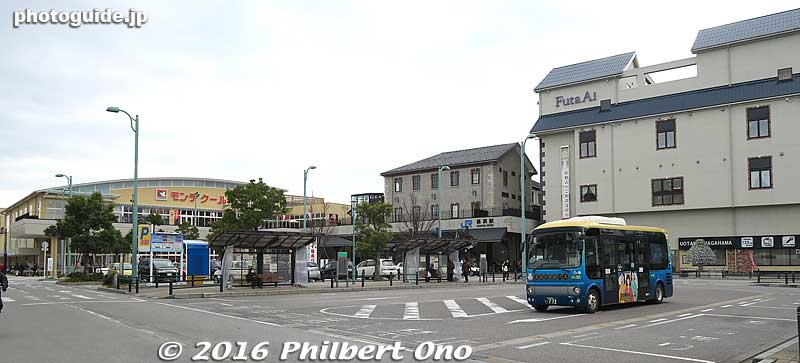 Ever since the new Nagahama Station building was completed in Oct. 2006, the station and immediate area have undergone a remarkable redevelopment that is still ongoing. This dramatic transformation must be Shiga's biggest urban construction project since the redevelopment of the Hama-Otsu area in the 1980s-90s.
As I now see the old Nagahama Heiwado store (built in 1969) being torn down to make way for a new multi-purpose complex, I can't help but to have mixed feelings. Although I look forward to what will be constructed in its place, I mourn the loss of yet another childhood icon. When I visited Shiga as a kid during summer vacation, I distinctly remember that old Heiwado store in Nagahama, especially the arcade game center on the top floor where I spent an afternoon entertaining myself while waiting for relatives shopping. My uncle gave me a handful of coins and I spent it all on just about every game there was. That was fun. (Arcade games in Japan were more fun than what we had in Hawaii.) That top floor underwent many changes after that, finally ending up with Print Club machines, a few restaurants which were always empty, and a 100-yen shop. All that is now gone too.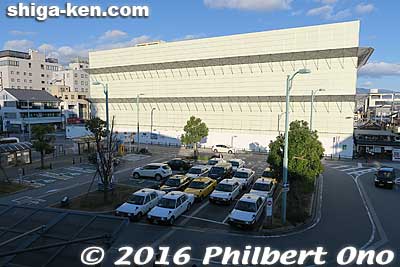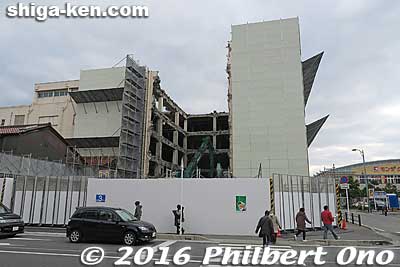 When the current Nagahama Station building was completed in 2006, it was marvelous. Modeled after the first Nagahama Station building dating from 1882, the station building was the best-looking one in Shiga in my opinion. A large stained glass mural of the Hikiyama Festival kabuki boys greets you as you go down the elevator to the street level. Very nice touch.
However, a large wedding hall was constructed a few years ago on the site of the old station building right next to the new station building. Although the wedding hall has a similar design as the station building, its large size totally overshadows the new station. It spoils the visual impact of the small station building.
Then on February 10, 2015, on the southern end of the east side of the station, the new Heiwado store named "Mondecool Nagahama" (モンデクール長浜) opened to replace the old Heiwado which closed on Feb. 7, 2015. It's pretty big, but only two stories high so it does not overwhelm the little station building. It looks more like an old aircraft hangar. It occupies what was once a parking lot, but no loss of parking spaces because Mondecool includes a parking structure in the back. Mondecool's first floor is dominated by the Friend Mart supermarket, and the upper floor has a shop selling local gifts and other minor shops and eateries. The upper floor is also conveniently connected to Nagahama Station. Mondecool is a welcome addition to central Nagahama since we can all use it (unlike the wedding hall).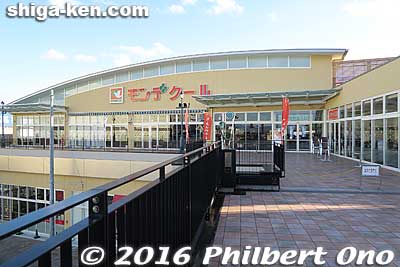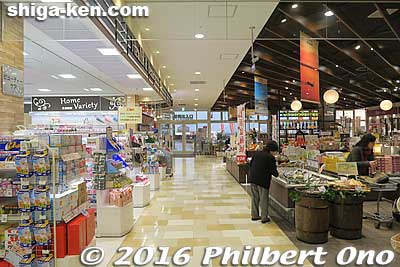 The name "Mondecool" has clever (or should I say "cool") meanings. "Mon" means "gate" or "gateway" in reference to Nagahama Station being a gateway to northern Shiga (Kohoku). This gateway is to be full of vitality, hustle and bustle, and "cool" (as in "Cool Japan"). "Mondecool" also refers to a common local expression, "mondekuru" which means "I'll return home" or "I'll return to my hometown." Looks like we can no longer say, "Let's meet on the Heiwado side of Nagahama Station." It's now "Mondecool."
Mondecool is not the department store that the old Heiwado was. They got smart and focused on money-making businesses, mainly food. The bedding, clothing, and other department store stuff are gone. They have been relegated to another Heiwado (AL Plaza) along the major highway (Route 8) about 1.5 km away.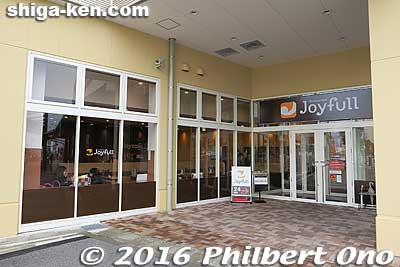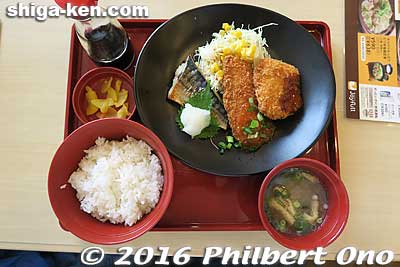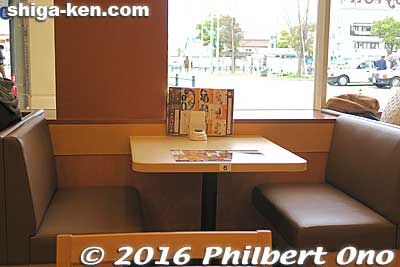 For me, the nice surprise about Mondecool was the pleasant restaurant named "Joyfull" (yes, spelled with two l's) on the first floor. It's right next to Nagahama Station. I had lunch there in early Jan. 2016 and it was very good. The restaurant is new so the interior is nice. The staff was courteous, the menu and food were good, and the prices were surprisingly cheap. Cheaper than a family restaurant, and a great McDonald's alternative for school kids. It was nice to see a good number of customers there, young and old. Usually, restaurants right in front of the train station are kind of expensive. Great place to hang out or to wait for a friend, train, or bus. Great for a quick bite when I don't have time for Noppei udon noodles. Open 24 hours too. They should open a branch at Otsu Station.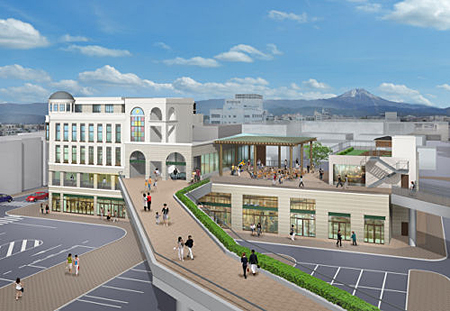 After the old Heiwado is torn down, they will build a low-rise complex of about 20 shops and restaurants and an event space. One structure will have two stories, and another will have five stories. They are wisely keeping it down to two stories to avoid obstructing views of Mt. Ibuki. The complex will also have a storehouse to store the Kasugayama float used in the Hikiyama Matsuri. The float will be moved from its current storehouse. I hope the storehouse will have windows for us to see the float. The second floor will have an outdoor terrace and an elevated walkway connected to Mondecool as you can see above. The name of the new complex is yet to be announced, but it is slated to open in April 2017.
After that, the northern end of the station on the east side (site of the old Nagahama Post Office) will also see redevelopment yet to be announced. Tentative plans indicate that it might be a hotel.
Kids in Nagahama and local babies to be born soon will have a spanking new Nagahama Station area to grow up with. I hope it will become one of their childhood icons full of sweet memories.