Video link: http://youtu.be/U6vSoyvD2Sw
Compiled by Philbert Ono, Updated on July 11, 2014
Here are some of the many events and festivals in Shiga in summer 2014, from July to early September. (Web sites are in Japanese). Also see the 2014 fireworks schedule here.
Jan. 19 – Dec. 28, 2014, 9 am-5 pm – Kuroda Kanbe'e Expo 黒田官兵衛博覧会
Yet another "expo" (an overkill name) based on another year-long NHK Taiga Drama. This is the third such expo held in Nagahama in recent years. The drama this time is Gunshi Kanbei airing on NHK-G on Sunday evenings until Dec. 2014. The subject is Kuroda Kanbe'e (also called Kanbei and Yoshitaka), a samurai daimyo and brilliant military strategist for warlord Toyotomi Hideyoshi during the 16th century. Although he was from Himeji, the Kuroda clan supposedly came from Omi (Shiga). This thin connection prompted Nagahama to hold year-long, small-scale exhibitions in Kinomoto and central Nagahama.
The main exhibition is in Kinomoto. It's in a western-style, former bank building called Sengoku Taiga Kinomoto-kan (戦国大河きのもと館). A short walk from JR Kinomoto Station. The building, nicknamed Drama-kan, has exhibits introducing the characters in the Taiga Drama. No English captions. The display layout is very similar to the last expo held there in 2012. Admission is 300 yen for adults, free for kids. Open every day. Map
Also, a 10-min. walk from Kinomoto Station is the Kuroda Clan gravesite (黒田家御廟所) for six generations of the Kuroda Clan who lived in this area for 200 years. Nearby is a resthouse. Free admission. Map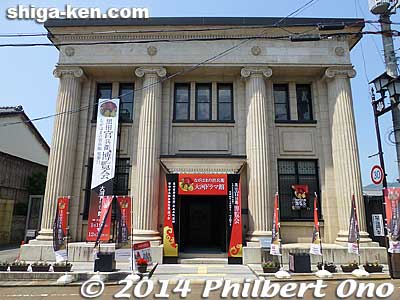 The second exhibition venue is Nagahama Castle near JR Nagahama Station. Called Rekishi-kan, it mainly explains the historical background, slanted toward Toyotomi Hideyoshi. Admission is 400 yen, and 200 yen for elementary and jr. high kids (free for infants). Open every day. Map
If you plan to visit the venues in both Kinomoto and Nagahama, it is cheaper to buy the "set ticket" costing 500 yen. Expo tickets are sold at all the venues. The "set ticket" includes a bus tour called the Oku-Biwako Omotenashi Bus leaving Kinomoto Station and Takatsuki Station on weekends. It tours northern Nagahama to the Drama-kan in Kinomoto, the Kuroda Clan gravesite, and a few Kannon temples and museum in Takatsuki. Bus departure times are on the pamphlet here (in Japanese).
A minor venue is the Nagahama Hikiyama Museum. It just has a few panel displays about Kuroda and the Taiga Drama. It's in the lobby area and free. Pay the admission if you want to see the Hikiyama Matsuri floats. Map
http://kitabiwako.jp/kanbee/
July 4 – Aug. 31, 2014, 9 am-5 pm – Biwako Hakodate-yama Lily Garden, Imazu, Takashima びわこ箱館山ゆり園
Lilies galore high up on Mt. Hakodate with views of Lake Biwa in Imazu, Takashima. From JR Omi-Imazu Station (Kosei Line), take a bus to the Hakodate-yama gondola station (15 min.). In winter, the place is a ski ground. The 1,850 yen fare includes the gondola (round trip) fare and admission to the lily garden. Kids fare 930 yen. Map
http://www.yuri-hakodateyama.com
July 19, 2014 (Sat.), 5 pm – 8:30 pm, Nagahama Yukata Matsuri, Nagahama 長浜ゆかたまつり
People wearing yukata (light cotton kimono) will adorn the streets in central Nagahama's shopping arcade. There will be a evening market, choir concerts, and yukata contest at the Nagahama Hikiyama Museum. Map
http://kitabiwako.jp/event/event_4869/
July 20, 2014 (Sun.), 10 am-4 pm – 40th Anniversary Event for JR Kosei Line, Omi-Imazu Station, Takashima JR湖西線開通40周年記念イベント
The JR Kosei Line started operating 40 years ago on July 20, 1974. To celebrate, a major event will be held around and near JR Omi-Imazu Station. There will be vendors selling local products and lots of entertainment for kids like mini steam locomotive rides. At the nearby Takashima Shimin Kaikan hall (高島市民会館), they will be an opening ceremony at 1:30 pm followed by a free concert by the Ground Self-Defense Force band. The main highlight will be the arrival of a DD51 diesel locomotive at 11:50 pm and departing at 1:05 pm. It will arrive again at 3:07 pm from Tsuruga and leave at 3:42 pm for Kyoto. Tickets are already sold out.
http://www.takashima-kanko.jp/event/pickup/201407/1632.html
http://www.takashima-kanko.jp/event/pickup/uploads/jr0720.pdf
July 20, 2014 (Sun.), 8 am-5 pm – Higashi-Omi Dragon Canoe Race 東近江市ドラゴンカヌー大会
Held at Higashi-Omi's Notogawa Waterwheel and Canoe Land waterfront park (能登川水車とカヌーランド), over 80 dragon boat teams (including women teams) will race on a 300-meter course. If it's rained out, it will be postponed to July 27. Be sure to also check out the giant waterwheel, symbol of Notogawa. Map
http://www.city.higashiomi.shiga.jp/0000004099.html
July 25-27, 2014, evening – Tamura Shrine Mantosai Lantern Festival, Koka 田村神社万灯祭
Some 9,000 donated lanterns will festoon this shrine in Tsuchiyama. On the 26th are festival ceremonies and stage entertainment from 5 pm. From Ohmi Railways Kibukawa Station north exit, take the Aikuru bus and get off at Tamura Shrine (about 40-min. ride). Map
http://www.koka-kanko.org/res/?evid=241
July 26, 2014 (Sat.), 7 pm-8:20 pm – Yokaichi Shotoku Matsuri, Higashi-Omi 八日市聖徳まつり
Goshu Ondo folk/bon dance festival on Ekimae-dori road perpendicular to Omi Railways Yokaichi Station. Hundreds of people will dance the Goshu Ondo (江州音頭) which is a bon dance and folk song native to Shiga. First there will be a show of local mascot characters like Gao at 7 pm, then a yokai goblin parade. The Goshu Ondo folk dancers will dance from 7:40 pm to 8:20 pm. Photos | Video | Map
http://www.odakocci.jp/pickup/matsuri.html
July 26, 2014 (Sat.), 3 pm – Shigaraki Fire Festival, Koka しがらき火まつり
Impressive procession of 700 torches following a 2.2 km route from the Shigaraki Chiiki Shimin Center (甲賀市信楽地域市民センター) to the Atago area starting at 7:45 pm. The procession is 50 min. long. Followed by fireworks until 10 pm. Map
http://www.shigaraki.or.jp/fire_fes/index.htm
July 26, 2014 (Sat. 3:30 pm – 9 pm), Hikone Yukata Matsuri, Hikone 彦根ゆかたまつり
People wearing yukata (light cotton kimono) will adorn the street along Yume-Kyobashi Castle Road. There will be street performers, brass band (5 pm), children's choir (6:30 pm), mascot characters (7:15 pm), and more. Map
http://www.hikoneshi.com/media/download/2014_yukatamatsuri.pdf
July 26-27, 2014 (Sat. from 8 am, Sun. from 6 am), Japan International Birdman Rally, Hikone 鳥人間コンテスト
Held annually since 1977, contestants from all over Japan compete to see who can fly the furthest over Lake Biwa in their handmade and human-powered flying contraptions. On Sat., they will hold time trials for propeller planes and the glider contest. On Sun., human-powered propeller planes will compete for distance. The event is held on Matsubara Beach in Hikone, right near the Japan Center for Michigan Universities. Note that the event schedule/holding is subject to weather conditions. If it's too windy (typhoon), it can be canceled or postponed. Sponsored by Yomiuri TV who will broadcast the contest on a later date. Map
http://www.ytv.co.jp/birdman/index.html
July 26-27, 2014, Mizunomori Lotus Festival, Karasuma Peninsula, Kusatsu みずの森 ハス祭り
Karasuma Peninsula includes Lake Biwa Museum and a huge lotus field that blooms from mid-July to early Aug. The weekend festival from 7 am to 5 pm is scheduled to have lotus ikebana demonstration (10 am) and mascot character Tabimaru (9:40 am). Buses run from JR Kusatsu Station. Photos | Map
http://www.seibu-la.co.jp/mizunomori/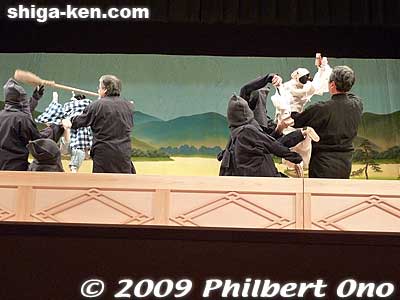 July 27, 2014, 1 pm, Tonda Bunraku Puppet Summer Performance, Nagahama 人形浄瑠璃「冨田人形」夏公演
The renown Tonda bunraku puppet troupe will hold its summer performance at Nagahama Bunka Geijutsu Kaikan (長浜文化芸術会館) near Nagahama Castle (12-min. walk from Nagahama Station). The Tonda puppet troupe receives trainees from overseas on a regular basis. They will perform four plays lasting about 2 hours. Each puppet weighing about 4 kg is manipulated by three people. Two of them are usually dressed as kurogo with their faces covered.
Doors open at 12:30 pm and the show starts at 1 pm. Advance tickets are 1,000 yen (1,200 yen at the door on July 27). Free admission for high school and younger kids. You can buy advance tickets by calling Nagahama Bunka Geijutsu Kaikan (0749-63-7400) and reserving a ticket. (Say "tori-oki" which means you will pay for and pick up the ticket at the door on July 27). Seats are all non-reserved. You can also buy a season ticket for both the summer and autumn performances for ¥1,500. Tickets are also available at Nagahama Bunka Geijutsu Kaikan, Lute Plaza, Nagahama Hikiyama Museum, and Heiwado Kinomoto Branch. (長浜文化芸術会館、長浜市民体育館、長浜サンパレス、浅井B&G海洋センター、リュートプラザ、曳山博物館、湖北文化ホール、平和堂木之本店) Map
http://www.biwa.ne.jp/~bunspo/pdf/2014/tonda.pdf
http://www.biwa.ne.jp/~bunspo/bunka_2014news.html#tonnda
Aug. 1, 2014 (Fri.), 4 pm – 9 pm – Biwako Otsu Natsu Matsuri (Summer Festival), Otsu 琵琶湖大津夏まつり
Held between Hama-Otsu Station and Otsu Port, this is a large event with a lot of local vendors, evening stage entertainment, and climaxing with the Goshu Ondo bon dance (6:30 pm – 8 pm) and fireworks (8:50 pm – 9 pm). Map
http://www.otsu.or.jp/topics/2014_natsumatsuri.pdf
Aug. 3-5, 2014 (Sun.-Tue.), 7 pm – 9:30 pm – Taga Taisha Mantosai Lantern Festival, Taga 多賀大社万燈祭
Held at Taga Taisha Shrine in Taga, the Mantosai or 10,000-Lantern Festival is a beautiful night festival when over 10,000 paper lanterns are lit within the shrine grounds from 7 pm to 9:30 pm. The donated lanterns are for the repose of ancestral spirits. Sarugaku dance by the Taga-za troupe will be performed on the evening of Aug. 5. Other entertainment is also held each day of the weekend festival. Photos | Map
http://www.tagataisya.or.jp/info/mantou/index.html
Note: Shiga B-kyu Gourmet Battle in Otsu will not be held this year in summer 2014.
Aug. 3, 2014 (Sun.), 10 am-6 pm – Kannon Furusato Matsuri Festival, Takatsuki, Nagahama 観音の里ふるさとまつり
On this day, you can go on a free or 1,500 yen bus tour to see various Kannon statues at temples in Takatsuki, including the National Treasure 11-face Kannon statue at Doganji temple. You can see statues which normally require an appointment for viewing. If you like sculpture or Buddhist art, don't miss seeing the National Treasure. The tour starts at Doganji temple, a 5-min. walk from JR Takatsuki Station. Map
http://kitabiwako.jp/event/event_9408/
Aug. 8, 2014 (Fri.), 5:30 pm-9:00 pm – Hikone Tanabata and Music and Dance Contest (Hikone-bayashi So-Odori Taikai) 彦根七夕・ばやし総おどり大会
Lively festival music and dance parade along Hikone's main shopping streets centering in Ginza. The street will also be festooned with Tanabata streamers (during Aug. 4-8). Map
http://www.hikoneshi.com/media/download/2014_summer.pdf
Aug. 14-15, 2014 – Hifuri Torch Festival, Hino 火ふり祭
Held for two evenings during the obon season. Participants light their torches at Gosha Shrine and tap the torches on the road as they proceed to Hibarino park where the torches are thrown up to a large pine tree. The more torches get stuck on the tree, the better the next harvest will be. Near Hino Station (Ohmi Railways). Photos | Map
http://www.biwa.ne.jp/~hino-to/005.html
Aug. 16, 2014 (Sat.), 5:45 pm (boats depart), 7:50 pm-8:55 pm (fireworks) – Takebe Taisha Senko-sai Festival, Seta River, Otsu 船幸祭・瀬田川花火大会
One of Otsu's Big Three Festivals, the Senko-sai is a portable shrine procession on boats going down Setagawa River from Seta-no-Karahashi Bridge to Nango sluice and back. Held annually by Takebe Taisha Shrine (worships legendary warrior Yamato Takeru) near the bridge. The festival starts at 4:50 pm when the portable shrines leave the shrine, and climaxes with fireworks on Seta River after the boats return at about 8:00 pm. The festival attracts few spectators (unlike the Tenjin Matsuri in Osaka), but large crowds start to gather in the evening for the riverside fireworks starting after the festival boats arrive back at 8 pm. Near JR Ishiyama Station and Karahashi-mae Station on the Keihan Line. Photos | Map
http://takebetaisha.jp/event/senkousai/
Aug. 17, 2014 (Sun.), 9:30 am – 2 pm – Imazu Regatta, Takashima 今津レガッタ
The Imazu Regatta was originally held annually during 1927-36 by the rowing club of the local high school in Imazu (the present Takashima High School). However, the war forced the annual regatta's cancellation. In Aug. 2006, a local NPO called the Takashima-Imazu Rowing Club restarted the Imazu Regatta with the support of the rowing clubs from Imazu Junior High School and Takashima High School. They use a variety of rowing boats (including a replica of a fixed-seat boat from the early 20th century) to race on a 500-meter course. Anyone can sign up to race/row. Beach is near Omi-Imazu Station. Photos | Map
http://www.eonet.ne.jp/~t-imazurowing/
Aug. 23-24, 2014 (Sat.-Sun.), 10 am – 9 pm (till 5 pm on 24th) – Gyuniku Beef Summit 2014, Hama-Otsu 牛肉サミット2014
Omi beef from Shiga and beef from other parts of Japan will be sold by many vendors next to Otsu Port. It is a gourmet contest where you can vote for your favorite beef dish there. This event started in 2011 and seems to be the replacement event for the B-kyu Gourmet Battle held until 2013. Let's hope they also have vegetables. Too much cholesterol is not good for you. You also need fiber for better digestion. The weekend event in 2014 attracted 130,000 people. Part of the proceeds will be donated for the recovery of the 2011 Tohoku disaster. Map
http://www.gyu-summit.com/
Aug. 23-24, 2014 (Sat.-Sun.), 6 pm – 8 pm – Samegai Jizo Matsuri Festival, Maibara 醒井地蔵まつり
This evening festival is a good excuse to wear a yukata and stroll along the crystal-clear river. The river is highlighted by a variety of handmade dolls or dioramas created by local school kids. Also see food booths and a local shrine to pray for the deceased. Samegai was a post town on the Nakasendo Road. Near JR Samegai Station in Maibara. During late July to early Aug., the tiny baikamo flowers (miniature plum blossoms) in the river will be lit up in the evening during 7:30 pm – 8:30 pm. Photos | Map
http://kitabiwako.jp/event/event_840/?month=2013/08
Aug. 23, 2014 (Sat.), 8:30 pm – Makino Highland Reed Torch Festival, Makino, Takashima マキノ高原ヨシたいまつ祭り
The festivities start at noon climaxing at 8:30 pm with the lighting of numerous reed torches dotting the grassy highland area and ending with fireworks. The festival event schedule is yet to be determined as of this writing. From JR Makino Station (Kosei Line), take the "town bus" and get off at Makino Kogen Onsen Sarasa (マキノ高原温泉さらさ). Buses leave Makino Station once an hour until 6 pm (schedule here). Map
http://www.makinokougen.co.jp/publics/index/90/
Also see the 2014 fireworks schedule here.
For museum exhibitions in Shiga, see exhibition schedule for Shiga museums at Kansai Art Beat.
Stay cool y'all in Shiga.