Oct.-Nov. is another prime time for festivals and events in Japan. Here are some recommended autumn/fall festivals (matsuri) and events in Shiga in October 2013. (Most official Web sites are in Japanese only.)
October 1-20, 2013
♦ Shigaraki Art Festival 2013, Koka, 8:00 am – 9:00 pm
Pottery exhibitions (especially tanuki raccoon dog) and noborigama kiln demonstration. Three venues in central Shigaraki, Shigaraki Ceramic Cultural Park, and Shigaraki Traditional Craft Center. Held for the second time this year. On Oct. 12-14, the Shigaraki Pottery Festival will also be held mainly at the Shigaraki Ceramic Cultural Park. The outdoor pottery fair near Shigaraki Station will be scaled back this year because of the railway closure. http://www.shigaraki-matsuri.com/
Note that the Shigaraki Kogen Railway is out of service and buses are running instead between Kibukawa and Shigaraki Stations. Buses from JR Ishiyama Station in Otsu is also out of service due to road damage as of this writing. Google Map
信楽まちなか芸術祭
http://shigaraki-fes.com/2013/english
October 5-6, 2013
♦ Art in Nagahama, 10:00 am – 5:00 pm (till 4 pm on 6th)
Art works by a few hundred artists from all over Japan will be displayed in central Nagahama. Paintings, pottery, sculptures, etc. Artists will be at booths along the streets in the neighborhood of Kurokabe Square and the Hikiyama Museum. Artist performances (live painting, etc.) will also be held. Art will be for sale. Venue map here. Near JR Nagahama Station. Google Map
アートインナガハマ2013
http://www.art-in-nagahama.com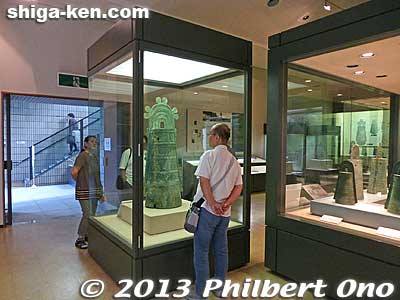 October 5-Nov. 24, 2013
♦ Homecoming Exhibition for Japan's Largest Bronze Bell and Yayoi no Mori Foliage Illumination, Dotaku Bronze Bell Museum (Yasu Folk History Museum) (Yasu Rekishi Minzoku Hakubutsukan 銅鐸博物館 野洲市歴史民俗博物館), Yasu, 9:00 am – 5:00 pm (till 9 pm on Nov. 16-17), closed Oct. 15 and Nov. 5
Yayoi no Mori Foliage Illumination on Nov. 15, 16, 17, 19, 20, 21, 22, 23, and 24 at 5:45 pm – 9 pm (enter by 8:30 pm).
A very special and rare exhibit of Japan's largest ancient bronze bell (called dotaku) found near the museum in Yasu. The bell, designated as an Important Cultural Property, is owned by the Tokyo National Museum where it is normally exhibited. This is the first time this bell will be exhibited in its hometown of Yasu since it was unearthed in 1881. A smaller dotaku on loan from the Tokyo National Museum and numerous replica dotaku bells are also on display.
On Aug. 20, 1881, two young lads were playing on nearby Mt. Oiwa when they stumbled across three dotaku bells partially exposed in the ground. The next day, eleven more dotaku were discovered in the same area. The bells are dated from around 100 BC to 300 AD (Japan's Yayoi Period). The bells were not really used as bells. They were more for decorative and religious purposes. Two of the dotaku were acquired by the Tokyo National Museum. The remaining dotaku were scattered among various people. Their whereabouts were unknown until an investigation found 12 of them at temples and Japanese and overseas museums. It's frustrating that none of the original dotaku discovered in Yasu are in Yasu. Another case of bungling and ineptness by local officials who couldn't recognize a good thing when they saw it. Near the museum, there's a monument where the large bell was found. Yasu's official mascot, Dotaku-kun, is modeled after this bell.
Also, the museum has Yayoi no Mori, an outdoor display of Yayoi-Period grass shacks and garden of autumn foliage that will be illuminated in the evening on the days listed above. The museum will also be open till 9 pm on Nov. 16-17. Museum admission 200 yen for adults. Free admission for Yasu residents and free for all on Nov. 16-17 for Kansai Culture Day.
From JR Yasu Station's South exit (Minami-guchi), take a bus going to Karyoku Koen (花緑公園) or Murata Seisakusho (via Nishi Gate 西ゲート経由 村田製作所行き) and get off at Dotaku Hakubutsukan-mae (銅鐸博物館前). Bus ride is only a few minutes. From bus stop, cross the road to get to the museum. The bus stop to go back to Yasu Station is up the slope on the other side of the road where you got off. You can ask the museum about the bus times to go back. Buses run infrequently. Bus schedule for weekdays, Sat. and Sun. here. Or 10 min. by taxi. Google Map
銅鐸-日本最大銅鐸の里帰り-
http://www.city.yasu.lg.jp/doc/kyouikubu/hakubutukan/2013doutaku.html
October 6, 2013
♦ Odani Castle Furusato Matsuri, Odani Castle Park, Nagahama, 9:00 am – 3:00 pm
Local hometown festival honoring the Azai Clan who lived in Odani Castle. They include the famous Azai sisters (Chacha, Go, Hatsu). The festival includes a samurai costume parade, stage entertainment, taiko drummers, yosakoi dancers, and mochi tossing. Lots of games and stuff for kids. A shuttle bus going up to Odani Castle will also run from 9:45 am to 2:15 pm (500 yen roundtrip). Lot easier/faster than walking up the mountain. From JR Kawake Station, take a bus for Odani-jo Atoguchi (小谷城址口) taking 10 min. Google Map
小谷城ふるさと祭り
http://kitabiwako.jp/event/event_980/
October 12-13, 2013
♦ Otsu Matsuri Festival, streets north of JR Otsu Station, sunset till 9 pm on 12th, 9:00 am-5:30 pm on 13th
One of Shiga's major festivals with thirteen ornate floats displayed and paraded around central Otsu over two days. The first day of the festival has the floats parked and displayed on the streets and lit up in the evening (Yoimiya). The second day is the festival climax with a procession of all the floats highlighted by occasional performances of karakuri mechanical puppets on the floats. Held by Tenson Shrine in Otsu. At Otsu Station, there should be a festival information counter where you can pick up maps of the parade route. Parade route is within walking distance from Otsu Station. Google Map
大津祭
http://www.otsu-matsuri.jp/festival/
October 12, 2013
♦ Nagahama Kimono Garden Party (Kimono Enyu-kai), Hokoen Park water fountain and central Nagahama, 11:00 am – 4:00 pm
Central Nagahama will be a colorful sight with 1,000 women age 18-40 walking around dressed in kimono from 10 am. At 2:30 pm, they will all gather at Nagahama Hachimangu Shrine for a grand prize drawing. (It's usually held at Daitsuji temple, but they are doing renovation work this year.) Prizes include overseas trips (to Hawaii and South Korea) and expensive kimono. A few hundred other prizes from local merchants and gift certificates will also be given away. You have to register here to participate in the drawing. People (including men and kids) not registered can also join in the fun by wearing a kimono and receive a gift certificate worth 1,000 yen by signing up at Hokoen Park's water fountain. All within walking distance from JR Nagahama Station. Google Map
長浜きもの大園遊会
http://kitabiwako.jp/syusse/enyu/index.html
October 12, 2013
♦ Matchlock Gun Demonstration (Hinawaju Taikai), in front of Nagahama Castle, 11:00 am and 1:00 pm
Matchlock gun battalions from Kunitomo (Nagahama) and Tanegashima (Kagoshima Pref.) will dramatically demonstrate the firing of matchlock guns used during the 16th century. The Kunitomo neighborhood of Nagahama and Tanegashima island in Kagoshima Prefecture were famous for gunsmiths who made the guns soon after they were introduced to Japan in 1544. The guns make a big bang so it's not for little kids or people afraid of large noises. They will perform twice for about 30 min. It will be on the same day as "Kimono Day" (see event above) so you'll see many kimono ladies around too. Google Map
火縄銃大会
http://kitabiwako.jp/syusse/hinawa.html
October 12-14, 2013
♦ Maibara Hikiyama Matsuri Festival, near JR Maibara Station, afternoon and evening
Held annually by Yutani Shrine, festival with three ornate floats pulled around the streets mainly on the east side of JR Maibara Station. Like the Nagahama Hikiyama Matsuri, the floats have young boys performing kabuki. There are three floats and most years only two floats appear, but this year all three floats will appear (lucky you!). Each float will be paraded and parked at certain spots for kabuki performances. If you go from around noon to around 9 or 10 pm, you'll see one or more of the floats sooner or later. Exact show times in Japanese. Google Map
米原曳山祭
http://www.biwa.ne.jp/~hozonkai/index.htm
October 13, 2013
♦ Daidogei (Street Performance) Festa in Toragozen, Nagahama (Torahime Ikigai Center 虎姫生きがいセンター), 10:00 am – 4:00 pm
Several top-notch street performers will perform on stage, including a Chinese acrobat. The venue will also have food stalls and other entertainment. Performance schedule here. Free admission. The venue is a 10-min. walk from JR Torahime Station. Google Map
大道芸フェスタin虎御前
http://www.torass.com
October 13, 2013
♦ Hoko Matsuri, Nagahama, 12:30 pm – 3:00 pm
Procession of people and kids dressed in samurai costume marching from Hokoku Shrine (豊国神社) to Nagahama Hachimangu Shrine and back. They impersonate Toyotomi Hideyoshi and his "Seven Spears" samurai who won the Battle of Shizugatake in 1583. It's a not grand procession, but if you happen to be there that day, it's worth seeing. Google Map
豊公まつり
http://kitabiwako.jp/syusse/houkou.html
October 19-20, 2013
♦ Yuru-kyara Expo in Hikone 2013 (Gotochi Kyara-haku in Hikone), Yume Kyobashi Castle Road and Yonbancho Square, 9:00 am – 3:00 pm
Large gathering of 237 lovable mascots called "yuru-kyara" from Shiga and 40 other prefectures. The mascot star will be Hiko-nyan. There will be booths to show off whatever they are showing off. Mainly tourist destinations and products. Besides posing with the mascots for pictures, there will be stage entertainment. Note that Hiko-nyan will be untouchable. You can't take pictures with him. They changed the name of this event from Yuru-kyara Matsuri in Hikone. To be held for the 5th time in 2013. Some 80,000 visitors are expected during the two days. Walkable from JR Hikone Station. Google Map
ご当地キャラ博in彦根 2013
http://yuru-chara.jp/hikone2013
October 19, 2013
♦ Konan City Local Gourmet (Konan-shi B-kyu Gourmet Taikai), Ameyama Cultural Sports Park (Shukuba no Sato), Konan, 10:00 am – 3:00 pm
A contest of local gourmet chefs with food booths. They don't have much other info even in Japanese. It must be successful because it will be the third time this year. They will also hold the Ishibe-juku Matsuri Festival at the same time/place. From JR Ishibe Station, buses to the venue take 5 min. Google Map
湖南市B級グルメ大会
http://www.burari-konan.jp/contents/special/b.html
October 19, 2013
♦ Seta Karahashi Bridge East-West Tug of War, Otsu, 1:40 pm – 2:45 pm
A hundred people on the east end (in red samurai armor T-shirts) and a hundred on the west end  (in blue samurai armor T-shirts) will pull a 200-meter, red-and-white rope on the famous Seta-no-Karahashi Bridge that was recently repainted. Fringe events include food/souvenir stalls and stage entertainment near the bridge starting at 10 am. Also, free boat rides on the Seta River. Google Map
勢多唐橋東西大綱引合戦 (Seta Karahashi Tozai Tsunahiki Gassen)
http://www.seta-karahashi.com/#tsunahiki