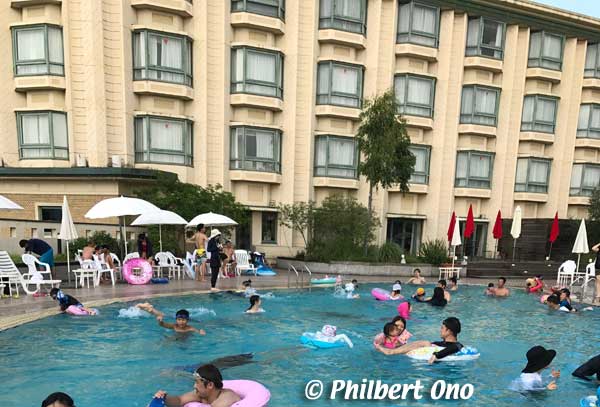 Chronology of Shiga Prefecture's major news headlines for May–August 2020 (according to the year, month, day).
Originally posted on Twitter under Shiga Headlines by Philbert Ono. Twitter posts are limited to 280 English characters including spaces and links (shortened by Twitter). Dates and times below are based on GMT, not Japan time.
May 5, 2020: On April 30, private high school male teacher (55 阪本和仁) arrested for DUI after hitting a car on a National Route 1 in Kusatsu.
May 5, 2020: Royal Oak Resort operating Royal Oak Hotel Spa & Gardens in Otsu has become the 1st company in Shiga to go bankrupt due to COVID-19. Total liabilities ¥5 billion. Operations already suspended since April 28, 2020. It had already been struggling due to new hotels in Kyoto. https://t.co/9Tfpx0VSKR
May 5, 2020: On May 3, age 20s man drowned in Lake Biwa while swimming to fetch a ball on the water. He was with 5 friends for a BBQ on the beach in Minami-Komatsu, Otsu. Lake and beach activities in Shiga are being discouraged due to COVID-19.
May 5, 2020: Despite Japan's state of emergency, people are hiking in Shiga's mountains. During April 16–May 2, 2020, 10 hikers went missing & 4 of them found dead. On Mt. Ryozen, a Gifu man (81) drowned in a waterfall. Man (76) from Suzuka, Mie found dead in Mt. Gozaisho ravine. Prayers.
May 5, 2020: As of May 5, Shiga has 97 confirmed cases of COVID-19. Kusatsu with 32; Otsu 31 (+1 death); Ritto 7; Hikone 6; Higashi-Omi 5; Yasu & Moriyama 3 each; Omi-Hachiman, Maibara, & Nagahama 2 each; Koka & Takashima 1 each, outside visitors 2. Zero cases in Aisho, Hino, Konan, & others.
May 5, 2020: Japan's state of emergency extended to May 31. But in Shiga from May 11, stay-at-home request will be canceled & museums, public libraries, & small shops can reopen. Leisure facilities, karaoke, sports gyms, etc., will remain closed, & traveling outside Shiga will be discouraged.
May 14, 2020: Konan resident & former school principal Kuzumoto Shigeki (59 葛本茂樹) arrested for indecent assault. Two obscene acts (touching & kissing) on a woman teacher at a Kusatsu elementary school where he was principal during April–July 2019. Why take so long to punish sex offenders?
May 14, 2020: During one week until May 1, Shiga Prefectural Gov't received 207 donations totaling ¥30.9 million for healthcare workers taking care of COVID-19 patients in Shiga. The money will help pay for their overtime, late-night taxi, and hotel rooms. https://t.co/f1X7sMNpHf
May 14, 2020: According to anonymous cell phone tower data compiled by NTT docomo, almost zero tourists from outside Shiga visited Shiga's major tourist spots (Kurokabe Square, Hachman-bori, Adogawa Michinoeki, Nionohama) during Golden Week (April 26–May 6) in 2020.
May 14, 2020: On May 8, 2020, the 1st anniversary of the tragic car accident in Otsu killing 2 preschoolers on a street corner, local police placed flowers & gave prayers at the accident site. Local government representatives also held up "Watch out for children" signs for passing drivers.
May 14, 2020: In Koka, Tsuchiyama tea farmers now harvesting their crop are seeing 50% or lower profits due to lower wholesale tea prices due to low sales of matcha confections for tourists in Kyoto.
May 14, 2020: Due to the scarcity of tourists at Hikone Castle, nearby souvenir shops are selling their excess Hiko-nyan sweets for cheap. Check out shops at Yonbancho Square, etc.
May 14, 2020: On May 7, 2020, Otsu City Hall reopened after being closed since April 25 due to COVID-19 cluster of 11 workers in April. About 1,200 city workers returned to the office from teleworking, but they now work in two teams & commute on alternate days for social distancing.
May 14, 2020: On May 7, Otsu mayor said no more COVID-19 cases among the 1,200 city hall workers after their 14-day self-isolation. Health center had cited that the city hall lacked adequate ventilation & spacing between desks. Computers, door knobs, etc., were also not disinfected. Shocking!
May 14, 2020: Moriyama plans to reopen elementary & jr. high schools on June 1, 2020. They will first partially restart classes from May 18 on four days. Each grade will be divided into groups for social distancing. Plans still subject to change in accordance with the central government.
May 14, 2020: In Konan, Ishibe High School partially restarted classes on May 11. Students came to school for the first time in 3 weeks. The school will hold classes once a week. Students are required to wear masks & classrooms have student desks spaced out. Students enjoyed their reunion.
May 14, 2020: Lake Biwa Museum in Kusatsu, Miho Museum in Koka, & Otsu City Museum of History (until June 1) remain closed. Higashi-Omi Odako Kaikan kite museum reopened on May 11. Tourist bureaus in Shiga not providing foreign language info on which museums/sights reopened or remain closed.
May 14, 2020: May 11 is when public libraries and museums in Shiga are allowed to open, but not all have opened. In Higashi-Omi, only Koto Public Library (湖東図書館) has reopened so far. It has reduced seating, installed plastic curtains, and taken other countermeasures.
May 14, 2020: To remedy COVID-related income loss, Kusatsu is giving its residents free water/sewage for June–Sept 2020. That's worth about ¥8,000/household. It is also giving subsidies to child-rearing families (¥30,000/child), small companies (¥100,000), and freelancers (¥50,000).
May 14, 2020: Application forms to receive your ¥100,000 from the Japanese government are now being sent via postal mail to Shiga residents, including foreign residents. If you have a My Number Card, you can apply online. Otsu residents will start receiving it in late May.
May 14, 2020: For 9 consecutive days as of May 13, Shiga has seen no new cases of COVID-19. Total is 97 cases and 1 death. 76 patients are receiving treatment. https://t.co/jIwFmpgtZJ
May 14, 2020: Sadly, all spring festivals canceled. Photos/videos I took of spring festivals in recent years are now quite precious. See my new video of Tsuchiyama Saio Procession held in Koka in March 2018. In English, explaining the festival & historical background. https://t.co/xyrJjNTmGB
May 23, 2020: Omi-Hachiman Community Medical Center male nurse (31) was fired on May 22 for having a hidden camera in the hospital's unisex staff restroom since March 2020. He repeatedly filmed people using the toilet. Name undisclosed. Female worker found the camera on May 12 & reported it.
May 23, 2020: On May 20 in Misono, Ritto, 3rd grade boy Yamashita Shun (山下諄) was struck and killed by a dump truck while crossing a crosswalk on a road. No traffic lights.
May 23, 2020: The current NHK Taiga Drama series "Kirin ga Kuru" about Akechi Mitsuhide has suspended shooting since April due to COVID-19. As a result, there will be no new episodes after the June 7 episode. Substitute programming TBD.
May 23, 2020: The Summer Koshien national high school baseball tournament has been canceled due to COVID-19. Ohmi High School was aiming to play at Koshien for the 3rd straight time. Kansai Region might hold its own tournament instead.
May 23, 2020: Parking lots along Lake Biwa parks and beaches remain closed until May 31 to discourage travelers from outside Shiga. Meanwhile, on the 1st weekend of May 16–17 after the state of emergency was lifted, people were seen fishing, jogging, etc., along the lake. They wore masks.
May 23, 2020: As of May 22, no new cases of COVID-19 in Shiga since May 17. Total cases remain at 99 (+1 death) and 83 of them have been released from the hospital.
May 23, 2020: Eateries/bars for close social contact, traveling outside Shiga, and large gatherings will continue to be discouraged until May 31.
May 23, 2020: Public elementary, jr. high, and high schools remain closed until May 31 and will all reopen on June 1. Class schedules will vary. School lunches might not be available at all schools. Summer vacation will be shortened.
May 23, 2020: Besides ¥100,000 from the Japanese gov't, cities/towns in Shiga are adding more money or benefits for their residents. For example, Aisho will add ¥10,000, Takashima will give ¥10,000 gift coupon. Free water for a few months in Moriyama, Hikone, Kusatsu, Konan, Ritto, Takashima.
May 23, 2020: Some ryokans and hotels in Shiga are reopening after about a month of closure. However, others remain closed since travel to Shiga is being discouraged until May 31.
May 23, 2020: Shiga Prefectural Library reopened on May 20 after being closed since April 18. It imposes crowd control, fewer seating for social distancing, and a 30-min. limit. By May 22, all public libraries in Shiga reopened except in Otsu and Taga.
May 23, 2020: Kurokabe Square in Nagahama started to reopen on May 16 after being closed since April 20. Customers will be encouraged to wear masks and use hand sanitizer when entering stores. Restaurant seating is spaced out and entry may be restricted if any store gets too crowded.
May 23, 2020: Major shopping malls have reopened on May 20. Seibu Otsu is now open 10 am to 6 pm. Kintetsu Kusatsu and Aeon Mall Kusatsu also reopened. Wear a mask and use hand sanitizer at the mall entrance.
May 23, 2020: State of emergency in Shiga & 38 other prefectures was lifted on May 15. Karaoke parlors, fitness gyms, sports facilities, pachinko parlors, & other leisure/amusement facilities allowed to reopen with anti-infection measures in place. Restaurants can return to normal hours.
May 23, 2020: The two free cloth masks from the Japanese gov't will be delivered to Shiga residents from May 23. Be sure to wash the masks before using. It might not be sterile. https://t.co/MXxMX88s0W
Jun 6, 2020: Otsu District Prosecutor has dropped charges against Konan resident & former school principal Kuzumoto Shigeki (59 葛本茂樹) arrested for indecent assault on a woman teacher at a Kusatsu elementary school where he was principal during April–July 2019. Prosecutor gave no reason.
Jun 6, 2020: On May 29, 15 toddlers age 1 & 2 suffered mild food poisoning at a private daycare center in Otsu after lunch. They got skin rash & redness from histamine on mackerel fish kept at room temperature. Center was ordered to suspend food services for 2 days. Toddlers have recovered.
Jun 6, 2020: Due to a drastic drop in travel during the pandemic, Ohmi Railways reported a ¥190 million loss for April 2020 compared to a ¥38 million profit in April 2019. The railways will continue to operate for now as officials think about how local cities will bear the loss. #近江鉄道
Jun 6, 2020: After 3 years of work, Hino Station on the Ohmi Railways completed its final phase of renovations with the opening of a railway exhibition room (鉄道資料展示室). See the history of Hino Station & station artifacts. Open 9 am–5 pm, free admission. https://t.co/5lqfKHtFZ4
Jun 6, 2020: In Aisho, Santana Gakuen school (サンタナ学園) for 75 Brazilian children age 1–18 in Shiga has started crowdfunding to help continue operating as Brazilian parents with income/job loss due to the pandemic struggle to pay tuition. Minimum donation ¥3,000. https://t.co/nHZGOY0Xpg
Jun 6, 2020: As of Oct. 1, 2019, Shiga Prefecture's population increased for the 1st time in 6 years to 1,414,000, a 0.11% increase boosted by 5,000 incoming foreigners and new condos for growing families. Shiga is Japan's only prefecture where a decreasing population turned into an increase.
Jun 6, 2020: To compensate for the drastic drop of Biwa-ichi cyclists going around Lake Biwa, Shiga residents can now rent bicycles at half price at 40 bicycle shops in Shiga. Rent a bicycle for a few hours even. How long this offer will last is unknown, but the rainy season is coming.
Jun 6, 2020: As of June 5, no new cases of COVID-19 in Shiga for 13 days. Total cases remain at 100 (+1 death) and 94 of them have been released from the hospital. https://t.co/jIwFmpgtZJ
Jun 6, 2020: Fifty-three parking lots at lakeside public parks along Lake Biwa reopened on June 1 after being closed since April 24. Picnickers, etc., are to still maintain social distancing in parks. Inbound tourists will be welcome to Shiga from June 19.
Jun 6, 2020: Lake Biwa Museum in Kusatsu reopened on June 2 after closing on Feb. 28. Visitors in the museum are being limited to 400 and large groups are disallowed for now. Visitors are not to touch the aquarium glass, interactive exhibits, microscopes, etc. https://t.co/KaEb81OXIX
Jun 6, 2020: In Otsu, Enryakuji Temple reopened on May 24 along with Sakamoto Cable Car to Mt. Hiei. Hiyoshi Taisha Shrine, Saikyoji Temple, Miidera, Omi Jingu (including clock museum), Ukimido Temple, Ishiyama-dera, & Otsu City Museum of History have reopened. Miho Museum is still closed.
Jun 6, 2020: Hikone Castle grounds are open, but the main buildings are closed: Tenshu main tower, Tenbin Yagura, & Nishinomaru Turret. Hiko-nyan appears 3 times daily only at Genkyuen Garden at 10:30 am, 1 pm, and 3 pm. He will be far away from you. Hikone Castle Museum reopened on May 23.
Jun 6, 2020: During Hogonji Temple renovations on Chikubushima, experts concluded that besides the Karamon Gate, four adjoining 17th-century structures of Kannon-do hall, two Funa-roka corridors, and Tsukubusuma Shrine were also very likely part of Hideyoshi's Osaka Castle. #宝厳寺
Jun 6, 2020: On Chikubushima, after 7 years of work completed in March 2020, Hogonji Temple's Karamon Gate (National Treasure), Kannondo hall, & two Funa-roka corridors have been reroofed & restored with colorful paint & lacquer. Last major renovation was in 1946. https://t.co/qPJ9qj1Ns1
Jun 6, 2020: Since stopping on April 23, Lake Biwa cruises partially restarted on May 30 with boats between Hikone/Nagahama Port and Chikubushima. Maximum allowable number of passengers on the boat reduced to 60% capacity. Cruises from Otsu like Michigan paddlewheeler might restart on July 1.
Jun 6, 2020: After a 3-month closure, all public schools in Shiga reopened for classes on June 1. Classes are on a staggered schedule & split in half for social distancing in the classroom. Masks required. After-school club activities also restarted. High school baseball teams are sad though.
Jun 6, 2020: Major summer festivals and many fall festivals in Shiga have been canceled in 2020, including Yabusame Horseback Archery at Omi Jingu, Shigaraki Fire Festival, Birdman Rally, Yokkaichi Shotoku Matsuri, Hikone Yukata Matsuri, & Hikone Castle Parade.
Jun 18, 2020: On June 7 afternoon, 13 adults/kids from Osaka were rescued from a cruiser capsized on Lake Biwa offshore from Kita-Komatsu. The boat flipped due to strong winds/waves. Some had no life jackets. They drifted for 2 hours+ & 5 km toward Yasu before being rescued. National news.
Jun 18, 2020: Weather bureau announced that the rainy season "likely" started in Shiga and the rest of the Kinki/Kansai Region on June 10, 2020. This is 17 days earlier than last year and 3 days later than usual.
Jun 18, 2020: At Shiga Peace Museum in Higashi-Omi, an exhibition of the Moriyama Air Attack on July 30, 1945. US planes shot at a train carrying Japanese soldiers near Moriyama Station. 11 died and 22 injured. Ends on July 12, 2020. No English. 滋賀県平和祈念館 https://t.co/oBrjIoHlks
Jun 18, 2020: For over 3 weeks, new COVID-19 cases in Shiga remain zero. Only 100 cases, 98 recovered, 1 still hospitalized, and 1 death. However, from June 19, people will be allowed to travel to other prefectures and Shiga will see an influx of visitors. Clusters still possible.
Jun 18, 2020: How sad that Japan Center for Michigan Universities (JCMU) in Hikone had to suspend all study abroad in Japan activities from March to Dec. 12, 2020. So many students deprived of great memories. Let's hope they can someday experience Shiga in other ways. https://t.co/dZJxlwu94R
Jun 18, 2020: Shigaraki Fire Festival is another summer festival that has been canceled. Normally held in late July. Uploaded this video filmed in 2017. https://t.co/CaaRq8Xt8t
Jun 18, 2020: Summer vacation in 2020 for public school students in Shiga will be much shorter due to school closures in spring. Summer vacation is normally 42 days, but it will be only 9 days for Maibara & Shigaraki High School students. Ritto H.S. will have 25 days, the longest in Shiga.
Jun 18, 2020: All of Hikone Castle reopened on June 15. Tenshu main tower, Tenbin Yagura, Nishinomaru Turret, etc., are now open. Hiko-nyan has also returned to the castle, appearing in front of the main tower. https://t.co/OGABWYW6Hy
Jul 1, 2020: Ridership of local buses in Shiga is way down, decreasing the bus companies' income by 64% in May 2020 compared to May 2019. The restart of school will help, but it won't be enough and the bus companies want government assistance.
Jul 1, 2020: Although Nagahama Hikiyama Matsuri was postponed from April to this autumn, it has been canceled altogether this year for the first time since it was restarted in 1950. Child kabuki actors are also unable to practice enough during this time.
Jul 1, 2020: The water quality in Lake Biwa's North Basin improved last year. The amount of nitrogen compounds, indicating water quality, has met Japan's allowable level for the first time. However, in the South Basin, it still slightly exceeds the allowable level.
Jul 1, 2020: On June 21, 2020, age 18 girl from Sagae, Yamagata arrested for not paying the cab fare from Tokyo to Kusatsu in Shiga Prefecture. She took a taxi from Tokyo Station on June 21 at 8 pm and arrived Kusatsu Station at 1:30 am. It cost ¥160,000, but she had only ¥1,000. ☹️
Jul 1, 2020: Otsu's so-called Geneva Project to redevelop/revitalize Odori road in front of Otsu Station with a cafe, etc., has been canceled. Construction had already started, but the company building the cafe pulled out due to rising costs. The space will be a pocket park for now.
Jul 1, 2020: On June 19, 2020, 3 Shiga Prefectural Gov't workers punished for improprieties. Engineer suspended for unauthorized use of Shiga Gov't official seal for construction works. Section chief (50s) punished for power harassment of 20s subordinate with insults. Names undisclosed. 😡
Jul 1, 2020: Hashimoto Ichiro 橋本市郎 president of Hashimoto Komuten in Nagahama that renovated Hogonji Temple on Chikubushima, & Oyama Yoshitaka (41 尾山義高) at Shiga Prefectural Gov't cultural property preservation dept. (文化財保護課) have been arrested for bid rigging the Hogonji job.😡
Jul 1, 2020: Lake Biwa Great Fireworks (Biwako Dai-hanabi Taikai) in Otsu has been canceled this year to prevent mass crowding and infections. Shiga's biggest summer fireworks with a crowd of 350,000 last year was set for Nov. 6, 2020. Now canceled altogether. #2020年びわ湖大花火大会中止
Jul 1, 2020: Some Lake Biwa beaches will be closed this summer due to COVID-19. They include Matsubara beach in Hikone, Miyagahama beach in Omi-Hachiman, and Kita-Komatsu beach in Otsu. Other beaches will open around July 1 with social distancing.
Jul 1, 2020: At Otsu Port, Michigan paddlewheel boat restarted lake cruises on July 1, 2020. No live shows, no buffet (lunch box only). Shiga residents can receive a discount until July 31. Reservations required by phone or online. 😃
Jul 3, 2020: Inazuma Rock Fes usually held every Sept. in Karasuma Peninsula, Kusatsu will be held online this year on Sept. 19, 2020. Part of the proceeds will be donated to COVID-19 healthcare workers. https://t.co/wWYUvYSGpL
Jul 3, 2020: Two new cases of COVID-19 in Otsu on July 1 for 103 cases in Shiga. One is an elementary school girl whose school has closed for 2 weeks from July 2. Poor girl must feel terrible about this.
Jul 3, 2020: From July 1, 2020, all supermarkets, convenience stores, and other retailers in Japan started charging (about ¥3) for plastic shopping bags to encourage people to bring their own bags. Something I've been doing for many years with a rucksack.
Jul 27, 2020: Former Hikone Police Station Chief and Ritto resident Kawai Akira (72, 川合明容) arrested on July 20 for assaulting and robbing a male acquaintance at a Kusatsu apt. parking lot.
Jul 27, 2020: In Hikone, two hotels have sadly closed due to the coronavirus. Opened in 1977, Grand Duke Hotel (including Restaurant Amore) & Business Hotel Serikawa closed on July 15, 2020. Both hotels are in the Heiwado Group. Grand Duke's 60 workers will transfer to other group companies.
Jul 27, 2020: Like many other prefectures, COVID-19 cases in Shiga are increasing as summer starts. An elementary school in Kora has closed for the rest of July because a student got infected. Omi-Hachiman got a cluster of 8 who had dined together. Be vigilant.
Jul 27, 2020: COVID-19 cases in Shiga is spiking in July, with new cases almost every day this past week. As of July 26, Shiga has 153 cases. Renaiss Health & Medical College in Koka had a cluster of 10 cases on the 22nd. #ルネス紅葉スポーツ柔整専門学校
Jul 27, 2020: In Koka, McDonald's Konan Friend Mart store is closed temporarily after a part-time worker tested positive for COVID-19 on July 23. マクドナルド甲南フレンドマート店 https://t.co/zdnTCEkTOR
Jul 27, 2020: Otsu Matsuri festival of floats normally held on Oct. 10–11 has been canceled in 2020. Only the Shinto ceremony at Tenson Shrine will be held. Video: https://t.co/qqntYmBL34
Jul 27, 2020: In Kusatsu, Lake Biwa Museum is limiting visitors to only 500 at one time. During the 4-day holiday weekend on July 23–26, visitors had to wait up to 4 hours (!) get in, after taking a numbered entry ticket. Aquarum is open, but two exhibition halls are closed for renovations.
Jul 27, 2020: No tourists should ever die in Shiga, in the lake nor in the mountains. There's a lack of safety information & warnings for tourists, even in Japanese. Don't wade too far offshore. On boats, always wear a life vest. Don't hike in mountains after rains. On bicycle, wear a helmet.
Jul 31, 2020: A long rainy season has ended in the Kansai Region, including Shiga. Prepare for the summer heat from today. Hot temps are expected to continue into Aug. Stay safe, stay healthy. https://t.co/JVeXZcYaVQ
Aug 12, 2020: Former nurse Nishiyama Mika (40 西山美香) spent 12 years in prison for a crime she didn't commit, the death of a patient in 2003 at Koto Memorial Hospital. She's asking the Japanese gov't to pay ¥60 million in compensation or she might sue.
Aug 12, 2020: Age 25 male doctor-in-training at Omi-hachiman Community Medical Center arrested for groping a high school girl on the street in Yokohama on Aug. 3. Charges weren't filed, but he was suspended from his job for 6 months and he immediately resigned. Name undisclosed.
Aug 12, 2020: Age 41 male doctor committed road rage on the Meishin Expressway in Higashi-Omi in March 2020. He cut in front of a truck and stopped on the road. Truck's dashcam got his license plates. Name undisclosed.
Aug 12, 2020: Shiga police has found that as June 30, 2020, 34 yakuza members in 3 gangs were in Shiga. All affiliated with Yamaguchi-gumi. Members peaked at 523 in 1991. Anti-yakuza laws caused the number to decline. Members have been arrested for extortion, property damage, & illegal drugs.
Aug 12, 2020: Ohmi Railways continue to operate in the red. However, the prefecture and rail line municipalities have decided to keep all Ohmi Railway lines running. The big question is, how? Coronavirus has made it worse, reducing ridership to 70% of normal since June.
Aug 12, 2020: In Kora, 8 drawings of Bodhisattva were discovered on 2 wooden pillars inside Saimyoji Temple. Drawings are under black soot & found by infrared camera photos. Experts believe the drawings date from the 6th or 7th c. which means the temple might be older than previously thought.
Aug 12, 2020: Research team at Shiga Univ. of Medical Science has successfully infected 3 crab-eating macaque with the coronavirus in May–June. Monkeys then developed the same COVID-19 symptoms as humans. A first in Japan. They hope to use the monkeys to evaluate the effectiveness of vaccines.
Aug 12, 2020: COVID-19 cases in Shiga has continued to increase daily. On Aug. 7, Shiga got 31 cases, the most ever. Clusters at a nursing home in Koka and hospital in Kusatsu. On Aug. 9, another death, an elderly woman. As of Aug. 11, total 302 cases, 2 deaths, and 175 recovered in Shiga.
Aug 12, 2020: Age 31 man from Higashi-Osaka drowned in Lake Biwa off Omi-Maiko beach on Aug. 2. He came with 13 family members and friends. He drank 3 cans of beer, went swimming, then disappeared. Body was found 20 meters offshore on the lake bottom 2 meters deep. Don't drink and swim.
Aug 12, 2020: Feel sorry for all the people who won't be coming home to Shiga for family reunions during the obon period. Most people are not traveling outside their prefecture this summer, especially those in urban prefectures. Tourism industry is in deep trouble. Be kind and stay safe.
Aug 12, 2020: High temperature warning in effect for Shiga (35˚C). Aug. 11 saw 19 people in Shiga in an ambulance for heat exhaustion. Avoid prolonged outdoor activities, turn on the A/C at home, drink fluids, get adequate sleep. Take off your mask if you're outside & no one is nearby.
Shiga History January–April 2020 | Chronological History of Shiga | Shiga History Sept.–Dec. 2020