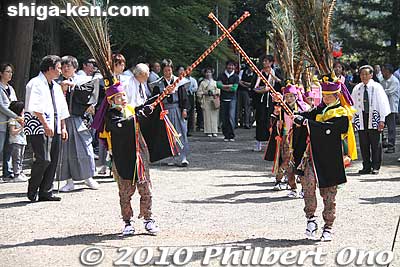 Chronology of Shiga Prefecture's major news headlines for January–April 2020 (according to the year, month, day).
Originally posted on Twitter under Shiga Headlines by Philbert Ono. Twitter posts are limited to 280 English characters including spaces and links (shortened by Twitter). Dates and times below are based on GMT, not Japan time.
Jan 31, 2020: Congrats to Olympic sprinter Kiryu Yoshihide who got married on Jan. 1, 2020. His wife is slightly older and a sports nutritionist. He's reportedly refraining from having kids until after the Olympics are over.
Jan 31, 2020: Otsu has a new mayor, Sato Kenji, elected on Jan. 19, 2020 for a 4-year term. 佐藤健司
Jan 31, 2020: For 11 years in a row, Shiga's 5th grade boys & girls scored lower than the national average in the annual physical strength survey conducted by the Japan Sports Agency. Shiga's 8th grade girls also scored lower than the national average. Too much smartphone use. #体力調査
Jan 31, 2020: The JRA Ritto Training Center has started operating a power plant to burn 55 tons of daily manure from its 2,000 race horses to generate electricity. It's less costly than processing the manure into fertilizer. They sell the excess power to the power company.
Feb 15, 2020: In Koka, Ayano Elementary School teacher Yamaguchi Takayuki (27 山口貴之) suspended for 6 months for DUI in Nov. 2019. He was driving with another drunk school employee who will also face punishment. 綾野小学校
Feb 15, 2020: Coronavirus is scaring away tourists even from Shiga. As of Feb. 10, 383 domestic tourists and 31 overseas tourists have canceled trips to Shiga. Also, 226 people in Shiga have canceled overseas trips.
Feb 15, 2020: Hikone mascot Hiko-nyan got 179 chocolates for Valentine's Day. The senders will receive a thank you card. Good to hear that from this year, the chocolates will go to Kodomo Shokudo (children's meals) charities, and not city employees or other undeserving people.
Feb 15, 2020: Omi Kenketo Matsuri Naginatafuri held in Moriyama, Koka, Higashi-Omi, & Ryuo & Omi Konan Sanyare Odori held in Kusatsu & Ritto to be designated as National Intangible Folk Cultural Properties. Both festivals are held in early May. #近江のケンケト祭り長刀振り #近江湖南サンヤレ踊り https://t.co/mB4QNthdrR
Feb 22, 2020: In 2019, 252 people in Shiga sadly committed suicide, 25 more than in 2018. This 11% increase is Japan's 2nd highest after Kagoshima Prefecture. It's also 17.8 suicides per 100,000 of the population, above the national average of 15.8. Prayers for all these people. 🙏
Feb 22, 2020: Hikone-native sprinter Kiryu Yoshihide left for Australia to train for a month for the Tokyo 2020 qualifier. Hikone-native swimmer Ohashi Yui also left to train in Sierra Nevada, Spain. She will appear in the Japan Swim Olympic qualifier in April in Tokyo.
Feb 22, 2020: Online shop selling Shiga products by Shiga no Meihin & CocoShiga is seeing extremely low sales since it opened in Aug. 2018. Last fiscal year saw sales of ¥400,000 or only 0.7% of its ¥54 million target. This fiscal year is also seeing very poor sales. https://t.co/RXargXkPoW
Feb 22, 2020: Detailed route and schedule of the Olympic torch relay in Shiga on May 28–29 now online. Starts in Takashima and ends in Nagahama, a non-contiguous route. Covers the main drag in each city/town. https://t.co/GZTW1Ws2hQ
Feb 22, 2020: Not enough volunteers yet for the Olympic torch relay in Shiga on May 28–29. They need 2,486, but only 1,237 signed up so far. Volunteers will do crowd control. You must be able to speak Japanese because no one in Shiga can speak English. No English info. https://t.co/1wZma6bZBA
Feb 22, 2020: Amid the cancellation of many events in Japan due to coronavirus fears, events in Shiga are also being canceled. Biwako Lakeside Marathon on Feb. 23 has been canceled, but the Lake Biwa Mainichi Marathon on March 8 is so far still on. https://t.co/miZKazR5t0
Feb 29, 2020: JA Bank Shiga Shinren has donated over 1 ton of Omi rice and JA gift certificates worth ¥675,000 to Kodomo Shokudo (children's meal program) charities in Shiga. There are 128 Kodomo Shokudo meal rooms in Shiga. https://t.co/Bzbxi7qamV
Feb 29, 2020: B.League pro basketball games scheduled during Feb. 28 to March 11 will be postponed. The six Shiga Lakestars games scheduled during this period will also be postponed. New game schedule TBA in early March.
Feb 29, 2020: Due to the coronavirus scare, Hikone mascot Hiko-nyan will no longer appear at Hikone Castle and other events from Feb. 28 to March 31, 2020. The castle apologizes for the disappointment. Hikone Castle will remain open. https://t.co/mvQ8g7CW4w
Feb 29, 2020: Four passengers on the Diamond Princess who tested negative for the coronavirus were from Shiga. They are two married couples in their 60s & 70s who disembarked on Feb. 20. They are now staying at home in Shiga & being monitored daily by phone until Mar. 5. Location undisclosed.
Feb 29, 2020: A man (50s) from Shiga now hospitalized in Ishikawa Prefecture with coronavirus. He had traveled to Paris with an infected co-worker in mid-Feb. Got a fever after returning & saw a doctor in Tokyo & Shiga, but went back to work in Ishikawa where he finally tested positive.
Feb 29, 2020: The wife & 2 children of the man hospitalized in Ishikawa Prefecture with coronavirus have tested negative, but will stay home in Shiga until March 9. JR has disclosed that the man traveled between Komatsu Station, Ishikawa & Shiga on Feb. 21 & 24. JR has disinfected the trains.
Feb 29, 2020: All public high schools & special needs schools in Shiga will be closed from March 2 until the start of spring vacation on March 24. Shiga's 316 elementary schools & jr. high schools will also close from early March. High school entrance exams will still be held on March 10 & 11.
Feb 29, 2020: Still no confirmed cases of novel coronavirus in Shiga. Due to the sudden school closures, working parents are figuring out how to take care of their kids at home. Some elementary schools & nursery schools will be open for young children.
Mar 8, 2020: Nakagawa Yoshiyuki (44, 中川佳幸), a designer in Nagahama, arrested for the 10th time for sexual assault. The latest arrest was for obscene acts in a Hikone hotel with a high school girl from Moriyama 3 years ago whom he also blackmailed with obscene photos.
Mar 8, 2020: Former nurse Kiryu Nozomi (33, 桐生のぞみ) in Moriyama sentenced to 15 years in jail for killing her mother Shinobu (58) whom she lived with and scattering the body parts in a nearby riverbed in 2018.
Mar 8, 2020: Shiga's foreigner population reached a record high of 32,995 as of Dec. 31, 2019, 3,732 more than in 2018. The increase is attributed to more technical interns (技能実習生) numbering 6,326.
Mar 8, 2020: As of Dec. 31, 2019, Brazilians are Shiga's largest foreigner group with 9,209, followed by 5,581 Chinese, & 5,003 Vietnamese. Otsu has the most foreigners w/ 4,464, followed by 3,811 in Higashi-Omi, & 3,807 in Nagahama. 9,286 of Shiga's 32,995 foreigners are permanent residents.
Mar 8, 2020: More of the kids cooped up at home are borrowing books at the public library. Sadly, the library might tell them to just borrow books & return home quickly. Otsu Public Library's reading room is closed until March 28. They don't want kids gathering there nor staying for long.
Mar 8, 2020: Amid the nationwide closure of public schools, elementary schools in Konan are offering voluntary study hall & lunch for elementary school kids. Shimoda Elementary School is seeing 63 of their 300 students still coming to school. Working parents are happy. #湖南市 #下田小学校
Mar 8, 2020: In Nagahama, volunteers are using a café room in Ekimachi Terrace to provide free study hall and lunch to elementary school kids from 8:30 to 5 pm on weekdays until March 20. Capacity is 40 kids. 緊急子育て支援教室
Mar 8, 2020: The four Diamond Princess passengers from Shiga who tested negative for the coronavirus and disembarked on Feb. 20 ended their self-isolation at home in Shiga on March 5 since they remained in good health. They are two married couples in their 60s & 70s.
Mar 8, 2020: Major dept. stores and shopping malls in Shiga are shortening their hours until at least mid-March. Aeon Mall in Kusatsu is open 11 am to 8 pm. Mitsui Outlet Park Ryuo is 11 am to 7 pm. Seibu Otsu now open from 11 am to 7 pm.
Mar 8, 2020: Most March events/festivals in Shiga canceled. Museums in Shiga like Lake Biwa Museum closed until March 16. Hikone Castle buildings/Museum closed till March 31. Omi-Hachiman La Collina cafe & food court closed till March 15. Miidera's cherry blossom evening light-up canceled. https://t.co/cus9GS81aG
Mar 8, 2020: Shiga Prefecture confirmed its first coronavirus case on March 5. Age 60s man in Otsu got a fever on Feb. 25, visited the doctor 4 times until finally testing positive. Nine close contacts such as his wife, son, doctors, & nurses tested negative. He was commuting to Osaka by JR.
Mar 8, 2020: Biwako Marathon won by CHEBET Evans (Kenya) with 2:07:29. Fastest Japanese runner Sakuda Naoya was 4th (2:08:59). Since he didn't break Osako Suguru's record, Osako will be the 3rd Japanese marathoner at Tokyo 2020. Starting gun didn't work (!?) so the race was delayed by 10 min.
Apr 2, 2020: Important warning in Japanese from a Kansai woman living in crisis-hit New York City: https://t.co/iZnw8B6EZq
Apr 8, 2020: Due to this year's warm winter & lack of snow, Shiga's ski grounds saw a major drop in business. Oku-Ibuki saw only 50–90 cm of snow when it's normally 2 m. Over 160,000 skiers last winter, but only 56,000 this winter. Smaller ski grounds operated less than 7 days this winter.
Apr 8, 2020: On March 27, 2020, Shiga BOE gave 6-mo. suspension to a 20s male high school teacher for dating and kissing a female student from his own school from last May. He wants to resign. Name, city, and school undisclosed. He is free to work elsewhere with no one knowing about his past.
Apr 8, 2020: At Kyoto Sangyo University, three COVID-19 infected male students returned from a European trip in mid-March & foolishly partied with other students. By March 30, 16 students & staff at the university were confirmed cases. At least two of the infected people live Shiga.
Apr 8, 2020: On March 31, 2020, Otsu District Court acquitted former nurse Nishiyama Mika (40 西山美香) for the death of a patient in 2003 at Koto Memorial Hospital in Higashi-Omi. The judge said there was no foul play & the patient could've died from a irregular heartbeat or lack of oxygen.
Apr 8, 2020: Shiga's wagyu cattle farmers for Omi beef are falling on hard times due to coronavirus that has suppressed demand and prices for Omi beef. Fewer foreign tourists are eating out and buying high-grade beef at restaurants and dept. stores. 近江牛 需要減
Apr 8, 2020: Honmaru site of the lakeside Sakamoto Castle in Otsu is now open to the public for the first time on weekends and national holidays until Feb. 7, 2021. It was home to Akechi Mitsuhide in the 16th c. The site is now private property & no original buildings remain. 坂本城の本丸跡地
Apr 8, 2020: On March 31, new male employee (20s) at Heiwado found to have COVID-19. Graduate of Kyoto Sangyo Univ. (known cluster) where he joined a party on March 19 & got infected. He attended Heiwado training on March 28, and 21 fellow trainees are now self-isolating at home for 2 weeks.
Apr 8, 2020: Health food store worker at Foleo Otsu Ichiriyama shopping mall found to have COVID-19 on April 4, forcing most of the mall to close and disinfect from April 5 until further notice. Only the supermarket and drugstore remain open. #フォレオ大津一里山 https://t.co/IZttPntud1
Apr 8, 2020: Itakura Masahide (30s 板倉正英) arrested at home on April 5 for the hit-and-run death of Sayama Takahiro (61 佐山高広) by car on a road in Ryuo on April 4, 2020.
Apr 8, 2020: Electronic parts maker Nichicon Kusatsu became a COVID-19 cluster with 12 infected workers as of April 6, 2020. About 300 Nichicon workers have self-isolated at home since April 3 after the cluster was first found. #ニチコン草津クラスター
Apr 8, 2020: Due to the COVID-19 cluster at Nichicon Kusatsu infecting workers and their families, 20 elementary and jr. high schools in Kusatsu and 12 schools in neighboring Ritto will continue to be closed until April 19. School entrance and opening ceremonies will still be held on April 9.
Apr 8, 2020: Due to the COVID-19 cluster at Nichicon Kusatsu electronics co. that infected workers & their families, Otsu will extend the closure of its 55 kindergartens, elementary, and jr. high schools from April 13 to May 6 after school entrance ceremonies are held. ニチコン草津クラスター
Apr 8, 2020: Since a 60s man living in Koka & working at Nichicon Kusatsu was confirmed to have COVID-19 on April 6, all 27 elementary & jr. high schools in Koka will continue to be closed until April 19. School entrance ceremonies will still be held on April 9, but outdoors.
Apr 8, 2020: Due to coronavirus, filming of NHK Taiga Drama "Kirin ga Kuru" (Akechi Mitsuhide) has been suspended further until further notice. So far, no film crew member or cast has been diagnosed with COVID-19 & the stoppage won't affect the current broadcast of the series. #麒麟がくる
Apr 8, 2020: Due to coronavirus, Sagawa Art Museum in Moriyama & Miho Museum in Koka have closed from April 4 until further notice. Lake Biwa Canal boat rides also canceled since April 8. Lake Biwa Museum in Kusatsu remains closed. Otsu City Museum of History still open, but events canceled.
Apr 8, 2020: Sanno-sai Festival held by Hiyoshi Taisha Shrine in Otsu in mid-April has largely been canceled this year. Taga Taisha Shrine's Taga Matsuri horse procession normally held on April 22 has also been canceled for the 1st time in its recorded history.
Apr 8, 2020: As of April 7, Shiga Prefecture has 24 confirmed cases of coronavirus. It has been increasing almost daily in the past few days. Latest cases are five people in their 20s to 60s. One 40s woman in Higashi-Omi is in serious condition. Others are in Otsu, Omi-Hachiman, & Hikone.
Apr 8, 2020: People in Shiga are urged not to travel to/from these 10 prefectures including seven in a state of emergency: Tokyo, Kanagawa, Chiba, Saitama, Kyoto, Osaka, Hyogo, Aichi, Hokkaido, and Fukuoka. 厳に往来自粛
Apr 16, 2020: On March 14, 2020, BOE suspended a male elementary school teacher in Shiga for 6 months for sexual harassment (hugging and touching) of a woman teacher at the same school during April to July 2018. Almost 2 years to get a slap on the wrist. Culprit's name/city/age undisclosed.
Apr 16, 2020: Shintate Fumiko (53, 新立文子), convicted for negligent driving that killed 2 children on a street corner in Otsu in May 2019, has withdrawn her appeal against a jail sentence of 4.5 years given in Feb. 2020 by Otsu District Court.
Apr 16, 2020: Out of 183 elementary and jr. high schools in Shiga that had planned school trips during April–June 2020, 148 schools (64 elementary and 84 jr. high) have postponed the trip as of April 7. Meanwhile, 32 other schools are mulling to postpone.
Apr 16, 2020: On April 9, seven new cases of COVID-19 were confirmed, bringing the total to 33. One was a jr. high school student in Higashi-Omi, the first teenager in Shiga to get infected.
Apr 16, 2020: In addition to the closure of all public elementary and jr. high schools in Shiga, many daycare and nursery schools in Shiga have closed from mid-April 2020.
Apr 16, 2020: Okishima island in Omi-Hachiman is telling tourists (normally over 20,000/year) to not visit. The island's 270 residents are 60% elderly and have no clinic/hospital on island. They don't want to catch the virus. Stay away and stay home.
Apr 16, 2020: Japan's oldest man in Okazaki, Aichi died at age 110 on April 14, 2020, making Shirai Shojiro (白井庄次郎) in Takashima, Shiga, Japan's oldest man at age 110 (b. Oct. 29, 1909). Congratulations!!
Apr 16, 2020: From April 20 to May 31, local buses operated by Teisan Konan Kotsu in Otsu, Kusatsu, & Ritto will run less often. Community buses, Omi Railways, Keihan Bus, and Kojaku Kotsu Bus will run on normal schedules.
Apr 16, 2020: Almost all of Otsu's public libraries, gymnasiums, and other public facilities will be closed from April 15 to May 6. Public libraries in Kusatsu, Moriyama, Hikone, Nagahama, Omi-Hachiman, and Taga are also closed.
Apr 16, 2020: Two Otsu City Hall workers confirmed to have COVID-19. The first confirmed on April 11, age 40s male in the urban planning dept. Other confirmed on April 13, also age 40s male in the same dept. The office has been disinfected, 100 workers in the dept. now self-isolating at home.
Apr 16, 2020: Shiga's public health centers are overworked with COVID-19 inquiries & PCR testing requests. As of April 13, the consultation center in Shiga for overseas returnees & close contacts received 6,365 inquiries, & 550 PCR tests have been conducted. More employees will be sent to help
Apr 16, 2020: On April 14, Shiga saw 11 confirmed cases of COVID-19, the most ever in one day. They include a baby boy in Yasu hospitalized in Omi-Hachiman Community Medical Center (近江八幡市立総合医療センター) where 4 close contact doctors and 14 nurses are now in self-isolation for 2 weeks.
Apr 16, 2020: On April 14, Shiga saw its first death due to COVID-19, a man in his 60s in Otsu. A company owner & confirmed with COVID-19 on April 7. No underlying illness, but his condition worsened with breathing difficulties and he died despite having a ventilator while hospitalized.
Apr 16, 2020: Shiga Governor is mulling the option to declare Shiga in a state of emergency due to the spike in coronavirus cases & increasing untraceable cases. Hospitals in Shiga are already quite full, & four COVID-19 patients are being told to stay home due to the lack of hospital beds.
Apr 16, 2020: As of April 16, Shiga has 57 confirmed cases of COVID-19. The 5 latest cases today include a daycare infant and a worker at Hankyu Oasis Kusatsu Branch supermarket. The supermarket has closed for disinfection. A state of emergency has been declared for all of Japan until May 6.
Apr 22, 2020: Lake Biwa boat cruises on the Michigan and Bianca has been suspended since April 13. Boat cruises to Chikubushima might also be suspended.
Apr 22, 2020: In May, Takashima plans to give all adult city residents a gift coupon named "Aika" worth ¥10,000. It can be used at 1,300 supermarkets, eateries, etc., in Takashima. Kids below age 18 will receive a ¥3,000 gift coupon to buy books. It's to boost the local economy.
Apr 22, 2020: Enryakuji Temple on Mt. Hiei has closed its doors to visitors on April 20. It will reopen when it is safe to do so. Meanwhile, temple priests will keep praying for the coronavirus to go away and want you to stay home. Let's hope their prayers will come true very soon.
Apr 22, 2020: In Hikone on April 17, age 10 boy broke his collarbone after the playground swing he was riding snapped. Hikone consequently inspected 355 playground parks and closed playground equipment at 58 city parks deemed to require repairs.
Apr 22, 2020: Due to the state of emergency, Driver's License Centers (Unten Menkyo Center) in Moriyama & Maibara & 12 police stations in Shiga have suspended driver's license renewals since April 19. For now, you can only extend your driver's license by 3 months. Also possible by postal mail.
Apr 22, 2020: The closure of elementary and jr. high schools in Otsu and Yasu will be extended to May 31. Schools in other cities will remain closed until at least May 6.
Apr 22, 2020: To relieve pressure on hospitals, Shiga opened Hotel Piazza Biwako in Otsu on April 22 for COVID-19 patients having mild symptoms. Total of 62 rooms from the 8th to 10th floors have been rented by Shiga. One patient per room. Two nurses 24/7 and on-site doctor during the day.
Apr 22, 2020: Otsu City Hall will be closed from April 25 to May 6 due to a cluster of 11 COVID-19 employees infected since April 11. They worked on the 3rd & 4th floors in the urban planning & construction depts. 1,200 workers will stay home, but 36 branch offices & call center will be open.
Apr 22, 2020: In Shiga, hospitals, drugstores, supermarkets, convenience stores, dept. stores, DIY home centers, banks, restaurants, izakaya, coffee shops, hotels/ryokan, barber/beauty shops, public baths, daycare centers, nursing homes, & public transportation will remain open April 23–May 6.
Apr 22, 2020: Shiga's directive to close amusement & sports facilities will take effect April 23–May 6. Nightclubs, Internet cafes, live houses, karaoke, theaters, gyms, pools, bowling, arcades, pachinko, galleries, schools, museums, libraries, meeting rooms, non-essential stores to be closed.
Apr 22, 2020: On April 22, 12 COVID-19 cases in Shiga, the most ever in one day. Includes 4 female cases at a dental clinic cluster in Kusatsu caused by an infected dental hygienist, & 6 cases are family members (wife, 3 sons, and 2 parents) of an infected Otsu City Hall male worker.
Apr 22, 2020: As of April 22, Shiga has 88 confirmed cases of COVID-19. The number of cases break down into Kusatsu with 31; Otsu 28; Ritto 7; Higashi-Omi 5; Yasu & Moriyama 3 each; Omi-Hachiman, Maibara, Nagahama, & Hikone 2 each; Koka, Takashima, & Kyoto visitor 1 each.
Apr 29, 2020: Lately, I've been seeing and blocking a rash of fake followers. I don't allow fake accounts to follow me on any social media. They will be deleted and blocked forever.
Apr 29, 2020: Social Welfare Council offices in Shiga are deluged with loan requests from individuals & businesses due to COVID-related income/job loss. As of April 23, about 700 loan requests totaling ¥100 million have been received in Shiga. Interest-free loans up to ¥200,000 are available.
Apr 29, 2020: To help prevent the spread of coronavirus, Otsu Prince Hotel has suspended all operations from April 27 to May 31. Also, Royal Oak Hotel Spa & Gardens in Otsu has suspended operations from April 28 to June 30, 2020. Let's hope their employees will survive and get their jobs back.
Apr 29, 2020: In Konan, water will be free for normal households (not businesses) for 4 months from June–Sept. 2020. Giving a break to people facing lower incomes due to coronavirus. Average 4-month household water bill in Konan is ¥16,000. (Maybe higher now due to all the hand washing.)
Apr 29, 2020: The closure of all public elementary, jr. high, and high schools in Shiga has been extended from May 6 to May 31. Meanwhile, there is talk among some prefectural governors to change the school year to start from Sept. like the rest of the world. That would be great.
Apr 29, 2020: Heiwado/Friend Mart supermarkets have implemented virus countermeasures by limiting customers inside the store, social distancing among customers, and having plastic curtains at checkout. Busiest shopping times to avoid are 11:30 am–1 pm and 5 pm–7 pm.
Apr 29, 2020: Tourist bureaus in Shiga are not providing any foreign language info about hotel/sightseeing closures and event cancellations in Shiga. Still posting photos of cherry blossoms, wisteria, etc., as if there's no virus even while the Shiga governor is telling people to stay away.
Apr 29, 2020: This "COVID-19 in Shiga" page has been created for daily updates on COVID-19 cases in Shiga: https://t.co/jIwFmpy5oj
Shiga History January–April 2018 | Chronological History of Shiga | Shiga History Sept.–Dec. 2018