Recommended festivals (matsuri), events, exhibitions, and fall leaves in Shiga Prefecture in November–December 2018. (Most official Web sites are in Japanese only.)
Compiled by Philbert Ono. Updated: Nov. 14, 2018
November 3, 2018
♦ Little Edo Hikone Castle Festival Parade, Hikone Castle, 1:00 pm – 3:00 pm
Very elaborate costume parade of mainly kids dressed as samurai and Edo-Period ladies. Highlights include the Hikone Gun Battalion giving a matchlock gun demo (in front of Horse Stable), Ii Naosuke played by an actor on horseback, fireman acrobatics, and Sarugaku dancers. The parade route starts from Joto Elementary School and proceeds along the road to the castle and passes in front of the Umaya Horse Stable. Video here. Short walk from JR Hikone Station. Map | Video | Photos
小江戸彦根の城まつりパレード
English: http://www.hikoneshi.com/en/event/articles/220
Japanese: http://www.hikoneshi.com/jp/event/articles/c/parade
November 18th-25th, 2018
♦ Koto Sanzan Temple Trio autumn foliage, Kora, Aisho, and Higashi-Omi
Koto Sanzan (湖東三山) is a trio of large Tendai Buddhist temples famous for autumn leaves in eastern Shiga. They are Saimyoji (西明寺) in Kora, Kongorinji (金剛輪寺) in Aisho, and Hyakusaiji (百済寺) in Higashi-Omi (see map below). They are also famous for structures that are National Treasures or Important Cultural Properties.
During the autumn foliage period, convenient shuttle buses (Koto Sanzan Shuttle Bus) run every day between Hikone Station and these three temples. For more details and the shuttle bus schedule in English, click here.
November 3rd-30th, 2018
♦ Eigenji Temple Autumn Foliage and Light-up, Higashi-Omi, 5:00 pm – 8:30 pm for light-up
Although this temple is not one of the Koto Sanzan Temple Trio, it's also famous for autumn leaves with 3,000 maple trees. Along with Saimyoji, Eigenji is also one of Japan's 100 Grand Autumn Foliage Sites. Established in 1361, Eigenji belongs to the Zen Rinzai Buddhist Sect (Eigenji School). Since it's a different sect, Eigenji is not a member of the Koto Sanzan trio of Tendai Sect temples. Impressive during the day, but also beautiful at night when the leaves are illuminated along with the walking paths. Admission 500 yen.
From Ohmi Railways Yokaichi Station, go to Bus stop 1 and take the bus going to Eigenji Shako (永源寺車庫) and get off at Eigenji-mae (永源寺前). Takes about 35 min. Bus schedule (in Japanese) from Yokaichi Station on weekdays | Saturday | Sunday. Note that from Eigenji-mae, the last bus for Yokaichi Station leaves at 7:16 pm on Sat./Sun. and 8:27 pm on weekdays. Map
永源寺 ライトアップ
Japanese: http://eigenji-t.jp
November 10–December 2, 2018
♦ Konan Sanzan Temple Trio Autumn Tour, Konan, all day
Not to be confused with Koto Sanzan, Konan Sanzan is a trio of Tendai Buddhist temples in the city of Konan. A small city like Konan is lucky to have as many as four National-Treasure structures at the three Konan Sanzan temples. Like Koto Sanzan, Konan Sanzan temples are also noted for autumn leaves. During this period, a convenient shuttle bus plies between the temples and train stations.
The temples are Jorakuji (常楽寺), Chojuji (長寿寺), and Zensuiji (善水時). Jorakuji has not one, but two buildings that are National Treasures: the Hondo main hall and three-story pagoda. Chojuji means, "Long Life Temple," and its small, but distinctive Hondo hall is a National Treasure. Zensuiji has the largest and most impressive Hondo hall (National Treasure) bearing elegant roof lines. Not to be missed by architectural buffs. The three temples are all in quiet, rural neighborhoods.
One thing you have to understand is that two of the temples (Jorakuji and Chojuji) are on one side of the train tracks and the third temple (Zensuiji) is farther away on the other side of the tracks. So there are two separate bus routes going to the three temples and there's a train ride between Jorakuji/Chojuji and Zensuiji.
The Konan Community bus called Meguru-kun runs from JR Ishibe Station (JR Kusatsu Line) to Jorakuji and Chojuji once an hour from 8:24 am to 3:45 pm. From Jorakuji, you can take the bus to Chojuji. From Chojuji, take the bus back to JR Ishibe Station and catch the train to JR Kosei Station one stop away.
From JR Kosei Station, take the bus to Zensuiji (get off at the "Iwane" stop). The last bus leaves Zensuiji (Iwane) at 5:16 pm for JR Kosei Station. You can also tour the temples in reverse order, starting with Zensuiji.
In the morning, buses leave JR Kosei Station (north exit Kita-guchi) for Zensuiji at 8:28 am, 9:25 am, 10:15 am, 12:20 pm, 1:45 pm, 2:45 pm, 3:50 pm (except on weekends and holidays). Bus fare is ¥250 per ride for adults. ¥130 for kids.
Konan Sanzan info and bus schedule in Japanese | Map
湖南三山めぐり
November 10th–25th, 2018, 5 pm–8:30 pm
♦ Hiyoshi Taisha Shrine Maple Festival Light-up, Otsu
Hiyoshi Taisha Shrine at the foot of Mt. Hie in Otsu, Shiga Prefecture is the head shrine for all Hiyoshi, Hie, and Sanno Shrines in Japan (around 2,000). The spacious grounds includes two shrines that are National Treasures and 3,000 maple trees lit up at night 5:00 pm–8:30 pm during this period. Even the green leaves look great against the dark sky. The shrine also has a chrysanthemum display around the same time. Highly recommended if you're in that part of the city. Near Hiezan Sakamoto Station on the JR Kosei Line and Keihan Line's Sakamoto Station. Map | Photos
もみじ祭
http://hiyoshitaisha.jp/event/momiji/
November 16–December 2, 2018
♦ Ishiyama-dera Temple Autumn Foliage Light-up, Otsu, 5:30 pm – 9:00 pm (enter by 8:30 pm)
Founded in 749, Ishiyama-dera, belonging to the Shingon Buddhist Sect, is the 13th Temple of the Saigoku Pilgrimage. The temple is noted for National Treasure architecture, cherry blossoms, and fall leaves. The maples are nice even during the day, but the evenings will include LED lights. Mini-concerts on weekends at 6:30 p.m. Admission ¥600. Map
三井寺 秋のライトアップ
English:
Japanese: https://www.ishiyamadera.or.jp/guide/event/atarayo
November ??, 2018
♦ Miidera Temple Autumn Foliage Light-up, Otsu, 5:00 pm – 9:00 pm (enter by 8:30 pm)
Established in the 7th century, Miidera temple, or Onjoji, is one of Otsu's major temples and one of Japan's four largest temples. It is the headquarters temple of the Tendai Jimon Buddhist Sect and former rival of Enryakuji temple on Mt. Hiei. It is a complex of numerous structures including National Treasures and Important Cultural Properties. The temple bell is famous for being one of the Omi Hakkei (Eight Views of Omi) depicted in ukiyoe prints. During this period, the temple's three-story pagoda will also be open to the public. Map
三井寺 秋のライトアップ
English:
Japanese:
November ??, 2018
♦ Hyozu Taisha Shrine Garden Autumn Foliage Light-up, Yasu, 5:00 pm – 8:30 pm (until 9 pm on weekends and holidays)
Established in 717 (Nara Period), Hyozu Taisha Shrine has a noted Japanese garden with a pond ringed by small rolling hills and autumn leaves. The fall leaves certainly look colorful and impressive when illuminated in the evenings and reflected in the pond. Events and merchandise booths will be held on weekends.
A short bus ride from JR Yasu Station's North Exit (Kita-guchi). Take the Yoshikawa Line (going to Nishi Kawahara 2-chome 西河原2丁目 or Ayame-hama あやめ浜) and get off at Hyozu Taisha 兵主大社. Buses are infrequent (schedule here). The last bus leaving Hyozu Taisha for Yasu Station leaves around 9:02 pm on weekdays and around 7:17 pm on Sat./Sun. Or take a taxi (costing about 2,000 yen from Yasu Station). Map
兵主大社庭園紅葉ライトアップ
Japanese: http://www.yasu-kankou.com/
November 17–December 2, 2018
♦ Genkyuen Garden Autumn Foliage Light-up, Hikone, 6:00 pm – 9:00 pm (enter by 8:30 pm)
Adjacent to Hikone Castle, Genkyuen was built as a castle garden in 1677 by Ii Naooki, the fourth lord of Hikone Castle. I would call this Shiga's best place to view autumn foliage illumination. The pond's reflection of the colorful autumn leaves at night doubles the impact. Hikone Castle in the background is also lit up for a perfect night scene. Reminds me of a master painter using a black canvas. Admission ¥700 (¥350 for jr high and younger). Short walk from JR Hikone Station. Map
錦秋の玄宮園ライトアップ
English:
Japanese: http://www.hikoneshi.com/jp/event/articles/c/kinshu
November 15–December 5, 2018, 5:30 pm–7 pm (enter by 6:30 pm)
♦ Kyorinbo Garden Autumn Foliage Light-up, Azuchi, Omi-Hachiman
Beautiful Japanese garden designed by Kobori Enshu. Part of a temple at the foot of Mt. Kinugasa. Autumn foliage at night is reputed to be most beautiful. Of course, you can also go during the day. Tripods/monopods and food are not allowed. No photography inside the buildings. The garden is usually open only on weekends and holidays, but it will be open every day during the evening light-up days. Admission 600 yen (200 yen for jr high and younger). From JR Azuchi Station, take a taxi for 10-min. ride. Google Map
石の寺 教林坊 紅葉ライトアップ
November 24–December 25, 2018, 5 pm–10 pm
♦ Former Toyosato Elementary School Evening Illumination, Toyosato
Pretty outdoor and building illumination in the evening. Christmas concert on Dec. 22 at 3 pm in the hall. Designed by William Merrell Vories the school has become nationally famous as the backdrop for the popular K-ON! anime/manga series. For groups of four or more, guided tours of the old school are provided for a fee.
Japanese: http://toyosato-kanko.jp/event/illumi2017/
豊郷小学校旧校舎群ライトアップ&イルミネーション
October 27–November 25, 2018
♦ Hie Momiji Matsuri Maple Festival, Otsu
In the Yokawa complex of Enryakuji Temple on Mt. Hiei, lots of maple leaves in autumn. From the ropeway station, take the shuttle bus to Yokawa complex. 比叡のもみじ
Japanese: https://www.hieizan.or.jp/archives/3218
November 23–December 2, 2018
♦ Metasequoia (dawn redwood) trees, Makino, Takashima
A pretty road lined with Metasequoia trees turn color in autumn. At JR Makino Station, take the Makino Kogen bus and get off at the Makino Picland bus stop. メタセコイア並木
Japanese: https://takashima-kanko.jp/2018/07/post_642.html
November 25, 2018
♦ Tonda Ningyo Puppet Show, Nagahama, 1:30 pm
The famous Tonda puppet troupe will perform three acts at Lute Plaza. Admission 1,200 yen at the door. For info, call 0749-63-7400.
At JR Nagahama Station, go to Bus stop 1 and take the bus at 12:27 pm going to Nagahama Shiyakusho Azai-shisho-mae (長浜市役所浅井支所前) and get off at Biwa Shisho-mae (びわ支所前). Takes about 20 min. Only three buses go there on Sunday. Or take a taxi if you're rich or going with friends.
Japanese: http://www.city.nagahama.lg.jp/0000005315.html
Google Map
人形浄瑠璃「冨田人形」
December ??, 2018, 6:30 am
♦ Hot Air Balloon Over Lake Biwa, Takashima, early morning
Dramatic sight of hot-air balloons crossing Lake Biwa. They start off very early in the morning at Omi-Shirahama Beach so you would have stay near this beach in Takashima. The balloons aim to land in Notogawa in Higashi-Omi across the lake. Note that weather conditions can cancel the event.
熱気球琵琶湖横断
http://www.takashima-kanko.jp/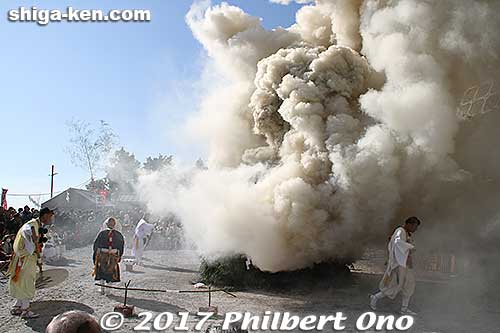 December 2, 2018
♦ Tarobogu Shrine Fire Festival, Higashi-Omi, Noon – 4:00 pm
Held annually on the first Sunday of December, the Tarobo Shrine Fire Festival burns a big pile of pine tree branches and 100,000 wooden prayer tablets called goma (護摩) collected from believers all over Japan. The tablet is written with the believer's name, address, and prayer wish. The fire burns as a prayer for family health and safety. After the fire settles down, barefoot priests and anyone can walk over the not-so-hot ashes. Very dramatic festival (photos).
Short walk from Ohmi Railways Tarobogu-mae Station. Map
太郎坊宮お火焚大祭
http://www.tarobo.sakura.ne.jp/posts/news7.html
For art and museum exhibitions in Shiga, see Kansai Art Beat's exhibition schedule for Shiga museums.