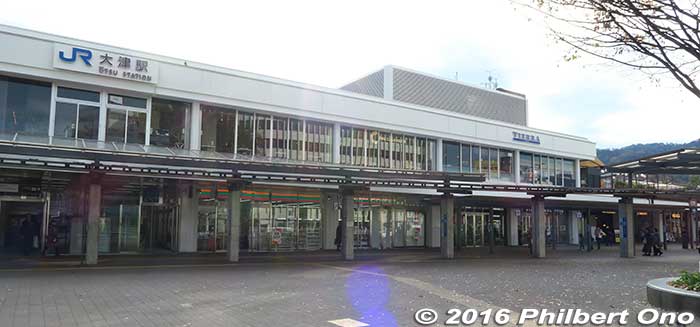 After a few years of uncertainty and about a year of major renovations, a new lease on life has been bestowed on the JR Otsu Station building that reopened on Oct. 1, 2016. I dropped by in late Nov. 2016 to check it out.
The train station platforms look the same, but when you get to the turnstiles at the north exit, the place looks cleaner and more spiffy, including the restroom. After passing through the turnstile, you see a new 7-Eleven on the left. To explore the new Otsu Station building, you now have to go outside. Walk outside the building to see the new 1st floor restaurants or enter The Calendar entrance to go upstairs to the 2nd floor. The long corridor and stairways that were inside the building are now gone.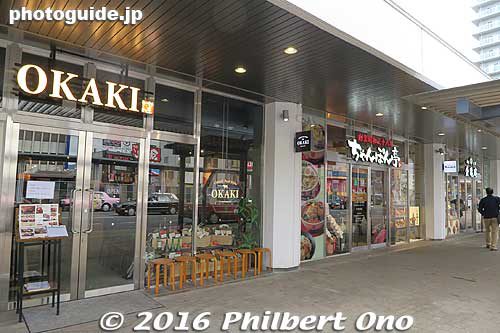 On the outside, the two-story station building has a new paint job and looks basically the same structurally, but the interior has been totally gutted and replaced mainly with restaurants on both the 1st and 2nd floors. Besides 7-Eleven, the 1st/ground floor now has Starbucks, Japanese bank ATMs (Sumitomo-Mitsui and Resona), Otsu Tourist Information Center (rental bicycles), and three Shiga-original restaurants: Okaki for Omi beef, Chanpontei for ramen, and Konkian for soba noodles. The renovations have also made the building more earthquake-resistant.
The station building is now named "Vierra Otsu" (ビエラ大津). According to the building's developer, JR West Real Estate & Development Co., the word "Vierra" was created with the Spanish words "vida" (life) and "tierra" (land or earth), so it supposed to mean "a place for convenient, everyday living." But why Spanish? There's nothing Spanish in the building. It's not even a real Spanish word so no one will understand what it means. In English, we only know "Vierra" as a surname.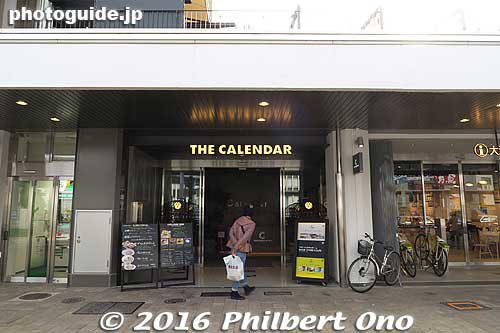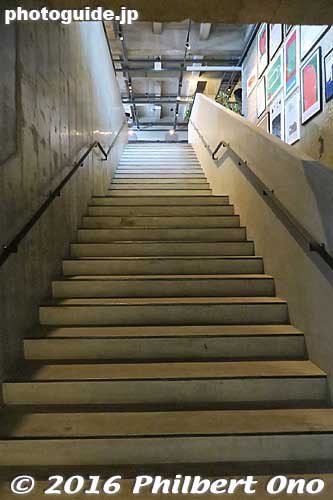 The building's biggest and most dramatic change is upstairs on the 2nd floor. It's where they have "The Calendar," a unique combination of different and almost seamless spaces for a restaurant, cafe, bar, open-air rooftop terrace (barbecue and beer garden), bookshelves selling books, 60-bed capsule hotel, and even a ping-pong table. The open-air terrace was built on an existing rooftop, covering one-third of the station building.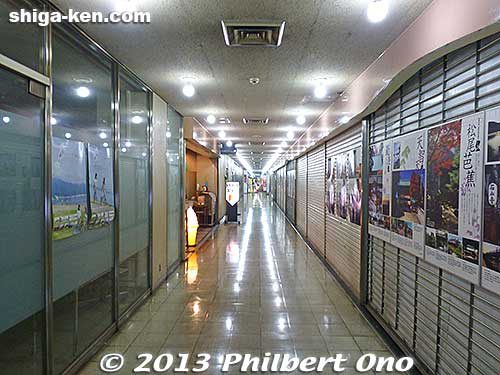 Indoors, the 2nd floor now looks to be one large room with various spaces. It replaces the old restaurants and offices on the 2nd floor. Very dramatic change if you know what the 2nd floor looked like before (photo above) with a long corridor in the middle of the partitioned restaurants and offices.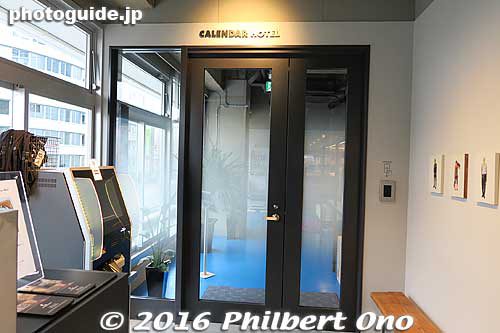 The capsule hotel, named Calendar Hotel, is on the east end of the building and accessible through an obscure door in a corner of the restaurant. Only hotel guests can enter the small door to the capsule hotel. They don't allow people to tour the capsule hotel, so I can't review it unless I stay there. The hotel has separate quarters for men and women with 36 capsules for men and 24 for women, starting at ¥3,000/night. There's also free Wi-Fi. Not all capsules are equipped with a TV which costs extra. Capsule rates also vary depending on the day of the week (most expensive on Sat. nights). You can also request breakfast and/or dinner. The hotel supposed to be geared for foreign tourists so they should have information in English and other languages.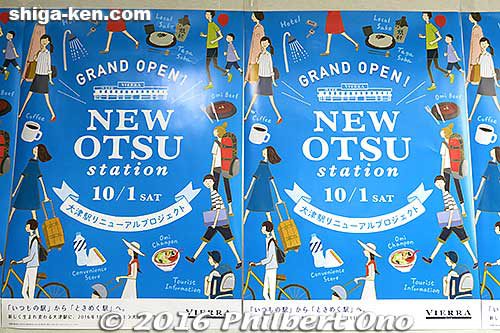 Compared to the old station building, Vierra Otsu offers a much better choice for dining and hanging out. Good to see restaurants that originated in Shiga. After seeing the Otsu Station building shuttered and almost abandoned for a significant period before the renovations started in Nov. 2015, it was a welcome sight to see it finally reopen. Next we have to wait for the new supermarket (and condominium) slated to replace the AL Plaza mall now being torn down next to Otsu Station.
The whole idea is to revitalize the sleepy Otsu Station area, attract more people (including foreign tourists), and provide a place to dine, rest, and hang out. Attracting more tourists might be quite difficult since the Hama-Otsu area at lakeside is where the action is with a shopping mall, restaurants, cruise boat port, and hotels. There's not much near Otsu Station except for the prefectural government office.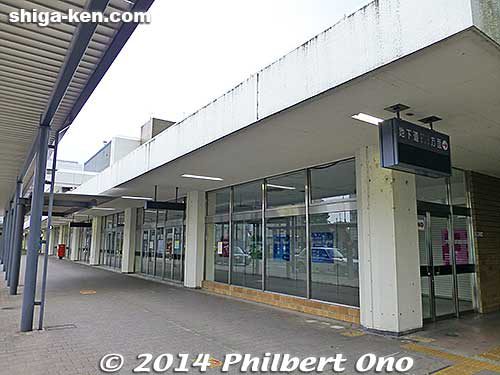 Built in 1975, the Otsu Station building was originally managed by a public corporation in Otsu that contracted with JR (Japan Railways) to lease floor space to businesses. When this public corporation dissolved, the city took over the building's management from 2010. However, the aging building was in need of major repairs, especially to the air-conditioning system which would be a major expense.
After March 2014, the city of Otsu quit managing the Otsu Station building that it had been sub-leasing to tourist offices, shops, and restaurants. It had been paying JR, the building's owner, ¥16 million annually to lease the building. They cited the old air conditioning that would cost ¥200 million to renovate. JR also told the city that the building's commercial potential was too low to justify a reconstruction.
After a few years of discussions and negotiations, the city of Otsu and JR finally came to agreement on the building's renovations and how much of the bill both would foot. The city agreed to bear two-thirds of the cost while expecting subsidies from the central government, and JR would pay one-third. The total cost was reported to be at least ¥700 million.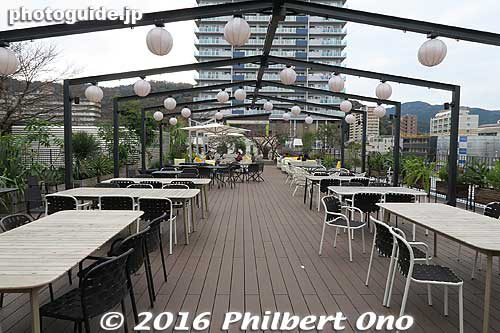 As soon as I entered The Calendar restaurant on the 2nd floor, a friendly young waitress greeted me and asked whether I was there to eat or just drink. I was there for lunch so she told me where I could order and pay the cashier in advance. I stood in a short line to order the daily lunch special (¥850) and paid. I was given a beeper that would alert me when my order was ready. I was told that I could sit anywhere so I spent the waiting time touring the 2nd floor looking at everything except the off-limits capsule hotel. Went outside to the terrace and sat in different chairs.
The Calendar has a wide variety of seating and spaces. First you have to decide whether to sit outdoors on the terrace or stay indoors. The weather may easily decide that for you. The outdoor terrace is very spacious, airy, and well furnished with many comfy chairs. Large groups would like the large sofas and tables. It was built on an existing rooftop covering the ground floor. Too bad there are no nice views. Only buildings.
If the neighbors don't complain, I would like to see live entertainment on the terrace. Perhaps Otsu Matsuri musicians can perform here before the festival as a PR ploy. Or have upcoming local singers, musicians, or hula dancers (especially in summer) to perform. Great place for private parties. I hope they can find a way to use the terrace even in the colder months. It looks like they can install a tarp-like roof over the entire terrace for cold or rainy weather. That space is just too big for it not to be used in the colder months. All that furniture has to be protected from the elements too.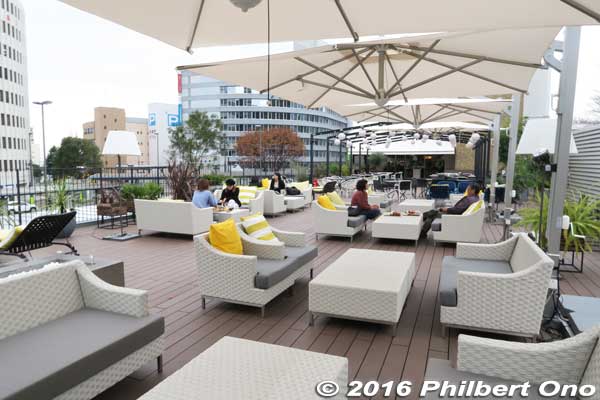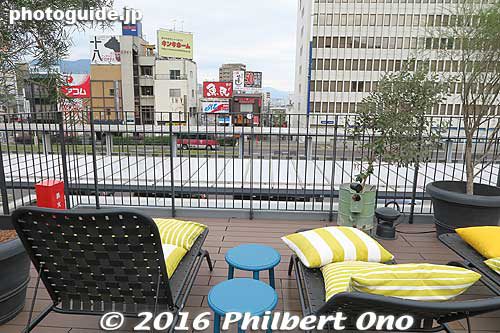 Indoors, you will find single seats in front of the main picture window, small tables for couples and small groups, and tables for larger groups. There's even a sit-on-the-floor room next to the ping-pong table in the corner room. This is where I decided to have lunch. It looks like a Japanese-style room, but the floor is varnished wood instead of tatami mats and the cushions are super thick to make it comfortable even for people not used to sitting on the floor. This room seemed popular among couples and families with small kids. It also had a view of passing trains at Otsu Station. I liked this room (and the cushion) as well.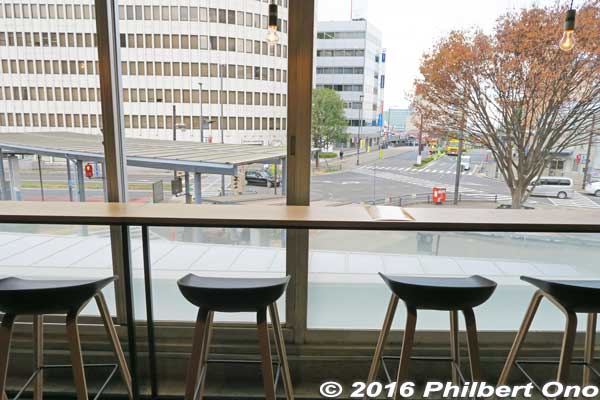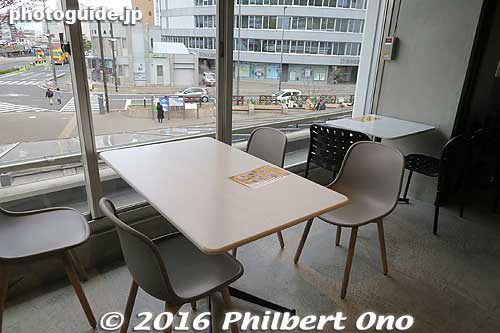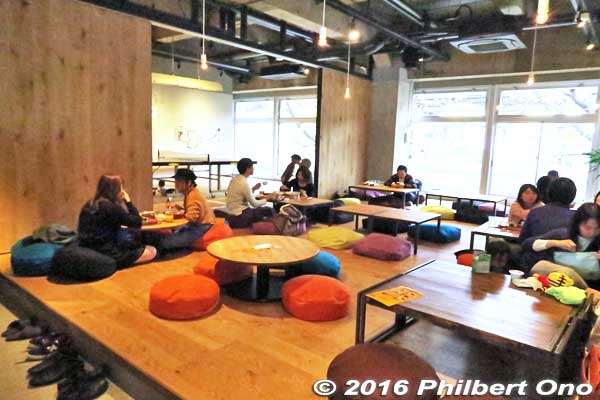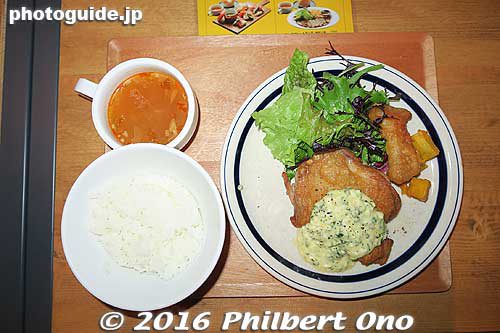 My beeper sounded and I went to get my food. The lunch special was okay, but not especially delicious. Main dish was chicken. While I had lunch, a few boys eating in front of me played ping-pong. To play ping-pong, you have to close the sliding doors so the ball doesn't bounce out. They seemed to have fun, but I wondered how popular it would be among customers. It's a novel idea to have a ping-pong table, but that room was about the same size as the adjacent sit-on-the-floor dining room where 10 people and I were eating. The ping-pong room is only for 2 or 4 people at the most, and it could seat at least 12 people as a dining room. 
If they wanted to offer something unique, I think it would be more practical and attractive to convert the ping-pong room into a kids' playroom where parents can easily watch over their kids while dining. Instead of going to the neighborhood park to socialize with other moms and kids, they could all come here, especially in the colder months. The noisy kids wouldn't really bother the other customers because the room is set apart from the rest of the restaurant. Great place for kids' birthday parties too.
The Calendar restaurant is nice and I felt good vibes, but it didn't make me feel like I was in Otsu. What was missing was localized decor. At the top of the stairs, there were modern posters on the wall, but none were apparently related to Otsu. There is some artwork on the walls here and there (even inside the restroom), but they have nothing to do with Otsu or Shiga. Even the books on the bookshelves, I couldn't find any Otsu- or Shiga-related books or magazines. How about installing Otsu-e paintings, pictures or paintings of Otsu Matsuri, Otsu-juku, Omi Hakkei, the lake, etc? Promote Otsu. There's lots of wall space and it needs some local flavor since there aren't any views of the lake.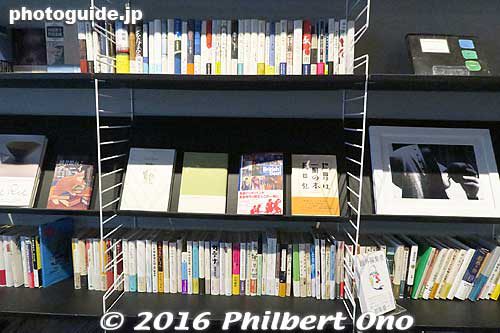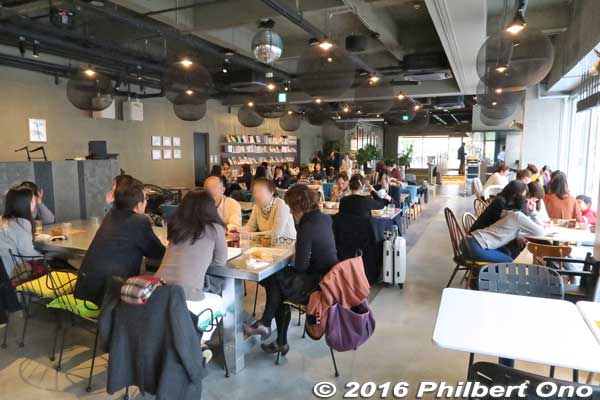 Together with the Otsu Tourist Information Center, The Calendar also holds activities such as craft making, cooking, shogi, sake brewery tours, daily exercises, etc. This is good, to have community and cultural activities. They should add foreign language classes for tourist/restaurant/hotel staff if they want to welcome foreign visitors.
One confusing thing is that they have so many different names for the spaces they have: Restaurant, cafe, bar, Japanese-style multipurpose room, Calendar Hotel, capsule hotel, Lobby & Lounge (and Lobby Lounge), Terrace Restaurant, BBQ Terrace, Beer Garden, Book Cafe, Book Store & Cafe, and ping-pong lounge. Some things like the hotel and terrace are obvious, but the restaurant, cafe, lounge, lobby, and bar all look to be in the same room. I don't know why it was named "The Calendar" either. Couldn't see any obvious connection nor find any answer.
The Calendar is very spacious and quite big (maybe too big), and it looks like a great place for locals and tourists to hang out. Even the restroom was very modern and chic. I think it has great appeal and potential for people who live or work near Otsu Station. It's certainly a great improvement over the old building.
But Otsu Station is still only restaurants and no shops except for 7-Eleven. It's going to mainly cater to local residents and workers. It's great for them, but I don't think normal tourists would get off the train just to dine here. The simple truth is that there are no major tourist attractions near Otsu Station except during major festivals like Otsu Matsuri. Central Otsu's attractions are mainly along the Keihan Line which is not connected to Otsu Station on the JR Tokaido Line.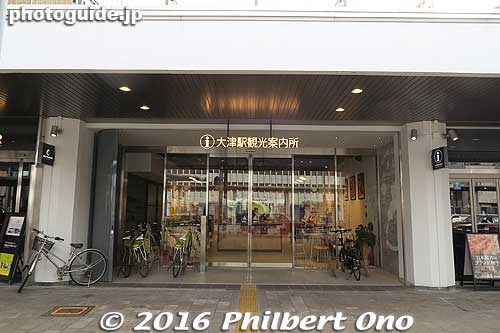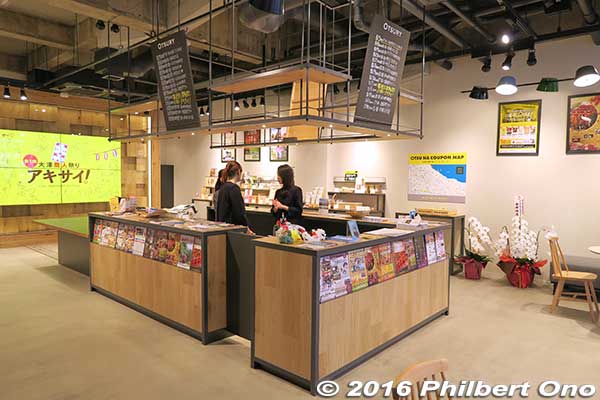 After lunch, I dropped by the Otsu Tourist Information Center on the 1st floor. The location and space are great improvements over the old office on the 2nd floor (and in the temporary quarters during the renovations). They still need to have a large sign inside the train station near the turnstiles to point the way to the Center.
I entered the new Otsu Tourist Information Center and expected the usual and polite "Irasshaimase" (Welcome!) that I'm so used to in Japan. But the three women staff never even paid attention to me. Another man soon walked in, and they never said anything to him either. It was like we were invisible to them. They just continued to whisper amongst themselves with their backs facing outward. How can you work there and totally ignore walk-in visitors when you're not even busy? It's common sense and standard procedure to greet visitors, especially if you're in the hospitality industry.
I walked around the room and saw some local products on sale (they need to sell more products unless 7-Eleven already has an Otsu section), a large video monitor, and tourist pamphlets. But the atmosphere was strange. The place was nice enough, but it lacked soul and warmth (人情), at least when I was there in late Nov. I didn't feel any welcoming vibes, and it was a silent, cold space compared to the many other tourist information centers I've been to in Japan. Yes, you could call me a tourist information center connoisseur.
When one of the women finally faced outward, I went up to her and asked a simple question about Ogoto Onsen. She said they didn't have the answer to my question, so she would give me the phone number for the Ogoto Onsen tourist/ryokan association for me to call them and find out for myself. I was flabbergasted.
"What?? You want me to call them?!" (For information that they should've known in the first place.) She said yes, and I shook my head in disbelief and walked out. What prevented her from making that call and asking for me?? She could've learned something new in the process. If they don't know the answer, it is their job to try and find out for the visitor. Perhaps if I spoke in English, they might have been more helpful. But it shouldn't have made a difference.
They need to understand that they are representing the city of Otsu, that they are the city's front-line ambassadors who give tourists their first impressions of the city. They give the city a human face. Their job might be mundane at times, but tourist information staff are actually very important. (More important than the largely ceremonial Miss Biwako-Otsu Tourist Ambassadors.)
It seems the company (BALNIBARBI Co., Ltd.) operating The Calendar is also managing the tourist information center. The restaurant staff were good, but the tourist information staff need to receive better training in both local tourism information and customer service. Please note that I don't criticize to embarrass people. I criticize to help them improve their product, service, attitude, knowledge, skills, effectiveness, efficiency, professionalism, etc. Because I care about them.
I'm also amused that, as of this writing, Otsu's official tourist information website does not mention The Calendar in their list of hotels nor in their list of Otsu restaurants even though they are right next door and co-organize tourist activities with The Calendar. Japan is a land of ironies, is what I always say.
Good luck to Otsu Station. Just because the renovated station building has reopened doesn't mean that the job is done. It's only the beginning, a stepping stone. They still need to keep brainstorming and working on how to attract more outsiders to the area and the city. The new station building is only a small part of it.
*For detailed restaurant hours, menus, hotel reservations, etc., see The Calendar website in English or in Japanese.
*Additional reading: Top 20 train stations in Shiga