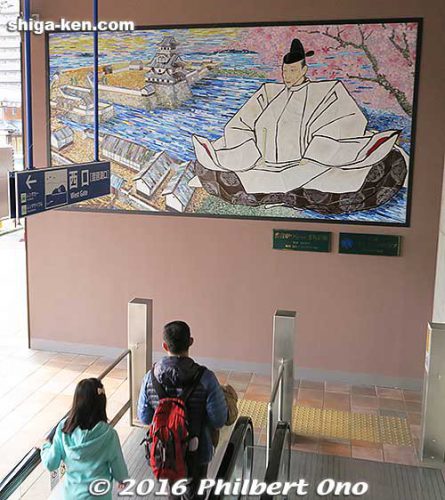 Chronology of Shiga Prefecture's major and interesting news headlines for Jan.–April 2016 (according to the year, month, day, and time posted at Japan time).
Originally posted on Twitter under Shiga Headlines by Philbert Ono. Twitter posts are limited to 140 characters including spaces and links (shortened by Twitter). Dates and times below are based on GMT instead of Japan time.
*From 2016, Shiga History blog posts for Shiga Headlines will include four months of tweets instead of only three months.
| | |
| --- | --- |
| 2016/1/1 9:56 | Happy New Year 2016! We're having a "warm" winter. Snow on Ibuki on New Year's Day, but even Yogo is snowless. https://t.co/yyF2c99p2G |
| 2016/1/5 14:51 | "Child-rearing" taxi service has started in Shiga for busy parents to have their kids driven to/from school, etc., by trained taxi drivers. |
| 2016/1/8 4:59 | 長浜駅舎内にある長浜駅観光案内所は市内の路線バスの案内がまったくやってない。バスの時刻表もない。バスの案内や情報は観光案内所の一つの基本的な仕事である。 |
| 2016/1/11 14:51 | On Coming-of-Age Day today, 14,615 in Shiga reached adulthood (those born between April 2, 1995 to April 1, 1996), 679 fewer than last year. |
| 2016/1/15 9:40 | Held in Oct., Otsu Matsuri is slated to be designated as a National Important Intangible Folk Cultural Property. https://t.co/d2KofzROYq |
| 2016/1/15 14:44 | I will welcome Twitter's policy of allowing up to 10,000-character tweets. But I will still keep my tweets very short. |
| 2016/1/17 14:07 | Congratulations to Naomi Koshi for winning reelection as Otsu mayor today, defeating 3 other candidates. Voter turnout was 47.97%. |
| 2016/1/20 0:30 | Snow has blanketed Shiga today, mostly in the north, but Otsu is also white. Be careful of slippery and icy roads and sidewalks. |
| 2016/1/22 3:38 | Minpaku lodging is spreading in Shiga: https://t.co/S5YQKahBgt |
| 2016/1/22 3:38 | Nagahama Station area is undergoing dramatic changes: https://t.co/SfJyexdKAT |
| 2016/1/24 16:15 | Freezing temperatures and heavy snow are forecast for today in Shiga, the 25th. |
| 2016/1/25 12:09 | As of 8 pm on Jan. 26, snowfall in Yogo measured 60 cm, Maibara 20 cm, Hikone 18 cm, and Imazu 15 cm. Snow is expected to continue tonight. |
| 2016/1/25 12:14 | Five people, mostly elderly, in northern Shiga were taken to a hospital by ambulance today after slipping on snow and getting injured. |
| 2016/1/28 14:55 | JR West has proposed the Hokuriku Shinkansen's last segment from Tsuruga to Osaka to go through Obama and Kyoto instead of Maibara. |
| 2016/1/28 15:09 | A shipbuilding company in Hiroshima has won the bid at ¥3.051 billion to build the new Uminoko Floating School to set sail from April 2018. |
| 2016/1/29 14:11 | Kansai Electric Power Co.'s No. 3 reactor at the Takahama nuclear power plant in Fukui Prefecture was restarted today. |
| 2016/1/29 14:15 | Education Ministry found 36 educators in Shiga to have received money/favors from textbook publishers to evaluate textbooks under review. |
| 2016/1/31 10:19 | Setsubun bean throwing at Taga Taisha Shrine on Feb. 3 at 11 am and 2 pm. Ogre (oni) dance by Inbara Kaguradan troupe from Shimane Pref. |
| 2016/2/2 4:54 | Last fiscal year, hunters culled a record 14,374 deer in Shiga. Still short of the 16,000 yearly target to halve the 67000 deer population. |
| 2016/2/5 6:12 | Otsu will be sending five jr. high English teachers to the Philippines for 10-day English training from this summer. |
| 2016/2/5 6:15 | Of the 90+ English teachers at Otsu's jr. high schools, only 30% has a TOEIC score higher than 730 or Eiken 1. Nativeにかないません。 |
| 2016/2/5 6:17 | Cherry blossoms in Shiga are forecast to start blooming at the normal time of early April. |
| 2016/2/5 6:22 | Hina-matsuri doll festivals are being held in Shiga until March 21. Gokasho in Higashi-Omi is one great place. https://t.co/bKGlXAQ5na |
| 2016/2/7 3:23 | An estimated 54,000 bicycled around Lake Biwa (200 km) in 2015. 90% did it counterclockwise for closer views of the lake. |
| 2016/2/15 18:57 | As of Oct. 2015, a record 1,450 companies in Shiga have hired 12,236 foreign employees, mostly Brazilians (5,188), Chinese, and Filipinos. |
| 2016/2/15 19:02 | Mascot Hiko-nyan says that he will eat all 291 gifts of chocolate he received for Valentine's Day. Hope the kids don't imitate him… |
| 2016/2/17 22:25 | JR West President has stated that the Hokuriku shinkansen's Tsuruga-Osaka route via Maibara would be too full with the Tokaido shinkansen. |
| 2016/2/24 0:42 | Nakamura Koichi (中村公一, 51), a teacher at Seta Kita Jr. High in Otsu has been arrested for smuggling drugs from China & using stimulants. |
| 2016/2/24 1:20 | Otsu Matsuri is to be designated as an Important Intangible Folk Cultural Property of Japan (重要無形民俗文化財). https://t.co/qqntYmBL34 |
| 2016/2/25 13:50 | Shiga finally has a food shop in Tokyo (Akihabara) in Nippon Hyakkaten Shokuhinkan (Chabara). Opened in Sept. 2015. https://t.co/s7jHe1OSkd |
| 2016/2/28 11:21 | Hiko-nyan runner today at the 10th Tokyo Marathon 2016. I was near the 30 km checkpoint near Asakusabashi Station. https://t.co/t8vF4PQ30O |
| 2016/3/1 0:48 | Snow in Shiga today since last night. Winter's last roar? |
| 2016/3/1 12:28 | According to the national census taken on Oct. 1, 2015, Shiga's population was 1,413,184, an increase of 2,407 compared to the 2010 census. |
| 2016/3/1 15:12 | After 3 months of major renovations, Nagahama Castle Museum reopened on Feb. 27 with better air conditioning, better exhibits, LEDs, & more. |
| 2016/3/6 5:42 | Kenyan Lucas Rotich won the 71st Lake Biwa Mainichi Marathon today in 02:09:11, Hisanori Kitajima #北島寿典 was 2nd at 02:09:16. #第71回びわ湖毎日マラソン |
| 2016/3/7 11:37 | In 2015, 5.409 million visitors lodged in Shiga, a 16.9% increase over 2014. And 464,000 of them were foreigners, a 101% increase over 2014. |
| 2016/3/7 11:40 | In 2015, Shiga's average hotel occupancy rate was 60.5%. Busiest visitor months were May (510,000), July (520,000), and Aug. (670,000). |
| 2016/3/8 14:59 | College student and Otsu native Sari Nakazawa, #中沢沙理 representing Shiga, won the 2016 Miss Universe Japan title. https://t.co/ISklQ07xlu |
| 2016/3/10 5:45 | Buddhist altars made in Shiga Prefecture (blog post): https://t.co/tgsl1wLN4n |
| 2016/3/10 10:20 | Takahama power plant's No. 3 reactor in Fukui was shut down today as ordered by yesterday's provisional injunction from Otsu District Court. |
| 2016/3/11 18:15 | As of Feb. 22, 2016, 205 evacuees (83 households) from Tohoku still live in Shiga. This is about half the 428-person peak in Sept. 2011. |
| 2016/3/17 0:49 | Forestry institute managed to grow 22 saplings from a sick 250-year-old fudan-zakura cherry tree at Saimyoji temple. Now planted at Saimyoji |
| 2016/3/18 5:34 | Agriculture Ministry found that Shiga has 25,346 working in agriculture, 4,100 fewer than 5 years ago. Average age 67.6 got younger by 0.8. |
| 2016/3/18 5:42 | Hirose Elementary School in Adogawa held its last graduation ceremony on Mar. 18 before it will shut down and merge with another school. |
| 2016/3/18 5:47 | Hirose Elementary School is Shiga's 19th elementary school to close since 1992 when the number of primary schools peaked at 244. #高島市立広瀬小学校 |
| 2016/3/18 6:32 | Police filed reports on three men suspected of negligence resulting in death & injury when the giant kite crashed last year in Higashi-Omi. |
| 2016/3/18 22:10 | For the 1st time in 7 years, Ishiyama-dera's 5-meter tall main Kannon statue is on public view at the Hondo main hall until Dec. 20. #如意輪観音像 |
| 2016/3/18 22:18 | Twenty-two of 36 pedestrian overpasses managed by Shiga Prefecture are 40-50 years old. Two of them will be removed next fiscal year. |
| 2016/3/19 14:40 | Otsu Matsuri has been officially designated as a National Important Intangible Folk Cultural Property 重要無形民俗文化財. Celebratory events planned. |
| 2016/3/19 14:56 | A record 198,389 migratory birds (42 species) wintered in Shiga this year. Eurasian coot most common (84,869), but only 273 tundra swans. |
| 2016/3/20 20:59 | Shiga Gakuen beat Kiryu Daiichi High School 9-5 in their 1st game at the Senbatsu Spring Koshien national high school baseball tournament. |
| 2016/3/21 22:09 | Biwako Nagahama Kannon House (びわ湖長浜 KANNON HOUSE) opens in Ueno, Tokyo near Shinobazu Pond. Exhibits one kannon Buddha statue from Nagahama every 2 months. |
| 2016/3/22 22:09 | Censure motion passed for Kora mayor Kitagawa Toyoaki 北川豊昭­ for buying 5 gift certificates (limit was 2). Salary reduced by 60% for 1 year. |
| 2016/3/22 22:20 | Average land prices in Shiga fell by 0.3% as of Jan. 1, 2016. Higher in Kusatsu, Moriyama, Ritto, Yasu, & Otsu, and lower in Takashima,Hino. |
| 2016/3/25 6:32 | Shiga Gakuen beat Kamaishi High School 9-1 in their 2nd game today at the Senbatsu Spring Koshien national high school baseball tournament. |
| 2016/3/26 7:23 | 朝日新聞社系のサイトに機械翻訳の注意点を取り上げ、栗東市役所のHPが一つの例。僕のコメントも掲載された。https://t.co/cnhpoPc8bA #withnews |
| 2016/3/28 1:08 | Shiga Gakuen lost to Chiben Gakuen 0-6 in their 3rd game today at the Senbatsu Spring Koshien national high school baseball tournament. |
| 2016/3/29 15:04 | A Shiga University economics professor in his 60s got a 1-month suspension for trying to kiss his female student in his car last Aug. #クビにしろ |
| 2016/3/29 15:16 | Shiga Prefectural Board of Education apologized for illegal or unethical conduct by 29 school teachers/principal in recent months. |
| 2016/3/29 15:21 | Seta Kita Jr. High School teacher Nakamura Koichi (中村公一), indicted for smuggling dangerous drugs from China, was fired yesterday on Mar. 29. |
| 2016/3/29 15:28 | Nagahama Kita High School teacher Inoue Taketoshi (井上武紀) was fired on Mar. 29 for groping a jr. high school student in a bus in Kyoto. |
| 2016/3/29 15:32 | A jr. high school teacher in Higashi-Omi got a 6-month suspension for repeatedly driving even when his driver's license had been revoked. |
| 2016/3/29 15:35 | A public high school teacher in Hikone got a 6-month suspension for shoplifting some office supplies. He resigned instead. |
| 2016/3/29 15:42 | 25 school teachers and principals in Shiga were reprimanded by local BOE for viewing textbooks from publishers undergoing screening. |
| 2016/3/31 8:48 | An investigative committee in Higashi-Omi has concluded that the kite festival should not be held until safety measures can be assured. |
| 2016/3/31 8:51 | The Hikone Meteorological Office announced today that cherry blossoms in Hikone have started to bloom. Full bloom in one week. |
| 2016/4/5 11:00 | Only 36% of Shiga's non-native jr. high English teachers & 63% of high school English teachers have EIKEN Grade Pre-1 or higher. 英検準1級 |
| 2016/4/5 11:04 | Hikone's cherry blossoms in full bloom today. https://t.co/SXuOr7OjAJ https://t.co/tztXfYDwZa |
| 2016/4/7 16:56 | 680 of Shiga's 2,126 bridges are 50+ years old. The prefecture is prioritizing repairs of 304 old bridges deemed essential for emergencies. |
| 2016/4/9 14:01 | Saw sakura in full bloom today at Nagahama's Hokoen Park. https://t.co/ViHds1xvKc |
| 2016/4/13 3:22 | Yesterday, watched Kujaku-zan's child kabuki actors practice for the Nagahama Hikiyama Matsuri. Amazing kids. #孔雀山 https://t.co/zwI95AJsUB |
| 2016/4/13 3:25 | Yesterday evening was the Hadaka-mairi at Nagahama Hachimangu Shrine. They purify themselves at this well. #萬歳楼 https://t.co/ckhcByVV4E |
| 2016/4/13 14:20 | Okina-zan used the Nagahama Hikiyama Museum for a rainy evening performance tonight, the first show in full costume. https://t.co/PABUThydyy |
| 2016/4/13 14:57 | Nagahama Hikiyama Matsuri Festival Schedule: https://t.co/nCu01VVVtw |
| 2016/4/16 14:38 | From Shiga, 36 police, Disaster Medical Assistance Team of 14 doctors & nurses, & 17 Red Cross doctors & nurses have been sent to Kumamoto. |
| 2016/4/18 14:33 | Otsu today sent a truckload of relief supplies (water, disposable diapers, powdered milk, etc.) to Ozu town in Kumamoto. 大津市 to 大津町 |
| 2016/4/20 16:10 | Otsu sent a second truckload of relief supplies (water, disposable toilets, blankets, etc.) to Ozu in Kumamoto on April 21. |
| 2016/4/20 16:17 | Otsu is providing 10 rent-free public housing units and Shiga Pref. is offering 25 rent-free units to Kumamoto/Oita quake evacuees. |
| 2016/4/21 13:34 | Eleven jr. high schools in Shiga that had planned school trips to Kyushu this spring have changed their destinations or postponed the trip. |
| 2016/4/22 15:25 | Sadly, Higashi-Omi's mayor announced that the Odako Matsuri Giant Kite Festival will be cancelled this year due to last year's tragedy. |
| 2016/4/25 2:49 | Otsu Station building undergoing major renovation. Due to reopen this autumn with a capsule hotel, cafe, and more. https://t.co/47F5gDJy1H |
| 2016/4/25 2:56 | Nagahama Station's west exit has a ¥7 mil. glass mosaic of Hideyoshi & Nagahama-jo unveiled on April 5 by Nagahama Lions Club. https://t.co/XfedZTZvr3 |
Shiga History Sept.–Dec. 2015 | Chronological History of Shiga | Shiga History May–Aug. 2016