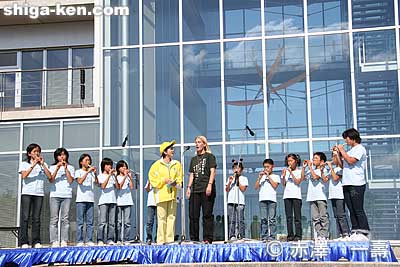 なんと嘉田知事も飛び入りして英語版「琵琶湖周航の歌」を歌う!光栄でした。
On Oct. 20, 2007 (Sat.), an event called Umizukuri Boat Festa 湖づくりボートフェスタ was held. It was a dragon boat and canoe race between Otsu (near Ishiyama) and Ogoto.
After the race ended, a mini concert featuring cute kids playing the よし笛 reed flute (made from reeds in Biwako) was held in Ogoto (Opal) next to the lake shore. Jamie Thompson sang Biwako Shuko no Uta in English as they played the song with the flute. (Her twin sister could not attend and neither could I).
And then a surprise. Shiga Governor Kada Yukiko went on stage and began singing in English with Jamie!! (See photos above.)
Wow, what a great honor. She's a real people's governor.
Event flyer:
http://setarc.jp/2007/08/umizukuri/info.pdf