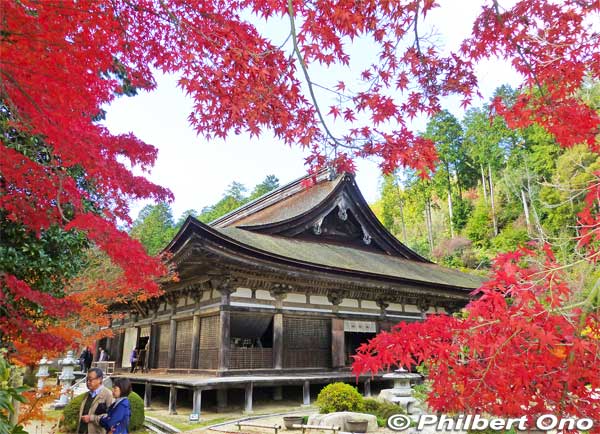 Finally visited Zensuiji Temple (善水寺) in Konan, Shiga Prefecture during autumn. The first and last time I visited this temple was during spring. Although it was pleasant in spring, I now have to say that it's much more colorful in autumn. These photos were taken yesterday, so the maples should still look good during the next few days.
Zensuiji was established in the 8th century and it is one of the Konan Sanzan Temple Trio (湖南三山) of Tendai Buddhist temples in Konan (other two are Chojuji and Jorakuji). All three temples are National Treasures. Zensuiji's impressive main Hondo Hall is a National Treasure. It worships Yakushi Nyorai (the buddha of healing and medicine). "Zensuiji" means "Efficacious Water Temple," so named after Emperor Kanmu recovered from an illness after drinking the water from the temple's pond in the 9th century. The temple is on the slope of Mt. Iwane.
During the autumn foliage season, they have a guide (sometimes the temple priest himself) inside the temple to explain the Buddhist statues, etc. Only in Japanese though. The temple's main Hondo Hall is open almost year-round unlike the other two Konan Sanzan Temples which require an appointment to enter the Hondo Hall (except during the autumn foliage season in Nov.). A small admission is charged.
Zensuiji is also asking for donations to reroof the main Hondo hall. The current thatched roof is 40 years old (from 1975). It will take a few years and 300 to 500 million yen to do it. I'm told all the thatch and tree bark materials will come from domestic sources. Since it is a National Treasure, the cost will be borne by the temple, Japanese government, Konan, and Shiga Prefecture. What a bundle it is.
Unlike the Koto Sanzan Temple Trio north of Konan in eastern Shiga, there are no convenient shuttle buses linking the three Konan Sanzan temples during the popular autumn season.
Directions to Zensuiji: Go to JR Kosei Station (甲西駅) on the JR Kusatsu Line, catch a bus (10-min. ride) and get off at Iwane (岩根). In the morning, buses leave JR Kosei Station (north exit kita-guchi) for Zensuiji at 8:28 am, 9:20 am, 9:30 am, 10:15 am, and 11:25 am. Bus schedule here. From there, you still have to walk a bit, follow the signs (if you can read Japanese). Or get off at JR Mikumo Station and catch a taxi for a 15 min. ride. (No waiting taxis at Kosei Station.) Map here.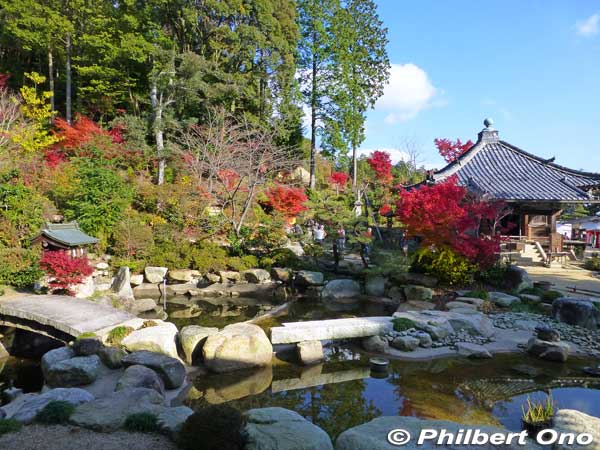 Click here for more photos of Zensuiji.
My video introducing Konan includes Zensuiji:

Zensuiji official Website (in Japanese)