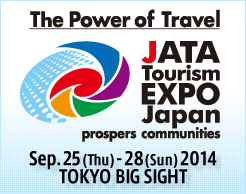 Updated: Sept. 30, 2014
Great fun and entertainment at the huge Tourism Expo Japan trade show held on September 27-28, 2014 for the public at Tokyo Big Sight. The expo had tourist booths from all 47 prefectures and 150 countries. A great place to pick up travel information, ask travel/sightseeing questions, see traditional Japanese crafts, and enjoy dances and entertainment from around Japan and the world. For the first time this year, they combined the domestic travel fair and the international travel showcase to create this new trade show. So it's now one of the world's largest travel/tourism trade shows. About 150,000 attended the expo (admission ¥1,300 for adults).
Lots of local food and entertainment too. Besides three large performance stages to showcase Japanese dances and festivals, many booths had their own mini stages for cultural entertainment like hula dancers at the Hawaii booth. I thoroughly enjoyed the expo and hope to see it every year from now on. Regretfully, I didn't get to see everything in one day. So much stuff and so many things going on.
Shiga Prefecture had a medium-size booth and a 30-min. slot on one of the large entertainment stages.
One of the food courts also held a donburi (bowl of rice with a topping) contest where Shiga had a booth. Sixteen donburi booths sold donburi from various parts of Japan for ¥500 and we could vote for our favorite donburi. Very popular place for lunch.
Here are some photos of Shiga at Tourism Expo Japan 2014.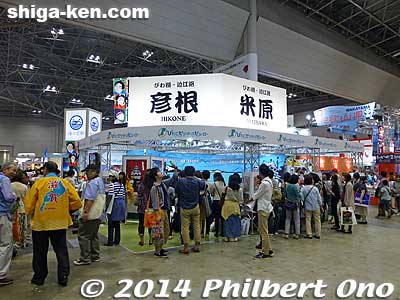 Shiga's booth represented only Hikone, Maibara, and Nagahama. But I didn't see anything related to Maibara. Even Otsu wasn't there. No Lake Biwa, no ninja either. Very puzzling. Perhaps the other cities did not have the budget for a booth. Or maybe the cities are taking turns at this expo, which still doesn't make sense.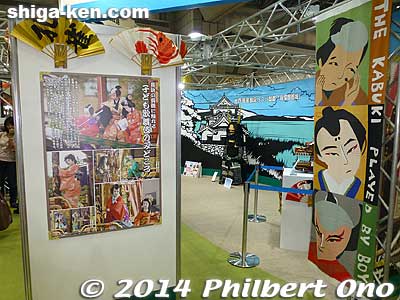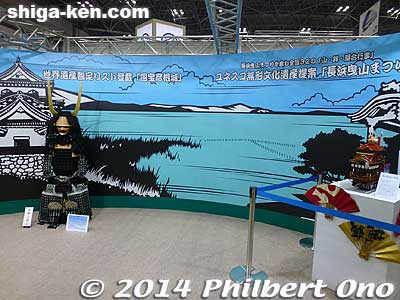 Shiga's booth was mainly occupied by this space, supposedly for some kind of entertainment. But there was no schedule of who or what would appear. Hiko-nyan supposed to appear, but the staff I asked couldn't tell me any specifics. At one small corner of the booth, they gave out brochures. Caffy was there too, but only sporadically. The booth's emphasis was on Hikone Castle billed as on the "World Heritage Site Tentative List" which is really nothing to brag about. And Nagahama Hikiyama Matsuri being included in Japan's application for inclusion in the UNESCO Intangible Cultural Heritage list (to join Kyoto's Gion Matsuri floats). This is also nothing to brag about, not until it actually makes the list. Really couldn't understand this booth.
滋賀の出展ブースはよく分かりませんでした。ほとんどのスペースがなんかのミニステージと見えますが、なにが出るか不明でした。スタッフに聞いても詳細が分かりませんと。看板に「米原」も大きくあったけど、米原関係のものが見当たりませんでした。長浜と彦根で一色。なんで湖北だけに限定されたのか訳が分からない。大津抜きで滋賀を紹介できるの??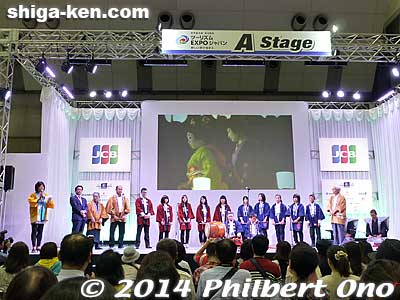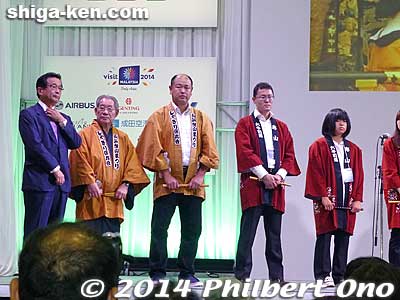 On September 27, 2014, Shiga had a 30-min. slot on the large Stage A from 2 pm. First the mayor of Nagahama gave a short speech, then these musicians from the Nagahama Hikiyama Festival played while the large screen above projected a video of the festival.
来場者は政治家の挨拶なんか一番聞きたくないのです(有名人や人気者は別です)。こういう時は、着物姿のミス長浜などが登場して挨拶と祭りの説明をすると効果的と思います。市長も皆さんも固い表情であまり真面目な顔していてアピール度が全然ダメでした。明るく笑顔でSMILEしましょうよ!こんな暗い顔、葬儀みたいよ。やはりプロの演出家の起用が必要かも。皆さん、明るいスマイルを!出る前に鏡の前で練習しましょう。「イイイ」とか「チーズ」言えますか?スマイル!スマイル!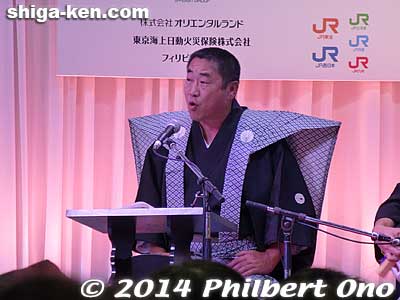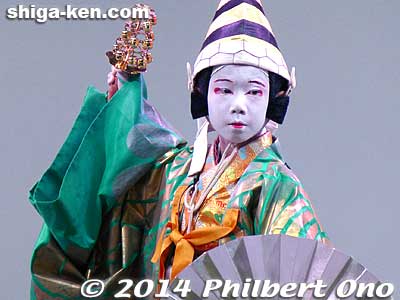 Following the Nagahama Hikiyama musicians, this young kabuki dancer performed with live narrator-singers. He was very good. But I wish there were at least two or three of them.
この子がよく頑張りました。ご苦労さんでした。でも一人だけの大きなステージで寂し(小さ)かった。2〜3人の子がいたらもっといい存在感と印象がするでしょう。なぜ囃子の方々があんなに大勢だけど目玉の歌舞伎役者が一人だけ?ちょっとアンバランスな演出と思いました。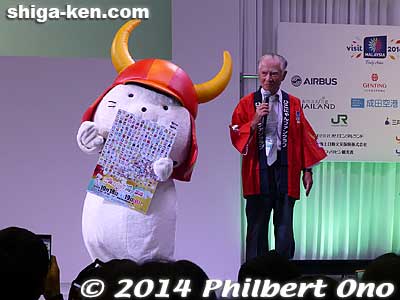 Following the Nagahama Hikiyama Festival introduction was Hiko-nyan's appearance. Still a shutterbug's darling, he only had to walk left and right on stage and pose for cell phone photos. Although Kumamon and Funasshi have overtaken Hiko-nyan in terms of fame and popularity, Hiko-nyan remains popular. Disappointed that nothing from Maibara was featured on stage. They should've brought Maibara's taiko drum dancers.
こんなポスターを見せても文字が小さくて読めへんよ!ひこにゃんの顔も隠さないでください!皆は写真を撮っているから!!(上のスクリーンにご当地キャラ博の様子と開催日時を上映すればよかったのに。)こういう時も着物姿のミス彦根城大使などが登場して話をするといい。またはプロの司会者やアナウンサーが望ましい。
An eatery in Shiga had this donburi booth (left) for lunch. Unfortunately, it was right next to the super popular Kobe beef booth (right) which always had long lines. As you can see, the Shiga booth wasn't crowded at all. It served a rice bowl with a topping of Omi beef, pork, and chicken.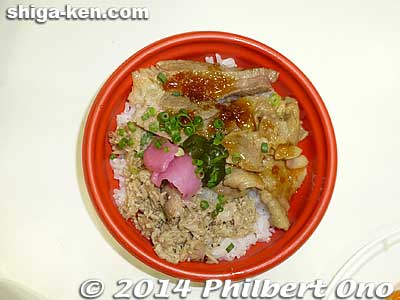 この「近江三大肉丼」はあまり人気ではなかったね。問題は誰も聞いたことない「三大肉丼」の名。隣の焼き肉丼は「神戸牛」の有名なキーワードで客が絶えずに殺到された。もっと大胆に「近江牛」や「赤こんにゃく」などの有名なキーワードを看板にしないと集客力が弱い。
僕はこの「近江三大肉丼」と「神戸牛の焼き肉丼」を食った。両方とも量が少なくてまずまずでした。味はいいけど、神戸牛は油っこい。
The expo had a traditional crafts area with traditional crafts people giving live demos. Shiga had two two crafts booths. One was this Hikone butsudan (Buddhist altar) maker. I had a nice talk with this master craftsman from Hikone. He builds the altar doors. The sculptured wooden parts are made in Maibara (Samegai). He makes several hundred butsudan every year. He even makes altars for Buddhist temples and repairs butsudan too. Seems very busy. He said I could visit and see him work in Hikone. Yep, I will do so. The butsudan on the left behind him showed a price tag of 1,641,600 yen.
彦根仏壇の職人さん。とても面白い話を聞かせてもらいました。丁寧に質問などを答えてくれてとてもいい人でした。彦根の工房をぜったいに訪れます。外国人の知人とね。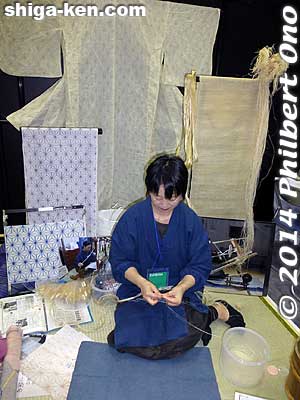 Besides the butsudan maker, there was a booth for weaving Omi jofu (hemp cloth) from Aisho. Happy to see not one, but two crafts people from Shiga. You could try and weave the cloth yourself.
伝統的工芸品の職人さんのコーナーではなんと二件の滋賀出身の職人さんもいました。嬉しい。伝統的工芸品の職人さんは大好きですね。専門の専門で熱心に仕事をして常に自分の腕を磨きながら新しい品物を造ったり開発したりする。とてもクリエイティブな仕事。
I wasn't too impressed with Shiga's booth and stage presentation. They need to have better spokespersons on stage like these two Miss Sansa Odori from Morioka, Iwate Prefecture. They had bright, smiling faces and a welcome tone of voice. Not only that, they could dance too. Sansa Odori is a native dance of Morioka performed in August. The tourism expo was like a virtual tour of Japan at one place. Highly recommend it.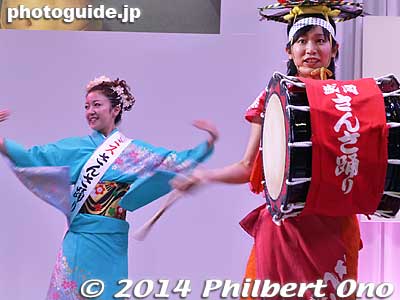 参考のために岩手県盛岡市のミスさんさ踊りのステージです。明るい表情と笑顔と優しい声でさんさ踊りを紹介。そして実演。太鼓の連中も笑顔です。言うまでもなくアピール度が高い。これを見て私も本当にさんさ踊りを一度見に行きたい気持ちが湧きました。
滋賀のステージで長浜の秋の祭りも紹介して欲しかった。きもの大園遊会とか。曳山祭りの4月はまだまだ先。そしてなぜステージで米原を紹介しなかったの??太鼓踊りでもやったら迫力あるよ。むしろ秋に太鼓踊りがある(あった)。
自己PRには滋賀ってどうしても下手です。イモっぽくていいんですが、まず基本的なこと、常識なことをしっかり整って欲しい。こんな国際的な場にも外国語の紹介も必要。UNESCOにもアピールしたいやろう?(機会翻訳は通じへん。)
毎回同じパターンではなく、想像力(創造力)を生かしてもっと面白い、新鮮なアイデアを生み出そう。職人さんのようにもっと熱心的になって細かいところまでこだわること。細かいことは大体重要なポイントで質と印象ががらんと変えるもの。PRの職人さんになろう(または雇おう)。