Shiga History January–April 2017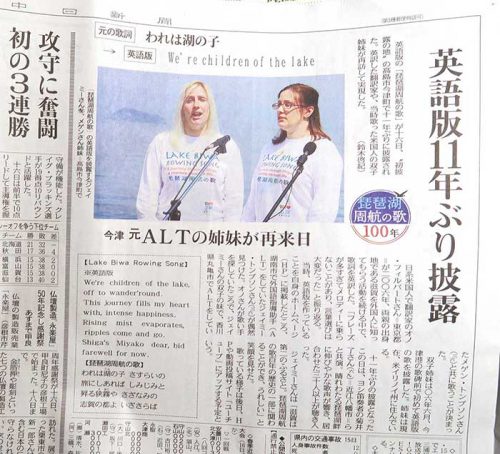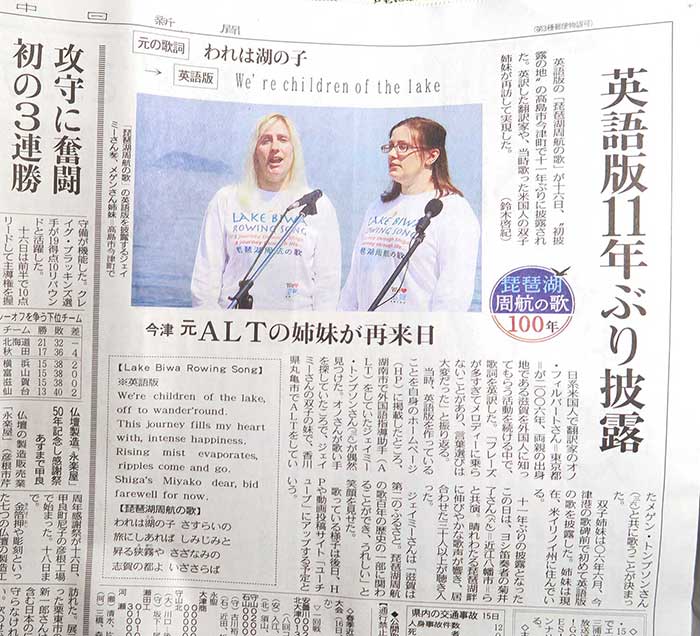 Chronology of Shiga Prefecture's major and interesting news headlines for January–April 2017 (according to the year, month, day, and time posted at GMT).
Originally posted on Twitter under Shiga Headlines by Philbert Ono. Twitter posts are limited to 140 characters including spaces and links (shortened by Twitter). Dates and times below are based on GMT instead of Japan time.
| | |
| --- | --- |
| 2017/1/3 2:16 | Happy 2017! It's a warm New Year's, hardly any snow on Mt. Ibuki. Wishing you a healthy and good 2017. |
| 2017/1/6 10:05 | Hikone's mascot Hiko-nyan received 11,796 New Year's nenga postcards this new year as of Jan. 6, 2017. About 300 more than last year. |
| 2017/1/6 10:20 | In Shiga, 7,855 men and 7,200 women (born April 2, 1996–April 1, 1997) will mark their Coming-of-Age on Jan. 9. 440 more than last year. |
| 2017/1/6 11:53 | 2017 NHK Taiga Drama "Onna Joshu Naotora" (#おんな城主直虎) from Jan. 8 will be about Ii Naotora, Hikone Castle Lord Ii Naomasa's adoptive mother. |
| 2017/1/9 8:27 | Kyoto University Rowing Club's official 2017 calendar includes "Lake Biwa Rowing Song" English lyrics for the 1st time. https://t.co/gs1pnsLbpe |
| 2017/1/14 3:57 | Hip-hop PR video for Hikone Castle's 410th anniversary (Mar. 18–Dec. 10, 2017) going viral (in Japanese only). https://t.co/sIm341BZsF |
| 2017/1/15 3:08 | Good news for skiers. Snow in most of Shiga this weekend, especially northern Shiga. |
| 2017/1/16 5:13 | Hino & Higashi-Omi are holding a Hina doll tour for foreigners on Feb. 25 for ¥2,000. Send application by Feb. 10. https://t.co/edXxRI893e |
| 2017/1/17 13:59 | Docomo cell phone users in Otsu & parts of Kyoto are having connection problems due to the heavy snow & power outages disrupting cell towers |
| 2017/1/17 15:24 | Funny weekly manga about Shiga by Sakana Kouji (in Japanese only). Updated every Fri. 滋賀の面白い漫画 by さかなこうじ https://t.co/whiKwY1t6S |
| 2017/1/18 12:49 | Shiga Pref. Government will bar Dentsu from bidding on any PR-related contract jobs citing the overworked Dentsu employee's suicide (高橋まつり). |
| 2017/1/24 10:08 | Heavy snow in northern Shiga continued from yesterday, delaying trains/buses & causing traffic jams. 115 schools in Shiga were closed today. |
| 2017/1/26 4:26 | A deliberation committee (琵琶湖周航の歌100周年記念促進協議会) met for the 1st time to plan the PR for the 100th anniv. of Biwako Shuko no Uta rowing song. |
| 2017/1/26 13:25 | Heavy snow has destroyed or damaged 123 greenhouses mostly in eastern Shiga, damaging 0.52 ha of crops like mizuna & spinach. |
| 2017/1/27 10:28 | For the second year in a row, Shiga Gakuen will represent Shiga at the 2017 Senbatsu Spring Koshien national high school baseball tournament |
| 2017/1/31 9:21 | Made my first Lake Biwa pearl brooch at a workshop conducted by Otsu-based Jinbo Pearls this past weekend in Shibuya, Tokyo. That was fun!  |
| 2017/2/8 18:47 | Sep. 2016: Five Ayaha H.S. #綾羽高校 baseball players in Kusatsu shoplifted shoes at a sports shop. They received "guidance" and quit the team. |
| 2017/2/10 15:42 | Omi-Hachiman is taking steps to eliminate or hide utility poles to beautify and protect its traditional townscapes from March 2018. #無電柱化 |
| 2017/2/10 15:44 | Heavy snow is expected to continue this weekend in Shiga, especially in Hikone, Maibara, and Nagahama. |
| 2017/2/13 20:46 | Four Keihan Railways station names will change in March 2018: Hama-Otsu, Sakamoto, Bessho, & Ojiyama. Otsu will pay ¥15 mil. for the change. |
| 2017/2/14 15:26 | Enryakuji's Tendai Zasu Abbot 森川宏映座主 held a service at Kyoto's Nishi Hongwanji for the 1st time on the 1,000th anniv. of Genshin's death. |
| 2017/2/24 22:58 | Shiga dept stores have joined the "Premium Friday" campaign on the last Fri. of the month to cater to workers who get off work early at 3 pm |
| 2017/3/4 15:47 | Shiga food/crafts at the 29th Omi Fair in Takashimaya Dept. Store Nihonbashi Branch 8th floor in Tokyo, March 8–13. https://t.co/YIy7P3xool |
| 2017/3/5 5:48 | Kenyan Ezekiel Kiptoo Chebii won the 72nd Lake Biwa Mainichi Marathon today in 02:09:06, Sasaki Satoru #佐々木悟 was 4th at 02:10:10. #びわ湖毎日マラソン |
| 2017/3/7 2:06 | Nagahama International Friendship Association 長浜市民国際交流協会 has started English Cafe for English conversation. Next one will be on March 12. https://t.co/B2FS2yvNST |
| 2017/3/8 14:02 | Heard interesting discussions & met people at the Japan Heritage International Forum in Tokyo, March 7. Lake Biwa is also a Japan Heritage. https://t.co/mtWFWshACP |
| 2017/3/11 7:38 | Hikone Castle garden Genkyuen's pond is undergoing major repairs. Pond water has been drained. Looks very drab now. #玄宮園護岸工事  |
| 2017/3/11 7:40 | In front of Nagahama Station, the new shopping/restaurant complex on the old Heiwado site should be opening soon.  |
| 2017/3/11 7:44 | March 12 is the last day of the Nagahama Bonbaiten #長浜盆梅展 plum blossom bonsai exhibition (now in peak bloom) in the Keiunkan (慶雲館).  |
| 2017/3/11 7:58 | Actress Kaho Tsuchimura (center) #土村芳 was at Hikone Castle's Tenbin Yagura on March 10 to film NHK TV morning drama series "Beppin-san."  |
| 2017/3/17 9:26 | Tasted Shiga's famous Salad Roll サラダパン for the 1st time. Basically a hot dog bun with mayonnaise and small slices of takuan pickled radish.  |
| 2017/3/17 9:30 | 初めてサラダパンを食べました(木之本のつるやパンより)。なんか戦後の昭和時代っぽいな懐かしい味でした。素朴な作りで誰でも同じもんが作れそう。こんなもんで人気・有名になるなんてちょっと驚きました。外国人にもオススメできるかどうかはちょっと微妙です。 https://t.co/SrqATDPmU6 |
| 2017/3/18 3:59 | The Museum of Modern Art, Shiga will close on March 31, 2017 for 3 years for major renovations. See their last exhibition before it closes. |
| 2017/3/18 4:00 | Hikone Castle's 410th anniversary celebration started today with special exhibits inside castle buildings. Ends on Dec. 10, 2017. |
| 2017/3/18 14:34 | HigashiOmi police sergeant Kumita Masaya 汲田昌也 (36) arrested for threatening to kill his GF over the phone when she tried to break up w/him. |
| 2017/3/18 14:48 | Eight Nagahama policemen punished for sexual harassment of 2 policewomen in Nov. by using a pro wrestler's hold on the women and taking pics.  |
| 2017/3/18 14:59 | Otsu City Hall miscalculated tax bills and national health insurance premiums & benefits totaling ¥12.99 mil. affecting 272 Otsu citizens. |
| 2017/3/18 15:05 | Earlier this month, Hikone City Hall sent 27 "My Number" personal ID cards (indicating the birthdate, address, etc.) to the wrong addresses. |
| 2017/3/18 15:09 | Hiko-nyan will have a new official pose, showing him with both arms raised (banzai) and smiling. |
| 2017/3/19 9:47 | Spouse seekers in Higashi-Omi reach out through bathhouse poetry serenading – The Mainichi 歌垣風呂 銭湯の壁越しに歌を詠み合い「婚活」 https://t.co/zzufegvvde |
| 2017/3/22 11:11 | Former Gamo-Higashi Elementary School head teacher Arikawa Tomoaki (50, 有川智章) found guilty of forcing 4 women to meet him after sending candid pics |
| 2017/3/22 11:19 | As of Jan. 1, 2017, Shiga's average land prices have fallen 9 years in a row, by -0.4% over 2016. Land prices in Kusatsu & Moriyama rose. |
| 2017/3/22 11:31 | Toray Arrows pro volleyball player Kimura Saori retired this month after a 12-year pro career including 4 Summer Olympics & a bronze medal. |
| 2017/3/22 11:39 | Shiga Gakuen beat Tokai Univ. Ichihara Boyo H.S. 6-2 in their 1st game at the Senbatsu Spring Koshien nat'l high school baseball tournament. |
| 2017/3/22 12:33 | Itoen is selling their Koi-cha #濃い茶 bottled tea (525 ml) with a special "Mother Lake" sakura label until Mar. 31 for Lake Biwa donations.  |
| 2017/3/23 13:00 | Otsu mayor Koshi Naomi is taking a voluntary 30% pay cut next month to make amends for 7 corrupt city employees in the past 2 months. |
| 2017/3/23 13:04 | From Maibara, the "My Bara" 米バラ umeshu plum cake shaped like a rose (bara) is very good. Sold at Ibuki-no-Sato Road Station 伊吹の里 in Maibara.  |
| 2017/3/24 11:14 | At a Heiwado in Otsu, bought up all the Itoen Koi-cha #濃い茶 bottled tea with the special "Mother Lake" label. It's for a spring party… https://t.co/PszEIdUym7 |
| 2017/3/24 11:18 | Monreve bakery in Moriyama is famous for Funazushi Pie, a cookie made with funazushi fermented Biwako carp. Love it!  |
| 2017/3/24 13:08 | 守山駅の近くにある洋菓子店モンレーブのふなずしパイ(10枚入り¥1250)。商品開発に苦労されたそうですが、さすがのヒット商品。うなぎパイと連想して甘そうと思いがちけど、全く甘くない。 鮒寿司の独特な匂いも味も見事に取り入れている。本物の鮒寿司が苦手の方にはこれがいい。#滋賀名物 https://t.co/OtxcFvjLPn |
| 2017/3/26 9:25 | Shiga Gakuen tied w/Fukuoka-dai Ohori 1-1 in their 2nd game today at the Senbatsu Spring Koshien national high school baseball tournament. |
| 2017/3/26 10:19 | English guide to Hikone Castle's 410th anniversary (March 18 to December 10, 2017). https://t.co/7aSlRdxzUQ |
| 2017/3/28 9:52 | Shiga Gakuen lost to Fukuoka-dai Ohori 3–5 in the tiebreaker today at the Senbatsu Spring Koshien national high school baseball tournament. |
| 2017/3/28 17:22 | Osaka High Court overturned Otsu District Court's injunction against the restart of KEPCO's No. 3 & 4 nuclear reactors at Takahama in Fukui. |
| 2017/3/30 16:58 | Head teacher (50) at Tamao Elementary School in Higashi-Omi suspended for 6 mo. for injuring a man with a beer mug during a quarrel last Aug. |
| 2017/4/1 15:34 | Modern Museum of Art, Shiga now closed for 3 years of major renovations & expansion to house Shiga's art treasures & works by the disabled. https://t.co/19pvloW6TB |
| 2017/4/1 15:38 | 滋賀県立近代美術館の3年間の休館で数十名の職員が解雇されました。皆さん、お疲れ様でした。再就職先が見つければいいですね。頑張ってください。 https://t.co/Sc4nujdn7y |
| 2017/4/2 14:41 | Bye-bye Hashimoto Naoko 橋本奈穂子 (Kinomoto native), today's her last day as newscaster on NHK News 7. We'll miss you. https://t.co/dBddQ3RSDX  |
| 2017/4/3 12:46 | Otsu City Hall today created a new dept. (未来まちづくり部) that will work to model the city after Geneva, Switzerland. Good luck to them. |
| 2017/4/4 13:53 | In this building next to Nihonbashi Station, Shiga will open its new Tokyo PR center and gift shop this Oct. to boost its brand recognition.  |
| 2017/4/5 15:12 | Only 38% of Shiga's non-native jr. high English teachers & 62% of high school English teachers have EIKEN Grade Pre-1 or higher. 英検準1級 |
| 2017/4/5 15:21 | Only 37.1% of Shiga's jr. high students have attained EIKEN Grade 3 & 31.5% of high school students have attained Grade 2 or higher. 英検3級 |
| 2017/4/5 15:30 | なんで学校で日本人の先生が英語を教えるの?Nativeはダメ?アメリカでは外国語を教えている先生のほとんどはそのnativeの方です。私もアメリカで日本語を習った時(小学校〜大学)、先生はほとんど日本人でした。じゃないと、教える資格がないし、生徒たちも信用できへん。 |
| 2017/4/9 20:22 | Here's the Nagahama Hikiyama Matsuri 2017 Festival Schedule in English. Child kabuki on April 13 to 16. https://t.co/bP8QrU33aM |
| 2017/4/11 13:32 | A few glass windows were found shattered by fist-size rocks at four primary & intermediate schools in Omi-Hachiman on April 11 morning. |
| 2017/4/12 5:49 | 毎日新聞(滋賀版)、ありがとうございました。 |
| 2017/4/17 6:06 | 滋賀版の朝日新聞、毎日新聞、読売新聞、産経新聞、そして特に中日新聞、どうもありがとうございました。当日の熱い日差しの中、お疲れ様でした。 https://t.co/Ejlkdq9XCz |
| 2017/4/19 12:00 | Kaizu-Osaki lakeshore road (Rt. 557) blocked by landslide. Section between Osaki-dera & Nihonmatsu is closed. Take Rt. 161 & 303 instead. |
| 2017/4/22 4:23 | Went on a Sakura Cruise from Imazu Port in mid-April. Got off the boat at Kaizu-Osaki Port and walked around for 30 min. Beautiful! #桜クルーズ  |
| 2017/4/22 6:46 | 5-min. video of our live performance of "Lake Biwa Rowing Song," April 16, 2017 at Imazu Port in Takashima. |
| 2017/4/26 2:00 | "We are ready" says Gov. Mikazuki with regard to emergency measures for any missile attack by North Korea on its army's 85th anniv. |
| 2017/4/26 15:21 | I'm not complaining, but my "We love (place name)" slogan seems to have inspired copycats in Shiga. Maibara cable TV & visitors bureau FB.  |
| 2017/4/28 6:55 | Martin Stack, one of the best friends we ever had in Shiga, is battling an illness. Friends in Shiga made this video: https://t.co/UGWv8G63Kf |
| 2017/4/29 8:54 | Ninja-related sites in Koka and Iga (Mie) have been jointly designated as a Japan Heritage by the Agency for Cultural Affairs on April 28. |
| 2017/4/29 8:56 | Very strange that the Koka-ryu Ninjutsu Yashiki house is not part of the Japan Heritage designation. #甲賀流忍術屋敷 https://t.co/IgEnlaR0yD |
| 2017/4/29 9:03 | えーっ!なんで 甲賀流忍術屋敷 が日本遺産に入ってないの??油日神社などの社寺が入っているのに。おかし過ぎるよ。俳優Harrison Fordも訪れた屋敷だぜ。日本遺産審査委員会よ、もっとよく調べなあかん。https://t.co/IgEnlaR0yD |
Shiga History Sept.–Dec. 2016 | Chronological History of Shiga | Shiga History May–Aug. 2017